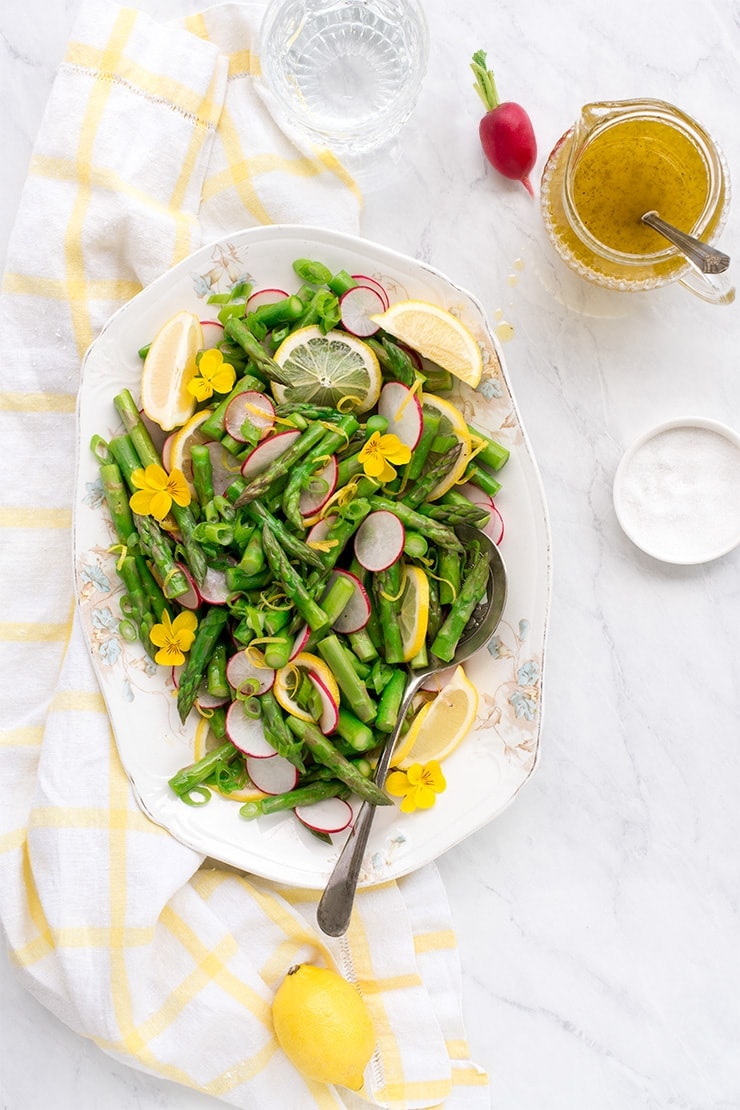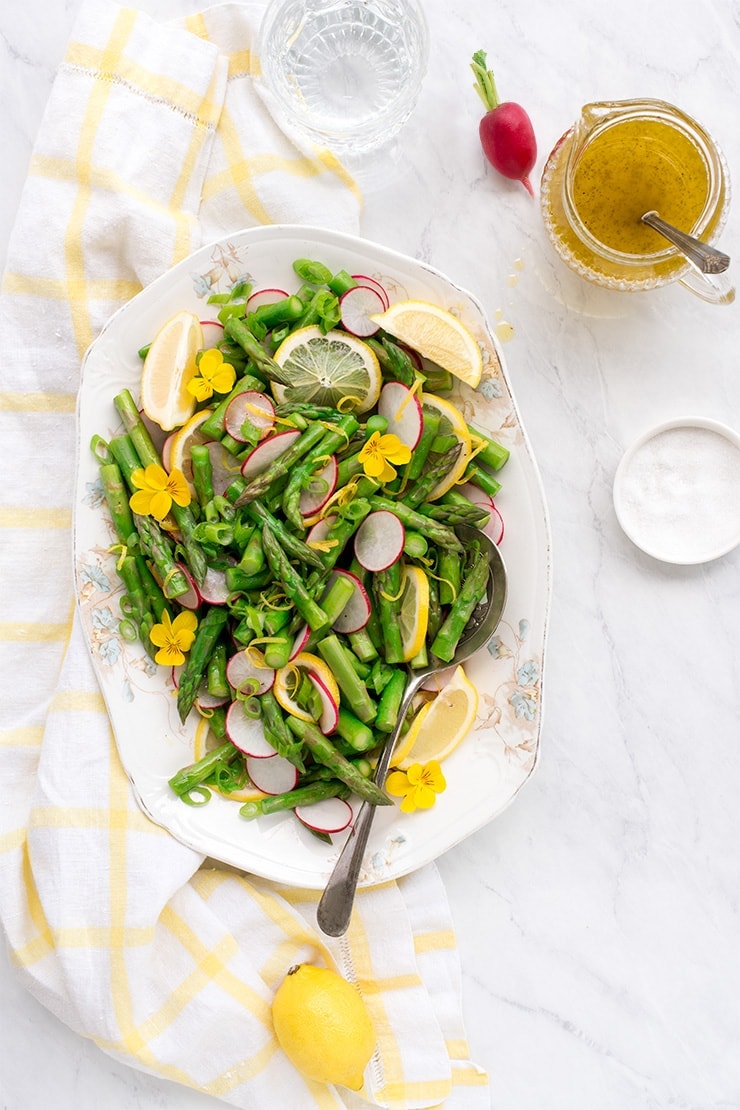 Salads don't get any prettier than this! Beyond its beauty, this simple asparagus salad is also healthy, delicious and easy to make.
---
This asparagus salad features crunchy radish slices and a homemade lemon vinaigrette. It's an easy side dish for any occasion, from busy weeknight dinners to springtime barbecues.
I've been testing a lot of dessert recipes lately (omg…. did you see the post on salted caramel blondies?) so it's time for a healthy asparagus salad recipe! It's all about balance, right? But healthy doesn't have to be boring or result in going to bed hungry. Fresh veggies and a simple vinaigrette is my answer for a fresh, quick dinner side that is kind to my waistline.
We're really spoiled because we can get fresh veggies year round, but I still try to eat seasonally and locally, so asparagus and radishes seemed like a perfect pairing for spring. And because lemons are ALWAYS in the fridge, making a lemon vinaigrette was a no brainer. Simple flavors that add up to a filling and flavorful spring salad without a ton of calories!
Did you know that asparagus has just 3 calories in a spear?  Radishes are also low calorie, containing just one calorie each! Which means that the majority of calories in the salad are in the dressing, which is still less than 50 calories per tablespoon. But it's more than guilt free, it's also delicious!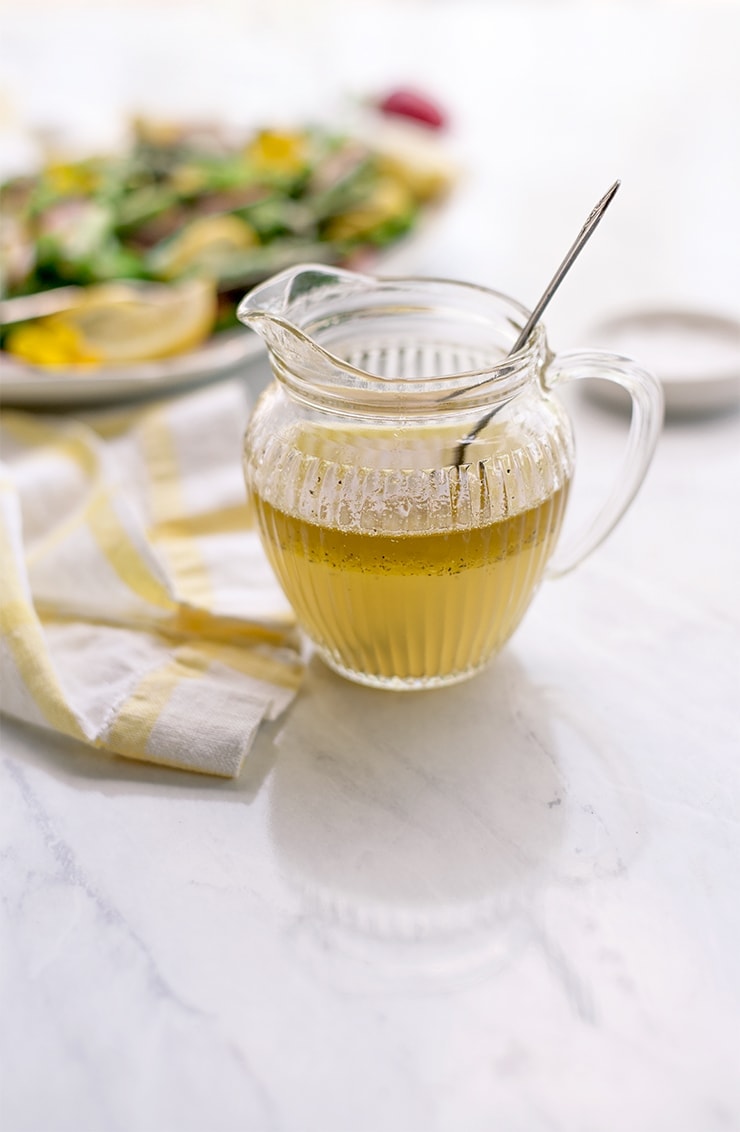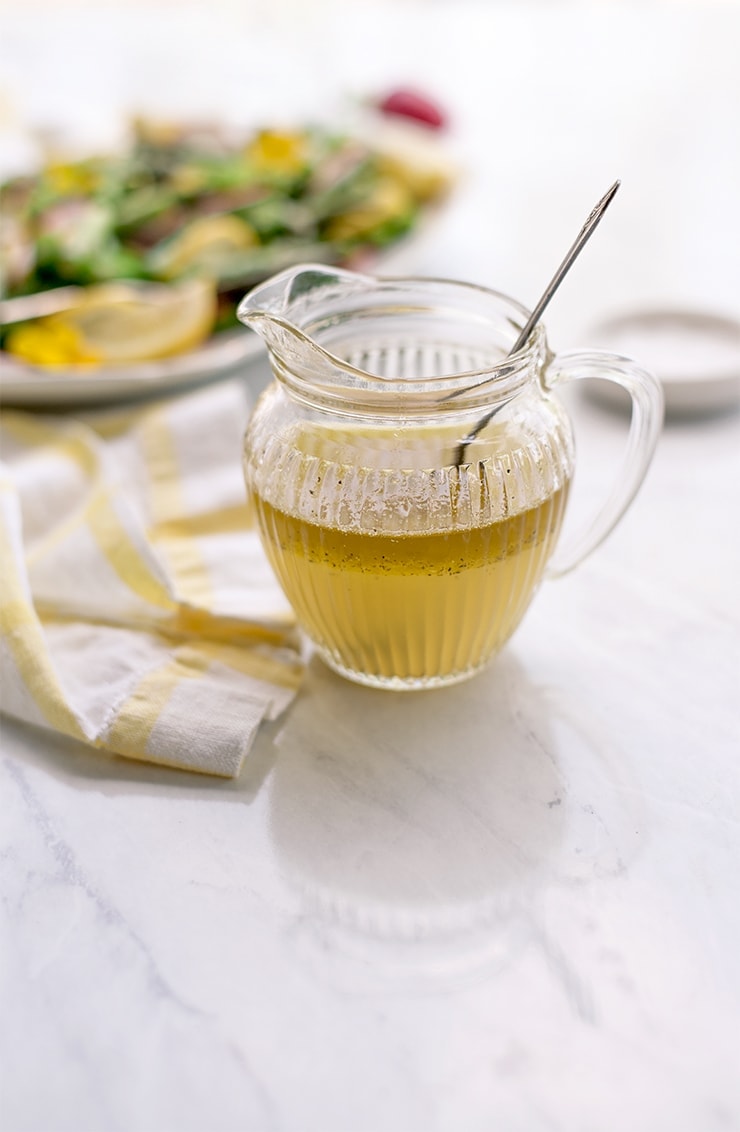 So let's start with the dressing… it's so simple… just oil, lemon juice, a little bit of sugar and salt and pepper. And to really keep the lemon flavor pure, I prefer to use a lighter oil. I've noticed that fresh extra virgin olive oil can be too bitter for delicate vegetables, so I save it for richer salads that contain strong flavors like garlic, parmesan and cured meats.
But for simple vegetable salads, I've really fallen in love with light olive oil. It makes this dressing taste clean and lemony without being heavy or pungent. That way the crispy radishes and steamed asparagus can shine!
My favorite way to cook asparagus is by steaming it in an asparagus steamer. The asparagus stands upright in this special pot, which protects the tender tops during cooking, but it's also handy because the inside basket is perfect for shocking the asparagus in ice water. This way the asparagus is tender but still crisp and green.
To give the asparagus lots of zesty flavor, I like to marinate it for a bit in the dressing…. but I learned the hard way that marinating the radishes makes them leach their magenta hue into the whole salad. So it's best to marinate the asparagus and then toss the rest of the ingredients in right before serving.
Since it's spring and pansies are aplenty, they are the perfect garnish to make this salad extra sunny. Pansies are edible, but make sure to use organic pansies that aren't sprayed with pesticides. They grow easily in a pot and will flower well into summer if you deadhead them frequently. I use them to decorate everything from cake to ice cream sundaes but they can be more than decoration, so throw as many into this asparagus salad as you'd like!
It's such a pretty salad! Perfect as a side for weeknight dinners, but also easy to double or triple the recipe for parties.
Asparagus Salad with Lemon Vinaigrette
This asparagus salad is an easy weeknight side but it also makes a great dish for parties. I prefer to use a light olive oil for the dressing so that the sweetness of the lemon comes through.
Ingredients
Asparagus Salad
1

bunch

asparagus

5

radishes

, thinly sliced

3

green onions

, sliced green tops only

lemon zest from one lemon
Lemon Vinaigrette
1/4

cup

lemon juice

2

tablespoon

light olive oil

2

teaspoons

sugar

salt and pepper to taste
Garnish
Lemon slices

Organic yellow pansies
Instructions
Steam the asparagus
Start boiling water to steam the asparagus. I used an asparagus steamer, but you can use any method you'd like.

Prepare a bowl of ice water to shock the asparagus once it's cooked.

Steam the asparagus 3-5 minutes, or until it's tender but still crisp. Skinny asparagus will take about 3 minutes, while very large asparagus can take up to 5 minutes.

Shock the asparagus in ice water and then cut the asparagus into 2 inch pieces.
Lemon Vinaigrette
Combine the lemon juice and the sugar and let sit until the sugar dissolves.

Add the oil and season with salt and pepper to taste.
Asparagus Salad
If you have time, marinate the asparagus in the dressing for 30 minutes. If not, let it marinate as long as you can.

Add the radishes and scallions and toss.

Garnish with lemon slices and fresh pansies and serve immediately.
Recipe Notes
This asparagus salad makes an excellent side dish for parties if the recipe is doubled or tripled. When serving this asparagus salad at party, I suggest lightly dressing the salad and serving the remaining dressing on the side. There are no emulsifiers in the dressing, so it's rather thin. If you'd like to thicken (and emulsify) the dressing, a pinch or two of xantham gum can be added.
You might also like:
Sesame Cashew Noodle Salad Bowls
Just the salad for hot summer mealtimes. Its are loaded with a rainbow of colorful fruits and vegetables.
Colorful Potato Salad
Take your picnic from boring to wow with this Colorful Potato Salad recipe. Fresh veggies, herbs and spices make this salad pop.
Rosemary Sweet Potato Rolls
One dough, two uses! These Rosemary Sweet Potato Rolls are the perfect side to your meal but the dough can also be used for pizza and can be prepped in advance and frozen. cac alor