This versatile and delicious recipe will make your holiday dinner prep so much easier! This dough not only makes fabulous Rosemary Sweet Potato Rolls, but it can also be used as pizza dough!
---
One dough, two uses! These Rosemary Sweet Potato Rolls are the perfect side to your holiday meal but the dough can also be used for pizza and can be prepped in advance and frozen.


I can't even begin to explain how excited I am about this Rosemary Sweet Potato Rolls recipe! If you've read some of my posts about pizza (like this divine Chocolate Strawberry Mint Dessert Pizza or this Grilled Vegetable Pizza with Lemon Cream Sauce) you know I'm a pizza snob who used to work at a pizza restaurant.
At the restaurant, we had one dough that was used for the dinner rolls and the pizza dough. Tremendously useful, right?
So, I've been on a quest to make a unique bread recipe that does double duty. Trouble is that I rarely make bread. I just don't need the carbs in my diet, but I make exceptions for holidays and the occasional pizza.
After many test batches, viola! This is that handy recipe you've been looking for! Now, obviously this Rosemary Sweet Potato dough is a savory recipe, so I don't think I'd use it with dessert pizza, but it's an amazingly tasty thin pizza crust! It's crispy and rolls out like a dream!
So, why is this important as you are prepping for the holidays? Well, I'm pretty sure everyone out there preps some part of their holiday meals in advance. These Rosemary Sweet Potato Rolls can be made ahead and frozen. But since it can also be a pizza dough, you have an easy dinner option too!

Everyone wants awesome, fresh rolls for Thanksgiving or Christmas, but it's hard to justify the time when you still have to feed the family before and after the holidays.
I'm here to tell you that you have options. I made a double batch of this dough today and divided it into rolls for Thanksgiving and two pizza crusts for leftovers.
Now, admit it! I just blew your mind! Drops the mic… You can make pizza with your turkey leftovers, veggies, just about anything savory you have on hand. Or you can use the pizza dough the day you make the recipe for dinner.
During an earlier test, we used the dough for pizza with bacon, Butterkäse cheese and tomatoes…no sauce required! It was so easy and delicious! It was like a flatbread pizza, but you could also make a more traditional pizza too.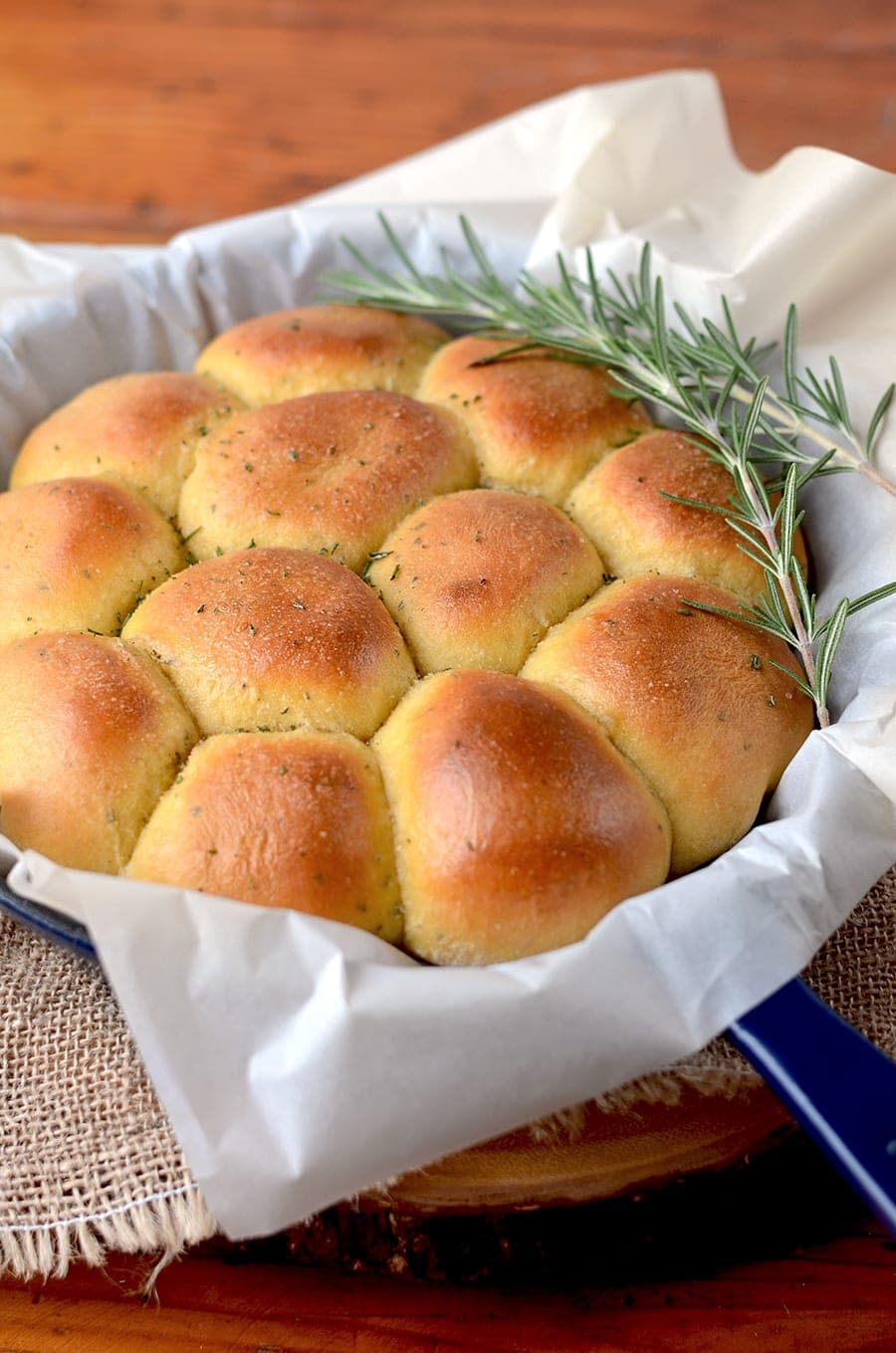 As dinner rolls, this golden bread is soft and fluffy on the inside and salty on the outside. There are hints of sweetness from the honey and sweet potato with a savory undertone from the rosemary. I bake mine in a skillet for pillowy rolls. But if you like a crustier, slightly chewy exterior, you can also bake them separated on a cookie sheet. Either way they taste so darn delicious!
I guarantee these will be a hit at the holiday dinner table! But you might be even more popular when you reinvent your holiday leftovers into pizza. That's how to roll this holiday season ;-)
Stay tuned for more pizza recipes!
Rosemary Sweet Potato Rolls / Pizza Crust
This amazing recipe does double duty as dinner rolls or as pizza crust!
Print
Rate
Ingredients
1

cup

water

110-115 F

1

packet

active dry yeast

(2 1/4 tsp)

16.75

oz

bread flour,

plus more for shaping/rolling

2

tsp

sea salt,

plus more for serving

2

tsp

fresh rosemary,

finely chopped

1/2

cup

sweet potato,

roasted, skinned and preferably riced, but mashing will do

3

TB

extra virgin olive oil,

plus more for brushing

2

TB

honey
Instructions
Measure out all ingredients in advance.

Oil a large bowl and set aside.

Add yeast to warm water, cover with plastic wrap and then let sit for five minutes to bloom.

Combine flour, salt and rosemary in the bowl of an electric mixer fitted with a dough hook.

Add in yeast mixture and stir until mostly incorporated.

Add in sweet potato, oil, and honey and knead dough on low speed for about 7 minutes (Make sure your mixer is locked and make sure it doesn't "walk" off your counter).

Dough should be elastic and just slightly sticky with little residue left on the bowl. If it's too wet, add one tablespoon of flour at a time, or if it's too dry add a teaspoon of water until it's the right consistency.

Transfer dough to the oiled bowl, cover with plastic wrap and let rise for 90 minutes or until it's doubled in size. (If your kitchen is cold like mine you can put it in a warm oven with the door cracked, but keep an eye on it because it might rise faster).

Turn out dough onto a lightly floured surface.

With a bench scraper or knife, cut the dough into 4 pizza crusts or 12 rolls, or any combination of the two.

Take each piece of dough and fold the edges into the center until you have a nice dough ball. Flip it over and press your finger into the center. If it springs back, the dough is just right.

At this point you can freeze the dough for later.

To bake, preheat oven to 400F for rolls or for pizza as high as your oven setting will go.

For rolls, place dough balls in a parchment lined skillet or on a cookie sheet. Brush tops of rolls with oil and bake for 15-25 minutes or until golden brown. Before serving, brush with more oil and sprinkle with sea salt.

For pizza, roll crust thin. Bake one side of crust on a pizza stone or cookie sheet sprinkled with semolina or flour until its brown on the bottom. Remove from oven, flip over and cover with desired toppings. Return to oven and bake until crispy.
Notes
For a dinner party, make a double batch! These rolls are addictive! I have a standard KitchenAid mixer and double batch fits perfectly!
Don't use canned sweet potato. I tried this as a shortcut for a New Years dinner and they were heavy and doughy because of the extra water content in canned sweet potato.
For a beautifully browned crust, position a stainless steel bowl in the bottom of your oven (near the door) before preheating. After you've placed your dough in the oven to bake, pour 1/2 cup of water into the bowl. It will steam up and spatter so be careful!
Nutrition
Calories:
194
kcal
|
Carbohydrates:
34
g
|
Protein:
5
g
|
Fat:
4
g
|
Saturated Fat:
1
g
|
Sodium:
393
mg
|
Potassium:
85
mg
|
Fiber:
1
g
|
Sugar:
4
g
|
Vitamin A:
1602
IU
|
Vitamin C:
2
mg
|
Calcium:
9
mg
|
Iron:
1
mg
Tried this recipe?
Let us know how it turned out for you! Scroll down to leave a comment below.
You might also like: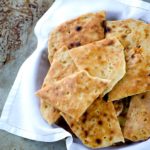 Naan with Candied Carrots, Cashews and Coconut
This naan recipe will surprise and delight guests with its sweet taste and tender crust.
Cream of Mushroom Soup from Scratch
Ditch the can this holiday season by making Cream of Mushroom Soup from scratch for all your casserole needs.

Fried Mozzarella Balls with Pumpkin, sage and Caramelized Onions
These Fried Mozzarella Balls with Pumpkin, Sage and Caramelized Onion are the perfect holiday appetizer!