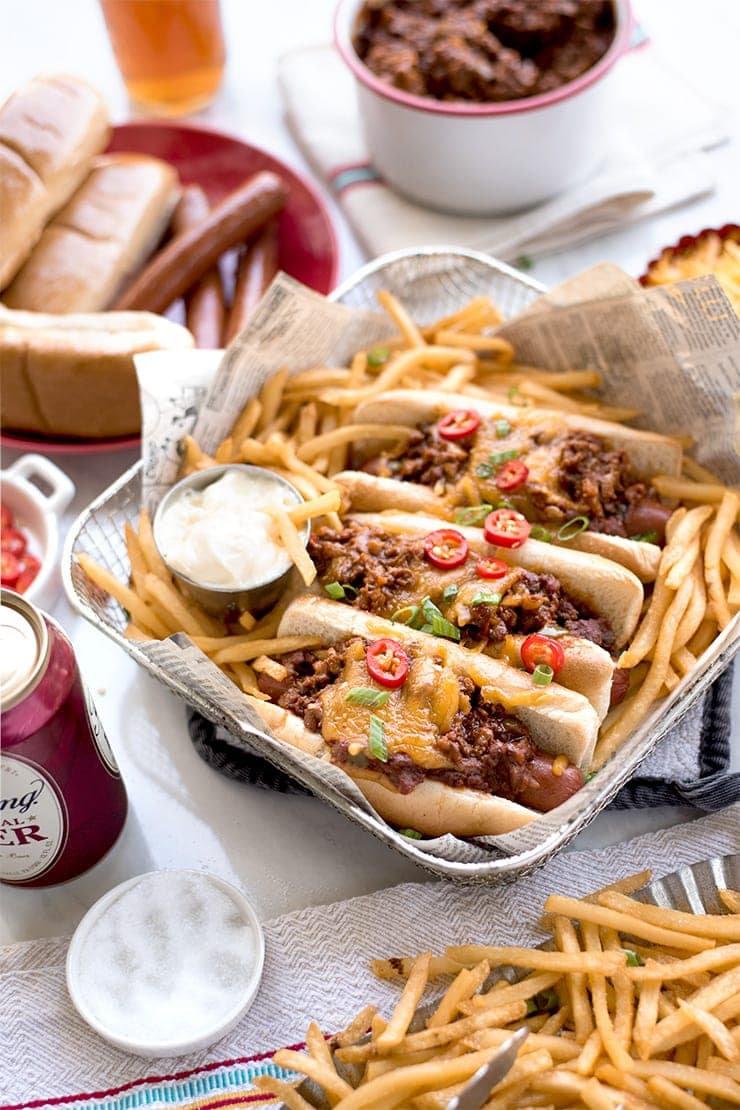 You can't go wrong with chili cheese dogs for easy summer dinners, tailgating or barbecues. Homemade chili served up on hot dogs in just 30 minutes!
---
Don't chili cheese dogs just scream summer? It's the meaty main course that will prove you're a rockstar in the kitchen with a side of fun!


Goodness, do I LOVE chili cheese dogs! They are one of my favorite guilty pleasures because eating them reminds me of vacations in Cape May. Trip after trip, lunch on the beach is always from Hot Dog Tommy's. This place is literary a hole in the wall! It's a to-go counter with all the street food indulgences of the beach, like frozen cokes, loaded mashed potatoes, and hot dogs topped with anything you can imagine. But the chili cheese dog is my standard order.
Sadly, I don't have any beach excursions on my calendar so making chili cheese dogs at home will have to suffice. And boy do I need the day-dreaming distraction! We're having the weirdest weather right now….like a monsoon in May and our Victorian fixer upper is literally leaking everywhere! Jefferson County is flooding so is everything within 30 miles of us. Can you believe we're expecting another 2-5 inches of rain? Couldn't leave if I wanted to…because buckets and buckets of water! But hot dogs I can do.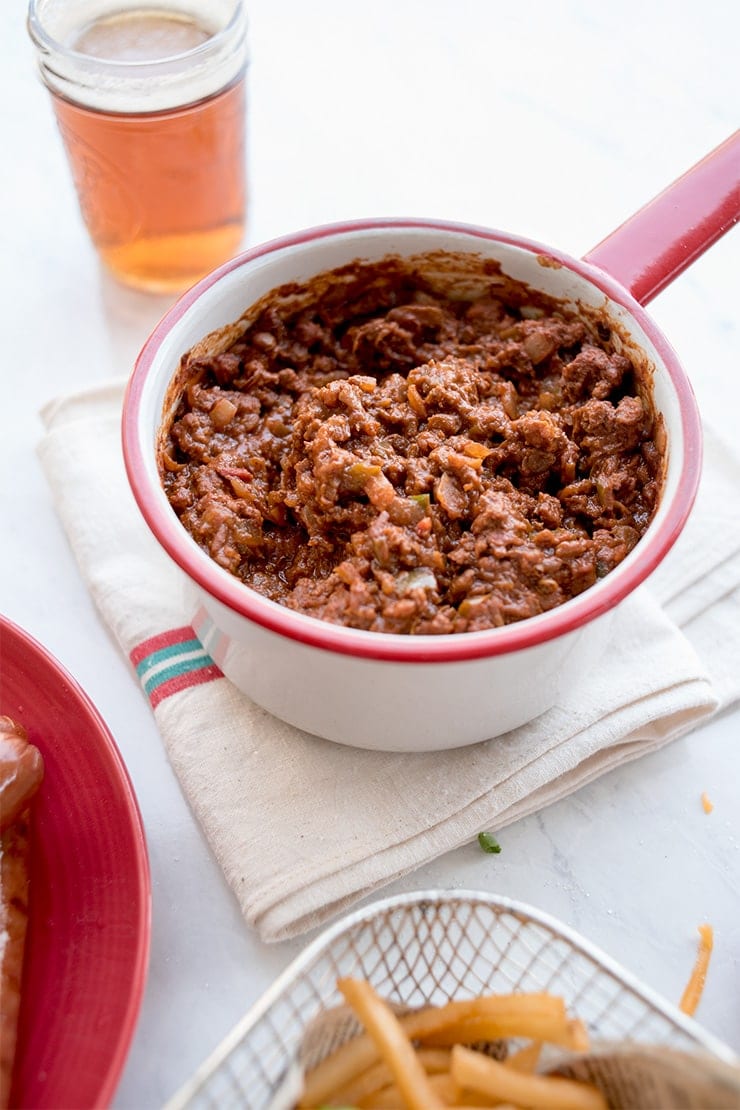 Luckily, this is a 30 minute recipe! And I don't mean open a can of chili quick…. it's homemade chili which is why this recipe is so awesome!
It's also really flexible because there's enough chili to make 24 hot dogs… perfect for barbecues, tailgating or kids parties… but it's also fun for easy weeknight dinners. You can always freeze the leftover chili for the future when you only have 10 minutes to get dinner on the table rather than 30. We've all been there, right?
We used a package of McCormick's chili seasoning which cuts down on time and ingredients, but you can use any seasoning mix you like. We found the mix to be rather mild so we added some extra hot chili powder from Penzeys for the first recipe test.
The second time we didn't seed to jalapenos to give the chili more kick. But you can also opt for garnishing the chili dogs with fresh hot chiles to please the heat lovers in your clan.
They really hit the spot! They are messy, cheesy, delicious as the toppings drip down your hands and face. Totally summer food!
We served up our hot dogs with fries, but tortilla chips and Lauren's black bean salsa or our cherry tomato pico de gallo would be great too! But this corn and basil pasta salad from Foodal is also on point! But maybe I'll skip the side and have another chili cheese dog? Hahaha!
Print Recipe
Chili Cheese Dogs
Chili cheese dogs are one of my guilty pleasures! Luckily, this recipe makes enough chili for a crowd, but it can also be frozen for weeknight dinners.
Ingredients
Chili
1

tablespoon

oil

1

medium

onion

, diced

1

green pepper

, diced

2

large

jalapenos

, diced

1

lb

ground beef

1

package

chili seasoning

1

can

lentils

1

can

tomato paste
Hot Dogs
24

hot dog buns

24

hot dogs

3

cups

cheddar cheese

, grated
Instructions
Chili
Preheat the oven broiler.

In a dutch oven, heat oil over medium high heat.

Add onions, green pepper and jalapenos and cook for a couple minutes.

Add in beef, breaking up beef as you cook it.

Once the ground beef is broken up, add the chili seasoning, lentils and tomato paste.

If the mixture looks dry add 1/2 cup a water.

Bring to a boil, stirring often.

Cook until the beef is cooked and the vegetables are tender then season with salt and pepper to taste.
Hot Dogs
When the chili is almost done, place the hot dogs on cookie sheet and broil for about 5 minutes.

Place hot dogs in buns and top with chili and shredded cheddar cheese.
Nutrition
Calories:
410
kcal
|
Carbohydrates:
42
g
|
Protein:
20
g
|
Fat:
17
g
|
Saturated Fat:
7
g
|
Cholesterol:
48
mg
|
Sodium:
678
mg
|
Potassium:
440
mg
|
Fiber:
6
g
|
Sugar:
4
g
|
Vitamin A:
295
IU
|
Vitamin C:
7.3
mg
|
Calcium:
204
mg
|
Iron:
4.6
mg
You might also like:
Turkey Burgers with Feta
Make your next cookout a multicultural affair. These Tabouleh Turkey Burgers with Feta and Harissa are a fresh take on the classic grilled burger.
Colorful Potato Salad
Take your picnic from boring to wow with this Colorful Potato Salad recipe. Fresh veggies, herbs and spices make this salad pop.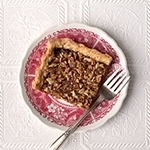 Apple Slab Pie
This slab pie has everything your sweet tooth desires! Doesn't a flaky cinnamon crust filled with luscious apple butter and an almond oat crumb sound irresistible?