We've updated the classic grilled romaine Caesar salad with charred brussels sprouts. It's topped with a creamy homemade dressing, jammy soft boiled eggs and garlicky croutons.
We love great salad recipes here at Vintage Kitty! We're big fans of this Italian Salad and this Asian Noodle Salad, but right now we're loving this warm brussels sprouts salad! It's a winter winner for sure!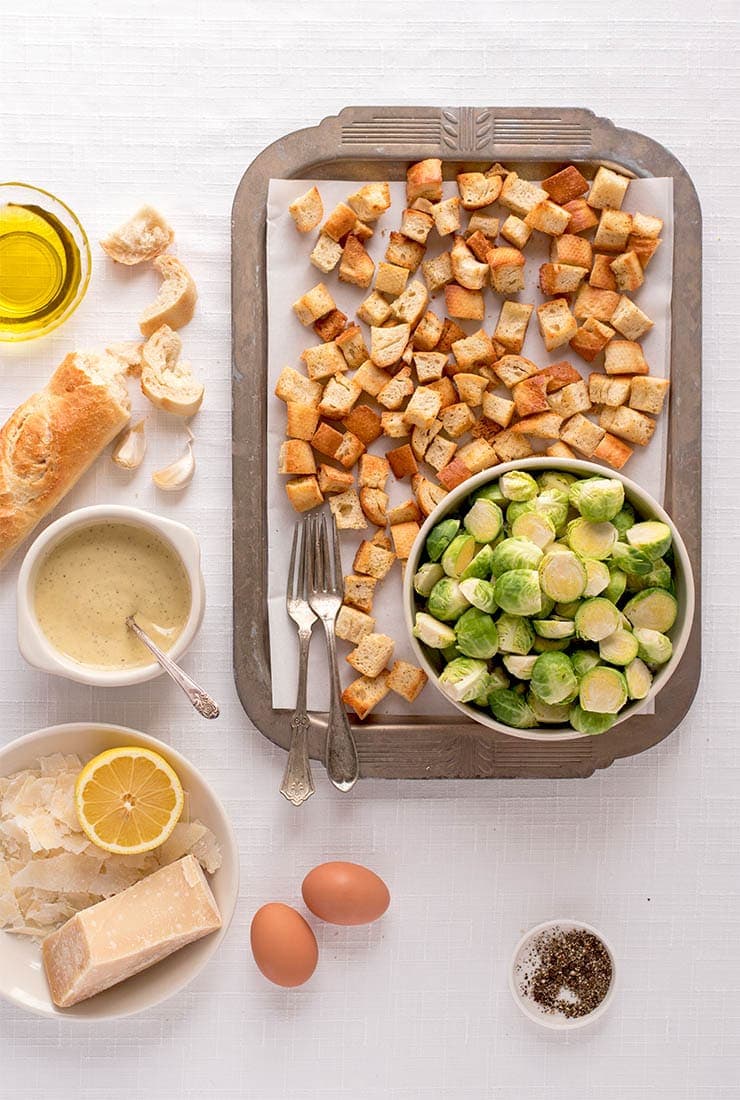 Caesar salad is one of those dishes most of us only eat in restaurants but it doesn't have to be that way. A long time ago, I worked at an inn that served table side caesars and that's when I realized how easy this salad was to make. There was a big wooden bowl, a spoon and a cart full of basic ingredients and once I got the hang of it, it took only a few minutes to make.
With this new found knowledge I started making caesar salads for everyone I knew…that week at the beach with the fam, dinners with friends, date night with Kevin… garlic breath all around! Everyone loved the fresh salads and I enjoyed the praise. It was a neat parlor trick but by no means a great feat.
Making a caesar salad is stupid easy and you don't really need a recipe. The classic Caesar salad dressing includes Worcestershire sauce, extra virgin olive oil, raw egg, lemon juice, parmesan cheese, dijon mustard, garlic, anchovies, salt and pepper. Tableside, we'd make the dressing without measurements…a drop here, a pour there, a spoonful of this and that, determining the end result based on thickness.
There's no right or true recipe. Some will prefer more lemon or dijon and contrary to popular belief, you don't need anchovies. The Worcestershire sauce provides that pungent flavor. However if you're a fan, go for the anchovies.
I'm not beholden to tradition, so I decided to take the best parts of the classic Caesar recipe and reinvent it a little. I took a little inspiration from the grilled romaine Caesar version swapping the lettuce for charred brussels sprouts. This winter vegetable is much more filling than lettuce, so it's perfect for dinner salads.
But the most important swap is taking the egg out of the dressing and instead serving it as a soft boiled egg. As a society, we're much more cautious about raw eggs now and finding pasteurized eggs in the grocery store can be problematic. So, we've gone for a deconstructed approach. Coincidentally, the soft boiled egg ratchets up the presentation by a factor of 10!
But you'll still find all those classic flavors! Salty parmesan, the acidity of lemon and of course garlic! It's pungent in a good way but mellowed by the crunch of freshly baked croutons.
But where this warm brussels sprouts salad shines is in its use of seasonal ingredients and pantry staples. I'm not sure about the rest of you, but my kitchen is always stocked with these dressing ingredients. In fact, the only things I had to purchase were brussels and a baguette!
That's why this is such a practical weeknight dinner recipe during brussels sprouts season. We try to buy Brussels sprouts on the stalk, which tend to stay fresh longer in the fridge. We often also have a loaf of bread in the freezer for emergencies….because bread if life y'all!
If you're organized, this salad takes just about 30 minutes to make from scratch. If you're a meal prepper, the dressing and croutons can be made in advance, making this recipe take about 15 minutes instead. You can also char the brussels ahead, but must admit I preferred them warm.
Because you can prep most of the ingredients in advance, this also makes a great special occasion side salad. It would be great starter for Thanksgiving or Easter Sunday or any dinner where you want to impress your guests with restaurant quality food.
Tips for making Brussels Sprouts Caesar Salad
Worcestershire sauce is not vegetarian as it contains anchovies. For a veggie version my sister in law uses 365 Organic Worcestershire Sauce.
I did not include anchovies in the recipe because you only use 1-2 for a single recipe of dressing. If you love anchovies feel free to add them.
Since the egg is omitted in the dressing, the dressing will be quite pungent and garlicky. We like it that way as the Brussels, soft boiled egg and croutons are mild. But if you would like a milder dressing, feel free to add more oil to soften the flavor.
Speaking of garlic, garlic breath is not pleasant! Eating a Granny Smith apple does wonders for clearing that up. Consider slicing one to have with dessert.
We got a little fancy pants and made parmesan crisps for added crunch. You'll find the instructions in the recipe notes.
We only use half of the croutons, to save calories. Leftover croutons can be stored in an airtight container. Use the leftovers in my friend Lauren's Winter Kale Salad, it's so good!
You don't need a blender for the recipe, but it does make a faster, smoother dressing. Feel free to whisk it in a bowl.
The best way to prepare the garlic is by mincing it and then smashing it into a puree on a cutting board with sea salt and a fork. If you do not use a blender, this will help evenly distribute the garlic flavor.
For speed here is the order to make the ingredients:

Preheat oven, griddle and a pot of water to boil
Make croutons because they take the longest
While the croutons bake, make the dressing
Next prep you brussels and sear them
When your croutons are almost done, boil the eggs
Toss salad and top with sliced soft boiled eggs
Enjoy!
Charred Brussels Sprouts Caesar Salad Recipe
It might seem like a lot of steps, but really, this is a very impressive salad that is simple to make. The warm brussels sprouts are filling, so we enjoy this as a weeknight dinner salad but it also works well as a side salad for family dinners.
Print
Rate
Servings:
2
dinner salad portions
Ingredients
Croutons
2

tablespoons

olive oil

1

clove

garlic

, minced

1/4

teaspoon

sea salt

1/4

teaspoon

black pepper

1/2

large

french baguette

, cut into cubes
Caesar Salad Dressing
6

drops

worcestershire sauce

2

tablespoons

extra virgin olive oil

1

teaspoon

dijon mustard

1

clove

garlic

, minced

1/2

cup

grated parmesan cheese

juice of half a lemon

salt and pepper to taste
Brussels Sprouts
1.5

lbs

brussels sprouts

, cut in half

1

tablespoon

olive oil

1

clove

garlic

, minced

pinch of salt and pepper
Salad
2

large

eggs

shaved parmesan cheese

parmesan crisps

(optional, instructions in recipe notes)
Instructions
Croutons
Preheat oven to 400F and place a small pot of water on the stove to boil the eggs.

In a large bowl, whisk together oil, garlic, salt and pepper then add the bread cubes and toss to distribute the oil.

Spread bread cubes out on a large cookie sheet and bake for 15-20 minutes, tossing the cubes halfway through.
Caesar Salad Dressing
Place all of the dressing ingredients in a blender and pulse until smooth.

Season with salt and pepper to taste. If the dressing is thicker or more garlicky than you like, add extra virgin olive oil to taste.
Brussels Sprouts
Preheat a skillet or on a griddle on high heat

Toss brussels sprouts with olive oil, garlic, salt and pepper.

When the pan is smoking hot, place the brussels cut side down on the griddle. They should char in about 2 minutes, so work quickly to place them and then flip them.

Cook the brussels until they are bright green, charred and still crisp.
Soft Boiled Eggs
Prepare a bowl of ice water for your eggs

Once the water is boiling hard, turn back the heat to low for a minute then drop your eggs into the water with a slotted spoon.

Turn the heat back up and boil for 6-1/2 minutes.

With the slotted spoon, transfer the eggs to the ice water bath.

Peel the eggs and slice in half.
Tossing the salad
Toss the brussels sprouts with the croutons, dressing, a handful of shaved parmesan . Arrange on a plate and garnish with parmesan crisps, sofft boiled eggs and freshly cracked pepper.
Notes
This recipe will make two dinner sized salads or four side salads.
Croutons can be made in advance and stored in an airtight container.
Dressing can be made in advance and stored in the refrigerator up to one week.
To make parmesan crisps, preheat oven to 400F and line a cookie sheet with parchment paper. Shred parmesan using a small holed box grater and sprinkle onto parchment in one tablespoon rounds. Bake for 3-5 minutes until melted and golden. Remove from the oven and let cool then remove crisps with an offset spatula.
Nutrition
Calories:
676
kcal
|
Carbohydrates:
37
g
|
Protein:
29
g
|
Fat:
48
g
|
Saturated Fat:
11
g
|
Cholesterol:
232
mg
|
Sodium:
943
mg
|
Potassium:
1456
mg
|
Fiber:
13
g
|
Sugar:
8
g
|
Vitamin A:
3090
IU
|
Vitamin C:
290.6
mg
|
Calcium:
458
mg
|
Iron:
6.4
mg
Tried this recipe?
Let us know how it turned out for you! Scroll down to leave a comment below.
Love our salad recipes? Leave a comment below!
You might also like: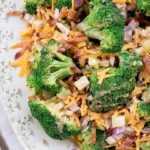 Broccoli Salad
Homemade bacon and mayo dressing with a hint of cayenne kick renders this broccoli salad unforgettable! It makes ordinary steamed broccoli everyone's favorite vegetable!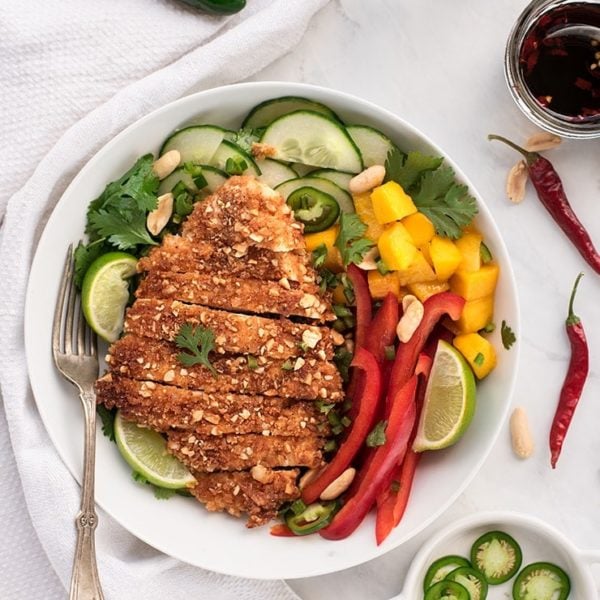 Crispy Chicken Salad
Keep the salad routine from getting boring. Peanut crusted chicken tops this crunchy asian salad with an easy, homemade dressing.
Homemade Ranch Dressing
You'll invent reasons to whip up a jar of this homemade ranch dressing recipe! It's so simple but tastes like you worked hard at it!