It's a party! Vintage Kitty just turned 3, so we're celebrating with this gorgeous Lemon Blueberry Cake! It's made from scratch using lemon zest and champagne!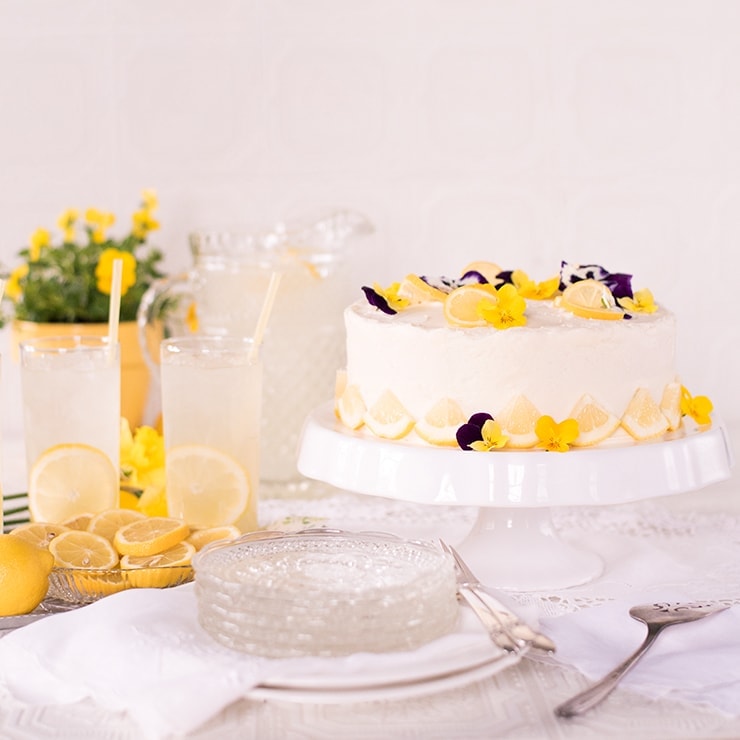 This light and lemony cake is a warm weather delight. It's bright citrus flavors are punctuated by sweet blueberries and tangy cream cheese frosting.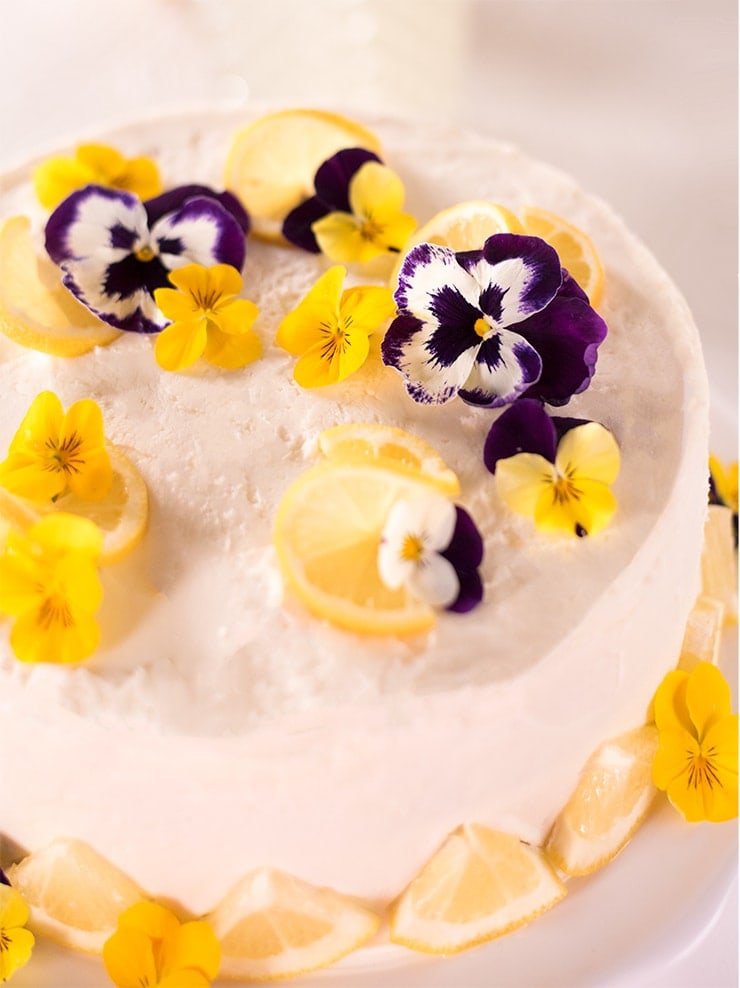 Wow! Can you believe three years have gone by? It's certainly a feat worthy of pomp and circumstance! 206 posts in all covering recipes, gardening, #diydatenight, crafts and a little travel too! But the best part has been YOU! I've met so many wonderful people from loyal readers to fellow bloggers who have made this journey special! So THANK YOU for making the past three years awesome!
What's a celebration without cake?
For our first blogiversary we published this awesome CHOCOLATE CHIP COOKIE CAKE recipe. Not only was it a hit, it became my go to cake for potlucks because it's such a crowd pleaser! Cookie and cake was such a winning combo that we made this recipe for SNICKERDOODLE CUPCAKES to celebrate year two and these cupcakes have made a splash in their own right!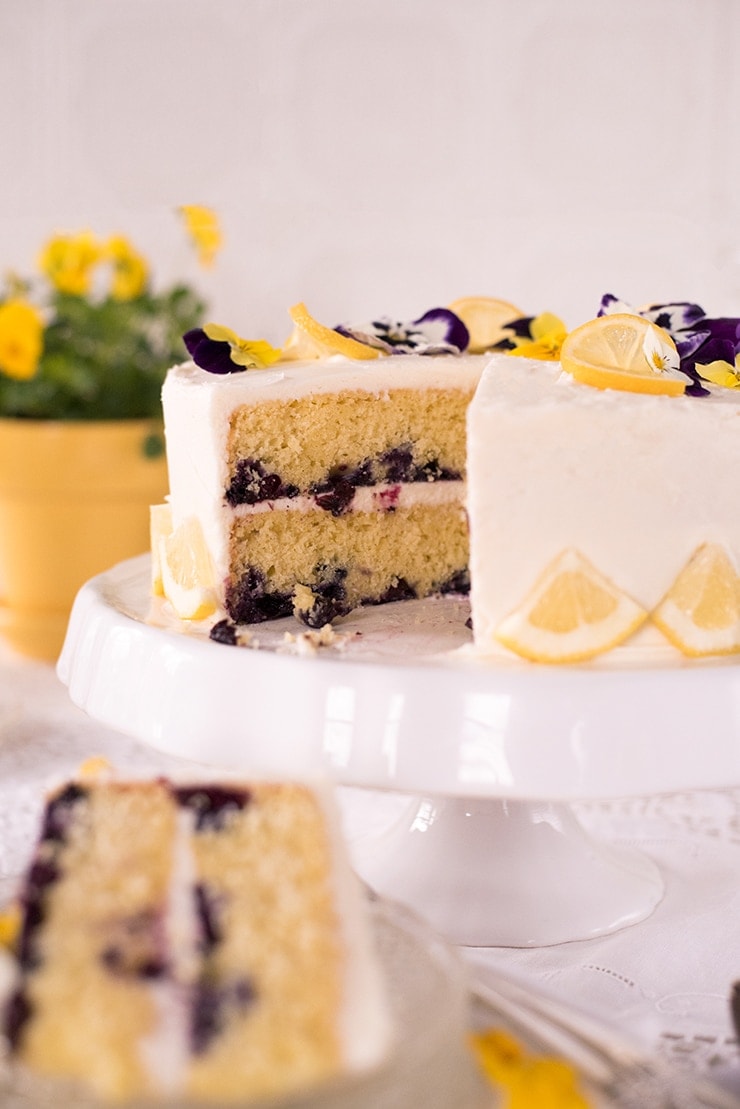 We had a good run going, but this year I decided to break away from the cookie theme and make a cake that suited the warm months ahead.
This is a recipe I've been working on for several years. If you're a regular reader, you probably know that I'm not much of a beer drinker. Besides this HIBISCUS SHANDY, you won't find me drinking beer. But I do like to cook with it! In fact it's the miracle ingredient in my PUMPKIN SPICE BEER CAKE. The reason beer is so awesome in cake is the carbonation makes the batter light and fluffy, resulting in a perfect crumb!
Let's rewind to the summer of 2015. Kevin and I were in Newport, Rhode Island to see our friend Ryan become a naval officer. So, while Ryan was finishing his last days of bootcamp, we were seeing the sights. We happened upon the Newport Storm brewery and I basically watched Kevin drink beer. But then he tried a blueberry beer and told me to try it. AND I ACTUALLY LIKED IT!
Not enough to drink it but to bake with it! So, I came home with blueberry beer in tow and spent the next month making this lemon blueberry cake recipe using beer…. but then after some searching I realized that blueberry beer was hard to come by. So the recipe was shelved indefinitely.
As Vintage Kitty's birthday was approaching, I decided to revive this recipe by trying champagne instead of beer. It turned out really well! In fact the cake was a little lighter and less structural. I'm assuming the gluten in the beer played a role in making the original recipe more dense. So while the blueberries were more apt to float in the beer batter, the opposite was true of the champagne batter, in which they fell.
In a perfect world the blueberries wouldn't sink like rocks, but after three years blogging, I've learned that there is no truly perfect cake recipe. That's because cakes are dependant on so many sciency factors like heat, cold, humidity, method and precise measurements. If just one little thing is off, a cake can go sideways!
When life gives you lemons you make lemonade and go with the flow!!!! And in the case of this cake, I don't mind the fallen blueberries. As they cook on the bottom of the pan they turn into jammy wonderfulness!
And the lemon cake! Oh my it's so citrusy! To get maximum lemon flavor, I used a ton of fresh lemon zest plus a little lemon juice and lemon extract. Hence the lemonade, which is made with the leftover lemon juice. As it turns out, lemonade is the perfect accompaniment to this divine cake!
To break up the fruitiness, the cake is iced with a tangy cream cheese frosting. It's velvety with a beautiful balance of butter to cream cheese and a hint of lemon.
Because it's a celebration, I decorated the cake with pansies and lemons slices. This is one of my favorite tricks because although I'm a mean piping machine, hand frosting a cake is not one of my skills. Pansies are edible and make desserts look impressive without a lot of effort! I don't know about you, but I'd rather get to the cake eating faster!!!!!
I'm sure you would too, so scroll down to get the recipe, but before you do, read my tips for avoiding baking mishaps!

TIPS FOR BAKING LEMON BLUEBERRY CAKE
Always bring all of your ingredients to room temperature before baking a cake. And don't try to cheat by microwaving the butter because it won't work!
I recommend against washing the blueberries. If you must wash them, make sure they are dry before baking.
Don't over beat the butter! You want to work air into the butter as you cream it, but don't whip so long that the butters melts, which will remove those precious air bubbles.
Don't over mix the batter. Seeing a little extra flour at the end of mixing is a-o-kay!
Make sure the champagne is room temp and you pop it open right before adding it to the batter.
Use one of these nifty bottle stoppers and place the champagne in the fridge so you can enjoy it later.
A scale is your friend! This is especially true for flour.
A fine microplane grater is the best way to zest the lemon. The fine grate assures a smooth batter that will result in an evenly flavored cake.
It's a pain, but follow the cream cheese frosting instructions to a T. Encapsulating the powdered sugar in butter is key! It keeps the sugar from pulling the water out of the cream cheese. You really don't want runny frosting ruining your cake!
Lemon Blueberry Cake Recipe
This is my favorite type of warm weather cake It's sweet and citrusy with a light crumb that is as sunny as the weather. Because the cake uses a large quantity of lemon zest, we like to serve it with homemade lemonade. Waste not, want not!
Print
Rate
Ingredients
Lemon Blueberry Cake
2

cups

blueberries

(the smaller the better)

3

cups

(12 ounces) cake flour

, plus more for the pans

2 1/2

teaspoons

baking powder

1/2

teaspoon

baking soda

1/2

teaspoon

sea salt

2

large

egg whites

1

cup

salted butter

1 1/2

cups

sugar

2

tablespoons

lemon zest

6

large

egg yolks

4

teaspoons

vanilla extract

1/2

teaspoon

lemon extract

2

tablespoons

lemon juice

1

cup

champagne

(room temperature and unopened)
Cream Cheese Frosting
12

tablespoons

salted butter

7

cups

powdered sugar

, sifted

2

teaspoons

vanilla extract

1/4

teaspoon

lemon extract

12

ounces

cream cheese
Instructions
Lemon Blueberry Cake
Before starting, bring the eggs, butter, cream cheese, lemons and blueberries to room temperature. This is a very important step! Depending on weather this can take 1-2 hours.

Preheat the oven to 350 and grease and flour two 9 inch by two inch cake pans and line the bottom of each with a piece of parchment cut to fit.

Place the blueberries in a bowl.

Sift and measure the flour, or weigh it and place it in a medium sized bowl.

Take a teaspoon of the flour and add it to the blueberries. Gently stir to cover the berries in flour.

Add the baking powder, baking soda and salt to the flour and whisk to combine.

In the bowl of an electric mixer with a whisk attachment, whip egg whites to soft peaks then transfer to a bowl.

Change the beater to a paddle attachment and beat the butter until soft and fluffy.

Stir in the sugar and mix on medium speed for another minute.

Add in the lemon zest and beat on high speed for about 30 seconds.

Drop in the egg yolks one at a time beating a little between each addition.

Add in the extracts and lemon juice and mix on low speed to combine.

Pop open the champagne and measure out one cup into a liquid measuring cup. Make sure the liquid is at the one cup mark after the foam has settled!

Starting and ending with the flour, alternatively mix in dry ingredients and the champagne in three additions. Make sure to mix on low speed and beat each addition until just incorporated.

Fold in the egg whites by hand with a spatula.

Finally, gently fold in the blueberries.

Evenly divide the batter between the two pans and transfer to the oven.

Bake 25-30 minutes, or until the cake springs back to the touch and the sides have pulled away from the pan. Alternatively, use a tooth to test doneness.

Remove from the oven and let cool in the pan for 5-10 minutes.

Run a knife along the edge, and gently turn out the cake onto a cooling rack. I prefer to flip the cake again so the parchment is resting on the rack. This way it won't stick.

Let cake cool completely before frosting.
Cream Cheese Frosting
Cream butter in the bowl of an electric mixer.

Add in powdered sugar one cup at a time. By the time you get to the end, the mixture will most likely resemble a course crumb. Go with it, you're on the right path!

Pour in the extracts and mix thoroughly.

Finally add in the cream cheese a little at a time, whipping on low speed at first and increasing the speed at the end.

Remove parchment from cakes and frost with an offset spatula.
Notes
Cover and store cake at room temperature (65-70 F) for up to three days. I remove the decorations (fresh fruit and flowers) because they won't hold up as long as the cake.
I will often make the cake layers a day before I plan to serve it. If I feel it has gotten dry overnight, I'll poke holes in the cake layers and baste them with a mixture of 1 tablespoon of limoncello and 1 tablespoon of powdered sugar.
Nutrition
Calories:
865
kcal
|
Carbohydrates:
123
g
|
Protein:
6
g
|
Fat:
38
g
|
Saturated Fat:
23
g
|
Cholesterol:
167
mg
|
Sodium:
476
mg
|
Potassium:
205
mg
|
Fiber:
1
g
|
Sugar:
97
g
|
Vitamin A:
1305
IU
|
Vitamin C:
4.6
mg
|
Calcium:
89
mg
|
Iron:
0.8
mg
Tried this recipe?
Let us know how it turned out for you! Scroll down to leave a comment below.
You might also like:
Blueberry Grapefruit Bars
Blueberry Grapefruit Bars are a perfect warm weather dessert that is sweet, refreshing, tart, buttery and best served cold. Scratch baking at it's best!
Lemon Icebox Pie

Lemon Icebox Pie is sweet, tart, creamy, nutty and best served cold! This mouthwatering icebox pie hits the spot when the thermometer soars!
Prosecco Pineapple Sorbet Floats
Prosecco Pineapple Sorbet Floats are the ultimate light and refreshing brunch cocktail or dessert.