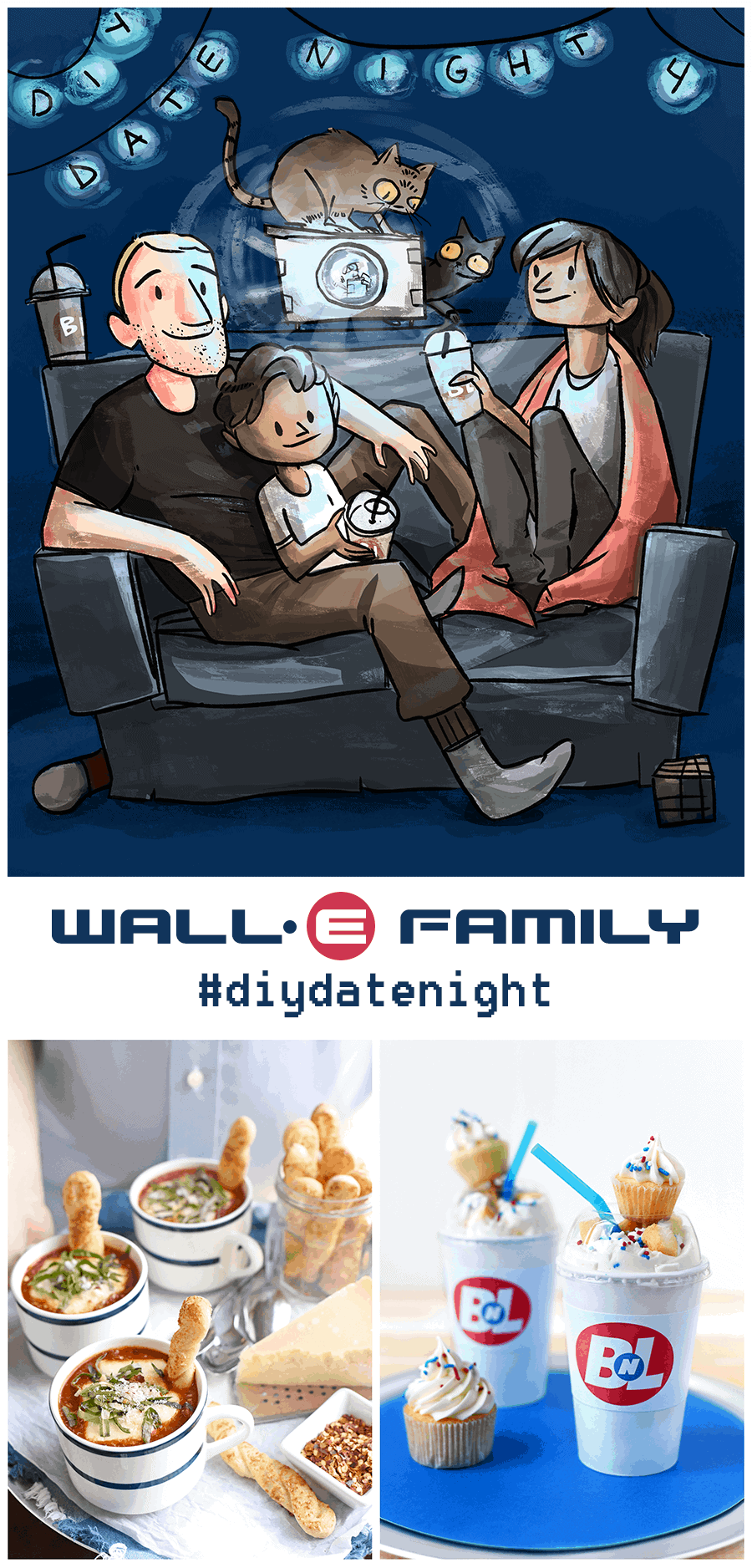 Enjoy a fun family movie night with our Wall-e Family #diydatenight! Watch the movie, eat food in a cup and go on a Wall-e themed scavenger hunt!
---
Quality family time has never been so much fun! Make dinner together, follow Wall-e on a space adventure and then race to build Wall-e's collection of objects.

Megan and I are back with a new #diydatnight! Summer is waning and soon kids will be back in school, so we thought a family movie night was in order. And what is more fun than our favorite space exploring, trash robot? It's a Wall-e Family #diydatenight
I'm not a mom, but I know from my parent friends that it can be difficult to keep the kids entertained while they're home for the summer, so we've planned a bit of an overachievers #diydatenight with summer in mind. However, this family movie date is great for any time of year, so feel free to pick and choose the activities and recipes that fit your schedule.
I'm kind of old school… but I'm thinking you already knew that! I remember the days of projectors and how you'd watch old family videos on a blank wall. Good times! Did you know you can make a projector out of a shoebox, a smartphone and a few common household items? You can, so our #diydatenight begins with a DIY projector. It's an easy craft that your kids can most likely make on their own and it can be done in advance of your movie night.
Once you've built your shoebox projector, download Wall-e onto your phone and give it a try. You can use a wall in your living room, or if you want to watch it outside, you can build your own movie screen. Of course, if you watch it outside, make sure to connect your smartphone to a bluetooth speaker, so you can hear the adventure!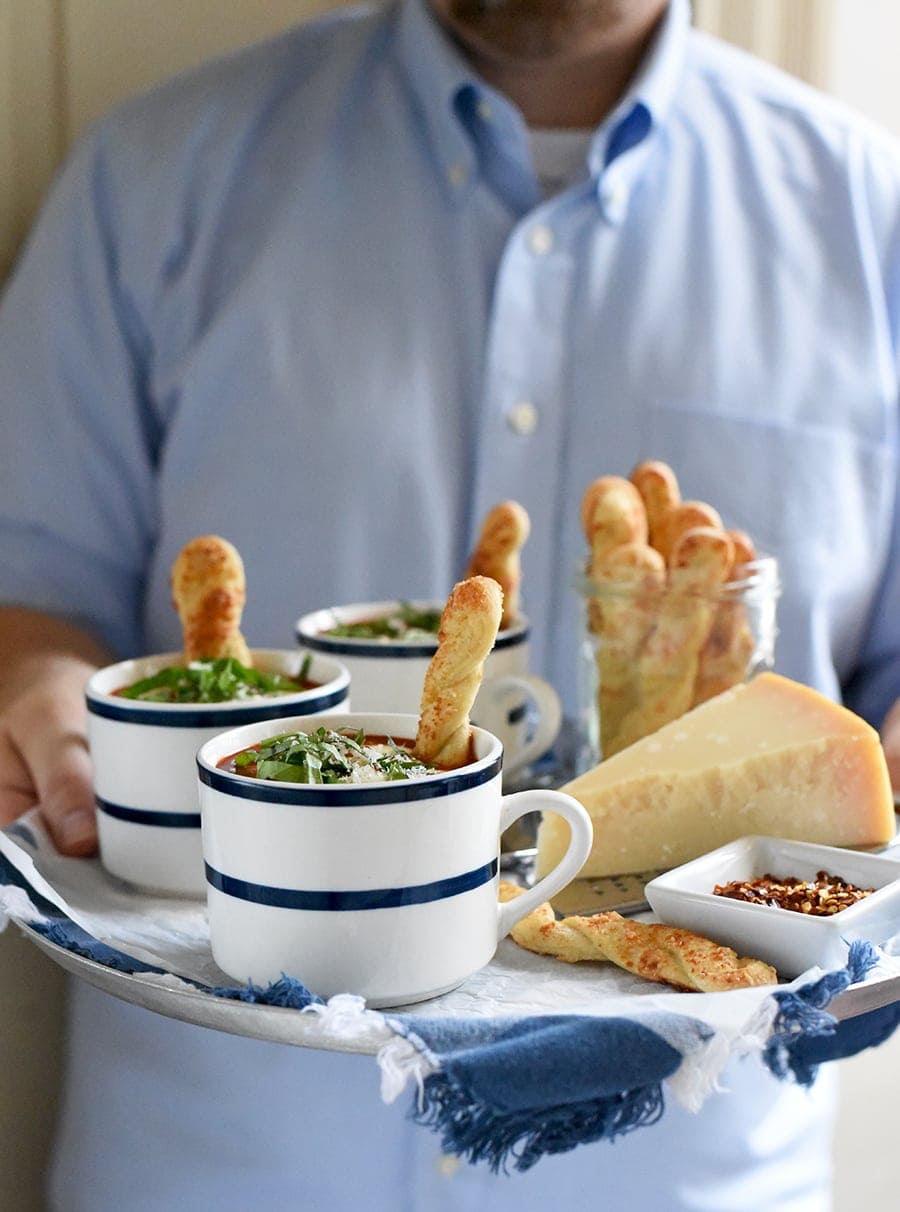 Now that you're prepped for your movie watching experience, it's time to make dinner. This is where I must sound the spoiler alert. If you haven't seen Wall-e, these details will give away some aspects of the movie… but certainly not the whole movie plot…
Once Wall-e is in space and aboard the Axiom, we learn that the passengers eat all of their food in a cup. So tonight we've got two recipes for you. For dinner we have a Margherita Pizza Soup. This fun soup has the flavors of margherita pizza, right down to the fresh basil and melty mozzarella cheese, but it's deconstructed for a creative twist. It's perfect for a casual family dinner. Plus we've served it in a cup!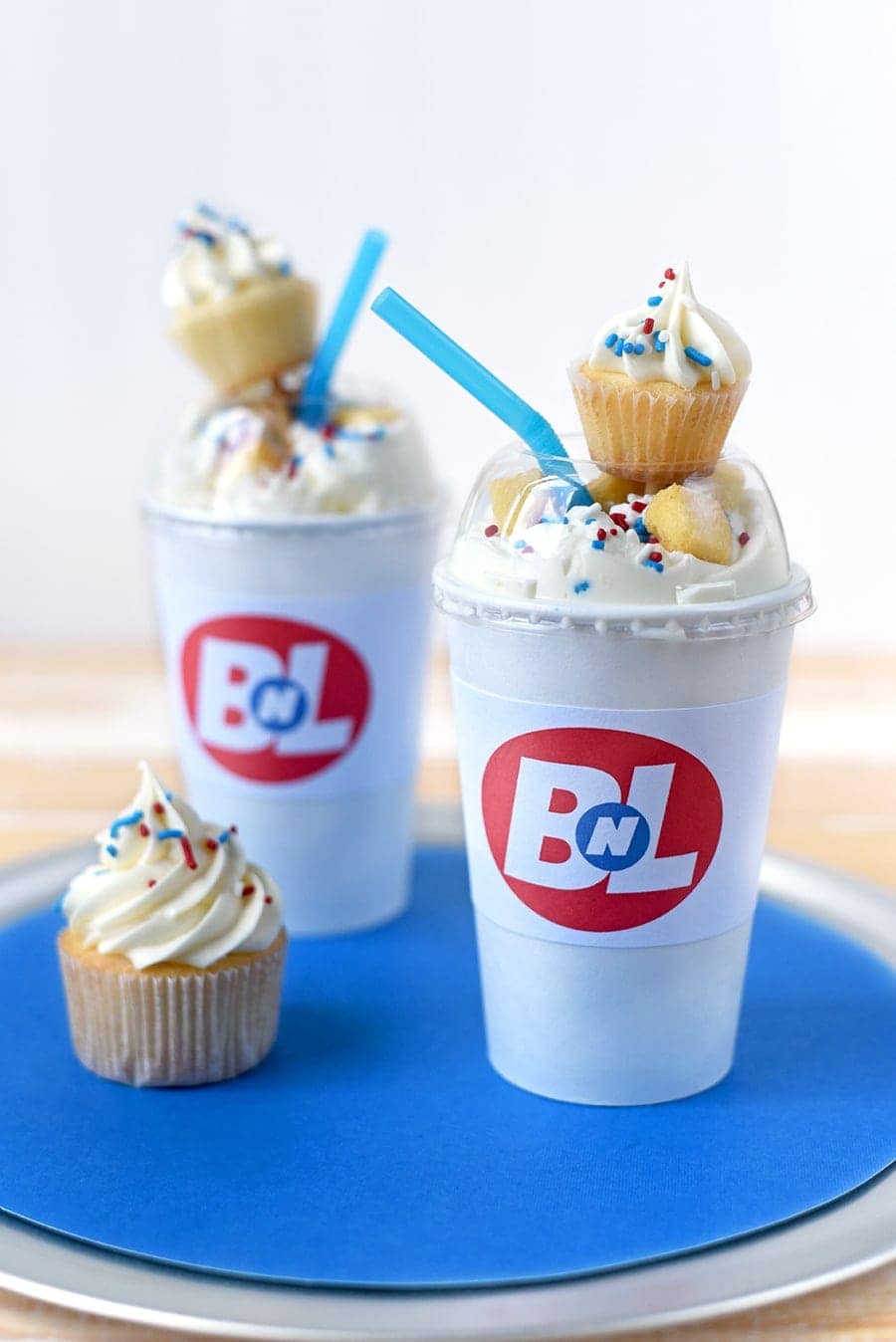 For dessert we've created a cupcake milkshake recipe to fit the Wall-e theme. We went all out and put our milkshakes in a dome lidded cup and attached a Buy n Large logo sleeve to the cup. Click here to print your own Buy n Large sleeves. Or if you take the movie's message to heart, you can go with a classic milkshake glass and help save the planet from waste.
To garnish these pretty cupcake milkshakes, we've used plenty of sprinkles, whipped cream, toasted poundcake and a mini cupcake on top. How cute!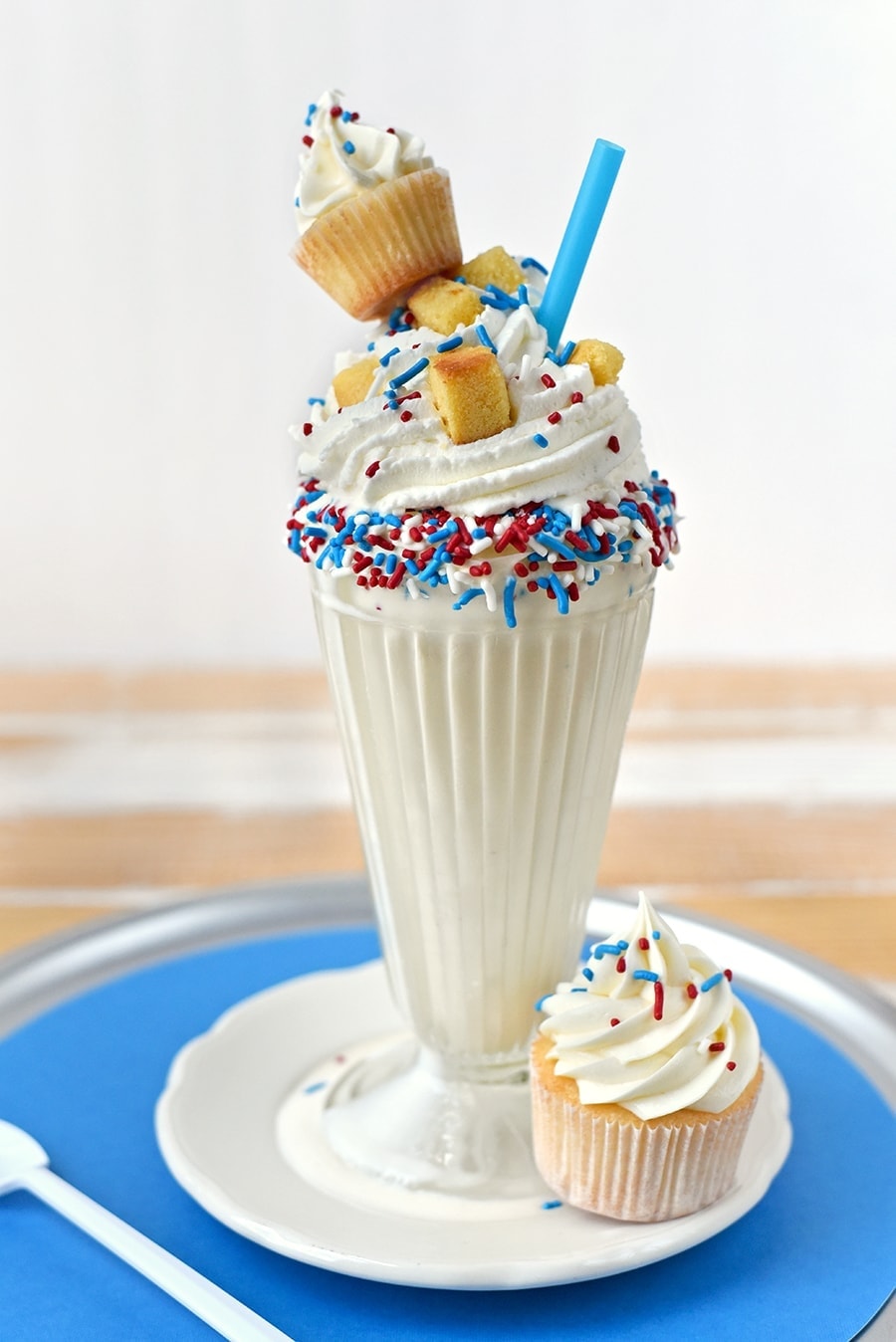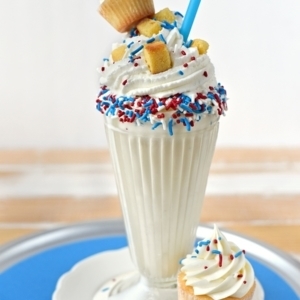 Vanilla Cupcake Milkshake
This cupcake in a cup recipe is inspired by the movie Wall-e. It's part of our #diydatenight series.
Print
Rate
Servings:
1
large milkshake
Ingredients
Garnish
1

slice

pound cake

1

mini

cupcake

whipped cream

sprinkles
Vanilla Cupcake Milkshake
1/2

cup

milk

1

vanilla cupcake

1-2

drops

vanilla extract

4-5

scoops

vanilla ice cream
Instructions
Garnish
Cut pound cake into small cubes and place on a cookie sheet and toast in the oven or toaster oven.

Transfer pound cake to freezer to cool.
Milkshake
Place a vanilla cupcake in a blender with the milk and vanilla extract.

Add vanilla ice cream and pulse, adding more ice cream if needed.

Pour milkshake into a cup and top with whipped cream, sprinkles and poundcake.

Place mini cupcake on a skewer and place in milkshake.
Nutrition
Tried this recipe?
Let us know how it turned out for you! Scroll down to leave a comment below.
At this point, it's time to watch the movie while sipping cupcake milkshakes! If you totally want to geek out Wall-e style, you can print these glasses from Hello Kids. Ready? Turn down the lights because it's showtime!
Seriously, this is one of my favorite Pixar/Disney films. It's got adventure, ALL THE FEELS and an antique collection! Which brings us to the final Wall-e #diydatenight activity, A SCAVENGER HUNT! Can you build a collection as large as Wall-e's?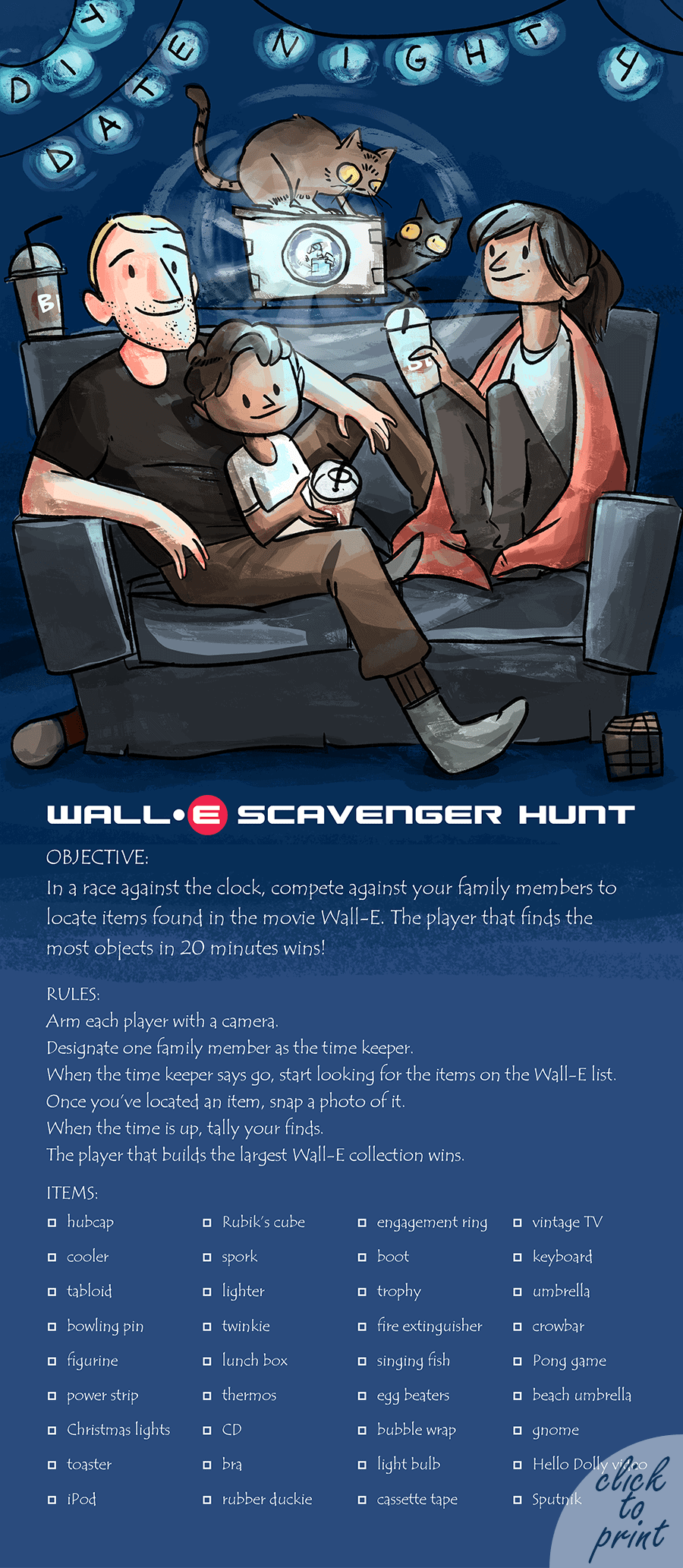 Now, wasn't that fun? Did you love the movie? Are you inspired by Wall-e's lessons? If you loved the movie and our #diydatenight, please share so more families can join in the fun!
DISCLAIMER: The illustrations and activities in this post use characters and story elements from the movie Wall-e, which is trademarked by Disney. Vintage Kitty and Megan Crow do not claim any ownership of Wall-e or its characters. This post is for entertainment purposes only. We thank Disney and the creators of Wall-e for creating an inspiring movie that captured our imaginations.
#diydatenight is brought to you by:
Megan is a Seattle area freelance illustrator. She loves drawing people's mugs, laying on the ground with her dogs, eating beans and traveling. She can most often be found sitting in the rain, contemplating life's great question: Spike or Angel? For commission information: megcondron@gmail.com
www.megan-crow.com |Instagram: @megzcon
Charity
AKA "Kitty" is a passionate foodie and enthusiastic adventurer that loves discovering the beauty in everyday life and culture. Charity shares her culinary, homemaking and travel pursuits here on Vintage Kitty and as a freelance writer. Want to collaborate? Send her a
message
.
---
You might also like: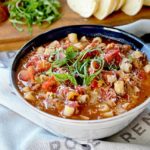 Pizza Soup with Peppers, Italian Sausage and Spices
Pizza Soup is a hearty, robust tomato soup filled with Italian flavors and ingredients. It's supremely delicious!
Earth Day #diydatenight
Enjoy a fun evening in with our Earth Day inspired #diydatenight! Homemade dinner and a planting activity will help keep your relationship healthy!
Rosemary Sweet Potato Rolls/Pizza Crust
One dough, two uses! These Rosemary Sweet Potato Rolls are the perfect side to your meal but the dough can also be used for pizza and can be prepped in advance and frozen.