Enjoy a fun evening in with our Earth Day inspired #diydatenight! Homemade dinner and a planting activity will help keep your relationship healthy!
---
It's easy being green with our planned date night! We're serving up Indian Inspired Buddha Bowls that are vegan, gluten-free and incredibly yummy. Then after dinner we have a fun indoor planting activity.
It's important to give back to our planet, but it can also be tasty and fun! So when Megan suggested an Earth Day #diydatenight I was so on board! Sometimes its doing the little things that make the most impact, especially when they become a habit.
We all have our ways to reduce our ecological footprint. I keep a worm bin during warmer months to reduce food waste. In turn, the worms provide compost for my herb and vegetable gardens! Yard to fork also has benefits for the environment. The flowers are beneficial for bees and just think about how shipping produce a long distance taxes our resources!
Cutting back on meat and dairy is another way to make a difference, because in general, plant-based foods are more environmentally sustainable. So, today we've got a vegan recipe for you. There's a lot of meaning in the cuisine and ingredients I've chosen.
First I picked peas because they are a farm fixer that adds nitrogen back to the soil. That's true of most legumes, but peas are coming into season, and eating locally is always a good thing.
I know, you're thinking "blah, blah blah, Mother Earth….but does it taste good?"
I'm here to say YES! I'm not vegan, but I find that the meat-free, dairy-free foods I enjoy the most are heavily seasoned. And if you think about it, Indian food already has many vegetarian dishes, so it's not hard to make a few substitutions to make the cuisine vegan.
But my first thought was just about peas being good for the environment. So I decided the start with pea fritters that are loaded with fresh mint and spices and realized how similar the flavors are to pakoras, Indian vegetable fritters, and thought I'd go all out with an Indian Inspired Buddha Bowl.
The bowl is filled with a fragrant stir-fried basmati that is jeweled with carrots, raisins and cashews. Then we topped if off with the pea fritters and a mint chutney. We've also included some fresh veggies for crunch like spinach, cucumbers and radicchio.
This bowl is filled with wow flavors and lots of plant-based protein. There's crunch, satisfying carbs and it's super filling. But if you have room for dessert I'd suggest mango sorbet topped with fresh berries. With all that slicing and dicing for dinner, you need to save some time for our planting activity!
I'm gonna call this modern mistletoe! I'd never heard of Tillandsia until Megan mentioned it as a possible activity. (See, I told you last month that Megan was going to bring artist cool to #diydatenight!). These interesting plants don't need soil because they absorb moisture through their leaves! So they are a perfect, low maintenance house plant.
Since they don't need soil, you can get very creative with how you display them. I found the metal sculpture pictured above at a thrift store for just 75 cents! I thought it would be a fun way to plant the Tillandsia I purchased from Amazon. I figure that another way to be more green is to reuse! You can adapt almost anything into an air plant display with a little z2″>stretchy cord and some imagination. Hunt through your garage or basement for something forgotten and see how it can be repurposed!
But if you're short on time or inspiration, you can buy geometric wire sculptures like mine and the one in Megan's photo online. Amazon also sells fertilizer so you can keep your plants healthy a long time. Here's a complete how-to:
Once you've completed your air plant display, consider hanging it over your dinner table. After your Earth Day #diydatenight is over, it can be a nice reminder that your relationship and the Earth need nurturing. You'll be surprised how much fun you can have together while also living a more sustainable life!
Indian Inspired Buddha Bowl
This Indian Inspired Buddha Bowl is not only vegan and gluten free, but also loaded with fresh veggies. Don't let the long ingredient list scare you. The cooking part is easy and since this is a #diydatenight recipe, all that food prep can be done together!
Print
Rate
Ingredients
Pea Fritters
1

tablespoon

flaxseeds

3

tablespoons

water

2

cups

peas

, divided

2

tablespoons

olive oil

¼

cup

gluten free flour

(I used Bobs Red Mill All Purpose Gluten Free Flour)

1 ½

teaspoons

cumin

1 ½

teaspoons

turmeric

1 ½

teaspoons

coriander

¼ - ½

teaspoons

salt

2

tablespoons

fresh mint

, chopped

5

spring onions,

white parts minced, green parts sliced thinly

neutral oil for pan frying
Mint Chutney
2

cups

cilantro

2

cups

mint

1/4

cup

lemon juice

1

inch

ginger

1

large Serrano pepper

6

tablespoons

water
Biriyani:
2

cups

raw basmati,

cooked

2

carrots grated

1

large serrano pepper

, seeded and minced

1

small onion

, diced

1

cup

cashews

, half chopped, half whole

1/2

cup

raisins

3/4

cup

cherry tomatoes

, coarsely chopped

4

teaspoons

masala chaat

1

cup

cilantro

, chopped
Garnish
Baby spinach

Julienned cucumbers

Scallions

Cilantro

Radicchio

Mint leaves

Cherry tomatoes

Sliced Serrano peppers
Instructions
Mint Chutney
Pulse in a food processor until smooth and season to taste with salt and pepper.

Place in a jar and keep refrigerated until ready to serve.
Pea Fritters
In a small food processor, puree flax seeds, water, 1 cup of the peas and olive oil.

In a medium sized bowl, coarsely mash the remaining peas.

Mix in pureed pea mixture and stir to combine.

Add in flour, spices and salt and mix thoroughly.

Stir in mint and onions and adjust salt if necessary.

Heat a heavy bottomed skillet over medium heat.

Coat the bottom of the pan with a thin layer of oil.

When the oil is hot, fry2 tablespoons sized fritters, making sure not to crowd the pan.

Cook each side of fritters until browned and crispy.

Drain on a paper towel and place in oven to keep warm.
Biriyani
Once you finish frying the pea fritters, turn up the heat to high and stirfry the carrots, onions and pepper until the veggies are tender, about 4-5 minutes

Add cooked rice, tomatoes, cashews, raisins and masala spices and fry until tomatoes break down (add more oil if the rice starts to stick).

Season with salt and pepper to taste.

Toss in cilantro and serve in a bowl with fritters and chutney.
Notes
To save time, make chutney and basmati can be made 24-48 hours ahead of time.
Nutrition
Calories:
793
kcal
|
Carbohydrates:
129
g
|
Protein:
21
g
|
Fat:
24
g
|
Saturated Fat:
4
g
|
Sodium:
208
mg
|
Potassium:
1159
mg
|
Fiber:
13
g
|
Sugar:
11
g
|
Vitamin A:
7836
IU
|
Vitamin C:
62
mg
|
Calcium:
178
mg
|
Iron:
8
mg
Tried this recipe?
Let us know how it turned out for you! Scroll down to leave a comment below.
#diydatenight is brought to you by:
Megan is a Seattle area freelance illustrator. She loves drawing people's mugs, laying on the ground with her dogs, eating beans and traveling. She can most often be found sitting in the rain, contemplating life's great question: Spike or Angel? For commission information: megcondron@gmail.com
www.megan-crow.com |Instagram: @megzcon
Charity
AKA "Kitty" is a passionate foodie and enthusiastic adventurer that loves discovering the beauty in everyday life and culture. Charity shares her culinary, homemaking and travel pursuits here on Vintage Kitty and as a freelance writer. Want to collaborate? Send her a
message
.
---
You might also like:
Orange Chai Iced Tea
Orange Chai Iced Tea will make your summer cool and sweet. There isn't a more classic way to relax with friends on a hot day.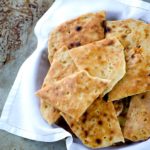 Naan with Candied Carrots, Cashews and Coconut
This naan recipe will surprise and delight guests with its sweet taste and tender crust.
Mango Lassi No Bake Cheesecake
Rich and creamy Mango Lassi No Bake Cheesecake is a perfect warm weather dessert. It's easy to make and tastes astounding! Plus you'll love this foolproof method of making fruit curd from scratch.