Make your next cookout a multicultural affair. These Tabouleh Turkey Burgers with Feta and Harissa are a fresh take on the classic grilled burger.
---
Tabouleh Turkey Burgers ditch the standard lettuce, tomato and onion for a Lebanese parsley salad. But why stop there? Harissa replaces ketchup and feta is the big cheese.


One of the things I love about American cuisine is that it is so multicultural. Our food is a melting pot of flavors.
When I create recipes, I take inspiration from a variety of cuisines. My options are nearly limitless in the age of supermarkets and Amazon Pantry! So just about every time I have to categorize a recipe, I'm stumped. Why do I have to choose just one? Good news is I don't have to! Fusion is the bees knees!
Mixing flavors and reinventing old classics is second nature to me. So recently, when I was thinking about burgers, tabouleh popped into my head, I thought why not? So we tried it with turkey burgers and found that mixing tabouleh into the ground meat makes a very moist burger. Not always easy with poultry.

But the flavor was a bit lacking. So I went to the fridge for ideas and found harissa and feta. Home run! The harissa adds moisture to the bun while also adding spice and the feta adds needed fat and salt.
It's fun that this Tabouleh Turkey Burger hops from Lebanon to Tunisia to Greece and then back to America. Kind of fitting for the upcoming 4th of July celebration, right?
#CookoutWeek is almost over, so make sure to get your entries in for the giveaway. Lots of great barbecue prizes up for grabs! The contest ends Friday night and at that point this blog will turn into a pumpkin. Okay maybe not, but you get my point 🙂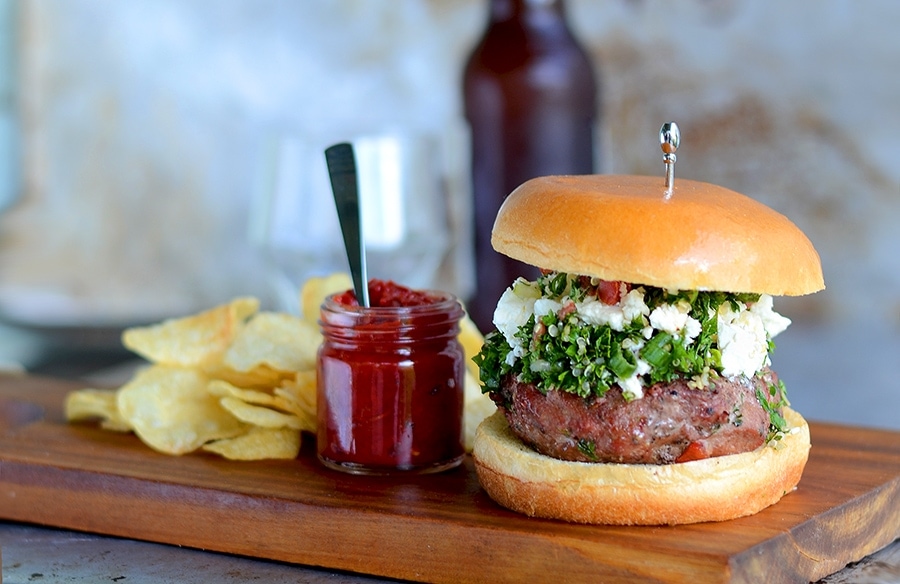 Print Recipe
Tabouleh Turkey Burgers with Feta and Harissa
Ingredients
Tabouleh
1/2

cup

cooked quinoa

1/4

cup

extra virgin olive oil

5

TB

lemon juice

2

TB

scallions

green parts only, thinly sliced

2

cups

parsley

chopped

2

cups

tomatoes

diced

1/2

cup

mint

chopped

1

cucumber

peeled, seeded and diced

Salt and pepper to taste
Burgers
1.6

lbs

ground turkey

1

cup

tabouleh

2

TB

lemon juice

salt and pepper

1

cup

feta cheese

harissa

4

hamburger rolls
Instructions
Tabouleh
Combine ingredients in a bowl and season with salt and pepper to taste.
Burgers
In a bowl, combine ground turkey, 1 cup of tabouleh, lemon juice and salt and pepper.

Mix thoroughly and then divide into 4 patties.

Refrigerate patties for at least 20 minutes before grilling.

Grill over medium heat, until thermometer reaches 160F.

Place on bun and top with feta, tabouleh and harissa.
You might also like:
Aloo Gobi Baked Potatoes
Aloo Gobi Baked Potatoes, a new twist on the classic Indian dish. Great for weeknights and easy to prep in advance, this recipe will become a fast favorite!
Rum Old Fashioned
This classic cocktail is orange-y, sophisticated and a great way to enjoy a fine aged Puerto Rican rum.
Thai Pumpkin Corn Soup
This creamy and satisfying Thai Pumpkin Corn Soup recipe combines a bounty of fresh vegetables and can be adjusted to accommodate omnivore, vegetarian and vegan diets.