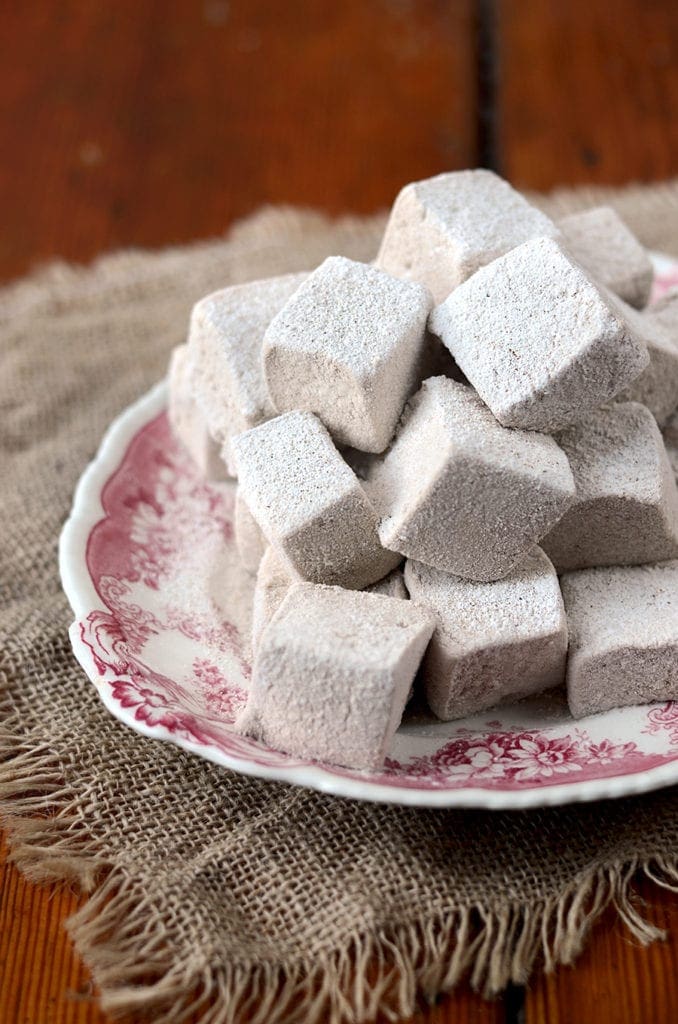 Spicy Gingerbread Marshmallows are a holiday treat.
---
An abundance of fresh ginger gives these Spicy Gingerbread Marshmallows their kick! These pillowy candies are an excellent addition to coffee, hot chocolate or divine roasted in the fireplace!


I love a homemade marshmallow. If you've read my post on Hickory Marshmallow S'mores you know how excited I get over a soft, delicious marshmallow. They are unbelievably easy to make so say goodbye to those dry, store-bought marshmallows. There's just no good reason to buy them when you can make them yourself with simple ingredients.
What goes into a (homemade) marshmallow? Typically its just gelatin, water, sugar, corn syrup, vanilla and salt for plain Jane marshmallows.
Now of course you can make plain marshmallows, but flavored marshmallows are so much more fun! So, today I'm bringing you a recipe for Spicy Gingerbread Marshmallows. They aren't hot like habaneros, but they have a sharp ginger flavor that mellows the sweetness of this candy. If you are a ginger fan, you're going to LOVE the intense ginger spice. But, if you are looking for something more mild, no worries, you can cut down the ginger in the recipe.
I've been adding these Spicy Gingerbread Marshmallows to my coffee, but I also LOVE them roasted… or burnt ;-) You can't really over-roast a marshmallow right? They are soft, gooey and rolled powdered sugar and awesome gingerbread spices like cinnamon, cloves and black pepper. Mmmmmm!
But it's more than just a little spice that gives these babies their zing! This recipe is also infused with brown sugar, coffee and molasses to bring lots of gingerbread flavor to the party!
Make a batch (or two) to enjoy fireside or they also make a lovely, homemade gift!
Spicy Gingerbread Marshmallows
Fresh ginger gives these marshmallows a spicy kick!
Print
Rate
Servings:
50
large marshmallows
Ingredients
Marshmallows
1

tsp

canola or vegetable oil

1

cup

fresh ginger,

minced or grated

1

cup

water

1 1/2

cups

dark brown sugar

2

envelopes gelatin

3/8

cup

water

3/8

cup

cold coffee

1/4

cup

molasses

3/8

cup

corn syrup

1/8

tsp

sea salt

2

tsp

vanilla extract
Sugar mixture
1

cup

confectioners sugar

2

tsp

cinnamon

1/4

tsp

cloves

1/4

tsp

black pepper

1

tsp

ground ginger
Instructions
Line an 8 inch square pan with parchment paper and then oil the paper.

In a saucepan combine ginger, water an brown sugar and bring to a gentle simmer.

Cook mixture, stirring occasionally, until ginger starts to become translucent (about 20-30 minutes).

Strain syrup through a fine mesh sieve, reserving syrup and setting aside ginger solids for another use.

In the bowl of a mixer with a whisk attachment, combine gelatin and 3/8 cup of water and let bloom for at least 5 minutes

In a small clean saucepan, combine ginger syrup, coffee, corn syrup and salt and attach a candy thermometer.

Boil (without stirring) until the mixture reaches 235F.

Turn off heat and add 2 tsp vanilla extract (mixture will boil up).

Turn on mixer on low and in a slow steady stream add sugar syrup to gelatin.

Turn up the mixer and beat the marshmallows for 15 minutes (mixture should double in size).

Immediately pour into prepared pan.

Cover and let set up for at least 3 hours, or overnight.

Turn out marshmallows onto a cutting board dusted in confectioners sugar.

Cut into squares. (You will have to clean your knife between cuts with hot water. Rinse dry, repeat for nice clean cuts).

In a bowl whisk together powdered sugar, cinnamon, cloves, black pepper and ground ginger.

Dredge marshmallows in powdered sugar and store in an air tight container.
Notes
1/8 cup is equivalent to 2 tablespoons The leftover candied ginger is excellent in Asian stir-frys, so place it in an air-tight container and store it in the refrigerator for up to one month. If you like a more mild gingerbread flavor, cut down the fresh ginger to 1/2-3/4 of a cup.
Tried this recipe?
Let us know how it turned out for you! Scroll down to leave a comment below.
You might also like: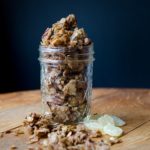 Gingerbread Granola
This Gingerbread Granola is super easy to make and great for snacking, yogurt parfaits or as a thoughtful homemade gift.

Peanut Brittle Popcorn Topping
Peanut Brittle Popcorn Topping is an easy and tasty homemade Christmas gift. Perfect for movie night!
Orange Cranberry Patties
Orange Cranberry Patties make excellent Christmas gifts! Nothing says "I love you" like homemade candy!