Orange Cranberry Patties make excellent Christmas gifts! Nothing says "I love you" like homemade candy!
---
These patties are filled with candied orange zest and dried cranberries and then dipped in delicious dark chocolate. An easy recipe for even the novice candy maker!

I feel like it's time to make another confession. This one is a little more embarrassing than having an unnatural love for potatoes, donuts or cookies (why do all my confessions revolve around food?). Curious? Your'e gonna laugh, but I sneeze when I eat peppermint. And I don't mean a little "achoo"…like a series of un-lady-like sneezes that either has snot flying out of my nose or I may even pee myself a little.
So now it's out, yeah, me and peppermint, no matter how tasty it is, don't mix. But I have this deep secret love for peppermint patties. But since I'm obviously allergic to peppermint, I don't make them very often.
I was thinking about alternatives and came up with the charming idea to make Orange Cranberry Patties. Every year we make this Candied Orange Peel Recipe and so I thought it would be a natural pairing with dried cranberries. And of course anything dipped in dark chocolate is yummy, right?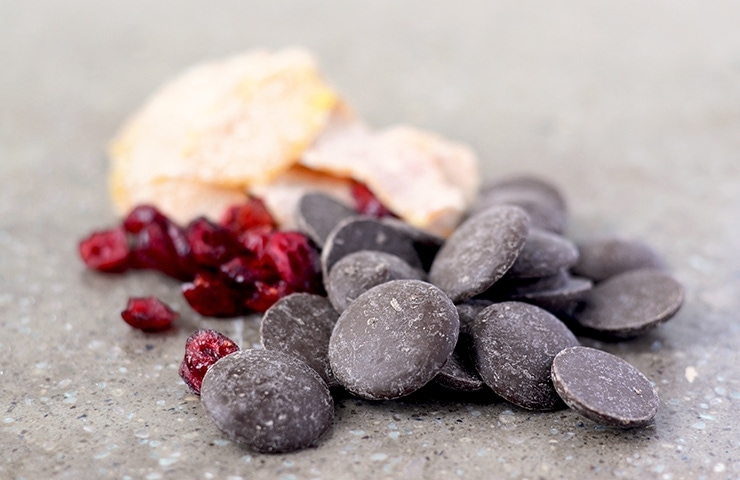 If you've never made candy or dipped chocolates before, this is the perfect place to start. This recipe calls for candy melts. so no chocolate tempering is involved. I'd encourage you to make the orange zest following my recipe but if you're pressed for time, you can purchase it (but be aware that many candied fruits contain sulfur dioxide which can be a no-no for allergy and asthma sufferers).
Now the inside of these Orange Cranberry Patties is a soft dough made of confectioners sugar, orange extract, coconut oil, water and a wee bit of corn syrup (this helps to hold everything together as well as prevent crystallization). And of course there are wonderfully chewy bits of orange and cranberry in the mix too!
The filling is delightfully sweet, tangy and so perfect with dark, melt-in-your-mouth chocolate! And the best part is that candy (if stored properly) stays fresh so much longer than baked goods!

Orange Cranberry Patties
These homemade candies make excellent Christmas gifts!
Print
Rate
Ingredients
Candy Filling
2 1/4

cups

confectioners sugar

plus more for rolling

1 1/2

TB

light corn syrup

1 1/2

TB

water

1/4

tsp

orange extract

1

TB

coconut oil

1/4

cup

candied orange peel,

finely chopped

1/4

cup

dried cranberries

finely chopped
Chocolate for dipping
10

oz

dark chocolate candy melts
Instructions
Combine all filling ingredients and mix to combine.

Form into a disk, wrap tightly in plastic wrap and refrigerate for 20 minutes.

Between two sheets of parchment paper sprinkled with a little powdered sugar, roll out filling to 1/4 inch thickness.

Using a small cookie cutter, or a large pastry tip, cut out rounds about 1.25 inches in diameter.

Reroll scraps and cut rounds until all filling is used.

Place rounds on a cookie sheet and freeze until firm, about 10-15 minutes.

Melt chocolate on the stove in a double boiler or in the microwave on low at 30 second intervals. Make sure to stir chocolate often. When the chocolate is almost all melted, stop heating it and stir until all the chocolate pieces have melted.

Lay a clean sheet of parchment out and one by one dip the filling rounds. (If you've never done this before, watch this video from Crazy for Crust

for some tips).

If desired, decorate tops with dried cranberries and candied orange peel before the chocolate hardens.

Store in an airtight container, in a cool place until ready to gift or eat!
Notes
Water is the enemy of chocolate so make sure your work space is free of water and that your hands are completely dry. If you accidentally get water into your chocolate it will "bloom" and be covered with white spots.
Nutrition
Calories:
83
kcal
|
Carbohydrates:
14
g
|
Protein:
1
g
|
Fat:
3
g
|
Saturated Fat:
3
g
|
Cholesterol:
1
mg
|
Sodium:
10
mg
|
Potassium:
50
mg
|
Fiber:
1
g
|
Sugar:
12
g
|
Vitamin C:
1
mg
|
Calcium:
24
mg
|
Iron:
1
mg
Tried this recipe?
Let us know how it turned out for you! Scroll down to leave a comment below.
You might also like:
Peanut Butter Honey Dark Chocolate Truffles
Filled with a creamy peanut butter and honey filling, these candies are sure to please a crowd.
Hickory Marshmallow S'mores
Made from scratch with artisan hickory syrup and whiskey, fine chocolate has met it's match with these fluffy confections.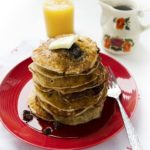 Chocolate Cherry Pancakes
Take your breakfast from ordinary to sweet with these from scratch Chocolate Cherry Pancakes.