Delicious roasted over an open fire or in a hot mug of cider, these Caramel Apple Marshmallows are a delightful addition to fall gatherings, or excellent as a holiday gift.
Get the wow factor! Caramel Apple Marshmallows are an easy dessert to make at home.

I can wax rhapsodic over tender, sweet marshmallows but you might already know this if you've read my posts on Hickory or Spicy Gingerbread marshmallows. To the beginner, this might seem like a difficult dessert, but trust me, it's a candy that requires little hands on time with lots of wow factor!
They're so easy that when our friend Ryan was coming for a visit and my house was a hot mess, I knew that this was the dessert to make. First, they don't require a lot of ingredients and I already had everything on hand. Secondly, this plan allowed for us to go outside to sit around the firepit, thus, removing us from my hot mess house! Win, win!
To make these marshmallows seasonal, I went with a caramel apple theme. To do so, I started with a homemade caramel apple syrup made by boiling down apple juice and sugar together. I was probably too conservative with the caramelizing because apple juice is already golden and I didn't want to burn the syrup. Overall, the first batch turned out pretty well and we enjoyed roasting them. But I wanted more of my signature flavors.
So it just happened that as we were planning what to do with Ryan on Saturday, he mentioned that our other friend Annie had talked about going to Cox Farms with the kids. I had wanted to buy a pumpkin, so it sounded like a plan. I'd never been to this farm, but it's bordering on amusement park. It's got the typical stuff like hayrides, corn mazes and farm animals, but just about everything has a campy, theatrical bent.
Beyond the norm, there are slides, both large and small, live music and in truly WTF fashion, Foamhenge. This kitschy replica is made of styrofoam and just relocated to Cox Farms this season. It pales in comparison to seeing the real thing this year, but it was still one of those weird things you check off your list like the giant teapot or biggest ball of yarn.
The farm was cute, but if Annie and her husband Jake didn't have adorable little ones, it wouldn't have been as much fun. Seeing the farm through the kids eyes made the experience larger than life. If you don't have kids, and want to visit this farm, it's worth it just for the apple cider donuts. They were warm, had a tender crumb and rolled in just the right sugar and spice blend. And of course I washed them down with apple cider. Amazing!
As I was eating the donuts, I realized that I needed to use boiled cider for my caramel apple marshmallows. So we went home with a gallon of cider and I revised the recipe. This time, I boiled the cider by itself and made the caramelized sugar in a separate pan. Yes, one extra pan to clean, but I didn't have to worry about burning the sugar or whether there would be enough apple flavor.
After waiting for them to set up (usually at least 6-8 hours) it was finally time to sample the new batch. Ummmm… soft, scrumptious, tasty success! The flavors were more intense and I had leftover cider so you bet I heated up a hot cup of cider to taste this new batch of marshmallows!
So insanely good! The caramel apple marshmallows melt in the hot cider, making a delicious foam. Plus you know I added an extra pinch of cinnamon. Of course, the marshmallows are great roasted too! Not sure how they would mingle with chocolate in a s'more but I know they would be great on a Thanksgiving sweet potato casserole.
Or, crazy idea, you could just eat 'em plain! So I'll leave you to decide how to enjoy this marshmallow recipe.

Caramel Apple Marshmallows
Roasting these Caramel Apple Marshmallows intensifies their flavor, but they are also great in a hot cup of apple cider!
Print
Rate
Servings:
64
marshmallows
Ingredients
2

cups

apple cider

1-1/2

cups

granulated sugar

1/2

cup

water

2

envelopes

gelatin

6

tablespoons

water

5/8

cup

corn syrup

1/4

teaspoon

salt

1/2

teaspoon

cinnamon

1/4

teaspoon

ginger

2

teaspoons

vanilla extract

2

cups

powdered sugar,

sifted
Instructions
Place apple cider in a small sauce pan.

Cook apple cider over medium heat and boil down until it measures 1/2 a cup.

Meanwhile, oil an 8 or 9 inch square pan and generously coat with powdered sugar.

In a large sauce pan with high sides, combine the sugar and 1/2 cup of water.

Place pan over low heat and stir until sugar melts.

Once the sugar has melted, turn up the heat to medium high, stop stirring and instead, carefully swirl the pan every couple of minutes.

Cook the sugar until it caramelizes to a nice golden brown. Turn off the heat and slide the pan off the hot burner.

In the bowl of an electric mixer, combine 6 tablespoons water and the gelatin and let bloom for 5 minutes.

Add reduced apple cider, corn syrup, salt, cinnamon and ginger to the pan with the caramel and stir to combine.

Fill a small cup with water and pull out a pastry brush.

Put the pan back on the burner and attach a candy thermometer.

Turn the heat on to medium high and let boil without stirring.

Wipe down the sides of the pan with the pastry brush every minute or two.

Cook until the thermometer reaches 235F.

Turn off the heat and stir in the vanilla extract. The mixture will boil up, so be careful.

With the mixer running on low speed, drizzle the syrup into the mixer bowl. with the gelatin.

Turn up the mixer to high speed and beat until doubled in size, about 10-15 minutes.

Pour marshmallows into prepared pan and spread with an offset spatula.

Sift a little powdered sugar io top of the marshmallows and let set up for 8 hours or overnight.

Sprinkle a cutting board with powdered sugar and turn out marshmallows onto the board.

Fill a bowl with very hot water and get a clean tea towel. Also get out two chefs knives. (If you don't have two, its okay. It will just take a little longer to cut the marshmallows).

Place your knives in the hot water.

Pull out one knife and dry it off.

Cut off the rough outer edges of the marshmallows, switching knives when the first knife gets too sticky.

Slice the marshmallow slab into 8 strips, alternating knives as needed.

Cut the strips into eight cubes.

Dredge the marshmallows in powdered sugar to cover the sticky sides.

Place marshmallows in an airtight container until ready to serve.
Notes
Don't discard the marshmallow edges. They aren't pretty, but still tasty. Add them to coffee, brownies or sweet potato casserole.
Nutrition
Calories:
35
kcal
|
Carbohydrates:
9
g
|
Protein:
1
g
|
Fat:
1
g
|
Saturated Fat:
1
g
|
Sodium:
12
mg
|
Potassium:
7
mg
|
Fiber:
1
g
|
Sugar:
9
g
|
Vitamin C:
1
mg
|
Calcium:
1
mg
|
Iron:
1
mg
Tried this recipe?
Let us know how it turned out for you! Scroll down to leave a comment below.
Love caramel flavors? You'll love these Caramel Blondies and this Caramel Pawpaw Ice Cream!
You might also like:
Salted Caramel Blondies
Our recipe for salted caramel blondies layered with chunks of white chocolate and cashews is truly magical!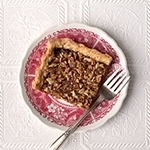 Apple Butter Pie
This slab pie has everything your sweet tooth desires! Doesn't a flaky cinnamon crust filled with luscious apple butter and an almond oat crumb sound irresistible?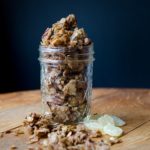 Gingerbread Granola
This Gingerbread Granola is super easy to make and great for snacking, yogurt parfaits or as a thoughtful homemade gift. Gingery, sweet, crunchy, nutty and so good, you'll want to eat this granola all year long!