This homemade Chinese Noodle Soup makes use of chicken leftovers or a rotisserie chicken, so you have time to enjoy the pleasure of handmade noodles!
---
Inspired by a trip to New York City's Chinatown, this Chinese Noodle Soup is a comforting, easy meal. Discover the trick to making homemade noodles without having to hand pull them like the pros.


In early November my sister and I took a trip to New York City. Rosie now lives in Las Vegas, so it was a chance to catch up and have some much needed sister bonding time. In just a few short days we explored much of Manhattan on foot, logging about 20,000 steps a day!!!!
In Battery Park we waved to the Statue of Liberty, explored the diverse history of the Castle Clinton National Monument, and even stumbled onto the Battery Urban Farm, an educational vegetable garden that supplies produce for school cafeterias and non-profits. They had the most beautiful yellow swiss chard growing there!
Not far away, we shed tears at the 9/11 Memorial where we watched the cascading waterfalls pour into the reflecting pools. Crowds bustled around the stark granite fountains. It was a day with few birthdays amongst the memorialized but I did find a few roses, one of which was placed in the engraving of John Edward Bulaga, Jr.'s name.
After tears, you must have some laughter, so I'm happy we were able to see That Golden Girls Show, a puppet parody of the hit TV show. Rosie has always been a fan of the Golden Girls so we had to watch the girls sit down for cheesecake! The puppets were the spitting image of the real actors and it was just so gosh darn funny! And the puppeteers were amazing! They really nailed the mannerisms of each character, but none more so than Michael LaMasa who played Dorothy. He even sounded like Bea Arthur! So, if you're in NYC for the holidays, I'd strongly recommend you see it before it closes on December 31st.
In the Financial District we took a step back in time at Fraunces Tavern, a Colonial tavern where the Sons of Liberty plotted the New York Tea Party and George Washington gave a farewell speech to his officers after the American Revolution had ended. Aaron Burr and Alexander Hamilton also dined here for a Society of Cincinnati meeting just a week prior to their famous and deadly duel. Here you can see a preserved tavern room, explore rooms of artifacts and flags and see a charming exhibit of paintings by John Ward Dunsmore.
We continued our history lesson at the Tenement Museum by taking a tour that explored the lives of immigrants working in the garment industry. It was just one of the stories that the partially restored apartment building 97 Orchard Street has to tell. Here in Manhattan's Lower East Side, you can get a sense of the what NYC's melting pot was like in late 1800s and early 20th Century. But the museum is also working on new exhibits that will explore post WWII era immigrant populations, so I'm excited to return in the future.

Which brings me to Chinatown! Before I left, I asked my cousin's fiance Jared for his favorite stops in NYC. He said his fave was Chinatown, so we decided to check it out. I'm so glad we did because it was such a colorful and tasty adventure in the Big Apple.
First, if we didn't have to take the subway back to our hotel, I would have bought EVERY delicious thing I saw at the markets. Piles and piles of colorful fruits and so many exotic spices. Food blogger heaven! So since we couldn't take it with us, we just had to eat it there!
Of course we had to eat gourmet ice cream! The Chinatown Ice Cream Factory serves up Asian inspired ice cream flavors like Almond Cookie, Lychee and Red Bean. So yummy! I had two HUGE scoops of Almond Cookie and Mango but wish I could have tried every flavor!
For dinner we ate at the unassuming Tasty Hand Pulled Noodles. Through a window into the kitchen, you can watch the chef hand pull the noodles that go into their dishes. Rosie and I ordered a smorgasbord of dishes, to which the waiter kindly told us was too much. But we forged ahead and ordered the Marinated Cold Cucumber Salad, Cumin Lamb Chow Mein, Eggplant with Garlic Sauce, Pan Fried Pork Dumplings and the Roast Duck Hand Pulled Noodle Soup.
The eggplant was vibrant aubergine and the crunchy cucumbers were full of umami flavor… but the noodles really were the highlight. Nothing beats FRESH noodles. There's a different mouth feel because the dough is soft and sort of stretchy. Once it's pan-fried like the dumplings and chow mein, it get's this wonderfully, chewy quality. But I was most taken with the noodle soup with its rich, comforting broth.
Sadly, our 3 day adventure ended too quickly. Once I got home I was sad so I busied myself by experimenting with hand pulling noodles. After a little research I found out you need a special flour for these noodles, a high protein flour I couldn't even find at my specialty stores. Too impatient to mail order it, I tried making them with bread flour. It has slightly less protein content, so while I found it to make a nice dough, it did not pull easily. So I got out my trusty pasta maker and that worked really well.
So I guess we can call this the cheaters guide to homemade Chinese noodles! They still have that soft, stretchy tooth while being easy to make. And as for the other Chinese Noodle Soup ingredients, you can use leftover chicken or turkey. If you don't have any on hand, a rotisserie chicken is great because you can use the meat in the soup and use the bones to enhance the flavor of a store-bought stock. For flavoring there's chili garlic sauce, soy sauce, ginger, and scallions. I used bok choy like the restaurant version because it adds a bit of bitter contrast to the rich broth and the heat from the hot pepper.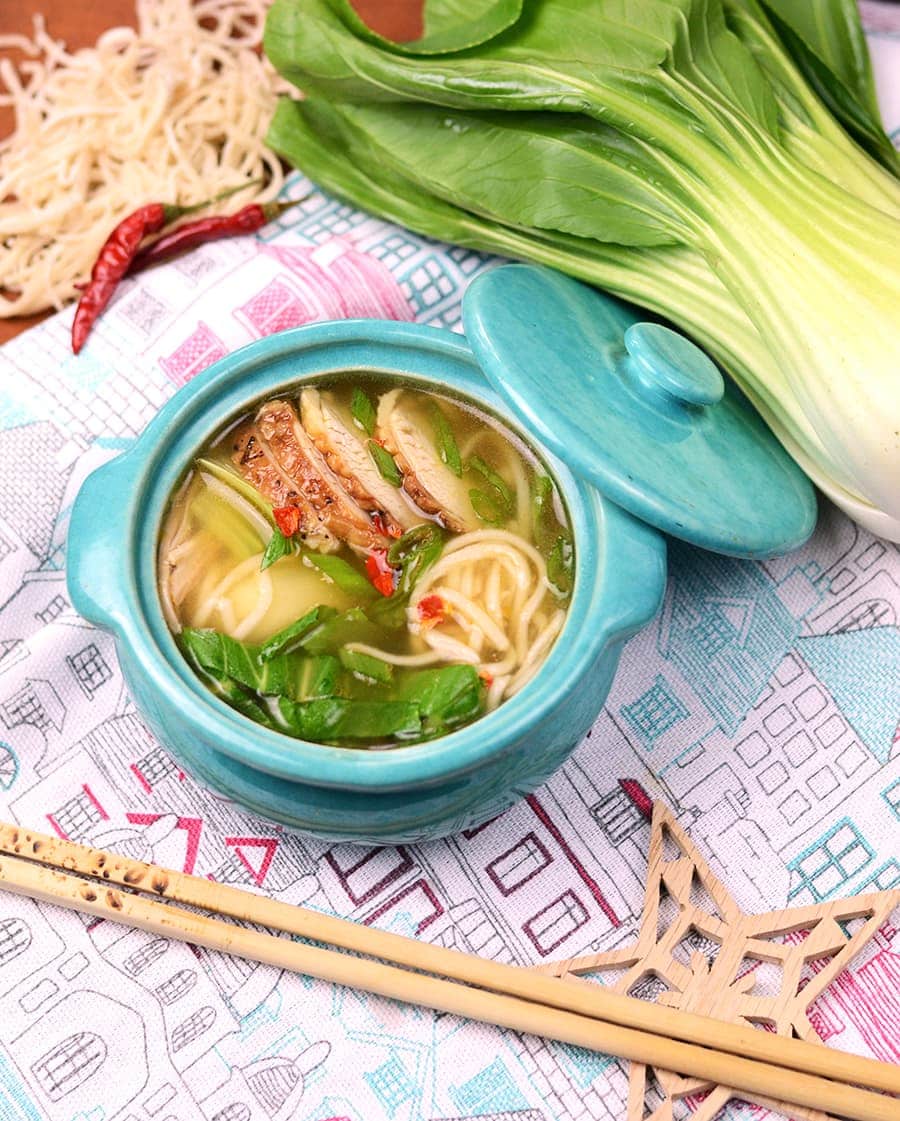 This Chinese Noodle Soup is super comforting but although I'm happy for the inspiration, I would have rather brought home my sister. Now she is at home in Nevada and I'm in West Virginia. Thank goodness we live in a time with cell phones, texting and video chat! The holiday season isn't the same without my little diva sister. Hopefully this recipe can comfort us both while we are apart.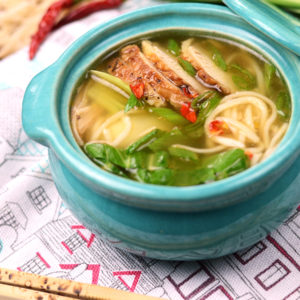 Chinese Noodle Soup
You'll be surprised how easy it is to make noodles from scratch!
Print
Rate
Ingredients
Handmade Noodles
5.25

oz

bread flour,

plus more for dusting

2.5

oz

water
Chinese Noodle Soup
10

cups

chicken stock

2

tsp

chili garlic sauce

¼

cup

soy sauce

2

tbsp

ginger,

minced

2

cups

sliced chicken or turkey

Handmade or storebought noodles

8

leaves

bok choy,

green parts only, chopped or torn

1

bunch

scallions,

green parts thinly sliced
Instructions
Handmade Noodles
In the bowl of an electric mixer, combine flour, salt and water and knead for 7-8 minutes, or alternatively, mix by hand and knead for about 20 minutes. If dough is too dry, add a teaspoon of water at a time. If it's too sticky, add flour a tablespoon at a time until the dough comes together.

Cover dough and let rest at least 20 minutes.

Return dough to mixer and knead another 10-15 minutes. When it's ready, the gluten should make the dough stretchy.

Divide dough into two pieces.

Take one piece of the dough and feed it through flat roller of a pasta machine set to 1 and then repeat on 2 and then 3.

Cut the long sheet into 2- 3 shorter lengths, dredge in flour and then run through the spaghetti cutter.

Once all the dough has been rolled and cut, boil in water for 2-3 minutes until al dente.
Chinese Noodle Soup
Combine stock, chili garlic sauce, soy sauce and ginger in a pan and simmer for 15 minutes

Add in chicken, cooked noodles, bok choy and scallions and cook until chicken is hot.

Serve with dried chili peppers or pepper flakes, if desired.
Nutrition
Calories:
490
kcal
|
Carbohydrates:
54
g
|
Protein:
42
g
|
Fat:
11
g
|
Saturated Fat:
3
g
|
Cholesterol:
78
mg
|
Sodium:
2999
mg
|
Potassium:
1256
mg
|
Fiber:
2
g
|
Sugar:
12
g
|
Vitamin A:
1329
IU
|
Vitamin C:
15
mg
|
Calcium:
76
mg
|
Iron:
3
mg
Tried this recipe?
Let us know how it turned out for you! Scroll down to leave a comment below.
You might also like: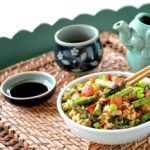 Breakfast Fried Rice with Bacon, Eggs and Asparagus
This breakfast fried rice is super easy, only requires 7 basic ingredients, and you can make it before the coffee is done brewing,…well almost.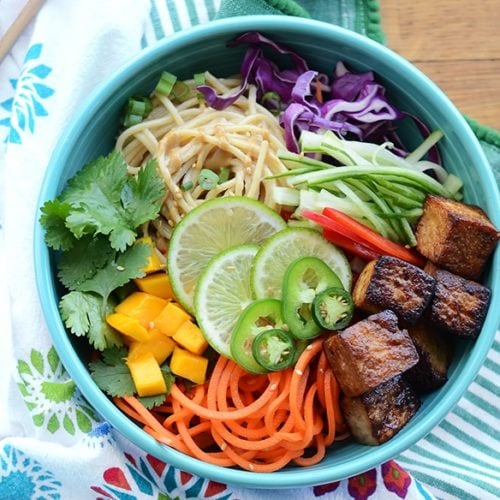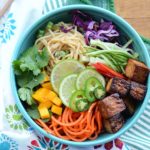 Sesame Cashew Noodle Salad Bowls
Sesame Cashew Noodle Salad Bowls are just the thing for hot summer mealtimes. They are loaded with a rainbow of colorful fruits and vegetables.
Summer Rolls with Tropical Sweet Chili Garlic Sauce
Serve them as an appetizer or replace the traditional bowl of salad for a cool, crunchy side dish.