Snickerdoodle Cupcakes are a wonderful dessert for a celebration! Made from scratch!
---
Cinnamon wins the day with this beautiful cookie topped Snickerdoodle Cupcake recipe! Seriously one of the best crowd pleasing desserts for a party. Wish vintagekitty.com a happy birthday and enter our #GIVEAWAY worth over $150!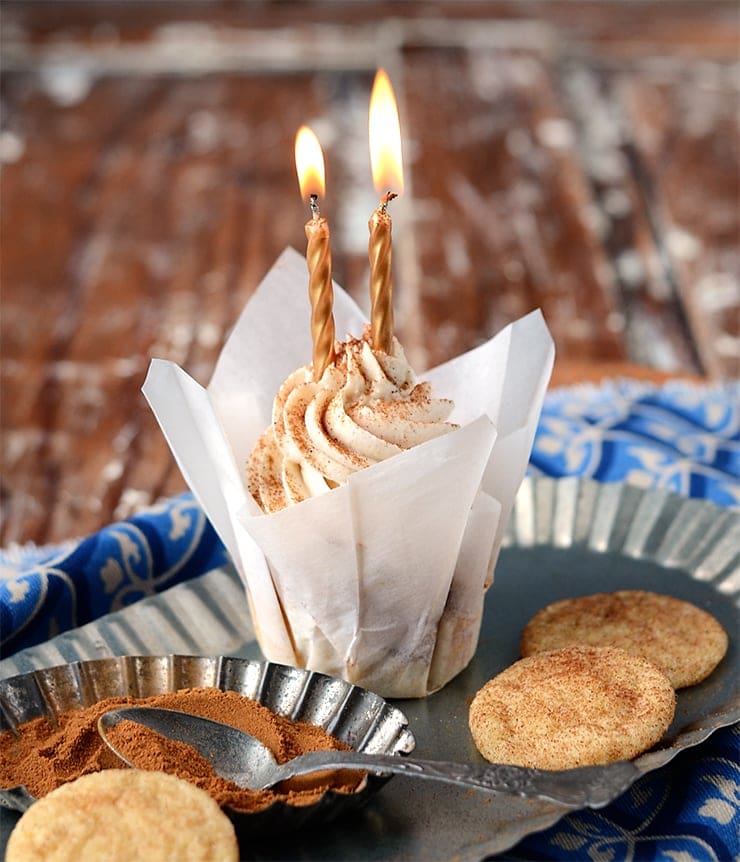 Guess what?! Vintage Kitty is two! So to celebrate we are having Snickerdoodle Cupcakes and a GIVEAWAY! Could it get any better? First let's talk cake and then I'll send you off to enter the giveaway.
So last year I created this ah-mazing Chocolate Chip Cookie Cake for our 1st birthday. It's been my most popular recipe to date, so I'm bringing my readers more of what they love! I mean why choose? Cookie AND cake is a winning combo.
Cinnamon is the star of the show here. Our recipe combines a lightly spiced cinnamon cake, piped with a whipped cinnamon buttercream frosting and topped with a snickerdoodle cookie (that of course is rolled in cinnamon sugar)! It's magical!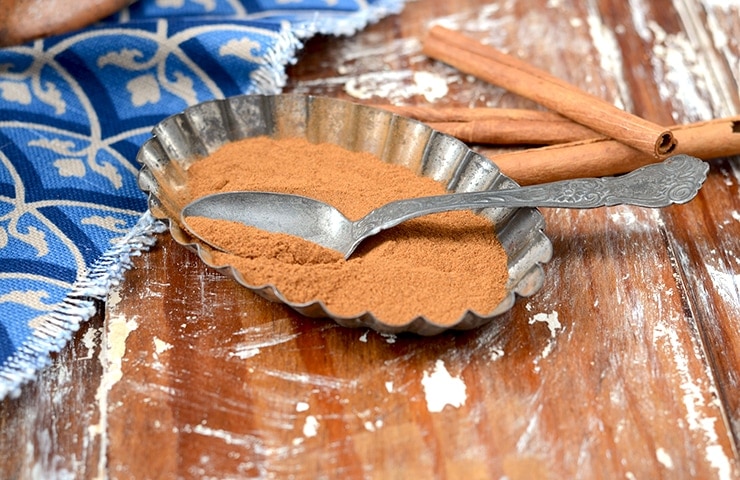 The cookies are bite-sized delights based on the classic Betty Crocker recipe. We use all butter and roll them super small so they make the most dainty cupcake toppers.
And the cake? It's so light thanks to the cream of tartar that helps to stabilize the whipped egg whites in the batter. Plus there's a hefty amount of butter which gives the cake so much flavor! It's a very easy cake in that the only specialty ingredient is the cream of tartar. But I will say that the bake on these is a little tricky.
Because this cake gets a lot of rise, it's very easy to overfill the cupcake tins. Hence the tulip liners which prevent the cupcakes from spilling over. The second thing is that I've found these cupcakes are easy to overbake. It may just be my gas oven (which has terribly inconsistent heat), but they go from looking a little underdone to overdone in the blink of an eye. So take it from me, if the toothpick comes out clean, take them out quickly!
I ended up make two batches for the photoshoot and the first was perfect and the second just a bit dry. I realized after I had decorated them that I should have made a little bit of cinnamon simple syrup to moisten them up, so think I'll try that next time. The good news is that this recipe make a-lotta-cupcakes! So you can test one before decorating.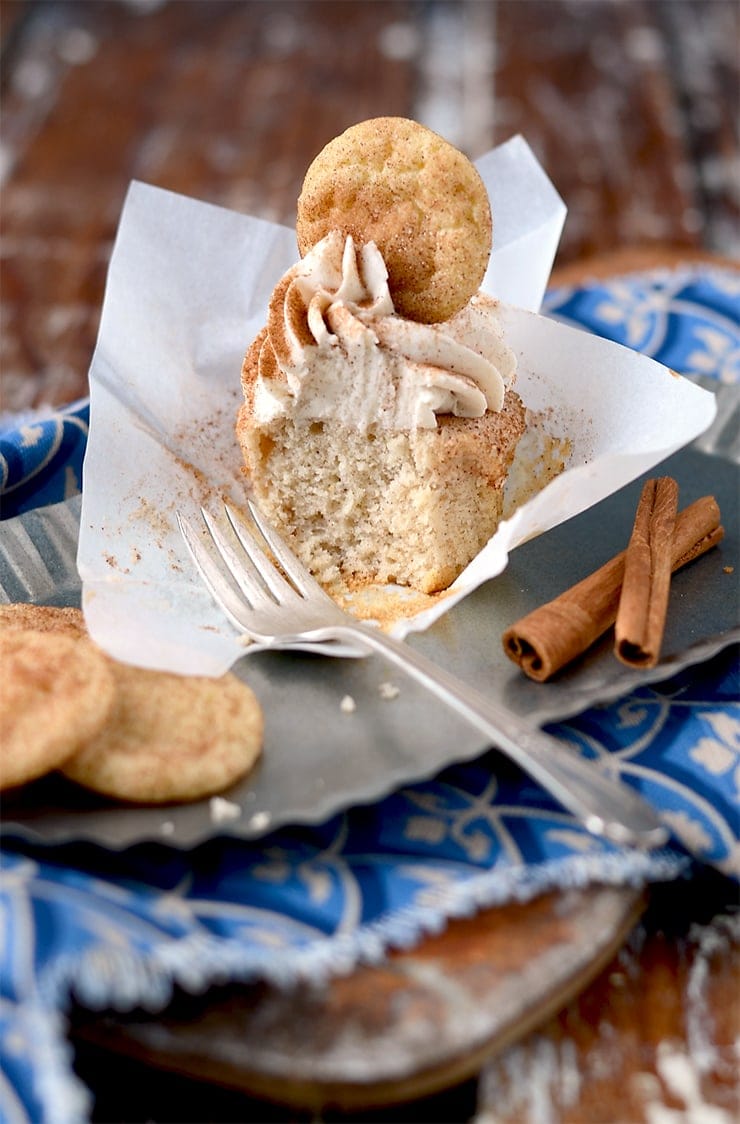 Um….look at that crumb! It's PERFECT! We've been watching season after season of the Great British Baking Show and I always find it interesting how they call a dense cake "close textured". Well, I can guarantee you that Paul and Mary would not say that about these Snickerdoodle Cupcakes!
The batter is so full of air because of the whipped butter and egg whites making that beautiful light, fluffy crumb. It's buttery with subtle amount of cinnamon flavor. And with the buttercream? Oh my goodness! It's a whole mouthful 'o snickerdoodles!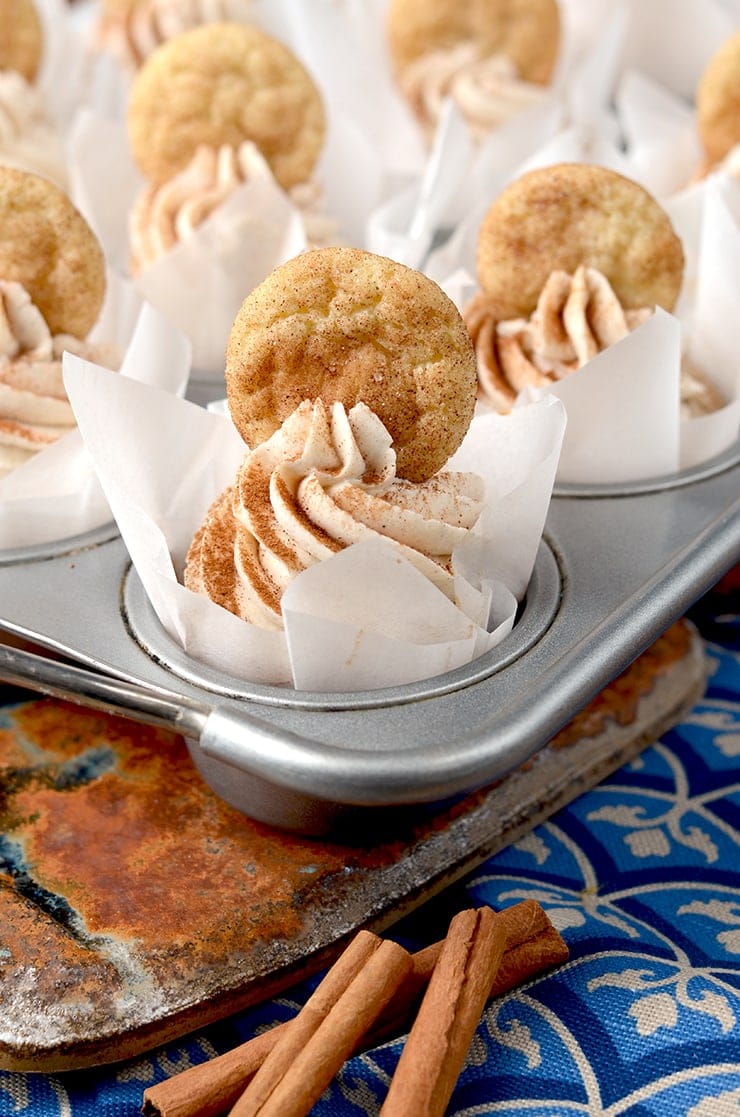 So they taste great, but I think it's obvious why they are a celebration cupcake. They look so pretty and tall! Certainly worthy of a special occasion. Like Vintage Kitty turning two! (Sorry, the contest is now closed but make sure to subscribe so you can enter our next contest).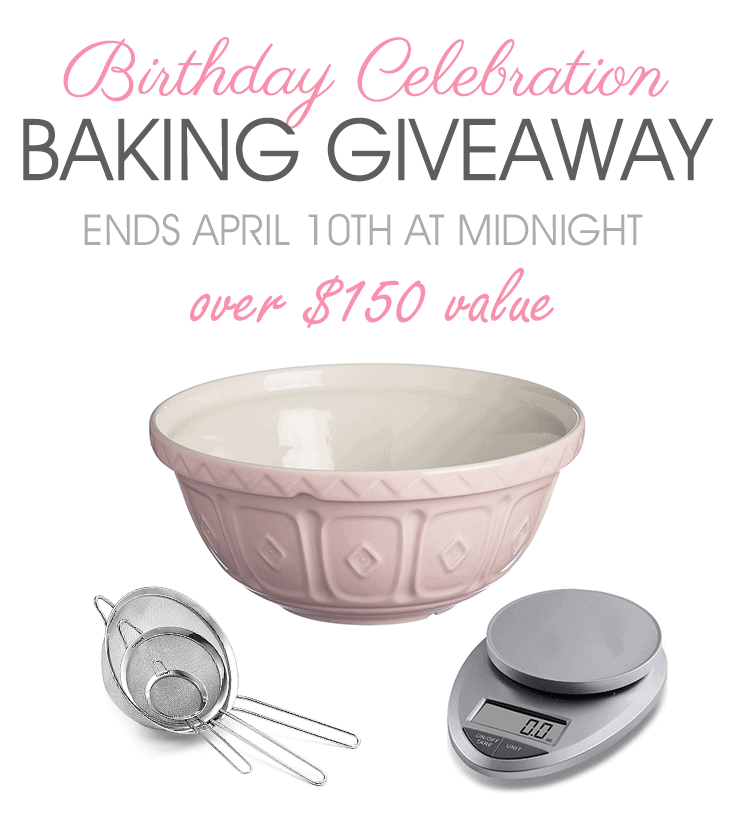 And because I love y'all so much we are having a Birthday Celebration Giveaway to thank you. It would be awfully lonely here if no one showed up to read our posts, so thanks for coming by! I've picked out some of my favorite kitchen tools including Beehive Handmade pewter measuring spoons, a Mason and Cash mixing bowl and the cutest vintage pyrex bowl tea towel from Fresh Pastry Stand. Click on the picture for your chance to win!
But don't forget to get this awesome Snickerdoodle Cupcake recipe ↓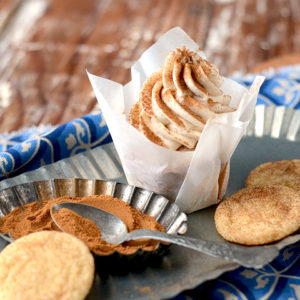 Snickerdoodle Cupcakes
These delicious Snickerdoodle Cupcakes are made from scratch and filled with tons of delicious cinnamon!
Print
Rate
Ingredients
Snickerdoodle Cookies
1 -3/8

cups

AP flour

1

teaspoon

cream of tartar

1/2

teaspoon

baking soda

pinch

sea salt

1/2

cup

salted butter

3/4

cups

organic sugar

1

large

egg
Cinnamon Sugar
2

tablespoons

cinnamon

1/2

cup

organic sugar
Snickerdoodle Cupcakes
3

cups

AP flour,

sifted (12.75 oz)

2

teaspoons

cinnamon

1/2

teaspoon

baking powder

3/4

teaspoon

baking soda

3/4

teaspoon

sea salt

3

large

egg whites,

room temperature

2

teaspoons

cream of tartar

1-1/2

cups

salted butter,

softened to room temperature

2-1/3

cups

organic sugar

1-1/2

cups

whole milk,

room temperature

2

teaspoons

vanilla extract
Cinnamon Buttercream Frosting
1-1/2

cups

heavy cream

1

tablespoon

organic sugar

1-1/2

cups

salted butter,

softened

6

cups

powdered sugar,

sifted

2

teaspoons

cinnamon

1

teaspoon

vanilla extract
Instructions
Prep
Pull out the cake ingredients to bring them to room temperature.

Line two cookie sheets with parchment and fill 3- 12 cup cupcake pans with cupcake liners.
Snickerdoodle Cookies
Whisk together the flour, cream of tartar, baking soda and salt.

In the bowl of an electric mixer, cream together the butter and sugar.

Add in the egg and mix thoroughly.

Refrigerate the cookie dough while you make the cupcakes.

In a small bowl combine the sugar and cinnamon.
Snickerdoodle Cake
Combine flour, cinnamon, baking powder, baking soda and salt in a medium bowl and whisk thoroughly. Set aside.

In the bowl of an electric mixer combine the cream of tartar and egg whites and whip until soft peaks form. If you have two mixer bowls, switch bowls, if not, transfer the egg whites to another bowl.


With a paddle attachment, cream the butter until it's pale, about 3-4 minutes.

Add in sugar and mix until light and fluffy.

Combine the vanilla and milk.

Alternatively add in the flour mixture and milk mixtures in three additions starting and ending with the flour.

Scrape the bottom of the bowl with a spatula and give another quick mix.

Add in the whipped egg whites and fold in by hand, being careful to not overmix.

Fill cupcake liners halfway and sprinkle the tops with cinnamon sugar.

Bake cupcakes 23-26 minutes, or until a toothpick comes out clean.

While cupcakes are cooling, turn up the oven to 400F.

Roll out snickerdoodle cookies in nickel sized balls and roll in cinnamon sugar.
Cinnamon Buttercream Frosting
In the bowl of an electric mixer, whip heavy cream and organic sugar until peaks form.


Set whipped cream aside, and cream butter.

Slowly add in powdered sugar.

Add in vanilla and cinnamon and beat until smooth.

Add in whipped cream and beat on high speed until buttercream is very fluffy.
Assembly
Fill a large piping bag with buttercream and frost cooled cupcakes

Sprinkle buttercream with cinnamon, if desired.

Top cupcakes with snickerdoodles.
Notes
1/8 a cup equals 2 tablespoons
Be very careful to not over bake the cupcakes. It's a light colored cupcake so it shouldn't have much color, but the toothpick should come out clean.
If you use regular liners, this recipe will make about 34-36 cupcakes, but if you'd like to use tulip liners you can fill them slightly fuller making 30-32 cupcakes
Nutrition
Calories:
254
kcal
|
Carbohydrates:
42
g
|
Protein:
2
g
|
Fat:
9
g
|
Saturated Fat:
6
g
|
Cholesterol:
30
mg
|
Sodium:
164
mg
|
Potassium:
76
mg
|
Fiber:
1
g
|
Sugar:
31
g
|
Vitamin A:
298
IU
|
Calcium:
20
mg
|
Iron:
1
mg
Tried this recipe?
Let us know how it turned out for you! Scroll down to leave a comment below.
You might also like: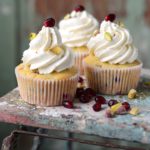 Pomegranate Pistachio Cupcakes
Pomegranate Pistachio Cupcakes with Greek Yogurt Buttercream are a sweet and tangy spin on the classic yellow cake.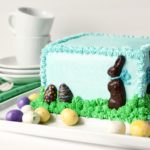 Chocolate Easter Bunny Cake
Make this hippity-hoppity Chocolate Easter Bunny Cake from scratch for your Easter celebration!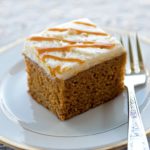 Pumpkin Spice Beer Cake
This cake takes the fuss out of making a cake from scratch. In about an hour you can put together this delicious dessert.