Pomegranate Pistachio Cupcakes are a sweet and tangy spin on the classic yellow cake.
---
Made from scratch with fresh lime zest, pomegranate seeds, pistachios and ginger beer, these Pomegranate Pistachio Cupcakes are the perfect compliment to whipped Greek Yogurt Buttercream.
It's almost the middle of January and I'm just getting back into the work groove. First, there were the holidays, and then a short vacation/birthday trip to Charleston, South Carolina. So now, I'm finally posting this recipe that I created about a month ago… so we'll call them birthday cupcakes! Happy Birthday to me! At least I'm doing better than last year when the entire month of January escaped without a blog post!
I know that most people struggle with work/life balance, but as a work-from-home blogger/freelance writer, there's very little separation between my personal and professional life. Most vacations become blog posts or travel articles, almost everything I eat is something made for the blog (sounds fun until you make the same dish over and over to get it just right) and most of the fun moments in my life get interrupted by the need to tweet, share, post to some form of social media.
Basically it's a 24/7 job, not just because this is a company of one, but because of the constant demands of the internet. If you're not publishing content CONSTANTLY, you disappear into obscurity in days, not years. So this downtime between the holidays, my birthday and our winter vacation is a welcome respite from the self-employed, always plugged in lifestyle I lead. Don't get me wrong, I LOVE this work, but sometimes you just have to RELAX!
So we've been unwinding….mostly…
We made these delicious Pomegranate Pistachio Cupcakes right before leaving for vacation because they needed to be photographed (see this is where the work perks come in), so we ate them as we packed and while we were on the road.
The recipe makes 16 cupcakes, so I also left some with my inlaws who agreed to dogsit our old girl Luna (here have some cupcakes and a senile husky…) As marvelous as the cupcakes were, I don't think the sweets make up for the bad report card Luna came home with. Tom and Susan are saints because my incontinent dog managed to only poop outside twice while we were gone…kept peeing herself when she was sleeping too…(see why I needed a break?). Next time I'll have to include a 5 course dinner!
Anyway, we dropped off Luna and drove south to Charleston fueled by a cupcake high. I'm going to write more about Charleston later but you should know that it is was Restaurant Week there. It's a misnomer because it's more like two weeks so you should check it out because it's still going on. So many unique restaurants and so much recipe inspiration…but let's talk about these cupcakes now!
So what can I say about these cupcakes other than they make excellent bribes gifts? The secret is bubbles! Just like my Pumpkin Spice Beer Cake, this cake uses carbonation to help the batter rise. But these cupcakes are also light and airy thanks to whipped egg whites and the whipped butter. All that whipping traps air bubbles that create a nice crumb.
Beyond the light texture, these cupcakes pop with flavor. Juicy pomegranate seeds burst with each bite…followed by hints of pistachio and loads of zesty lime.
And the frosting? It's a Greek Yogurt Buttercream infused with vanilla. So tangy, creamy and delightfully unique! This buttercream is reminiscent of a cream cheese frosting, but it's much less heavy and adds a bright contrast to the sweet cake flavors. The trick to this showstopper buttercream is strained yogurt (a somewhat lengthy, but hands off endeavor) which results in an ultra fluffy frosting. Perfect to top with pomegranate "jewels"!

This recipe is one of those technical kinds where you must read the instructions carefully. It's all about having the ingredients at the right temperature and adding them in the right order to achieve perfection. So take your time, read, reread, and prep….because these cupcakes are worth the wait!

Pomegranate Pistachio Cupcakes with Greek Yogurt Buttercream
Temperature, order and timing are everything with this recipe, so make sure to follow the instructions carefully.
Print
Rate
Ingredients
Greek Yogurt Buttercream
1 1/4

cup

salted butter,

room temperature

12

oz (or 3 cups)

powdered sugar,

sifted

1/2

cup

vanilla greek yogurt,

strained (see note below)

2

teaspoons

vanilla extract
Pomegranate Pistachio Cupcakes
6

oz (1 1/2 cups)

cake flour

1 1/4

teaspoons

baking powder

1/4

teaspoon

sea salt

2

eggs

room temperature, yolks and whites separated

5.25

oz (3/4 cup)

organic sugar

1/2

cup

salted butter,

room temperature

1

tablespoon

lime zest

1

tablespoon

lime juice

1/2

cup

ginger beer,

room temperature, but don't open the can/bottle until ready to add to cake

1/4

teaspoon

almond extract

2

teaspoons

vanilla extract

1

cup

pomegranate seeds,

plus more for decorating (see note)

1/2

cup

chopped pistachios,

plus more for decorating
Instructions
Pomegranate Pistachio Cupcakes
Preheat oven to 350F and line cupcake tins,

In a small bowl, whisk together flour, baking powder and salt.

Take one tablespoon of the flour mixture and gently mix it into the pomegranates

In the bowl of an electric mixer, whip egg whites to soft peaks.

Set aside egg whites and clean your mixer bowl (or if you have two bowls, that's helpful)

With a paddle attachment, whip butter until pale and creamy, about 3-4 minutes.

Add in sugar and lime zest and beat until light and fluffy.

Pop open your ginger beer, measure a half cup and then combine it with the lime juice and extracts.

Add dry ingredients and ginger beer mixture in three intervals, beginning and ending with the flour. (Be careful to not over mix! Just mix until each addition is MOSTLY incorporated!)


Now pull off the bowl and gently fold the egg whites into the batter with a spatula.

Hand mix in pistachios in about four or five strokes and then add pomegranates and ever so gently fold them into the batter.

Fill cupcake liners about 2/3 full, or about two heaping tablespoons of batter.

Bake for 15-25 minutes, or until golden and a toothpick comes out clean.
Greek Yogurt Buttercream
In the bowl of an electric mixer, whip butter with a paddle attachment until light and fluffy.

Add powdered sugar and mix until thoroughly combined.

Slowly add in yogurt one tablespoon at a time, mixing on medium high between each addition.

Once all the yogurt has been added, slowly drizzle in the vanilla extract while mixing on low speed.

Turn up the mixer to high and beat until the buttercream is very fluffy. (If it looks broken, don't fret...this frosting tends to look separated but it holds together and pipes nicely).
Notes
To make strained yogurt: line a fine mesh sieve with a paper towel and place it over a small bowl. Place about 1 cup of vanilla greek yogurt in the sieve. Cover with a ziplock bag or plastic wrap and place in the refrigerator for at least 8 hours or up to 24. Discard the liquids and use 1/2 cup of the strained yogurt in the buttercream recipe.
Make sure to have all of your cake ingredients (EXCEPT GINGER BEER) measured out in advance (and at room temperature) before starting to mix your cake.
I had the most success with freshly picked pomegranate seeds. When I bought the prepared pomegranate arils, I found them to be too juicy because some had already popped.
Nutrition
Calories:
385
kcal
|
Carbohydrates:
43
g
|
Protein:
4
g
|
Fat:
23
g
|
Saturated Fat:
13
g
|
Cholesterol:
74
mg
|
Sodium:
226
mg
|
Potassium:
124
mg
|
Fiber:
1
g
|
Sugar:
33
g
|
Vitamin A:
666
IU
|
Vitamin C:
2
mg
|
Calcium:
29
mg
|
Iron:
1
mg
Tried this recipe?
Let us know how it turned out for you! Scroll down to leave a comment below.
You might also like:
Chocolate Chip Cookie Cake
Layers of cookie flavored cake alternating with vanilla bean, browned-butter chocolate chip cookies and fluffy, vanilla buttercream!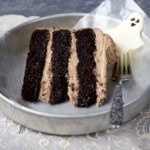 Dancing Ghosts Chocolate Coconut Cake
Mocha coconut buttercream tops layers of rich, fudgy chocolate coconut cake. Hauntingly delicious!
Blueberry Grapefruit Bars
Blueberry Grapefruit Bars are a perfect warm weather dessert that is sweet, refreshing, tart, buttery and best served cold. Scratch baking at it's best!