This Chocolate Chip Cookie Cake will blow your mind! Layers of cookie flavored cake alternating with vanilla bean, browned-butter chocolate chip cookies and fluffy, vanilla buttercream!
---
Vintage Kitty is celebrating its one year birthday! And although we don't need an excuse to eat cake any time of year here, birthdays require extra special cakes! We think that this Chocolate Chip Cookie Cake screams birthday with its classic cookie flavors and made from scratch appeal! It's just like mom made, or maybe better!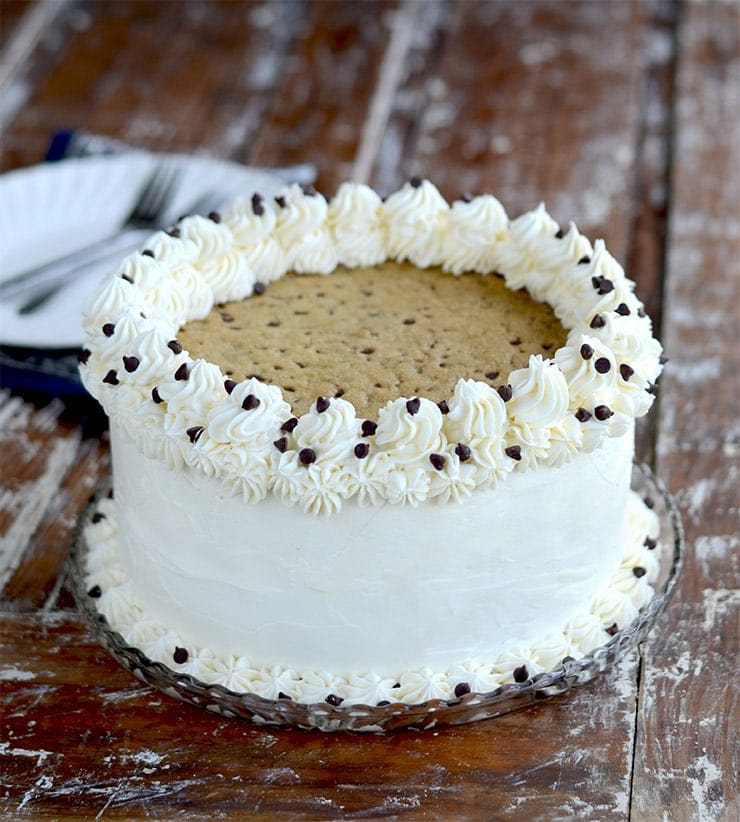 Can you believe it's been a year already? I certainly can't! It's been roller-coaster year of learning curves, making new friends online and off and so very, many dirty dishes! 53 recipes, 65 posts, and 365 days of adventure! The musical theatre geek inside me is ready to break into Season of Love and I don't know if I want to laugh or cry!
It's overwhelming to say the least. All the positive feedback, the social media shares, and the amazing opportunity to become a freelance writer have made the long hours worth it! But keeping it real…all the recipe flops, Foodgawker rejections, and coding mistakes have challenged me to grow.
And if this year's successes continue, the ride will get even more exciting! And I'm looking forward to it all..the recipe testing, the travel assignments, the magazine articles, the collaboration with awesome brands, bloggers, photographers and more! BRING IT ON!!!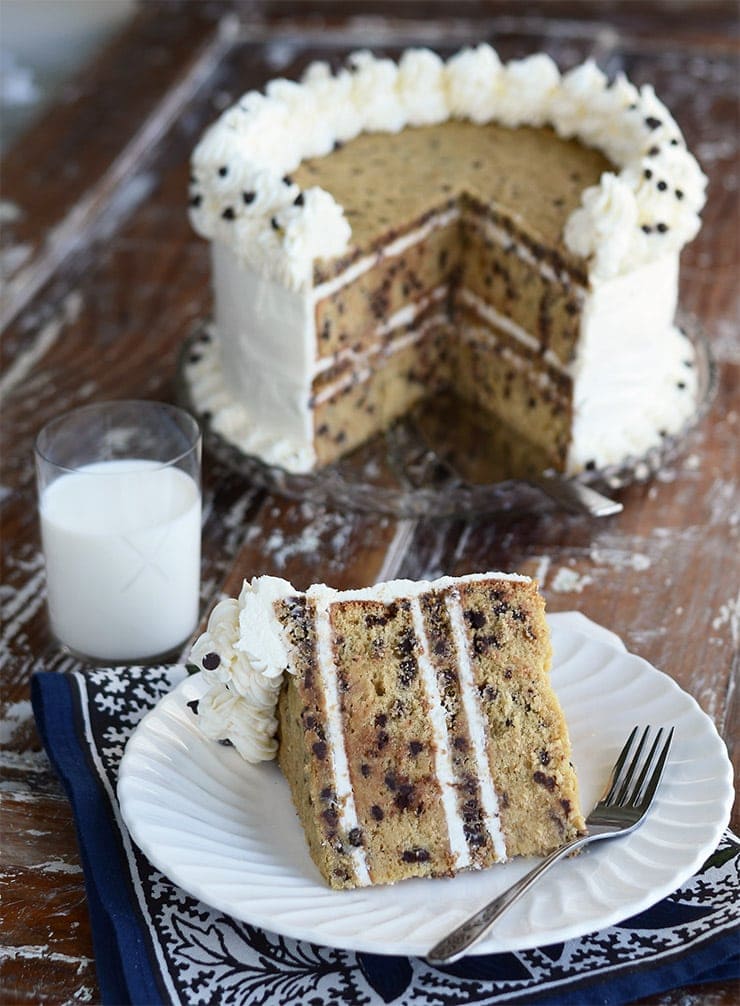 Tomorrow….hahaha. Because today we must celebrate with Chocolate Chip Cookie Cake!
Many people that know me, know that when it comes to sweets, there are two things I can't stop eating…donuts and cookies. Luckily, good donuts are hard to come by… but cookies… If I make a batch, there won't be any left 24 hours later. Especially if they are chocolate chip cookies!
It's embarrassing but true. So one day when me and the hubby were making cookies, I started thinking about those cookie "cakes". (Do you remember those Mrs. Fields birthday cookies? The huge ones covered in tons of sugary frosting?) And I started thinking that they were nice and all, but who wants a birthday without cake?
And then the idea of making a chocolate chip cookie flavored cake popped into my mind. Could it be done? Could you really make a cake that has the essence of everyone's favorite cookie?
I can tell you that yes, you can! But it takes more patience than Cookie Monster making one batch of cookies! It takes quite a lot of test batches to create a new cake recipe but I'm happy to say that this Chocolate Chip Cookie Cake is moist, easy to make and actually takes and looks like a cookie!
So I should have been happy and stopped there, right? No!!!! I decided to take this party over the top by adding two thin layers of cookie into this recipe!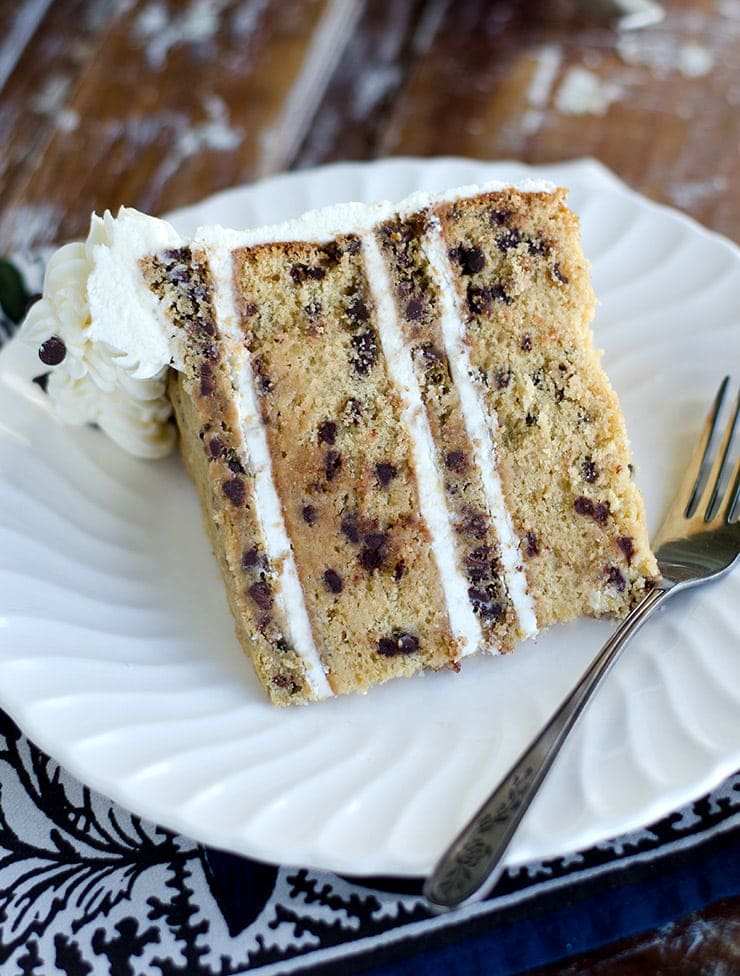 It's so pretty with all the layers…but I'll let you in on a little secret. This Chocolate Chip Cookie Cake is so good you can eat it by itself, no frosting, nothing….other than a glass of milk or a cup of coffee… So if you aren't into all the layers, this cake would be just as good as a sheet cake topped in a chocolate ganache… Simple, easy and delicious!
But I'm not low maintenance when it comes to celebrations… I "need" all those layers and frosting… so pile them on and let's eat to a year of Vintage Kitty!
Before I leave you with the recipe, a quick note of thanks to all my readers. You are what has made this dream a reality, so THANK YOU! I'm honored and humbled by your love and support!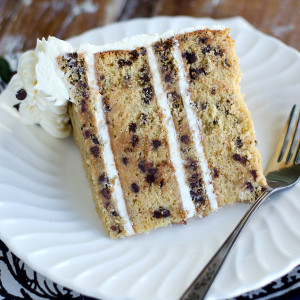 Chocolate Chip Cookie Cake with Vanilla Buttercream
This decadent cake is perfect for birthdays and special occasions but you can also make it as a sheet cake. You'll love how much the cake portion actually tastes like chocolate chip cookies!
Print
Rate
Ingredients
Chocolate Chip Cake
3

cups

AP flour

(13.5 oz)

1 1/2

tsp

baking powder

1/2

tsp

baking soda

1

tsp

salt

2

cups

mini chocolate chips

16

TB

butter,

browned and chilled and softened

2

cups

light brown sugar

1/4

cup

coconut oil

1

cup

buttermilk,

at room temperature

2

TB

vanilla extract

1

TB

white vinegar

1

TB

molasses

4

eggs,

at room temperature
Browned Butter Chocolate Chip Cookies:
2 1/4

cups

AP flour

1

tsp

baking soda

1

tsp

salt

16

TB

butter

browned, chilled and softened

1

cup

organic granulated sugar

1/2

cup

brown sugar

1

tsp

vanilla extract

1

vanilla bean

2

eggs

2

cups

mini chocolate chips
Frosting
Instructions
Cake
Preheat oven to 350F

Grease and flour two 9 by 2 inch round cake pans and line with a circle of parchment.

Combine the flour, baking powder, baking soda and salt and whisk to combine.

Place mini chocolate chips in a bowl and scoops a couple tablespoons of the flour mixture onto them; stir and set aside.

In the bowl of an electric mixer, whip butter with the paddle attachment until pale and fluffy.

Add sugar and coconut oil and beat until fluffy, at least 5 minutes.

Meanwhile, combine buttermilk, vanilla extract, vinegar and molasses and whisk to combine.

Add eggs to butter mixture one at a time.

Add dry ingredients and buttermilk mixture in three intervals, beginning and ending with the flour.

Finally, add the chocolate chips and stir by hand until the flour has mostly incorporated.

Divide batter equally between pans and bake 25-35 minutes, or until a toothpick comes out clean.

Cool on a rack for about 5-7 minutes and then turn out cakes.
Cookies
Combine flour, baking soda and salt in a bowl and set aside.

In the bowl of an electric mixer, whip butter with the paddle attachment until pale and fluffy.

Add sugar and beat for 5 minutes.

Slice vanilla bean lengthwise and scrape with a knife.

Add vanilla beans and extract to butter mixture and discard vanilla pod.

Add eggs one at a time.

Slowly add flour mixture and beat to combine.

Add chocolate chips and mix by hand with a spatula or wooden spoon.

Press a very thin layer (about the height of a mini chocolate chip) into cake pans reusing the parchment paper.

Bake about 12-16 minutes until golden.

Cool cookies in pans and then turn out.
Assembly
Once the cake and cookies have cooled completely, frost cake, starting with a cake layer and alternating with cookie layers.

Serve at room temperature.
Notes
The cookie recipe will leave lots of extra dough for making cookies to decorate the cake, bake later, or you can just eat the leftovers straight from the bowl...we won't judge ;-)
Nutrition
Tried this recipe?
Let us know how it turned out for you! Scroll down to leave a comment below.
You might also like: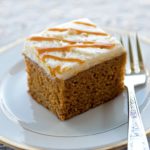 Pumpkin Spice Beer Cake
This cake takes the fuss out of making a cake from scratch. In about an hour you can put together this delicious dessert.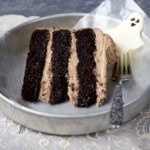 Dancing Ghosts Chocolate Coconut Cake
Mocha coconut buttercream tops layers of rich, fudgy chocolate coconut cake. Hauntingly delicious!
Snickerdoodle Cupcakes
Cinnamon wins the day with this beautiful cookie topped Snickerdoodle Cupcake recipe! Seriously one of the best crowd pleasing desserts for a party.