Bring a touch of spring to your holiday with these adorable DIY Easter napkin rings. Our tutorial will help you hatch these chicks in time to decorate your table settings!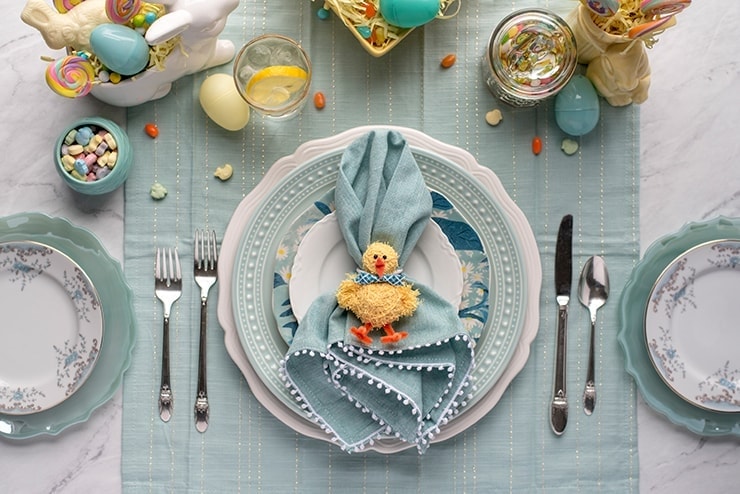 Spring is in bloom and Easter is right around the corner! So it's time for pastel flowers, decorating eggs and all things baby animal!
Seeing baby bunnies hop through our yard brings me so much joy! As of late, I've been GLUED to the eagle nest cam from the National Conservation Training Center. Those little babies are so fuzzy and cute and it's very exciting to think that someday I might see those babies flying overhead.
Nature is amazing! But for Easter, nature is probably better to watch than take home. As many times as I've been to Southern States and looked at the cute spring peeps and dreamt of having chickens, Kevin is always reminding me how much work they'd be. Maybe someday when our house isn't a fixer upper?
For now, we can make our Easter table pretty with these baby chick napkin rings!!!!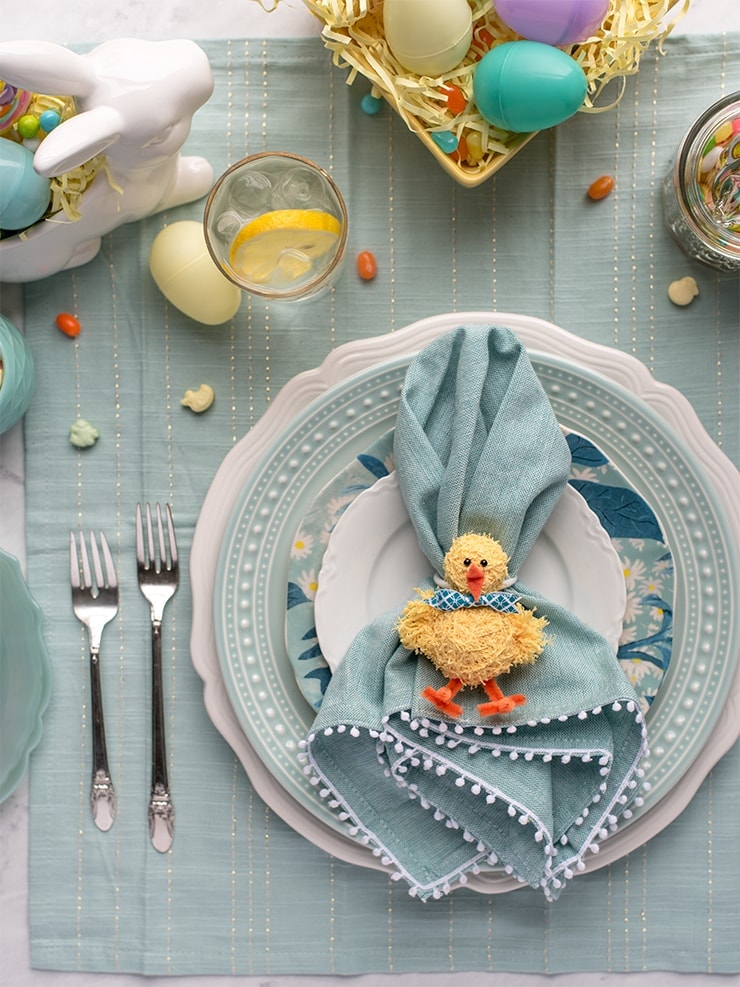 The inspiration for these spring napkin rings came from vintage decorations I've seen in antique stores. I knew I wanted to make a whimsical craft but didn't really have a plan. Then I spotted the perfect hue of scrubby yarn at the store and knew I had to make a chicks!
How to make Easter napkin rings
I tried a number of materials to make these Easter napkin rings, at first using wire to make legs and then wrapping them with washi tape. In the beginning I just made yarn balls, but that wasn't very structural for the rings.
Finally, I settled on this design because the pipe cleaners were easy to work with and styrofoam balls easy to roll. The most difficult thing about the project is the hand sewing. Given the nature of the scrubby yarn, wide or ill placed stitches go unnoticed.
But the stitching firmly attaches the eyes and beak so these adorable Easter napkin rings can grace your table for years to come. Who knows… maybe they'll become a family heirloom?
Easter Table Decor
We decorated our table with springy pastel blues and pops of yellow and white. There's vintage china mixed with cute dishes from Anthropologie and Homegoods.
Many of the Easter decorations came from the Dollar Tree and Target, including the pottery white rabbit. It worked great with the vintage pottery rabbit vase I already had. It's a fun mix of old and new so our little chick napkin rings feel right at home!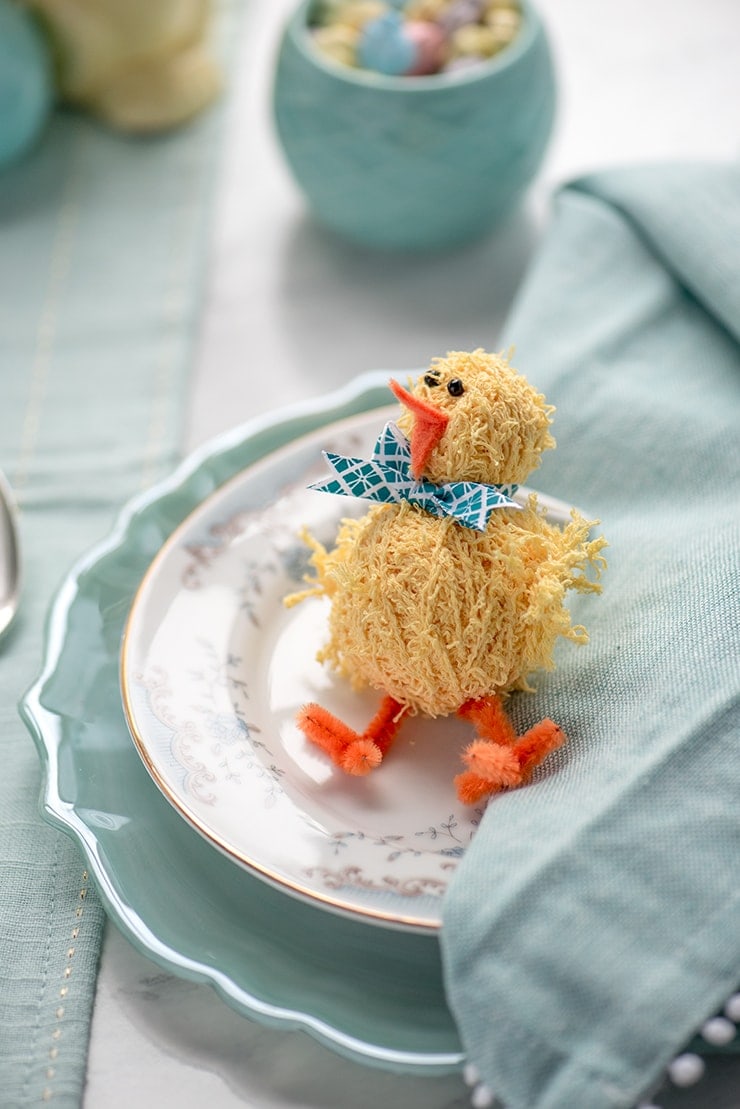 I'll let you get on to the tutorial but, if you make these for your table, please upload a picture to instagram and tag @vintagekittyblog! I'd love to see your peeps!
Happy Spring!
DIY EASTER CHICK NAPKIN RINGS
Yield: 8 napkin rings

Active Time: 20 minutes

Total Time: 20 minutes

Difficulty: Intermediate

Estimated Cost: $30

These sweet chicks are the perfect decoration for your Easter or spring inspired dinner table! It's a great craft project that uses simple supplies and tools.
Materials
Toothpicks
Ribbon (1/4-3/8th inch)
Instructions
Cut four 1-inch lengths of copper wire. Bend these in half to make staples.
Take your smaller styrofoam ball and using a staple, attach the end of the yarn to the ball. Wrap ball until it is completely covered. You will need to crisscross in multiple directions the same way you create a ball of yarn. Secure the end of yarn with another staple and repeat steps with the larger ball.
Cut a small rectangle of orange felt about an inch long. Fold it in half and then cut a triangle. When you open it up, it will be a diamond shape. Trim to fit the chick's head if you feel it's too big.
Sew on the beak to the middle of the head with a long needle and thread. You want to sew along the fold line only and be sure to anchor it by sewing through to the back of the head. This will keep little hands from pulling it off!
Sew on two small glass beads for eyes. These beads will have varying sized holes, so make sure to test your beads to make sure your needle will pass through the hole. As with the beak, I recommend sewing through the head to make them hard to pull off.
Make wings by looping yarn around your fingers about 8-10 times. Cut another small piece of yarn and tie the loops in the middle. Repeat to make another wing then sew them onto the sides of the larger ball.
Attach the head to the body using hot glue and a toothpick trimmed to size.
Trim wings by cutting loops and shaping them to look like a wing.
Cut one long pipe cleaner into two short and two long pieces. Take one long piece and cross a shorter piece about an inch in from one end. Now wrap that little piece around the larger one. At the other end, bend down the top to double it. This will make it stronger for gluing. Trim if necessary to keep legs in scale with the body. Repeat with the second leg.
Make two holes in the styrofoam for the legs. Test the legs to make sure they'll fit easily. Insert hot glue into the holes and insert pipe cleaner legs.
Bend feet up to make a right angle then trim feet.
Take a piece of ribbon and tie a simple slip knot to a ring. Place the ring behind the chick and tie the ribbon in front. Trim ends and you've made your first chick napkin ring!
Notes
I've linked to products I used or ones that were the closest I could find online. However, I strongly suggest going to a store, as the online prices are much more expensive! I found many of the supplies at walmart and dollar tree.
The rings were the only item I found difficult to source. I settled on using metal drapery rings which I painted white. Maybe not the best for china? So I've linked to plastic rings, but you could also paint wooden rings.
Don't use your good scissors to cut metal! Use old worn out scissors, or better yet, buy yourself a leatherman multi-tool! We use ours constantly!
From start to finish I believe this is a great craft project for older children, teenagers and adults. There are portions like the wrapping yarn that smaller kids can help with.
One ball of yarn and one sheet of felt should be enough to make 8 chicks or more.
Each chick takes about 20 minutes to make, but you'll cut that down by setting up an assembly line.
Love this Easter craft? Check out all our Easter ideas and recipes!
You might also like:
Towel Pillowcase
Make this Towel Pillowcase sewing project and in about an hour you can be dreaming on plush terry cloth.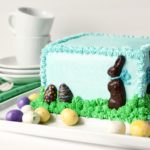 Easter Cake
Make this hippity-hoppity Chocolate Easter Bunny Cake from scratch for your Easter celebration!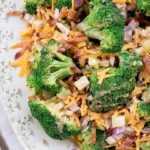 Classic Broccoli Salad
Homemade bacon and mayo dressing with a hint of cayenne kick renders this broccoli salad unforgettable! It makes ordinary steamed broccoli everyone's favorite vegetable!