This twist on a classic Southern pie will have you begging for seconds! Buttermilk Sweet Potato Pie is sweet, citrusy and surprisingly easy to make!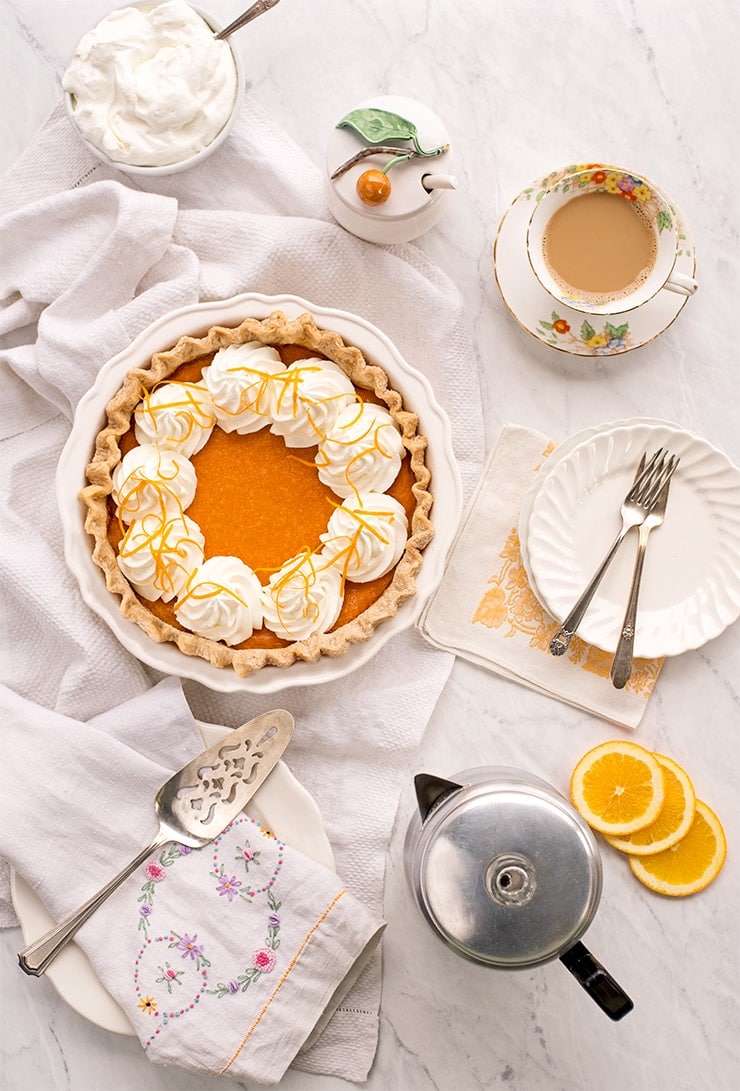 Buttermilk Sweet Potato Pie is a fresh buttermilk custard pie flavored with baked sweet potato and lots of fresh orange zest. You will be amazed by the bright, fresh taste but I'm pretty sure that your favorite part will be the ease of making this delicious dessert.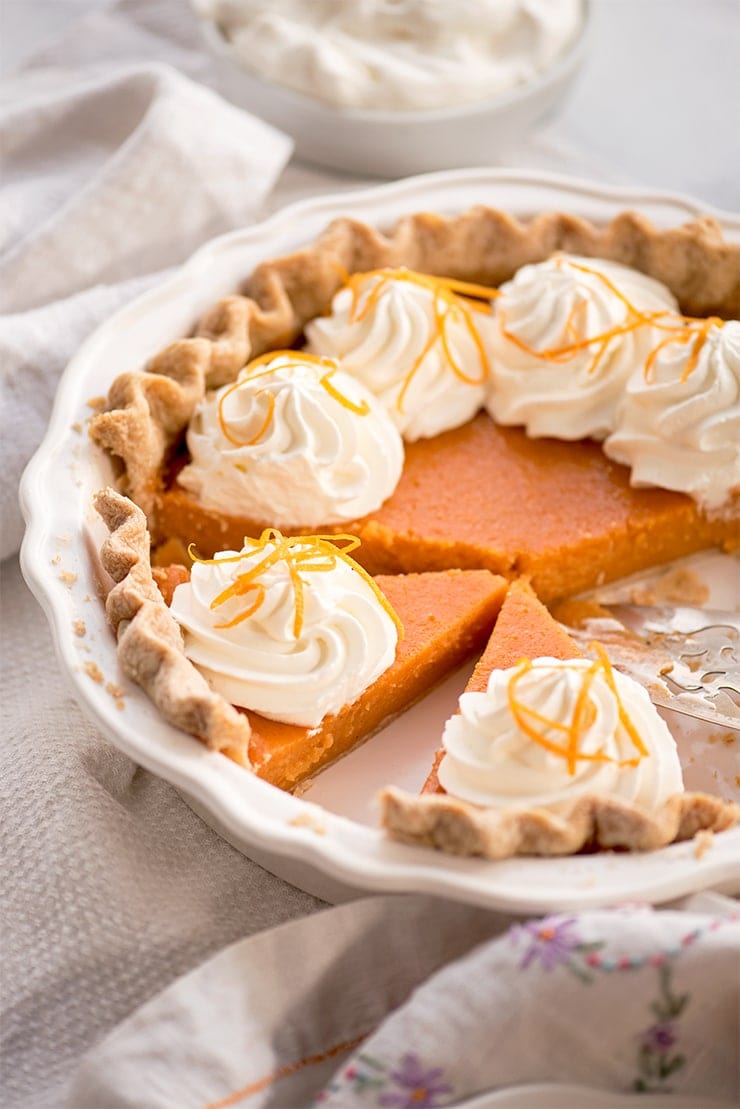 It's hard to imagine the fall holidays without pie. At our Thanksgiving feast, we had 6 types of pies for 16 people. We have a lot of bakers in the family and even more sweet tooths! My mom brought my grandmother's pumpkin pie recipe, Kevin made pecan and my sister-in-law baked an apple pie. Since the standards were covered, I took the opportunity to test out some new recipes. When you are a blogger, taste testers are crucial!
I've been reading old cookbooks a lot lately, and the variety of pie recipes intrigues me. Gooseberry, huckleberry, molasses… and so many recipes for buttermilk pie. Buttermilk pie is a thing in the South, but not something that I grew up eating in my Mid-Atlantic, Pennsylvania-Dutch homeland.
So, I decided to play around with variations on the standard buttermilk pie…which to make things even more confusing, is called a chess pie if it uses cornmeal as a thickener instead of flour. So my taste testers were subjected to three new recipes: chocolate, cranberry orange and sweet potato. They were all flavorful but for me the clear winner was the sweet potato. It had the perfect texture and it was sweet with an incredibly zesty taste.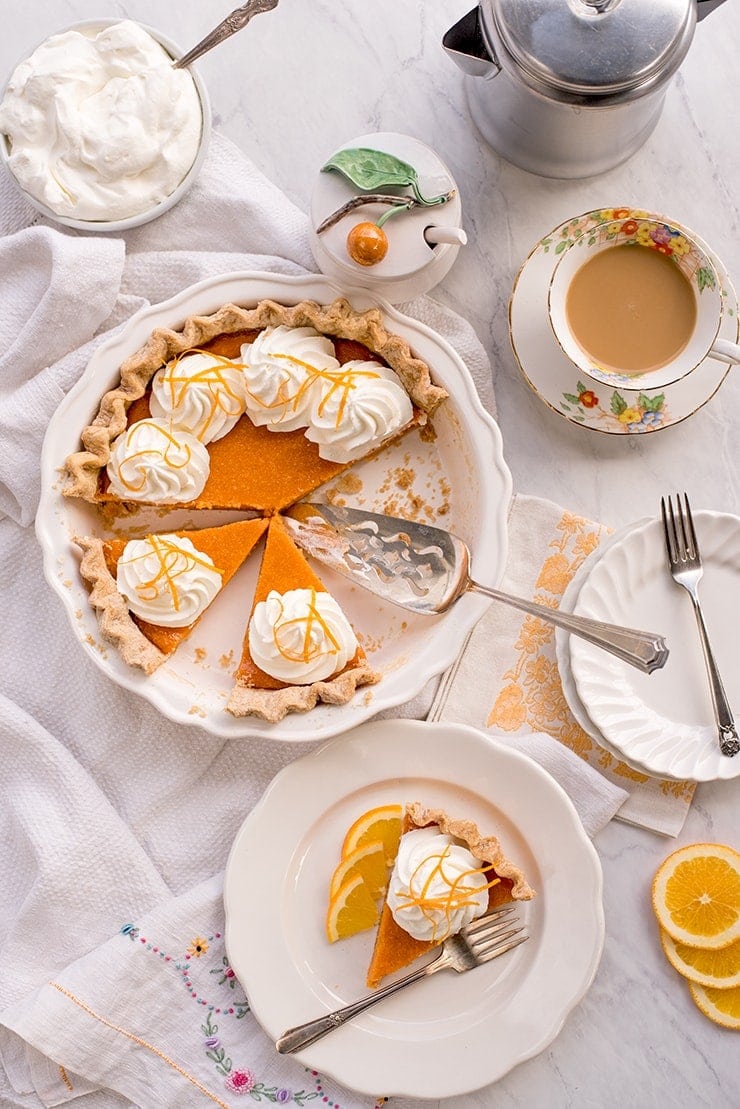 Although I named this Buttermilk Sweet Potato Pie, in reality this pie recipe has a blend of flavors like buttermilk, orange zest, freshly grated nutmeg, cinnamon, vanilla extract and ginger which add up to delicious! You have to try this fresh, tangy pie!!! It's my new favorite!
And this is an easy pie to make! Start by baking a sweet potato and then puree the flesh until very smooth. I ran the sweet potato through a potato ricer and then made the filling in one mixing bowl with a whisk. If you don't have a ricer, you could also make the pie filling in a blender or food processor. Whatever method you use, make sure that the sweet potato is pureed because it can have stringy fibrous threads in the flesh and you want a creamy, smooth custard.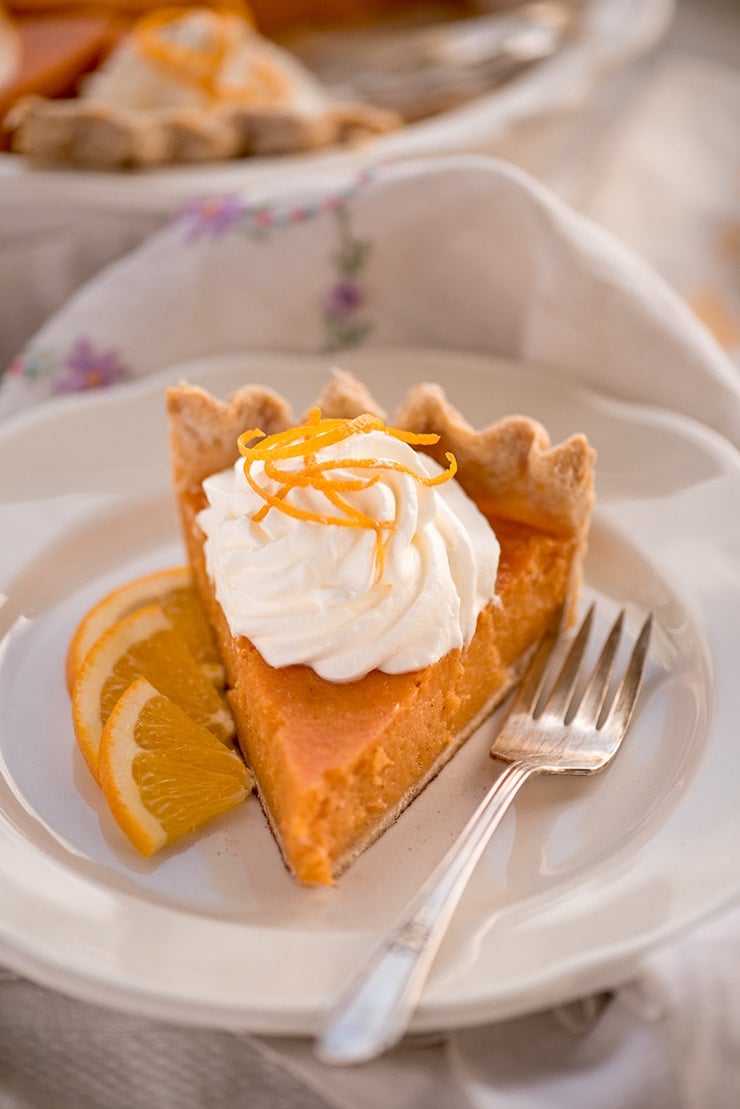 This recipe is for a 9 inch pie plate, but I've been collecting a number of odd size pie plates lately, so I spread the filling across a couple smaller pie plates. I used a vintage Pyrex 206 I found at a yard sale and a 7-1/2 inch stoneware baker I picked up at a thrift store. When I can find them at good prices, I always buy extra pie plates because when you take them to dinners they don't always return home. I hate using disposable pie tins, so used or vintage pie plates are preferable and usually about the same price!
Trouble is I get attached to my dishes! My collection is HUGE and I have been coveting this little Pyrex 206 for a while. Doubt I'll let this pie plate slip away! Time to get more storage shelves!!!! Maybe the best pie plates to buy for parties are ones you won't get attached to lol!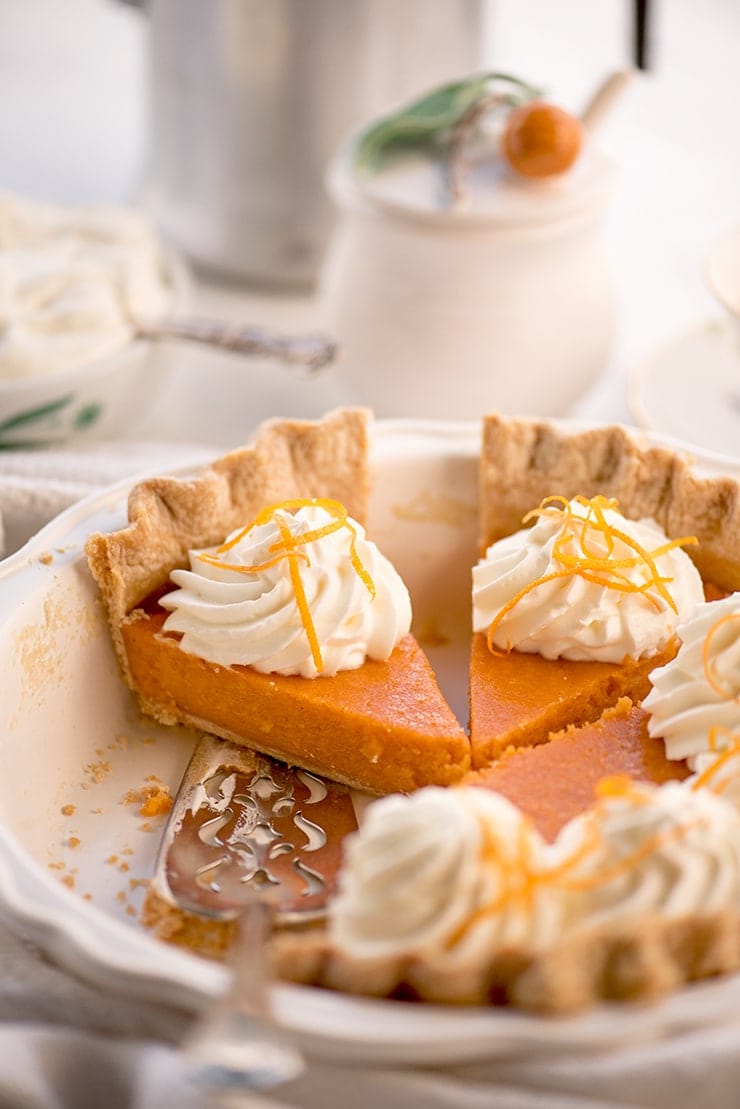 UPDATE: It's now 2018 and I'm still making this delicious pie for holiday gatherings! It's become one of my favorites! Now you'll see updated (prettier) pictures in this post. My mom came over before Thanksgiving and she helped me remake and shoot this gorgeous pie.
This time we used a 9.5 inch pie plate from Williams-Sonoma. Yes, my collection of pie plates is still growing and I'm happy to say I've picked up another rare Pyrex, the 207. It's 6.75 inches and oh so cute! I guess what I'm saying is that this recipe isn't fussy. You can make one large pie or a couple small ones. If you'd like to see the original pies and pie plates here's one of the photos for reference.
Another note: I now have a Vitamix and I made this pie by throwing the mashed sweet potato into the blender with the other ingredients. It worked really well. I made two pies. The first I blended up, poured it into the dough and threw it in the oven. This pie was kind of puffy because the blender added lots of air to the filling.
The oven was full for the second pie, so I made the filling then transferred it to a covered dish and put it in the fridge to bake later. As it sat in the fridge, the bubbles dissipated. This is the pie I photographed. So while the blender is a completely viable method, I do like the look of a less whipped filling. But I did prefer the blended over the hand mixed because the blending made a smoother, more emulsified filling.
Third note: Try to find the darkest orange sweet potatoes you can find. I've made this with lighter sweet potatoes and it comes out more brown than orange. Orange is certainly prettier!
If you make this recipe, let me know what you think! Comment or rate it below.

Buttermilk Sweet Potato Pie
What's in a name? Did you know that the only difference between a buttermilk pie and a chess pie is the method of thickening? A buttermilk pie uses flour and a chess pie uses cornmeal. We've deliberately broken the naming rules with this pie because the buttermilk is such a prominent flavor in the recipe.
Print
Rate
Ingredients
Filling
1

cup

sweet potato,

baked and pureed

Zest of one orange

1 1/2

cups

organic sugar

2

eggs

1

cup

buttermilk

3

tablespoons

finely ground cornmeal

1

tablespoon

vanilla extract

1/4

cup

melted butter

1/4

teaspoon

freshly grated nutmeg

1/4

teaspoon

cinnamon

1/4

teaspoon

ground ginger
Instructions
Preheat oven to 350F

Prepare a 9 inch pie plate with pie dough.

In a large bowl, combine all the filling ingredients and whisk until smooth.

Pour filling into unbaked pie shell.

Bake for 80-90 minutes or until set. You'll know it's done when there only the tiniest wobble in the middle. Bake it too long and the custard will crack when cooling.

Chill pie until ready to serve.
Notes
Make sure to bake your sweet potato until its very soft....it will make a smoother pie!
Try to find the darkest orange sweet potatoes you can find. I've made this with lighter sweet potatoes and it comes out more brown than orange. Orange is certainly prettier!
Nutrition
Calories:
369
kcal
|
Carbohydrates:
58
g
|
Protein:
5
g
|
Fat:
14
g
|
Saturated Fat:
6
g
|
Cholesterol:
59
mg
|
Sodium:
194
mg
|
Potassium:
207
mg
|
Fiber:
2
g
|
Sugar:
41
g
|
Vitamin A:
5091
IU
|
Vitamin C:
5
mg
|
Calcium:
56
mg
|
Iron:
1
mg
Tried this recipe?
Let us know how it turned out for you! Scroll down to leave a comment below.
You might also like:
Mixed Berry Pie
This pie is the star of summer! Its buttery almond crust highlights summer's abundance of raspberries, blackberries, blueberries and strawberries.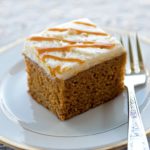 Pumpkin Cake
This cake takes the fuss out of making a cake from scratch. In about an hour you can put together this delicious dessert.
Lemon Icebox Pie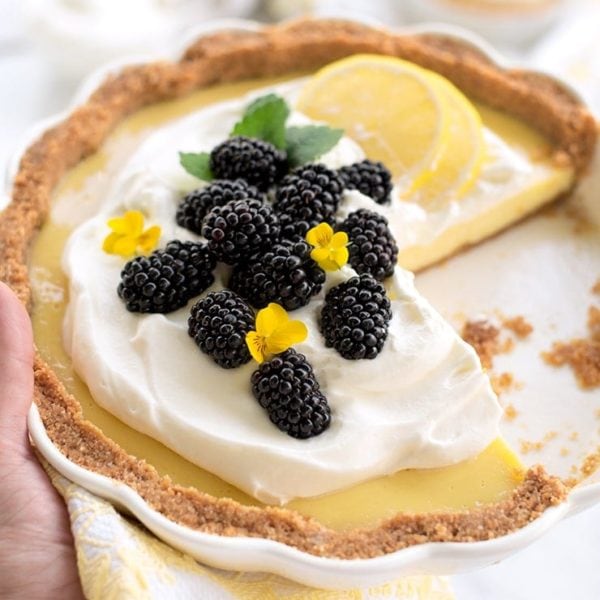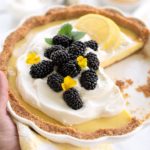 Lemon Icebox Pie is sweet, tart, creamy, nutty and best served cold! This mouthwatering icebox pie hits the spot when the thermometer soars!