Ditch the can this holiday season by making CONDENSED CREAM OF MUSHROOM SOUP from scratch for all your casserole needs. Or you can just eat the soup because it is luxuriously creamy and rich!
---
Ever read the ingredient label on a can of condensed cream of mushroom soup? It contains more oil than cream, MSG and what is soy protein concentrate? Good news is you can skip the processed soup with this scratch recipe!

When coming up with my posting schedule for the holiday season, I reached out to my friends to see what recipes they would like to see on the blog. Many said they would like recipes that could be made ahead. But one specific request came from my sister. She asked how you can make green bean casserole from scratch.
To make a scratch version of green bean casserole you need a homemade version of condensed cream of mushroom soup. The soup is the flavor and glue that holds together this casserole, so let's start there and leave the crunchy fried onions for another post…
Condensed cream of mushroom soup is easy to make. So easy, its a travesty to even think about reaching for a can of processed goo. If I cannot pronounce the ingredients and don't know what they are, I put them back on the shelf. And have you noticed how everything contains MSG lately? It may surprise you to know that mushrooms naturally contain MSG, so why add extra? So this better-than-a-can cream of mushroom soup recipe uses REAL ingredients. Things like mushrooms, onions, milk, celery and cream to make a satisfying, yummy soup.
So get your soup pots ready folks! Make this extra large batch of soup so you can make dinner and freeze some for your holiday casseroles. Kill two birds with one stone? That's my multi-tasking kind of dinner!
Look at all this soup-tastic realness! Perfect for a fall meal with a grilled cheese sandwich or a healthy salad and oh my will your casseroles taste divine!
If you give this recipe a try, let us know what you think by leaving a comment below or tagging us on Instagram @vintagekittyblog. We love to hear from you!
Cream of Mushroom Soup
This recipe makes a thick, condensed style of cream of mushroom soup that can be used in casseroles or thinned to eat as a luscious soup.
Print
Rate
Ingredients
4

TB

salted butter

4

cups

medium onions,

diced

3

cups

celery,

diced

8

cups

coarsely chopped portabello mushrooms

6

cups

sliced button mushrooms

4

cloves

garlic,

minced (about 1 tablespoon)

1/3

cup

AP flour

1

cup

dry hard cider or white wine

2

cups

heavy cream

2

cups

whole milk

4-6

springs of fresh thyme

2

TB

soy sauce

Salt and pepper to taste

Parsley
Instructions
In a large soup pot, melt butter over medium-high heat.

Add onions, celery and garlic and saute until onions are translucent and starting to turn golden brown.

Add mushrooms and cook until softened, about 5 minutes.

Sprinkle flour over veggies and cook one minute.

Add cider or wine while stirring constantly.

Add in milk, cream and thyme and bring to a gentle boil.

Reduce heat to a simmer and cook 10-15 minutes.

Remove thyme stems.

Puree half of the soup and add it back into the pan.

Add soy sauce and stir.

Season with salt and pepper to taste.

Use immediately in casseroles or freeze for future use.

To eat as a soup, thin to desired consistency/taste with vegetable or chicken stock and garnish with fresh parsley.
Notes
Save time by buying pre-cut vegetables
Makes 9 cups of condensed soup. To thin to a soup, add chicken or vegetable stock at a ratio of about 2 cups soup to 1 cup stock. Add stock in increments and taste with each addition. Stop when the soup is at the consistency you prefer.
Nutrition
Tried this recipe?
Let us know how it turned out for you! Scroll down to leave a comment below.
You might also like: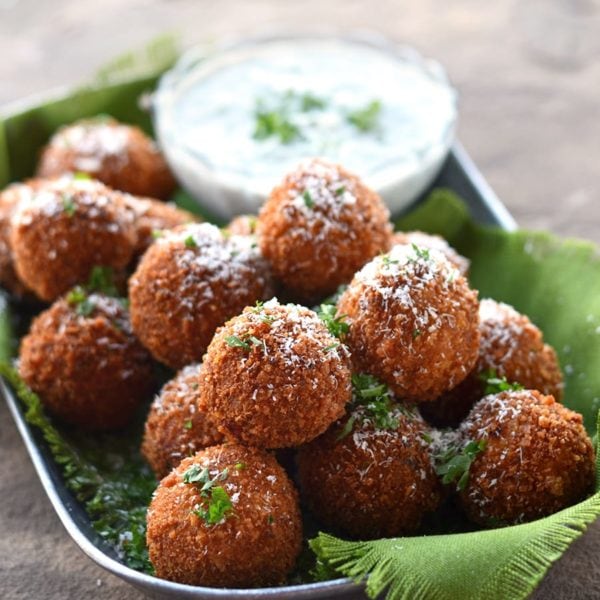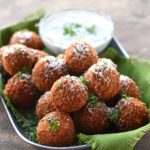 Fried Mozzarella Balls with Pumpkin, Sage and Caramelized Onions
Take your party to the next level with these Fried Mozzarella Balls. They are crunchy on the outside, gooey on the inside and served with Yogurt Herb Dip.
Lemon Thyme Potatoes au Gratin
This Lemon Thyme Potatoes au Gratin recipe is a perfect side dish for special meals, holiday gatherings and anytime you want to treat yourself to a special dish!
Rosemary Sweet Potato Rolls
One dough, two uses! These Rosemary Sweet Potato Rolls are the perfect side to your meal but the dough can also be used for pizza and can be prepped in advance and frozen.