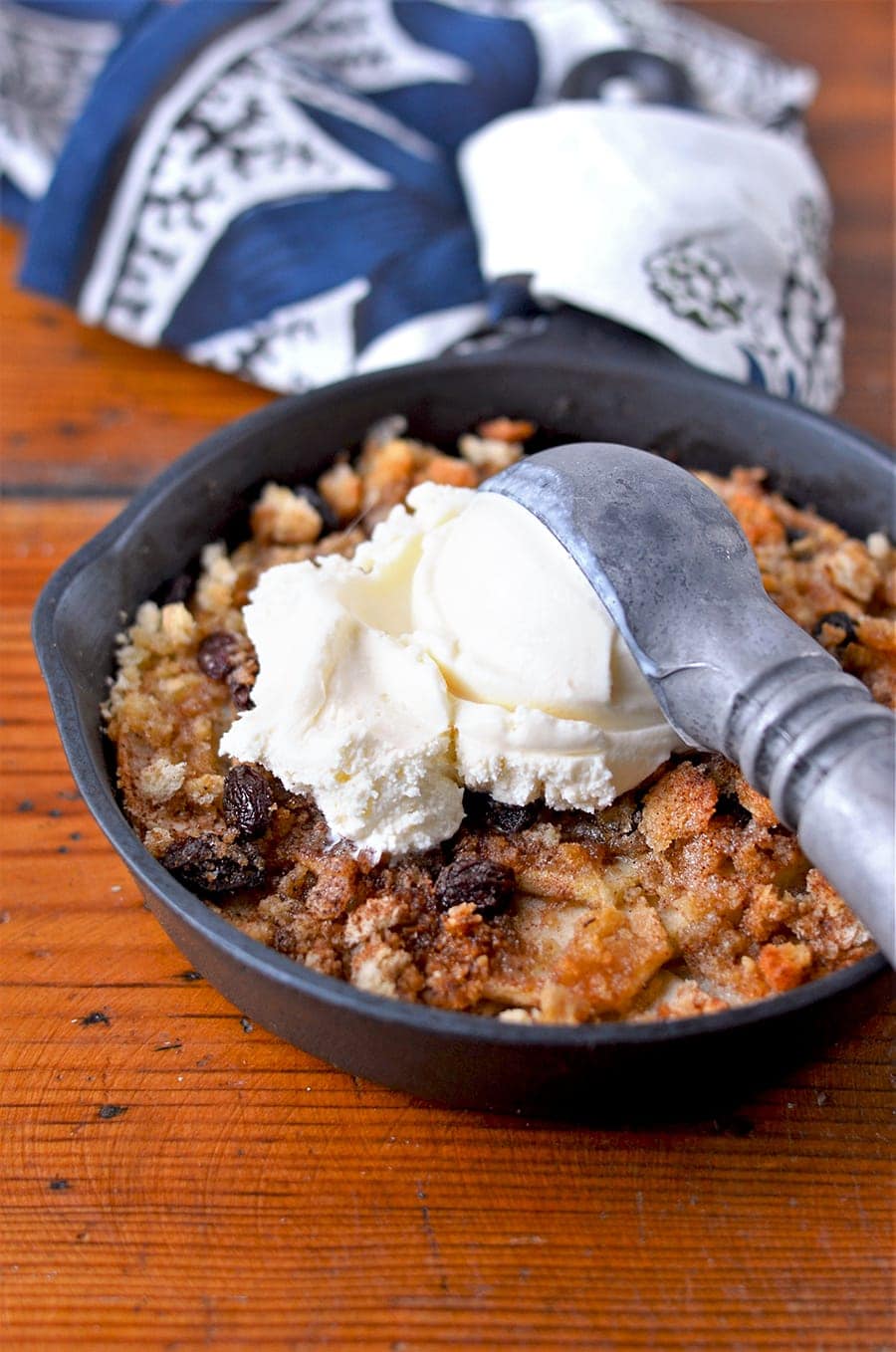 This Rum Raisin Apple Brown Betty revives the American classic dessert. Inspired by history, this thrifty and simple pudding recipe is sure to please in any era.
---
It really doesn't get more authentically American than this. You'll love the classic flavors in this Rum Raisin Apple Brown Betty but also enjoy schooling your family on this nearly forgotten pudding.
Today I'm bringing you a truly vintage apple recipe, the Brown Betty! It's a dessert recipe that hails from Colonial times but its true provenance is lost to history. Maybe that's because back in the old days, cooking was very regional. Names and ingredients varied from state to state, and over time different dishes developed. So lots of simple apple puddings started with the same ingredients: stale bread, apples, butter and sugar. You might call it an apple pandowdy, a cobbler or a crisp… all relatives to the Brown Betty.
Although many online sources credit the first printing of the Brown Betty recipe to the Yale Literary Magazine printed in 1864, I found a "Brown Betsey" recipe in the Every Lady's Cook Book from 1856. Here Mrs. T. J. Crowen calls for a pudding made with rich apples, eggs, stale bread, nutmeg, butter and sugar. But she goes on to say that the eggs can be omitted.
Mrs. Rorer's Philadelphia Cook Book: A Manual of Home Economics uses layers of breadcrumbs and tart apples topped with water, molasses, and brown sugar while The Unrivaled Cook-book and Housekeepers Guide includes raisins and cinnamon.
I could go on because no two historic recipes were exactly the same. My version is based on all this vintage inspiration but keeps this hasty pudding simple. That's what I love about this pudding. It's thrifty because it uses stale breadcrumbs and it doesn't require any fancy techniques. I did use a little creative license and replaced the molasses with spiced rum. It still imparts that deep sugary flavor, but with more pizzazz.
This Rum Raisin Apple Brown Betty is also super duper fast to make and I bet most of you already have the ingredients in your kitchen. It's an easy layering of Granny Smith apples, breadcrumbs, brown sugar, cinnamon, raisins and a little rum and lemon juice.
You can make this dessert in a simple 8 by 8 baking dish, but it's also super cute in little cast iron pans. I recently found these #3 skillets at my local indoor flea market. Don't let the number fool you, because they are really about 6 inches across, just the right size for an indulgent dessert for one or for sharing with two or 3 people. And goodness don't forget the ice cream! Just like most pies, cobblers and hot puddings, ice cream makes this dessert extra special.
So as you're stressing over getting ready for Thanksgiving, know that sometimes the best dessert, and maybe the most authentic, is as old as America itself.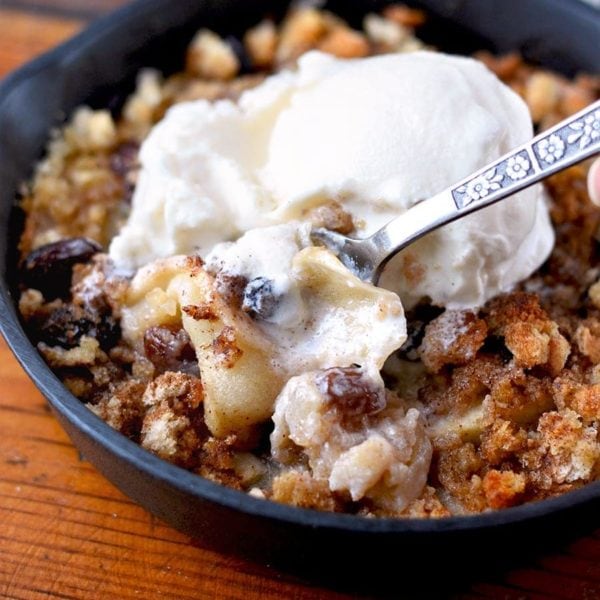 Rum Raisin Apple Brown Betty
This update to the classic American dessert, the Brown Betty, is thrifty, tasty and very easy to make.
Print
Rate
Ingredients
2

oz

spiced rum

1/2

cup

raisins

3

large

Granny Smith apples

juice of one lemon

4

TB

salted butter

plus more for pan

3

cups

stale breadcrumbs

2/3

cup

brown sugar

cinnamon
Instructions
Preheat oven to 350F


Combine rum and raisins and set aside to soak.

Peel and core apples and then slice them very thinly

Place apples in lemon juice and toss to cover

Slice butter into paper thin slices

Butter the bottom and sides of your baking dish(es)

Cover the bottom of the pan with 1/3 of the the breadcrumbs.

Top breadcrumbs with half the apples and raisins and a third of the brown sugar and butter.

Sprinkle lightly with cinnamon

Add another layer of breadcrumbs and repeat the above two steps

Top with the remaining breadcrumbs, brown sugar, butter and another sprinkle of cinnamon

Finally drizzle the leftover rum over the pudding

Bake for 50-60 minutes until apples are tender and top is a golden brown

Serve warm with ice cream
Nutrition
Calories:
494
kcal
|
Carbohydrates:
89
g
|
Protein:
8
g
|
Fat:
10
g
|
Saturated Fat:
5
g
|
Cholesterol:
20
mg
|
Sodium:
474
mg
|
Potassium:
382
mg
|
Fiber:
6
g
|
Sugar:
39
g
|
Vitamin A:
295
IU
|
Vitamin C:
15.3
mg
|
Calcium:
136
mg
|
Iron:
3.3
mg
Tried this recipe?
Let us know how it turned out for you! Scroll down to leave a comment below.
You might also like:
Lemon Icebox Pie

Lemon Icebox Pie is sweet, tart, creamy, nutty and best served cold! This mouthwatering icebox pie hits the spot when the thermometer soars!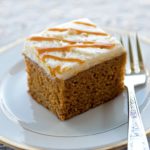 Pumpkin Spice Beer Cake
This cake takes the fuss out of making a cake from scratch. In about an hour you can put together this delicious dessert.
Blueberry Lime Shortbread
Blueberry Lime Shortbread is a great icebox cookie. It's filled with dried blueberries and lime zest giving it a fresh, zippy flavor and coated in an almond cornmeal crumb for added texture and crunch.