This delectable Caramel Pawpaw Ice Cream scratches all your sinful itches. It's creamy, crunchy, salty, and sweet with a hint of banana mango flavor from exotic pawpaw fruit.
---
Cashew praline crunch is a perfect counterpoint to this ultra-creamy Salted Caramel Pawpaw Ice Cream. It's a recipe that, despite its caloric nature, is one you can still feel pretty good about because obtaining the key ingredient usually involves a hike through the woods.
Hi all! Kevin is taking the blog reins today with a little story. I'll catch up with you a bit later in the post. Thanks for reading!
-Kitty
Now, you need to know something about Kitty. She LOVES food. She LOVES creativity. She LOVES mixing those two things together just like this recipe shows. But she HATES anything resembling a banana in flavor (as pawpaw does) and so, dear reader, I am here to offer the opinion and description of this DELICIOUS Salted Caramel Pawpaw Ice Cream, and to tell you a little story.
Who doesn't love food with a story behind it?
No one I want to know, that's who.
Kitty and I were recently making use of a beautiful late summer evening and decided that we really needed to get outside and take a hike. We needed to work off some of the calories that testing Vintage Kitty's recipes adds to our lives. The fact that it was a gorgeous day right around sunset only made it better.
As we were walking along a path in Antietam National Battlefield next to a burbling stream, I noticed a piece fruit on the ground. I recognized it from last year when Kitty and I bought pawpaws from a farm market to make pawpaw smoothies, and thought "SCORE! Free ingredients for Kitty!"
I called out to her (she was lagging behind, snapping photos of the view), "Kitty! Pawpaws!!"
She looked up from her iPhone with a gleam in her eye that I only see when she finds a rare or hyper local or vintage-y ingredient…this hit all three of those buttons.
After she verified that I had indeed located a trove of pawpaws, she began inspecting them and picking up the best ones as we walked. I swear she walked 2 miles with 5 lbs of pawpaws carried in her t-shirt (check out her Instagram feed for the shot, its worth a look).
I don't think we'll go hiking without a backpack again. And so my friends learn a lesson from us. If you're out hiking, bring a bag along, you'll never know what you'll find along the way.
Now on to the fruits of our labor.
Kitty and I were driving back from our hike turned foraging expedition and were bouncing ideas around on how we could use pawpaws in a new and different way from last year. It didn't take long for Kitty to jump to ice cream so she could try out her new Cuisinart ice cream maker. It really is a perfect idea, pawpaws are really soft and creamy in texture naturally so it's a great way to add a light banana mango flavor to an ice cream without compromising the texture.
Now, I know that Kitty worked in the Cashew Pralines and Caramel into this recipe because they are some of her favorite flavors (totally check out her salted caramel blondies and caramel marshmallows!) and they work so well with the taste of the pawpaw. The salty caramel really gives the ice cream extra richness. And the cashew praline crunch is a perfect counterpoint to this ultra-creamy ice cream. She had to shoo me away from the kitchen after she asked me to taste test this Salted Caramel Pawpaw Ice Cream, because I'd have made myself a bowl and eaten it all right then and there.
I hope your self-control is stronger than mine or you'll never get this Salted Caramel Pawpaw Ice Cream with Cashew Praline Crunch to the table.
Hey guys, this is Charity, again. As Kevin said, I'm NOT a banana fan. What I discovered this year is that wild pawpaws seem to be more banana-y that the cultivated varieties we tried last year. So by the time we got done scooping out the flesh, I knew from the smell, I didn't want to eat them.
But using my culinary knowledge and lots of perserverance, I made this Salted Caramel Pawpaw Ice Cream recipe. I'd love to tell you it's the best ice cream I've ever tasted. But to someone who hates the taste of bananas, it just tasted like caramel yuck to me. I will say that I did nibble at the praline some, and that wasn't as revolting.
So what I'm trying to say is, if you hate bananas, don't bother foraging for pawpaws. But if you love bananas…you really need to go on a hike to find some so you can make this Salted Caramel Pawpaw Ice Cream recipe.

Salted Caramel Pawpaw Ice Cream Recipe
Pawpaws are native to the the United States but you won't find them in grocery stores. In many areas they can easily be foraged in late summer or you can check your local farm stands for cultivated varieties.
Print
Rate
Ingredients
Cashew Praline Crunch
½

cup

white sugar

¼

cup

pawpaw

mashed

¾

teaspoon

sea salt

½

cup

cashews

toasted coarsely chopped
Caramel Pawpaw Ice Cream
⅔

cups

white sugar

2

tablespoons

water

2

cups

heavy cream

5

egg yolks

⅛

teaspoon

sea salt

1

tablespoon

vanilla extract

1

cup

pureed pawpaw
Instructions
Cashew Praline Crunch
Combine the pawpaw and sugar in a medium sized stainless steel saute pan.

Over medium heat, cook the mixture, stirring until the sugar dissolves (about 2-3 minutes)

Once the sugar has dissolved, stir less frequently, but continue to watch for the sugar and pawpaws to caramelize to a dark amber color.

Pull off the heat and stir in the salt and cashews.

Quickly transfer the praline to a cookie sheet lined with parchment paper.

Place praline in the freezer.
Caramel Pawpaw Ice Cream
In a 3 quart sauce pan combine water and sugar over medium heat.

Bring mixture to a boil, stirring constantly until the sugar dissolves.

Once the sugar has melted stop stirring and instead swirl the pan carefully to keep the sugar from caramelizing unevenly.

The sugar can go from clear to burnt very quickly, so watch carefully and turn off the heat just as the color turns to a deep golden amber.

Slowly, stream in the cream while whisking, being careful to not splatter the molten sugar too much.

Turn the burner back on to medium and heat the cream to 160F.

Temper the egg yolks by stirring in about a half cup of liquid to them and then add the egg mixture back to the pan.

Cook until the custard reached 165F, whisking constantly.

Remove from heat and add salt, vanilla and pawpaw puree.

Whisk until smooth.

Strain custard through a fine mesh sieve into a bowl over an ice bath.

Refrigerate custard until cold.

Once custard is cold, freeze it in an electric ice cream maker, following manufacturer's instructions.

Once the custard has set in the ice cream maker, add the frozen praline. Transfer to an airtight contain and place in the freezer to harden.
Nutrition
Calories:
552
kcal
|
Carbohydrates:
48
g
|
Protein:
6
g
|
Fat:
38
g
|
Saturated Fat:
21
g
|
Cholesterol:
271
mg
|
Sodium:
379
mg
|
Potassium:
147
mg
|
Fiber:
1
g
|
Sugar:
40
g
|
Vitamin A:
1530
IU
|
Vitamin C:
4
mg
|
Calcium:
85
mg
|
Iron:
2
mg
Tried this recipe?
Let us know how it turned out for you! Scroll down to leave a comment below.
You might also like:
Buttermilk Sweet Potato Pie
This twist on a classic Southern pie will have you begging for seconds! Buttermilk Sweet Potato Pie is sweet, citrusy and surprisingly easy to make!
Nutty Pear Crumble
Nutty Pear Crumble is a delicious, tart-inspired dessert that features a vegan cashew custard with a gluten-free cookie crumb bottom.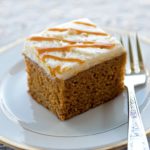 Pumpkin Spice Beer Cake
This cake takes the fuss out of making a cake from scratch. In about an hour you can put together this delicious dessert.
I shared this recipe on the following linkups. Come join the fun!