Easy Brussels Sprouts with Pinenuts and Parmesan is a go-to fall recipe. It's fast, contains just a handful of ingredients, and is perfect for any meal, from a weeknight supper to holiday get-togethers.
---
It really doesn't get easier than this dish. Brussels sprouts, parmesan, pinenuts, lemon zest, olive oil, salt and pepper…simplicity is the key here and this dish cooks up in 5 minutes! So it is just right for holiday meals when stove top space is at a premium!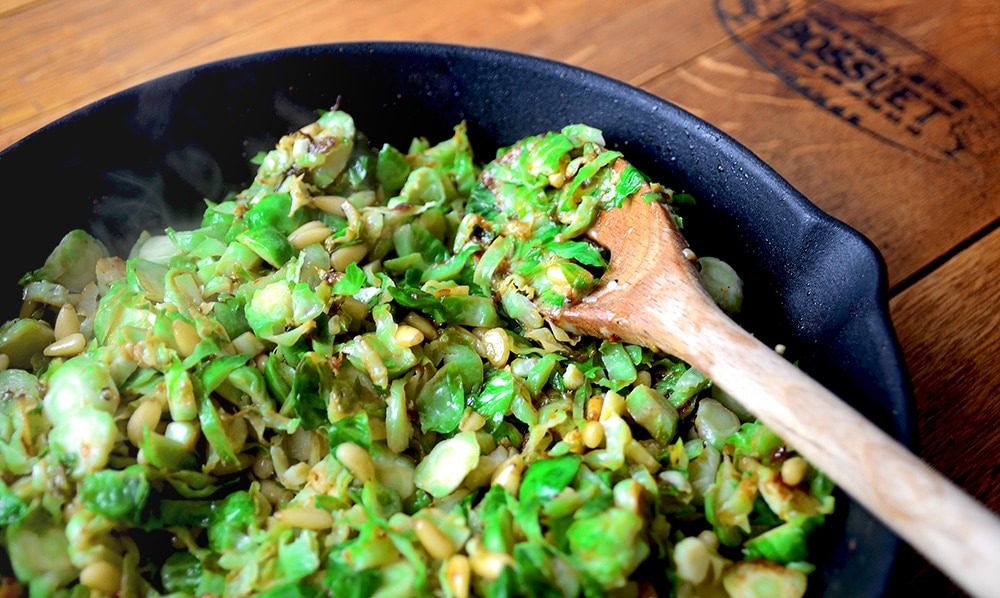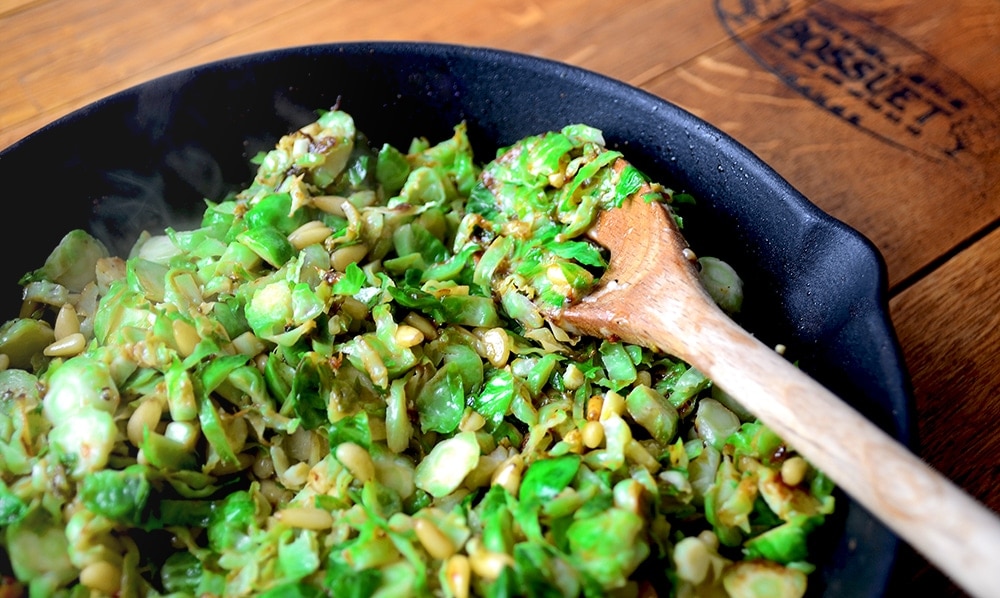 For most of my life I didn't like Brussels sprouts. From my childhood, I remember them as frozen chunks of miniature cabbage, boiled until dull and lifeless. Yuck, right? It wasn't until a few years ago that I gave them another chance.
My local grocery chain was selling fresh Brussels sprouts still on the stalk and I was intrigued and enough to take a stalk home to experiment with. What I found, and what seems to be universally true, is if you don't like an ingredient, don't blame the ingredient, blame the cooking method.
Even the best ingredients can be ruined with bad technique or an unfortunate recipe. There are many foods I will ordinarily turn down, like mussels, octopus, mushrooms, okra…and the list goes on…but if a great chef is making them, I reconsider my dislikes, because, I've been surprised many times.
So, I took home that stalk of Brussels sprouts and gave them a makeover.
What I learned was that Brussels sprouts are best when they are barely cooked. Cook them too long and you have sad, dull, grey veggies. But just a quick stir fry and you have an amazing sidekick of a dish!
This recipe is one we make a lot in the winter months. It is so fast, because it has so few ingredients, but also because you really don't need a recipe. The secret is slicing the Brussels sprouts so they cook uniformly and using high heat. You want them to brown on the edges while retaining their vibrant green color. A sprinkle of lemon zest, a handful of pinenuts, generous helping of parmesan, some salt and pepper…delicious, easy, fast.
So, its a weeknight favorite, but its a great dish for the holidays as well because 1) it can be prepped in advance and 2) it only takes 5 minutes to cook. That being said, this is not the type of dish you make in advance and reheat. It loses its freshness. This is the type of dish you make right before you serve dinner, usually, while the meat is resting, so it's very time efficient. And don't we all want a perfectly timed holiday meal?
And a wonderfully tasty meal that makes everyone love vegetables again?
Easy Brussels Sprouts with Pinenuts and Parmesan
Ingredients
1 1/2

lbs

fresh Brussels sprouts

Zest of one lemon

1/2

cup

Parmesan cheese

1

tsp

olive oil

Salt and pepper to taste
Instructions
Slice off the ends of the Brussels sprouts and remove any outer damaged leaves.

Slice the sprouts in thin rounds and wash in cold water.

Heat oil on high in a large skillet or cast iron pan.

Stir fry Brussels sprouts for a couple minutes, stirring often.

Add pinenuts and lemon zest and continue to cook until Brussels sprouts are browned on the edges.

Add Parmesan and stir until combined.

Serve immediately.
Recipe Notes
Ingredients can be prepped 1-2 days in advance but do not wash Brussels sprouts until you are ready to cook them.
If you make this recipe, let us know what you think. Comment below or tag us on social media.