Tea punch has a long history as a favorite party drink, so we think it's worthy of a holiday remake!

We've made some updates to this cocktail recipe, but you'll find that our Citrus Whiskey Tea Punch still has lots of old school charm. Bring on the holiday cheer!

When I think of the holidays, I yearn for a good punch. You know the kind that's sweet and boozy and full of bright flavors?
Punch makes a party more festive. Punch bowls are like the office water cooler of parties. They are the place where conversations start and the things get interesting … hopefully not in that drunk aunt so and so kind of way … but in that let down your hair and forget about your worries vibe. (I'm totally singing to myself "Have yourself a merry little Christmas, Let your heart be light, Next Year all our troubles will be out of sight").
The holidays are meant to bring us together… to dance, share awesome food and make lasting memories. A little cocktail or two has a way of softening those hard personality edges and bringing out the tales of yore.
To begin my pursuit of the perfect party punch, I took to my old school cookbook collection for inspiration. I wanted to make a punch for our little four person, pre-Christmas menu testing Thanksgiving feast.
Confused? Yeah, me too! But when my mom wasn't sure if she had to work for Thanksgiving, I agreed to make dinner if it could be a Christmas menu. As a blogger, I'm usually ahead of the game and I was already growing a little tired of turkey. So I wanted to try out some new recipes for the blog.
Being a nerd has it's perks because I found my inspiration in a cookbook titled Colonial Recipes from Old Virginia and Maryland Manors. Oddly enough, I first found this title while doing local history research. It came up because Harewood, the home of Samuel Washington, was included in the book. The house is still owned and occupied by Washington Family descendants and is just a few miles down the road, so when I stumbled upon a cookbook that included local history too, you know I had to read it cover to cover, immediately!
But I also saved it to my growing collection of antique cookbooks on Google Play. I have a small collection of my own antique cookbooks too, but you have to search them manually. A simple word search online is so much faster! Type P-U-N-C-H in the search bar and get all the recipes in seconds!
What I learned was that tea punch was a thing. Black tea, green tea, whatever tea, laced with boozy ingredients. I love tea and I love punch, so why not try a tea punch? Ultimately, I chose the tea punch recipe from the William's family as a starting point.
( A little nerdy side note: The book has very little info on the families and houses from which these historic recipes originate. If you want to find the home of Revolutionary war hero, General Otho Holland Williams, it is still standing in lovely little Williamsport, Maryland. It goes by the name of Springfield Farm).
The William's family recipe called for green tea, sugar, lemons, whiskey and rum plus more fruit for garnish. Because we were having a pork roast with apples for dinner, I swapped out the rum in favor of applejack (still kickin' it old school) and decided to add orange into the punch for added fruitiness. Besides cutting down the quantity, where I made the biggest change was the method.
The recipe states "peel very thinly 18 lemons and pour the boiling tea over the peels. Let stand 5 minutes, then strain and pour tea over sugar and lemon juice". I don't know about you, but I'm not peeling all those lemons to only extract five minutes worth of flavor out of them! So I decided that I could use a little modern ingenuity to get more of the flavor out of the peels without having to soak them in the liquor for days.
I peeled my lemons and oranges (still very thinly) and placed them in the food processor with the sugar. I figured that pulsing the two together would help the oils and flavor of the citrus rinds to leach out into the sugar. It worked really well and the punch was teeming with citrus flavor. As for the tea, I think it's a subtle flavor but it gives a bit of bitter balance to a very sweet recipe.
In fact Kevin thought it was too sweet, but once it sat out for a while in the punch bowl with ice, it watered down the syrupy-ness of the punch. For garnish I added fresh pomegranates, cranberries and slices of blood oranges, lemons and navel oranges.
It was delicious and my mom got a little tipsy. She is all of 5 feet tall, so it didn't take much before she was all smiles. It was a great beginning to a fantastic Thanksgiving menu, which I can say we are still happily eating. But the booze didn't last as long!

Citrus Whiskey Tea Punch
This historic recipe has gotten a modern update but it's still super delish!
Print
Rate
Ingredients
6

lemons

2

oranges

1

pound

sugar

1/4

cup

loose green tea

2

cups

water

1-1/2

cups

whiskey

1/2

cup

applejack
Instructions
Peel lemons and oranges, leaving behind as much pith as possible.

Scrape off any pith that remains on the lemon and orange peels.

Combine sugar and citrus peels in a food processor and pulse until the sugar looks wet and tinted orange, about 10-20 short pulses.

Bring water to a boil in a small sauce pot.

Once boiling, remove from heat and add green tea.

Cover pot and let tea steep 3 minutes.

Add sugar mixture to tea and stir until sugar melts.

Strain sugar syrup through a very fine mesh sieve.

Juice lemons and oranges and place in a pitcher or large bowl.

Add in sugar syrup, whiskey and applejack.

Cover and refrigerate until cold.

Serve in a small punch bowl with large ice cubes or an ice ring.
Notes
I used Laird's Applejack. It's the real deal. If you can't find that brand any good apple brandy will do, or in a pinch, use Calvados. But, I would advise against using apple schnapps or other liqueurs that use artificial apple flavoring.
This recipe makes 6 cups of punch, enough for twelve 4 oz servings. For a large party, plan for 2-3 servings per person and multiply the recipe accordingly.
Nutrition
Calories:
203
kcal
|
Carbohydrates:
46
g
|
Protein:
1
g
|
Fat:
1
g
|
Saturated Fat:
1
g
|
Sodium:
4
mg
|
Potassium:
114
mg
|
Fiber:
2
g
|
Sugar:
41
g
|
Vitamin A:
61
IU
|
Vitamin C:
40
mg
|
Calcium:
24
mg
|
Iron:
1
mg
Tried this recipe?
Let us know how it turned out for you! Scroll down to leave a comment below.
You might also like:
Gifts for Cocktail Lovers
Looking for gifts for the home mixologist? We've got you covered! Our picks for snazzy drink accessories, classic bartending tools and small batch mixers are sure to delight!
Prosecco Pineapple Sorbet Floats
Prosecco Pineapple Sorbet Floats are the ultimate light and refreshing brunch cocktail or dessert.
Chai Iced Tea
Orange Chai Iced Tea will make your summer cool and sweet. There isn't a more classic way to relax with friends on a hot day.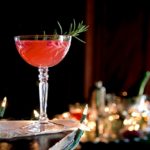 Cider Cocktail
Bubbly hard cider, fresh pomegranate seeds and springs of rosemary come together to make a festive holiday drink. Let's toast to the season!