Orange Chai Iced Tea will make your summer cool and sweet. There isn't a more classic way to relax with friends on a hot day.
---
You're going to love the flavors in this Orange Chai Iced Tea. It's homemade, lightly spiced and served with a generous amount of ice and fresh orange wedges.

This week I'm in Miami and it is HOT HOT HOT! It's a mix of pleasure and work here as I bask in the scorching Florida sun.
I've traded one hot place for another, as the Memorial Day weekend was scorching at home too. But just because its hot, doesn't mean I can stay inside. My summer is already packed with gardening, home improvement projects, and luckily, travel!
Summers are meant to be busy, but when the thermometer soars, you have to take breaks to cool down. That's when I want a tall glass of homemade iced tea.
This Orange Chai Iced Tea recipe is my new favorite beverage. The poolside cocktails are fabulous but I'm really craving another glass of this spiced tea.
Fresh orange zest and ginger are steeped with dried cinnamon, cloves, black pepper, cardamom and black tea. I serve it over a generous amount of ice and a squeeze of fresh orange juice. Sometimes, I'll make it even more posh by adding a sprig of fresh mint from the garden and a cinnamon stick. It's an irresistibly divine brew.
So this summer if I'm at home resting, you are likely to find me bathed in the shade of a porch, drinking a glass of Orange Chai Iced Tea. But this tea is too good to drink alone. I'd love to invite y'all over but I'm not sure I have enough room on my porch 😉
Instead, I'll share this recipe and we can chat online about our summer adventures. I can't wait to hear what you are up to this summer!
Orange Chai Iced Tea
Adjust the sugar to your tastes. I like to add a full cup of sugar while Kevin prefers just a half a cup.
Ingredients
Tea
1

stick of cinnamon

6

cloves

whole

6

cardamom pods

3

TB

fresh ginger

chopped

2

tsp

whole black pepper

cup

½-1 turbinado sugar

zest of 2 oranges

8

cups

water

8

black tea bags
Garnish
Mint

Cinnamon sticks

Orange wedges
Instructions
Place spices in a large pot and crush them a little bit with a spoon or muddler.

Add water and bring to a boil.

Boil for about a minute and then reduce heat to a simmer.

Allow the spices to steep for about 10 minutes and then add tea bags and turn off the heat.

Steep the tea bags for about 3-4 minutes.

Remove tea bags and strain tea through a fine mesh sieve or a reusable coffee filter.

Serve over ice with fresh mint and orange wedges.
You might also like: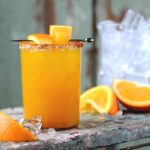 Orange Turmeric Margaritas
These margaritas are a sweet and smoky take on the classic cocktail. Homemade simple syrup. fresh juice and a salty, spiced rim make these drinks extra special.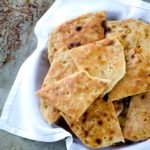 Naan with Candied Carrots, Cashews and Coconut
This naan recipe will surprise and delight guests with its sweet taste and tender crust. 
Spicy Thai Basil Cucumber Cocktail
With hot peppers and savory Thai basil, this drink is cool and refreshing, with a nice, slow jalapeno burn at the finish.