These cinnamon and honey flavored Sopapilla Martinis are inspired by the pillowy dessert pastries you find in Mexican restaurants. Marvelous!
---
Skip dessert and opt for one of these Sopapilla Martinis instead! They are so rich and sweet you won't miss it. Best part is you don't need any specialty flavored liquors, just vodka and spiced rum!


I've had sopapillas on the brain lately. First, I love that they are fried. Even a fried shoe would taste good, right? So fried dough is a great start. Sopapillas puff up when frying and get crisp on the outside. Then these little pieces of fried heaven are drenched in golden, sticky, honey. At the first sight of a plate full of sopapillas, my manners are out the window. I'm eating this dessert and licking my fingers afterward.
Because most likely the honey and fried dough are also topped in cinnamon and whipped cream. And if there's chocolate, well, a second plate might be involved!
But as much as I want to make sopapillas at home, I rarely make fried foods at home. I hate the cleanup, so I decided to make a sopapilla inspired cocktail instead. I've had this bottle of Maggie's Farm Spiced Rum for about a year. It's unusual because it has these very strong anise notes, which I found overwhelming in most drinks that use spiced rum. But dessert sopapillas can also be served with an anise syrup, so it's perfect for this cocktail.
Crafting a new cocktail can be tricky. The cinnamon and honey flavors were easy, but the hard part was getting that fried dough flavor into the cocktail. I tried heavy cream and cake vodka, but they weren't quite right. Then I tried cashews. Buttery, rich cashews… perfection. So, you'll need a blender to make these martinis, but they have the added benefit of being dairy free.
And these Sopapilla Martinis are pretty too! Especially when you use cute vintage glassware.
I found these Anchor Hocking Boopie glasses at the Goodwill last week for $.59 each! Originally, they were sold as a sherbet glass but I think they make a perfect martini glass. To be honest, I hate traditional martini glasses. Most of the cocktail sloshes out of the glass before you get it to your mouth. And I break them because the stems are so thin. So now I have a cute replacement.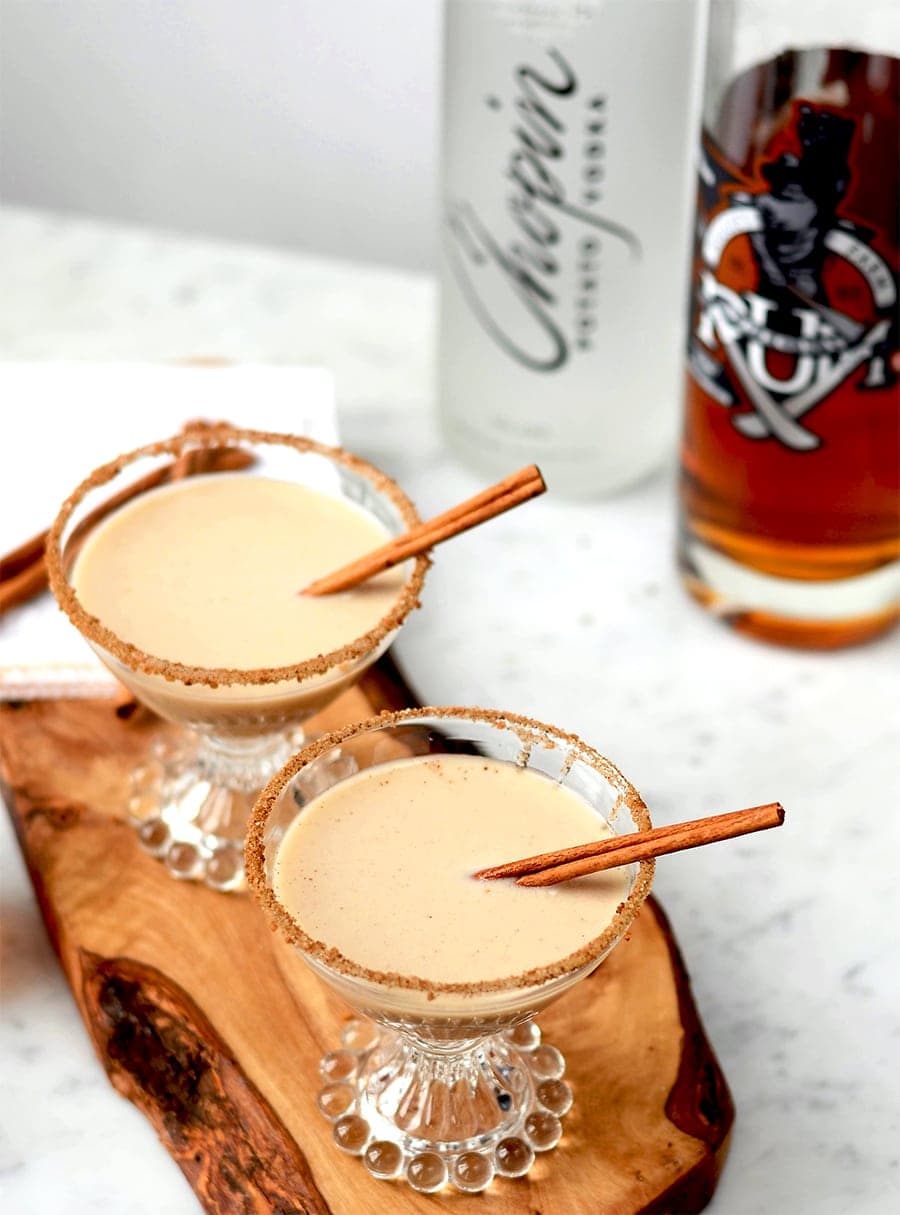 Creamy cocktail, cute glass….swizzle stick! The obvious choice is a cinnamon stick! Makes me want to say things like "Why yes darling, this is a lovely cocktail party! Sopapilla Martinis? Simply marvelous!" You know, the kind of party where everyone kisses each other in the French way on both cheeks?
We deserve a classy drink, don't we? It's #ThirstyThursday, so let's clink glasses virtually! Send me a picture of what you're drinking. Twitter @theVintageKitty Instagram @vintagekittyblog

Sopapilla Martinis
Try to soak your cashews at least 15 minutes but longer will help make your cocktail smoother.
Print
Rate
Ingredients
Honey Syrup (makes enough for two cocktails)
6

TB

Honey

3

TB

Boiling water
Martini
cup

¼ cashews

soaked in water to soften

2

oz

honey syrup

2

oz

vodka

1

oz

spiced rum

Pinch of cinnamon
Garnish
Cinnamon stick

Cinnamon sugar

Honey
Instructions
Mix together 6 TB honey and 3 TB boiling water to make the honey syrup.

Put a little honey on a plate and smear it around.

Put cinnamon sugar on another plate and spread it out.

Dip the rim of a martini glass into the honey and then into the sugar mixture.

Drain the cashews and place in a blender with the honey syrup, vodka, rum and cinnamon.

Blend until smooth.

Strain mixture through a fine mesh sieve into a cocktail shaker filled with ice.

Shake vigorously and pour into martini prepared glass.

Garnish with a cinnamon stick.
Tried this recipe?
Let us know how it turned out for you! Scroll down to leave a comment below.
You might also like: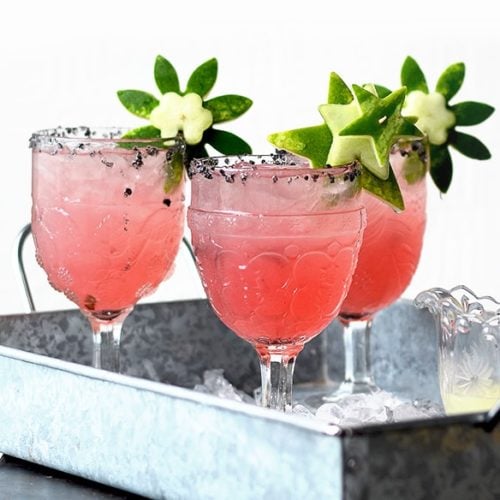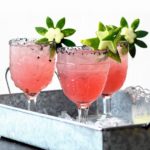 Watermelon Margaritas
When it's crazy hot outside, fresh watermelon makes the sweetest, most cooling margaritas.

Orange Turmeric Margaritas
Orange Turmeric Margaritas are a sweet and smoky take on the classic cocktail. Homemade simple syrup. fresh juice and a salty, spiced rim.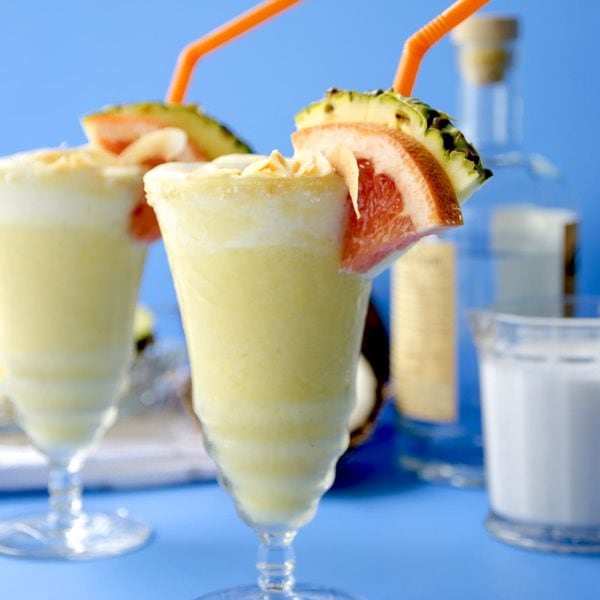 Pina Coladas from Scratch
Whip up one of these rich, creamy Piña Coladas from scratch and cool down in style! They are frozen, smooth, pineapple-y, sweet, and perfect for summer!