This recipe remake takes Butter Chicken to a whole new level! It's a fun and delicious dish for sharing! Our Butter Chicken Meatballs are a great party appetizer or main course. The creamy sauce will have you mopping up every last drop with buttery naan!
I can distinctly remember the first time I tried Indian food. Long before we were married, Kevin's parents took us out for dinner in Vienna, Virginia. This was long before Indian was a popular cuisine here in the US but it was growing in popularity in the DC region.
The rural hometowns I grew up in were lucky if they had mediocre Mexican and Chinese restaurants. So, here we are in this quaint Indian restaurant… it smells foreign, I can't pronounce anything on the menu and the food is brown and mushy.
But what really threw me were the flavors. My mouth was on fire with peppery heat and I couldn't make sense of the juxtaposition of ingredients. Unlike most cuisines, Indian food pairs contrasting flavor profiles. and nothing in my Pennsylvania Dutch upbringing prepared me for this culinary awakening!
So… yeah… my first adventure into Indian cuisine was far from magical. But being an adventurous eater I kept trying new dishes, and in no time Indian became one of my favorite cuisines.
If this is your first foray into Indian cuisine, this butter chicken recipe is a great place to start. In India this delicious curry goes by the name murgh makhani and for the newbie, it's creamy tomato gravy is a gentle step into the complex cuisine.
How to make butter chicken meatballs
We've given butter chicken an American twist by serving the classic sauce with spiced chicken meatballs. All the flavors are in these little meatballs! Fresh ginger, cilantro, garam masala, lemon, yogurt…
Then these beautifully browned meatballs are tossed in a silky smooth tomato gravy. It's probably the easiest Indian dish I've yet to make. Let's just say that Indian cooking techniques can be challenging as the flavor profiles. Luckily, if you've made a tomato sauce from scratch, butter chicken will not be a big leap.
Like Italian tomato sauce there's garlic, onion and of course tomatoes, but this Indian curry is also filled with cinnamon, cumin, jalapeno, turmeric, cashews and heavy cream. As the sauce simmers, the ingredients meld together into a harmonious sauce.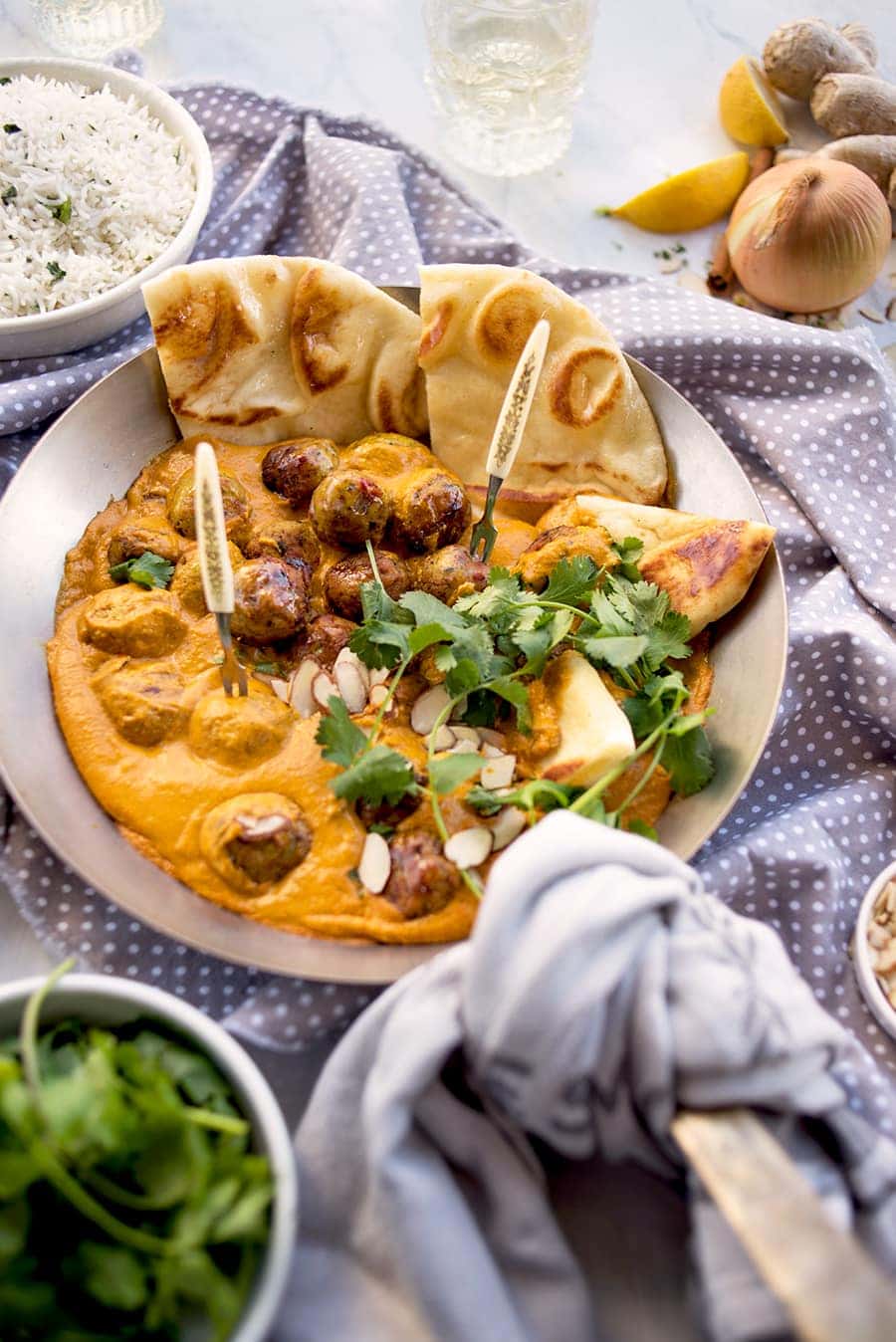 Cooking a curry from scratch takes a little time, but the good news is this dish is very tolerant to reheating. Yeah, I'm talking to all you meal preppers! You can make this on the weekend and reheat it for a quick weekday dinner. The flavors only get better over time!
But my favorite part of this recipe remake is that the meatballs are great as an appetizer too. So if you're looking for a appetizer to serve on game day, this dish is a clear winner. Serve it in a shallow bowl or skillet and have lots of buttered naan on hand for dipping in the creamy sauce! Oh and it's great served with our chai iced tea!
Butter Chicken Meatballs Recipe
We've put a fun spin on the classic Indian dish, turning our Butter Chicken into a fusion meatball appetizer or main. Whether served for dinner with rice or as cocktail meatballs for a potluck, this dish delivers a classic, buttery sauce that will tingle your taste buds.
Print
Rate
Ingredients
Meatballs
1

lb

ground chicken

2

tablespoons

whole milk greek yogurt

zest

of one lemon

1-1/2

teaspoons

ground turmeric

2

teaspoons

cumin

2

teaspoons

garam masala

1

bunch

cilantro

, stems shopped, leaves reserved for garnish

1-1/2

tablespoons

sundried tomatoes

, finely diced

1-1/2

teaspoons

sea salt

1/2

cup

almond meal

2

tablespoons

olive oil

2

tablespoons

butter
Sauce
1

small

onion

, diced

2

cloves

garlic

, minced

1

small

jalapeno

, diced

1-1/2

tablespoons

ginger,

grated

1

teaspoon

cumin

1-1/2

teaspoons

turmeric

2

teaspoons

garam masala

1/2

cinnamon stick

1

14oz can

diced tomatoes

1-1/2

teaspoons

tomato paste

1/4

cup

cashews,

softened in hot water

1/2

cup

chicken stock

(plus more if needed)

3/4

cup

heavy cream
Instructions
Meatballs
In a bowl combine ground chicken, yogurt, spices, sun dried tomatoes, cilantro stems, salt and almond meal.

Mix thoroughly and portion into quarter size meatballs

In a large dutch oven, heat olive oil and butter over medium high heat.

In batches, brown the meatballs.
Butter Chicken Sauce
Once the meatballs are browned, set them aside.

Add the onions to the pan, cooking them until they are golden brown.

Stir in the garlic, jalapeno, ginger and spices and saute a few minutes.

Mix in the diced tomatoes, tomato paste, chicken stock and cashews and bring to a simmer.

Cook stirring often, adding more chicken stock if the mixture starts to look dry.

When the tomatoes are starting to break down, add the cream.

Simmer the sauce another 5 minutes.

Puree the sauce in a blender and return to the pan.

Add the meatballs to the sauce and simmer until the meatballs reach 165F.

Season with salt to taste and serve.
Notes
We used a small cookie scoop to make evenly sized meatballs.
This recipe makes about 30 meatballs, which feeds 4-6 people for dinner or about 8-10 as an appetizer.
Turmeric is quite colorful! Make sure to wear an apron and disposible gloves if you're concerned about your clothes or hands getting stained.
When blending the sauce, be careful to not overfill the carafe. Pulse it in batches so you don't burn yourself.
This recipe is inspired by this post in the New York Times.
Nutrition
Calories:
398
kcal
|
Carbohydrates:
8
g
|
Protein:
18
g
|
Fat:
33
g
|
Saturated Fat:
12
g
|
Cholesterol:
116
mg
|
Sodium:
323
mg
|
Potassium:
536
mg
|
Fiber:
2
g
|
Sugar:
1
g
|
Vitamin A:
650
IU
|
Vitamin C:
2.1
mg
|
Calcium:
68
mg
|
Iron:
2.2
mg
Tried this recipe?
Let us know how it turned out for you! Scroll down to leave a comment below.
Love cooking from scratch? So do we! Check out all our main course recipes!
You might also like:
Aloo Gobi Baked Potatoes
Large Russet baked potatoes, garam masala spiced cauliflower and a rich and flavorful Indian sauce update this curry.
Buddha Bowls
This Indian Inspired Buddha Bowl is not only vegan and gluten free, but also loaded with fresh veggies.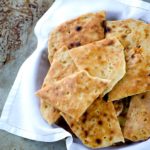 Peshwari Naan
This naan recipe will surprise and delight guests with its sweet taste and tender crust.