Blueberry Grapefruit Bars are a perfect warm weather dessert that is sweet, refreshing, tart, buttery and best served cold. Scratch baking at it's best!
---
A twist on the classic lemon bar, this version makes pink grapefruit and plump blueberries the stars of the recipe. You'll love this how easy this gorgeous dessert comes together. Homemade perfection!
I'm so glad Spring is here because I have been testing so very many dessert recipes! Its time to get outside in the sunshine and walk off the calories I've been devouring in the name of food blogging! Goodness, this job is brutal 😉
Seriously though, lots of great desserts have been cranking out of the Vintage Kitty test kitchen. This Blueberry Grapefruit Bars recipe has been a labor of love. It took so many tries to get the right consistency, balance of sweet and tart and perfect ratio of crust to filling…I lost count of how many batches were made!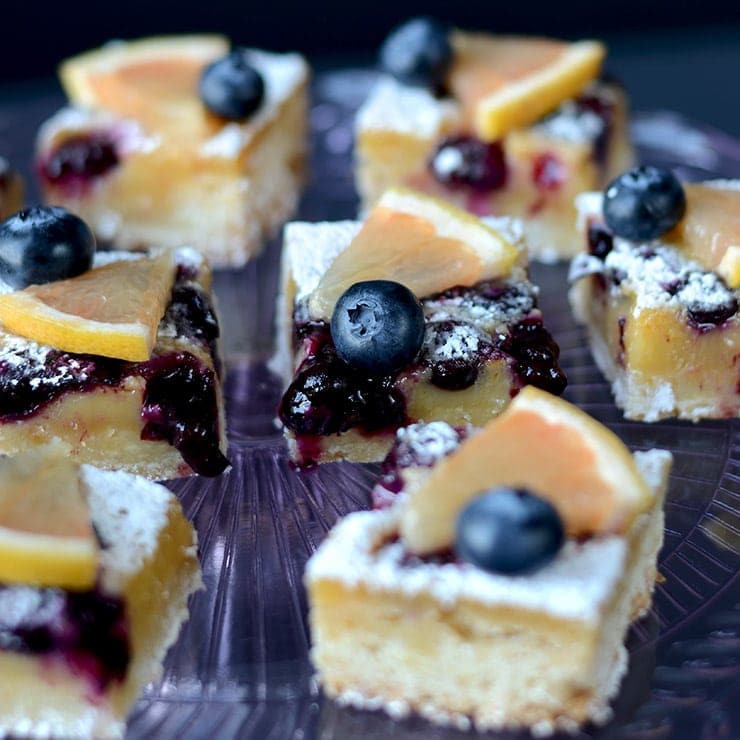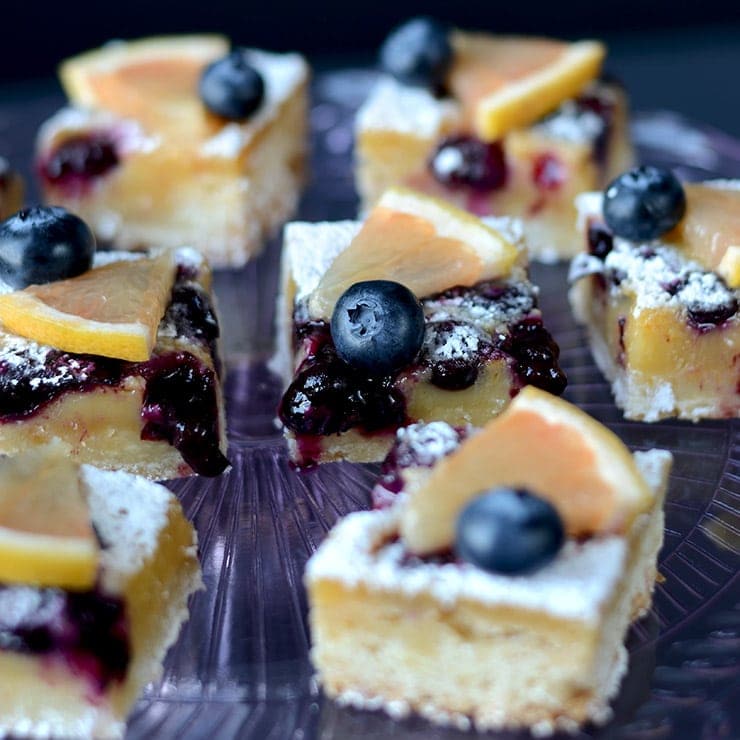 But here it finally is in all of it's ooey gooey deliciousness! It's lick your blueberry stained fingers good! Shortbread, freshly squeezed grapefruit juice and the glorious scent of zested citrus! And the blueberries…they bake down into a thick sweet jelly. Mmmm do you see how the blueberries just ooze yumminess? #Foodporn
These might actually be #foodporn because blueberries are thought to be an aphrodisiac due to their heart healthy, antioxidant properties. Studies have shown that blueberries can improve cardiovascular circulation, memory, and fight urinary tract infections! Way to go blueberries!
So let's put them in dessert to make it healthier, right? LOL!!! Blueberries are divine in these dessert bars but the grapefruit's acidity keeps the sweetness factor from going into overload.
So whether you make these for a picnic, Easter or just to spice up a weeknight, you are going to love these Blueberry Grapefruit Bars! Make these and you might get applause and a standing ovation from you kids, coworkers, friends… Or maybe this recipe will spice up your love life? You'll only know if you bake these beauties!
Once you try them, let me know what you think. I love getting comments here but you can also Tweet me @theVintageKitty or Instagram me @vintagekittyblog. And as always, sharing is caring. Please pass this post along using the share buttons at the bottom of this post. Thanks!
Print Recipe
Blueberry Grapefruit Bars
Smaller blueberries bake faster while bigger ones will be more ooey gooey in this recipe.
Ingredients
Shortbread Crust
1/4

cup

confectioners sugar

plus more for dusting

1/4

cup

organic sugar

2 1/2

cups

all purpose flour

1/4

tsp

salt

20

TB

salted butter

very cold
Filling
1

cup

fresh blueberries

2

TB

cornstarch

divided

2/3

cup

all purpose flour

1/8

tsp

salt

1

cup

organic sugar

1

TB

grapefruit zest

3/4

cup

grapefruit juice

4

egg yolks

1

tsp

vanilla extract
Instructions
Shortbread
Preheat oven to 350F and line a 9 inch square pan with parchment paper.

In a large bowl combine flour, sugars and salt and mix thoroughly.

Cut butter into small small pieces and cut into flour mixture with a pastry cutter.

Work dough until small dough balls start to form but it is still crumbly.

Dump into prepared pan and pat down flat.

Bake 20-25 minutes or until lightly golden.
Filling
While shortbread is baking, wash blueberries and place in a small bowl with about half a tablespoon of cornstarch and toss to combine.

In a large bowl combine remaining cornstarch, flour, sugar, zest and salt and whisk together.

Add grapefruit juice and whisk until smooth. Add egg yolks and vanilla extract and whisk until to combine.

Add blueberries and gently stir with a spatula.

Pour filling on top of baked crust and bake for 25-35 minutes or until filling is set.

Let cool on counter top for about an hour and then refrigerate until cold.

Cut into squares and dust with confectioners sugar immediately before serving.