This fast and easy Vegan Vegetable Stew is nutritious, hearty and oh so colorful! It features sweet peppers, butternut squash, carrots, jalapenos, black beans and one of my secret ingredients, dried corn!
---
Vegan Vegetable Stew is a crowd pleaser because it is zesty and filling with a subtle sweetness that comes from the addition of sweet dried corn and butternut squash. Just look how the colorful vegetables shine like jewels in a seasoned tomato broth! Can you believe that you can make this soup in about an hour? Read on and I'll give you some easy tips to get this dinner on the table fast!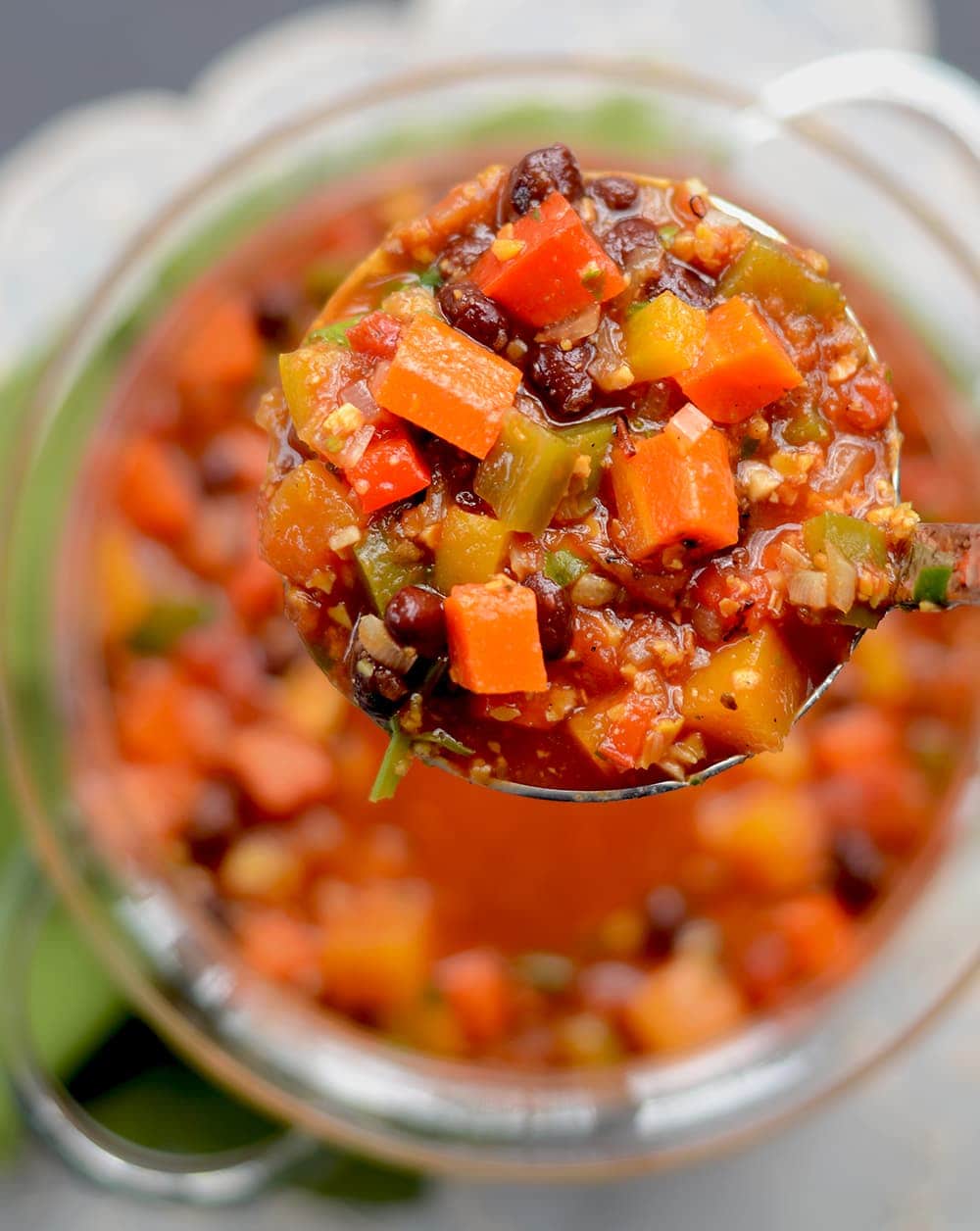 Most of my recipes involve scratch cooking, with minimal processed foods. It's because I like to avoid chemicals and cost saving ingredient substitutions that affect the overall quality of the recipe. Like, is there actually cream in your cream of mushroom soup? There is in my recipe ;-)
But the reality is that I don't have time to do everything myself all the time, so I have to figure out where to draw the processed food line. Processed foods aren't all bad, right? I mean, that bag of dried beans is actually processed…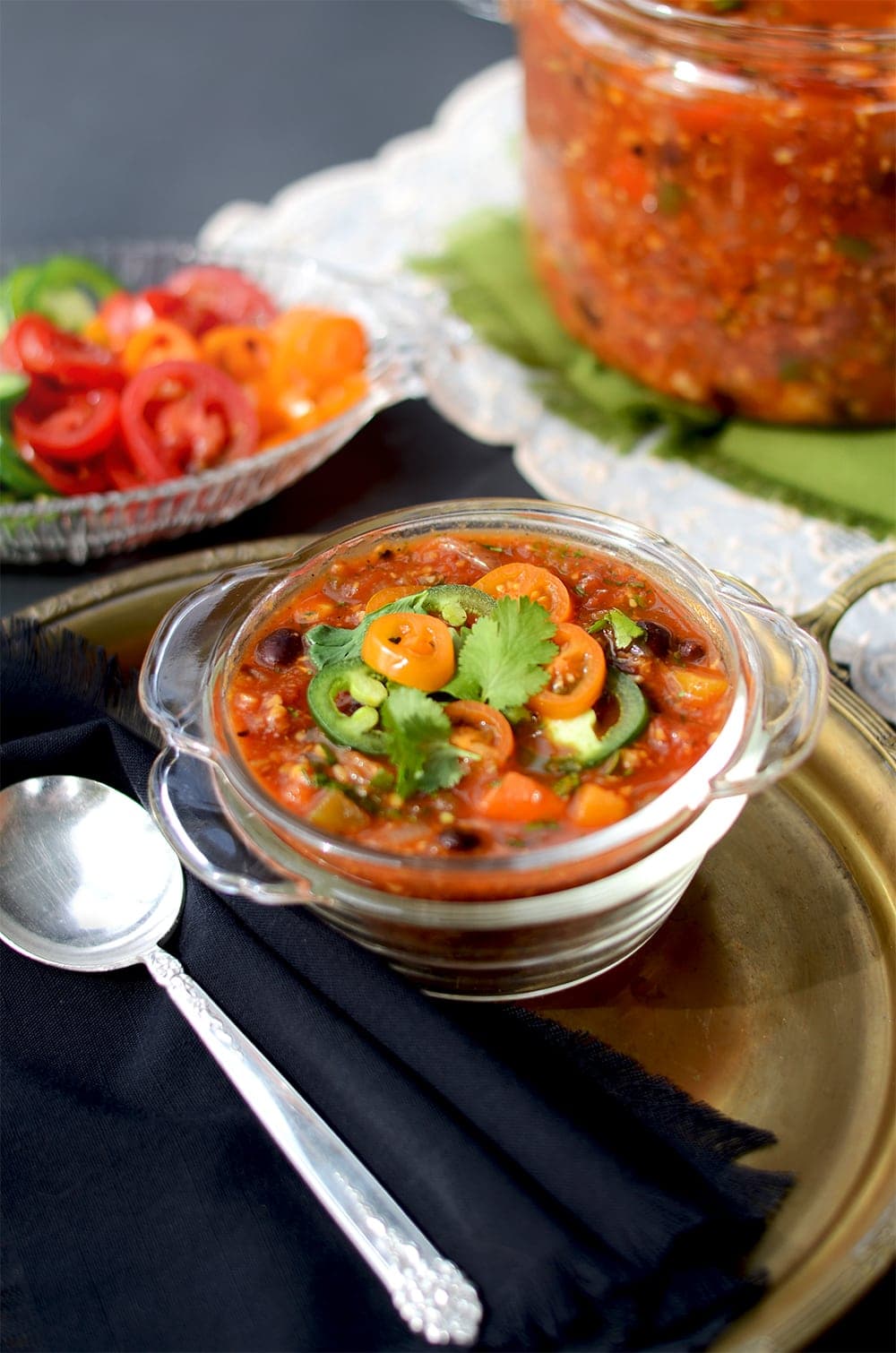 Some processed foods can save time, so instead of fresh tomatoes, I'll use a can of organic fire-roasted tomatoes. Maybe I don't have 8 hours to soak beans, so I'll use a can of beans. And every so often I'll buy veggies that are pre-cut.
And then there is a family favorite, Cope's Dried Sweet Corn. My Pennsylvania Dutch family eats it at almost every holiday meal. It can be creamed, stewed or baked in corn pudding. It's so yummy because the toasting of the corn brings out a nutty flavor that enhances corn's natural sweetness.
So when I was working on this recipe, I knew that dried corn would be a perfect late winter addition to a veggie stew. I also knew that using a few shortcuts would cut down on the prep time, so I used canned tomatoes, pre-cut butternut squash, canned beans and store bought vegetable stock. Soup made mostly from scratch in an hour!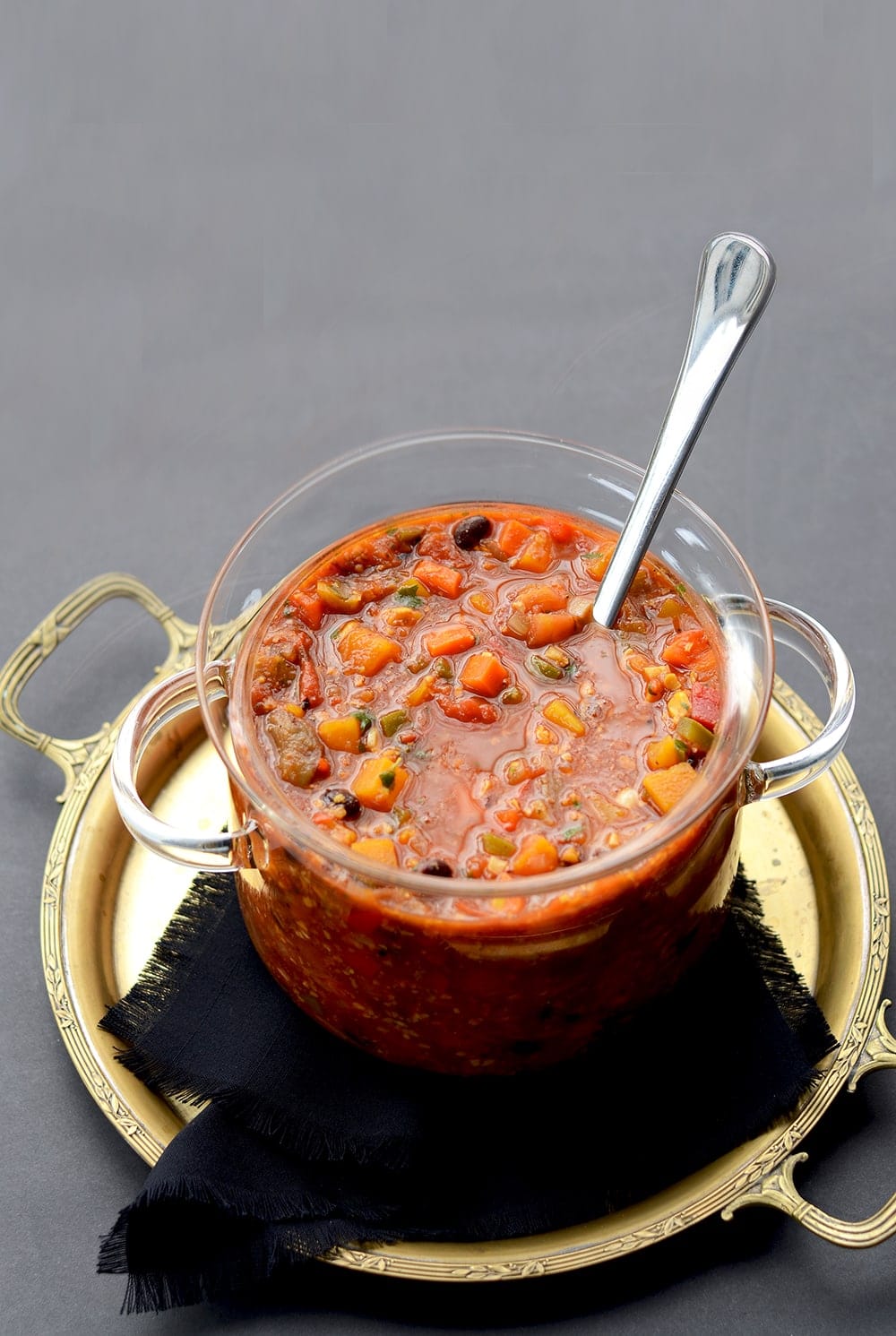 The first batch was so yummy, I decided to take it to a potluck with a bunch of friends, many who vegetarians. But I wanted to see if the omnivores in the bunch would be satisfied. I am happy to say that everyone gobbled it up! I'm not surprised because this soup tastes a bit like a vegetarian chili. The jalapenos, cumin, and ancho chili powder give the stew a little heat while the plethora of veggies make the soup complex.
When you first make this Vegan Vegetable Stew, it is so colorful because of the variety of veggies. But I'm happy to say that it also keeps well too! The flavors intensified in the fridge overnight, so the leftovers were even better! So yeah, you can make this ahead, freeze it, or eat it right out of the pot…I won't judge ;-)
So yummy and flexible too! If you are a meat eater feel free to switch veggie stock for a meat broth. Try it with sweet potatoes instead of squash or top it with your favorite chili toppings, like cheese and sour cream. Just make sure to try the Cope's Dried Corn! It's a very special Pennsylvania thing that should be on your culinary bucket list!!! Enjoy!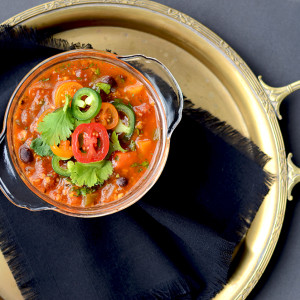 Ingredients
Veggie Stew:
1

TB

canola oil

cup

½ scallions light green and white parts only

diced

1

cups

¼ shallots

diced

1

cups

½ sweet bell peppers

diced

3

large jalapenos

diced

2

cups

butternut squash

diced

1

cup

carrots

diced

6

cloves

garlic

minced

1

TB

cumin

1

tsp

oregano

tsp

½ ancho chili powder

tsp

¼ dried epazote

28

oz

can fire roasted tomatoes

1

cup

Copes Dried Corn

32

oz

vegetable broth

1

cup

water

15.5

oz

can black beans

Salt and pepper to taste

1

cups

½ parsley

chopped

cup

½ cilantro

chopped
Optional Garnishes:
slices

Jalapeno

Parsley

Cilantro

Cheddar

Sour Cream
Instructions
In a stock pot or dutch oven, heat oil over medium high heat and add scallions, shallots, peppers, carrots,and squash.

Cook stirring often until onions are translucent.

Add garlic and sauté for a few minutes.

Add vegetable broth, tomatoes, dried corn, water and spices and bring to a gentle boil.

Reduce to a simmer and cook until corn is softened and vegetables are tender.

Add black beans and cook until beans are hot.

Season with salt and pepper to taste.

Add parsley and cilantro and serve.
Tried this recipe?
Let us know how it turned out for you! Scroll down to leave a comment below.
You might also like:
Seed Saving 101
If you've ever wanted to save your own seeds, these Seed Saving 101 tips and cute envelopes will get you started on next year's garden!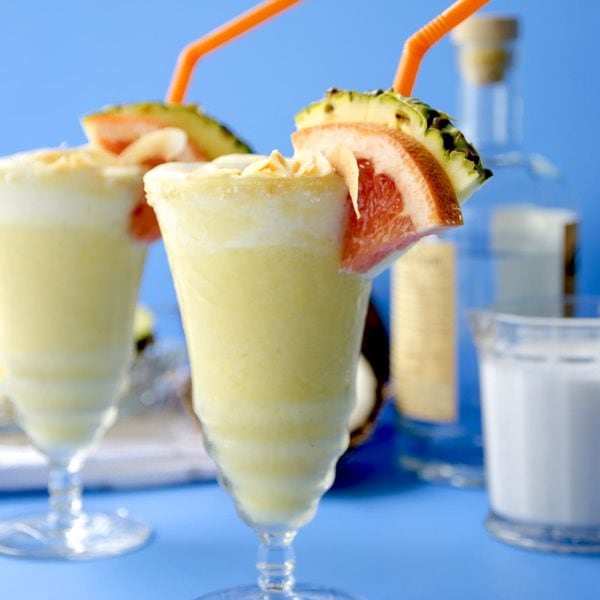 Pina Coladas from Scratch
Whip up one of these rich, creamy Piña Coladas from scratch and cool down in style! They are frozen, smooth, pineapple-y, and sweet!
Chocolate Easter Bunny Cake
How cute is this Chocolate Easter Bunny Cake? Learn how to make it!