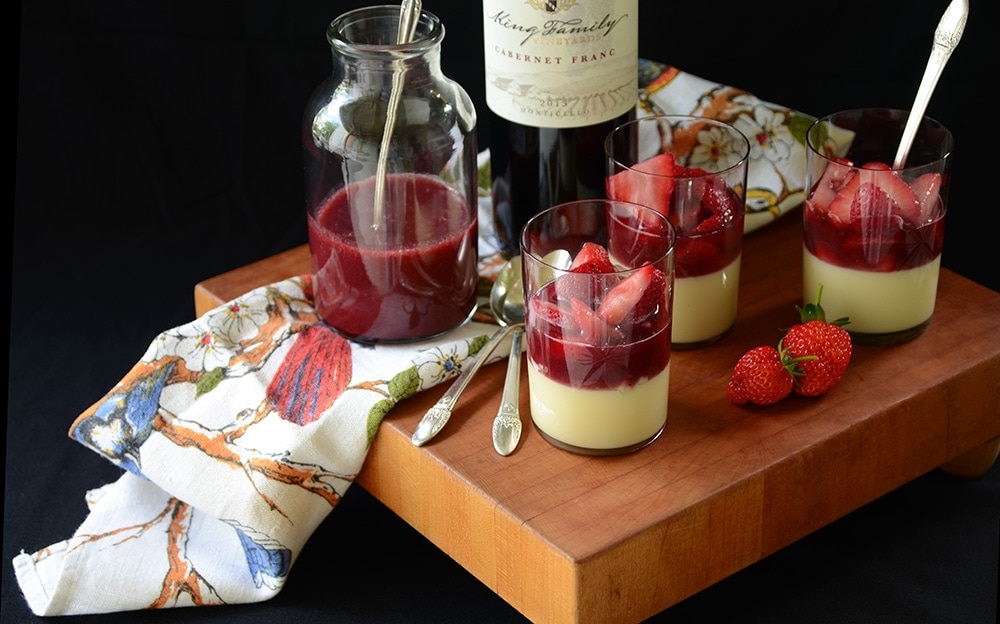 This Elegant Cabernet Strawberry Rhubarb Pudding makes great use of the season's bounty and elevates pudding beyond a children's dessert.
---
Ooh la la… Spring has never been so decadent! This Elegant Cabernet Strawberry Rhubarb Pudding makes great use of the season's bounty and elevates pudding beyond a children's dessert. With creamy vanilla pudding from scratch, homemade strawberry-rhubarb sauce and strawberries macerated in red wine, this chilled dessert is a welcome finale to a hot evening get-together.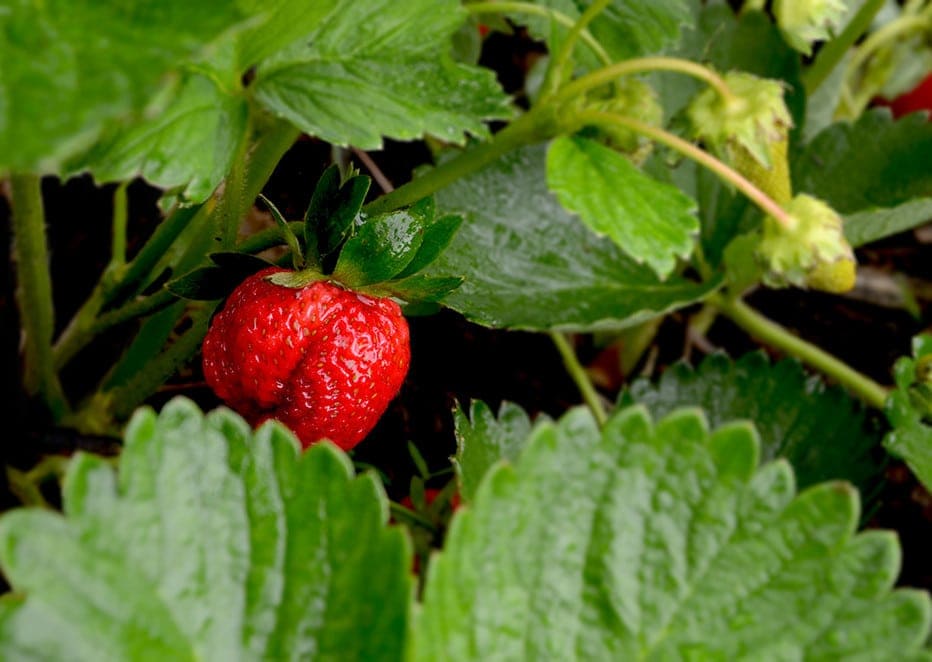 I would love to say this beautiful dessert came from my garden. Alas, I made it about a week too early. Now the strawberries are coming in and my rhubarb is tall and leafy. Maybe I will have to make this pudding again :-) Oh no, don't throw me into that strawberry patch!
In case you are not familiar with rhubarb, it is a leafy vegetable that resembles celery with petioles in shades of green and red. The stalks are harvested mainly for desserts because on it's own, rhubarb is very tart. The leaves are toxic, so make sure to throw them out when preparing rhubarb for cooking.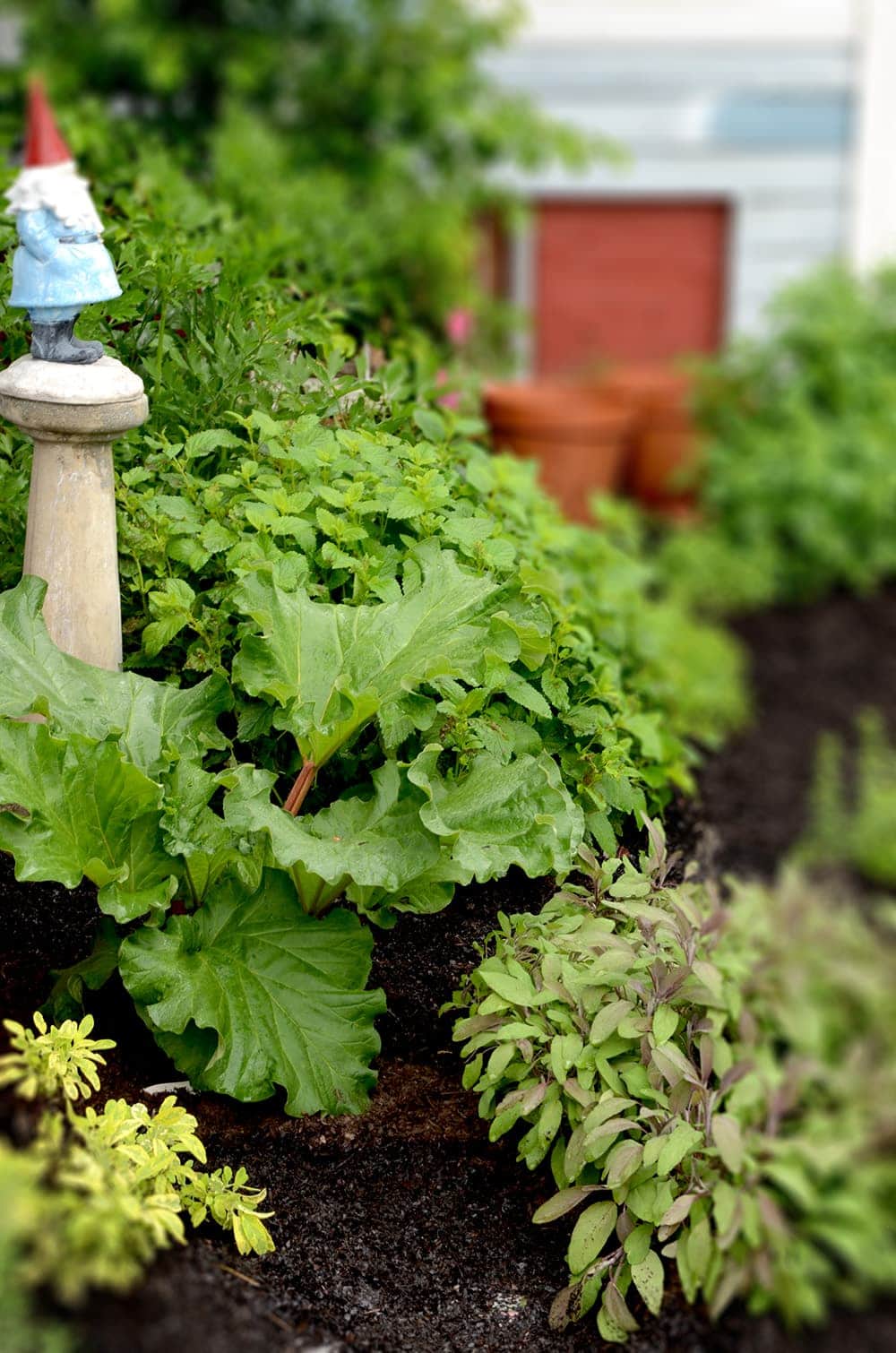 Rhubarb prefers a sunny spot and seems rather easy to grow in climates with a cold winter (…finally, a reason to like winter, right?). It is bothered by few pests, so along with its perennial nature, it is a good investment that can bring years of rhubarb harvests.
I purchased three rhubarb plants last year that were a a couple years old, so they are ready to harvest this year, although rather sparingly. Harvesting too much of the plant at once can damage it, especially if it has been recently planted.
I hear that rhubarb is a heavy feeder, but I'll admit mine is doing well in our clay soil with no amendments other than a generous amount of mulch. The plant is attractive and quite at home in my herb garden, as it provides a nice backdrop to the herbs that are shorter. The red color also provides contrast to the mostly green herbs. Eventually the rhubarb plants will need to be divided and then I'll have to find more places to plant rhubarb. Good problem to have, as that will mean more rhubarb to eat!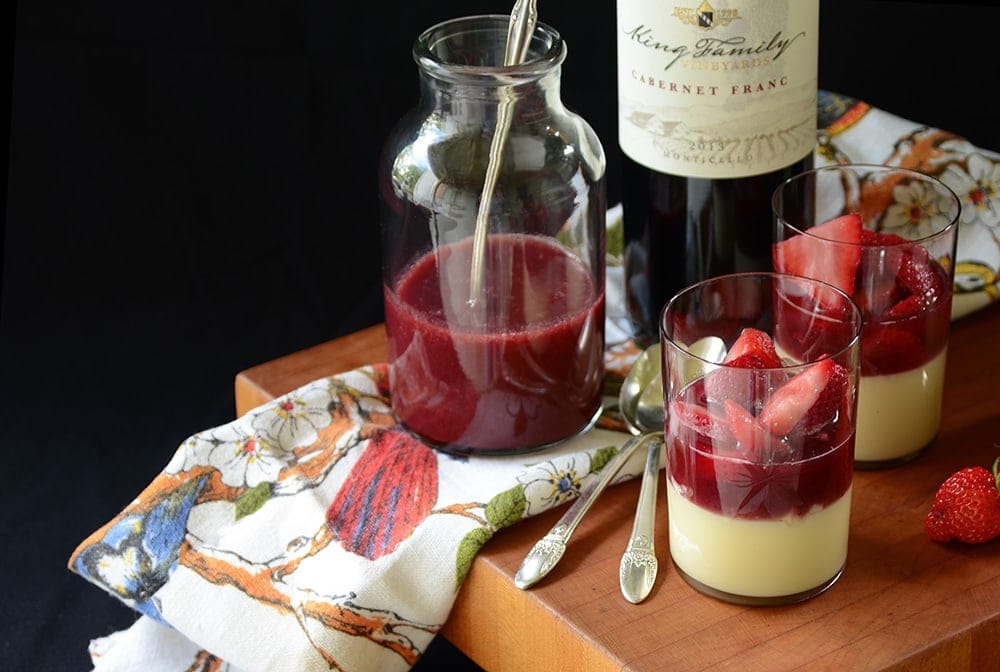 If you aren't growing strawberries and rhubarb, don't worry. The stores are packed with them right now, so you can make this awesome pudding recipe. In fact, hothouse rhubarb can be found much of the year in grocery stores. Choose rhubarb that looks fresh and firm and strawberries that are just ripe. If the strawberries are too ripe they will turn to mush in the red wine. Fine for the sauce but not very appetizing for the garnish.
Strawberry and rhubarb are a classic combo because the berry's sweetness counterbalances rhubarb's bitter flavor. The Cabernet adds depth to the dessert, saving the pudding from being cloyingly sweet. But make sure to pick a nice wine, since some of the wine in the dessert is not cooked.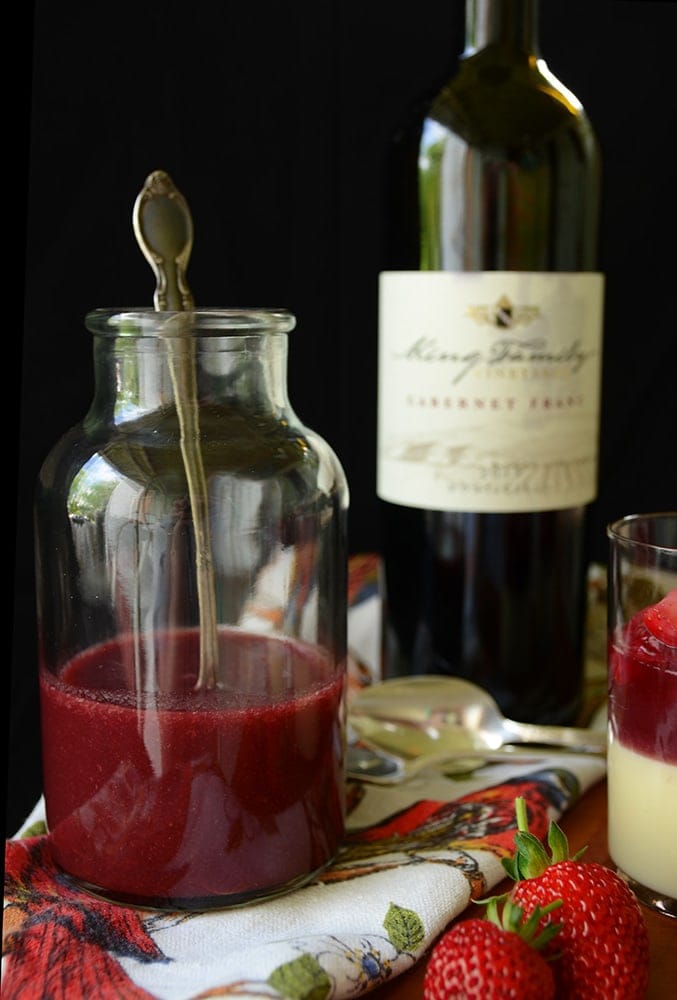 I used a King Family Vineyards 2013 Cabernet Franc that we purchased recently while on vacation. The tasting notes read "A bright nose of black cherry and strawberry is accented on the palate with notes of dried tea leaves, white pepper and musk". It was the only red wine we purchased that we felt was ready to serve now. The other reds are laying up to age, but this Cabernet Franc is smooth, and easily drinkable on its own now, in large part due to the low tannins.
The 2013 vintage is available on the King Family website, but the Monticello region is a worthy wine destination. It is also a fabulous destination to explore our nation's heritage (Thomas Jefferson, James Madison and Jame Monroe all lived here), so if you can, I would highly recommend taking a vacation to this bucolic region of Virginia.
Speaking of which, did you know that Jefferson grew rhubarb? Although the Monticello historians seem perplexed about whether it was the edible variety. I wonder if he ate things like Cabernet Strawberry Rhubarb Pudding… I'll ponder that as I have a glass of the leftover wine. Cheers!
Cabernet Strawberry Rhubarb Pudding
This elegant dessert can be made 24-48 hours in advance, but make sure to make the strawberry garnish shortly before serving.
Print
Rate
Ingredients
Sauce:
3½

pounds

rhubarb

, sliced into ½ inch pieces

1

pint

strawberries

, sliced

1

cup

Cabernet

1½

cups

turbinado sugar
Vanilla Pudding:
1

cup

granulated white sugar

1/3

cup

cornstarch

1/2

tsp

sea salt

5

egg yolks

4 1/2

cups

whole milk

divided

2

teaspoons

vanilla extract
Strawberry Garnish:
1

pint

strawberries

sliced

½

cup

Cabernet
Instructions
Sauce:
In a large saucepan, combine rhubarb, 1 pint strawberries, 1 cup of wine, and 1½ cups turbinado sugar.

Bring to a boil and then reduce to a simmer, stirring often.

Cook until strawberries and rhubarb have broken down into a thickened sauce.

Remove from heat and strain through a fine mesh sieve, reserving the solids for another purpose.

Refrigerate sauce until ready to serve.
Pudding:
In a small bowl, combine sugar, cornstarch, sea salt, egg yolks and ½ cup milk. and whisk until smooth.

In a large pan, heat the remaining milk over medium-low heat until it steams, not letting it reach boiling point.

Temper the egg mixture by pouring a cup of the hot milk into it and whisking. Add this mixture back to the pan.

Whisking constantly, bring the pudding to a boil, cooking until thickened, about 3-5 minutes.

Remove from heat and stir in vanilla extract.

Transfer mixture to a bowl and cover with plastic wrap, pushing the wrap into the pudding to prevent a skin forming. Refrigerate until the pudding is cold and set up.
Strawberry Garnish:
About 20 minutes before serving, combine 1 pint sliced strawberries with 1/2 cup of Cabernet. Let macerate, stirring occasionally.
Serving:
Whisk pudding until smooth and spoon into 8-10 dessert glasses.

Add strawberry rhubarb sauce to macerated strawberries and stir to combine.

Carefully top pudding with strawberry sauce mixture. and serve immediately.
Notes
The leftover strawberry-rhubarb solids are an excellent addition to quick breads. Add them to muffins in place of some of the butter for moist muffins.
Nutrition
Calories:
506
kcal
|
Carbohydrates:
94
g
|
Protein:
9
g
|
Fat:
8
g
|
Saturated Fat:
4
g
|
Cholesterol:
136
mg
|
Sodium:
221
mg
|
Potassium:
957
mg
|
Fiber:
6
g
|
Sugar:
77
g
|
Vitamin A:
601
IU
|
Vitamin C:
85
mg
|
Calcium:
364
mg
|
Iron:
1
mg
Tried this recipe?
Let us know how it turned out for you! Scroll down to leave a comment below.
You might also like:
Magnificent Mixed Berry Pie
This pie is the star of summer! Its buttery almond crust highlights summer's abundance of berries. Tender, flaky and fruity!
Blueberry Grapefruit Bars
Blueberry Grapefruit Bars are a perfect warm weather dessert that is sweet, refreshing, tart, buttery and best served cold. Scratch baking at it's best!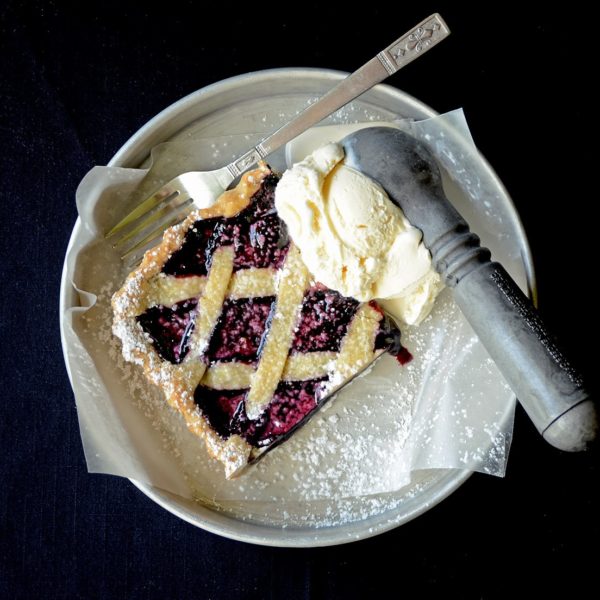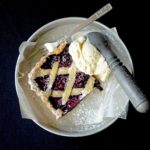 Mulberry Tart with Cardamom and Black Pepper
Inspired by classic linzer torte, this Mulberry Tart evokes the simplicity of days gone by. It's fruity, sweet, buttery and heaven with vanilla ice cream.