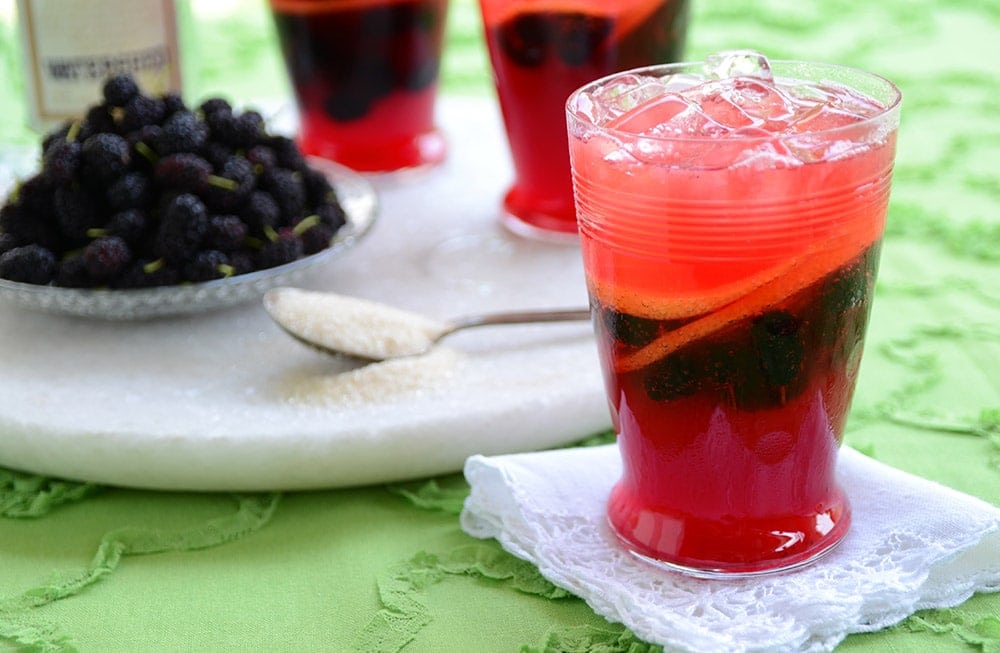 Mulberry Lemon Gin Fizz is a remake of the classic sloe gin cocktail. It's a refreshing beverage made with mulberries, lemon, sugar, gin and club soda.
---
Here is my new favorite cocktail, the Mulberry Lemon Gin Fizz. It is a remake of the classic sloe gin fizz. Ever heard of one? Probably not, because its a vintage drink that isn't made much anymore. Sloe gin fizz is made with a special gin that is flavored with the fruit of blackthorn trees, called sloes. The fresh sloe fruit are pricked and then mixed with gin and sugar and left to infuse for two to three months. The mixture is then strained, resulting in a deep red liquor that gives the Sloe Gin Fizz its distinctive look.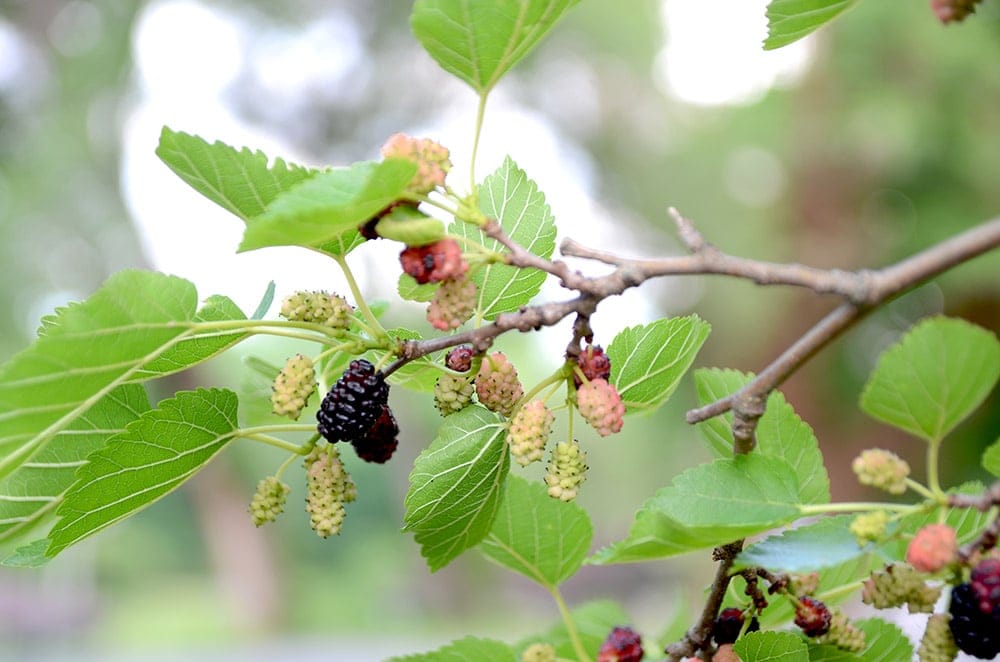 I love to make infusions from scratch. We regularly make limoncello and vanilla extract, and once, I made a outstanding coffee liqeuer. So making slo gin would be right up my alley, but unfortunately, I don't have a blackthorn tree. But I do have a mulberry tree!
Mulberries look a lot like small blackberries, but they are a bit more tart. When fully ripe, they are mildly sweet with a hint of earthiness. Unlike the astringent sloe, mulberries are tasty when fresh, so, although they would be great infused in liqueur, you can skip that step and muddle them directly into a cocktail. Fantastic, because I don't have the patience to wait months to taste these lovely berries.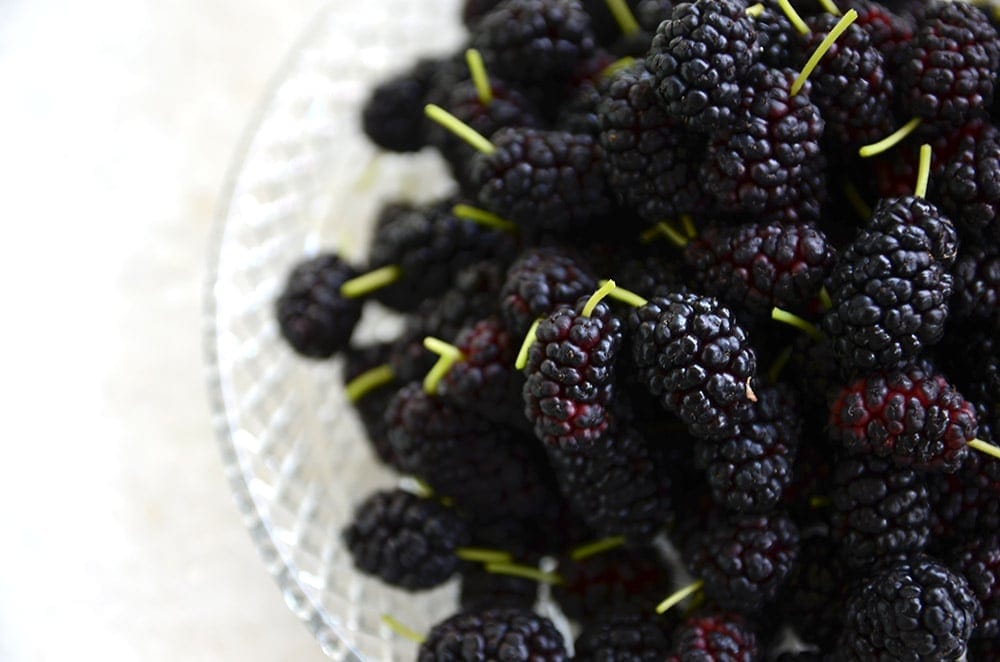 Most of the time, the mulberries don't even make it into the house. I'll just pick and eat them straight from the tree. It's a big tree, so most of the luscious berries are out of reach, but this year I got industrious and pulled out a ladder. I still can't reach enough to harvest a large quantity at once, but there's an abundant amount to mix with other fruits in a dessert. Or plenty for cocktails!
Using the mulberries in a gin fizz was Mr. Bunny's idea. I had planned to use them in a vodka lemonade, but after testing it, the mixture was underwhelming. Vodka just didn't bring anything to the party. However, the gin's complexity married nicely with the earthy mulberry flavor.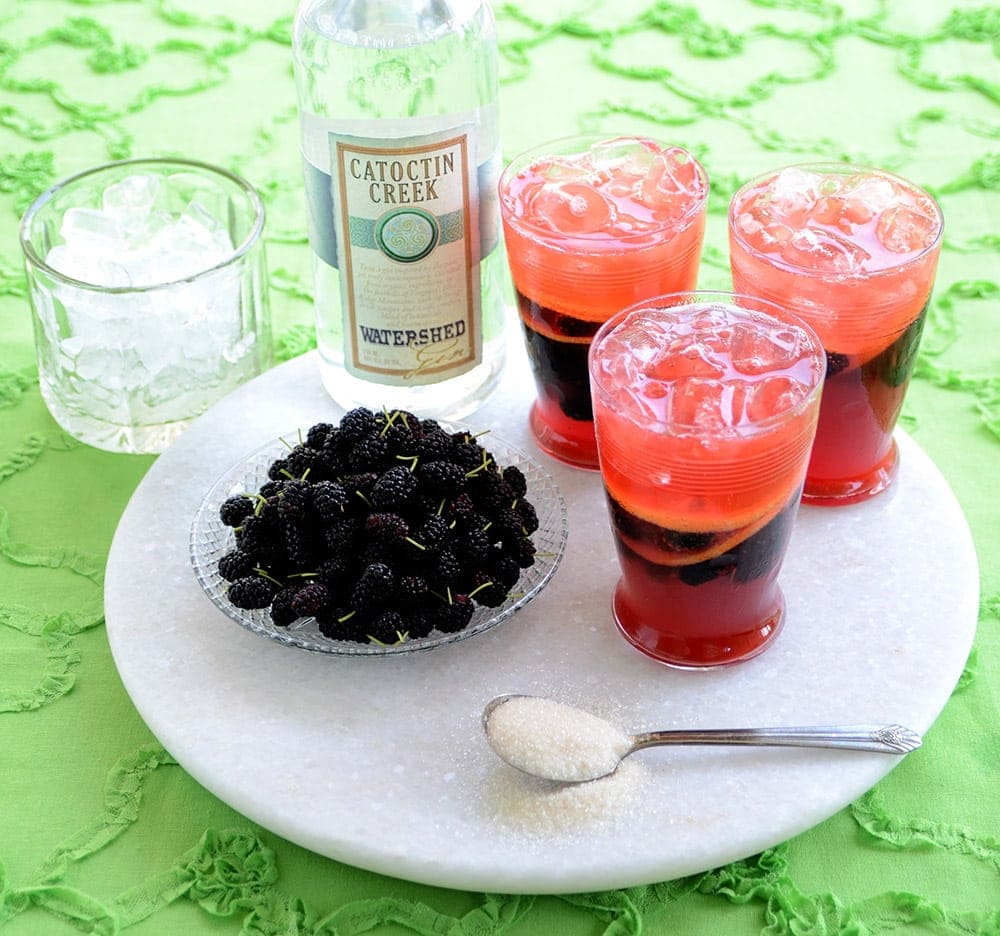 We tested the Mulberry Gin Fizz with Tanqueray and Catoctin Creek gins. We preferred the Tanqueray because it enhanced the mulberriness of the drink without overwhelming it. We found the Catoctin Creek had a much stronger, spicier flavor. In our opinion, it was too overpowering in this cocktail. But if you are a fan of gin, this Loudoun County, Virginia organic variety is worth a try.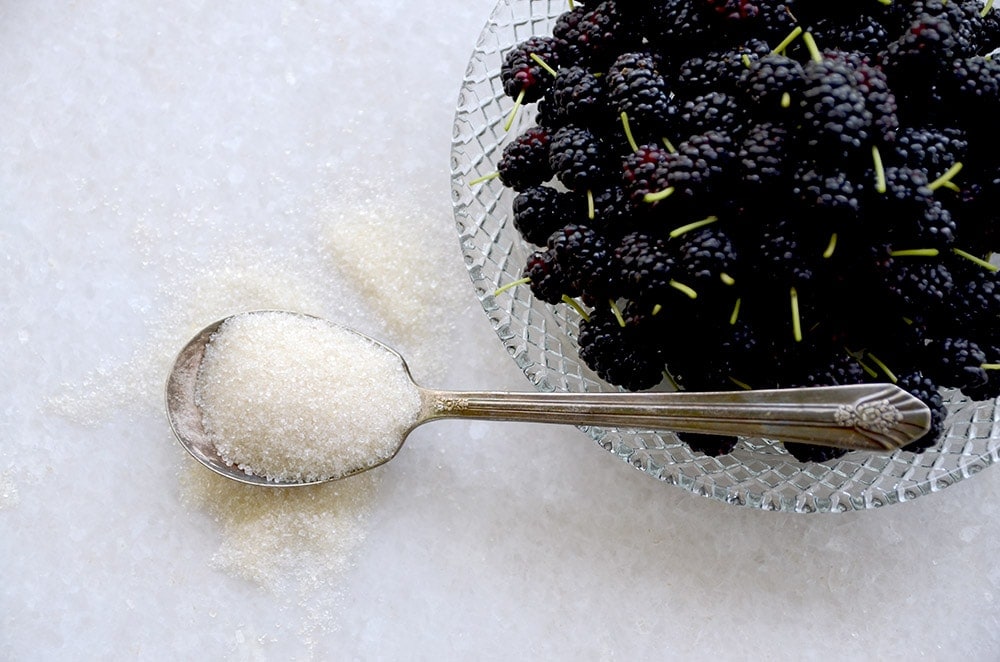 We also used an organic sugar. I like to use raw turbinado sugar in cocktails because it retains a lot of molasses essence, but the brown color would muddy the mulberry's magenta juice. The next best thing is an organic fine granulated sugar. It is more processed than turbanado but it has a bit more flavor than the standard white sugar.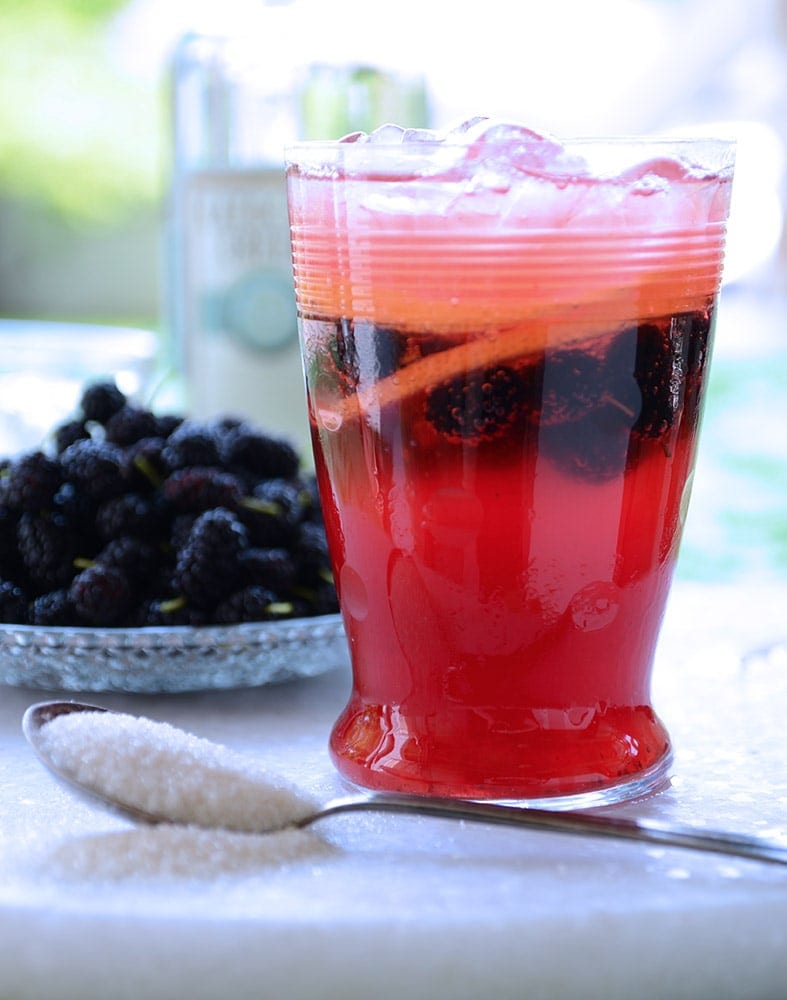 Add in the lemon and sparkling water and this is a perfect summer time porch sipper. It's refreshing, zesty, and oh so beautiful. I served them in these charming glasses that I found at a thrift store. They are hand blown, delicate and just the right size for mixed drinks. I love that the stripe and polka-dot etching gives the glasses personality, but they are still see-through so that the gorgeous mulberry color shines through.
If you don't have a mulberry tree, look for a pick your own farm near you. As always, if you give this recipe a try, take a pic and post it to your favorite social media site. Make sure to tag us. We love to see what you make!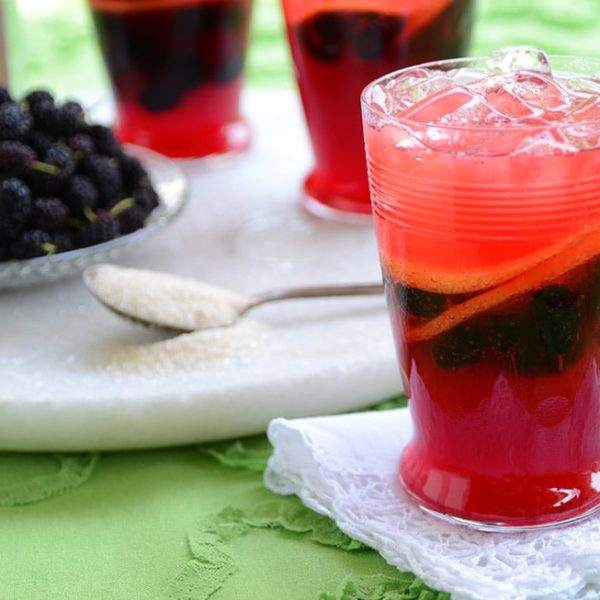 Mulberry Lemon Gin Fizz
This refreshing cocktail is a wonderful summer drink. If you don't have a mulberry tree, look for a local pick-your-own farm that grows them. Sometimes they can can also be found in the freezer section at supermarkets.
Print
Rate
Ingredients
Cocktail
2

tablespoons

mulberries

juice of half a lemon

2

tablespoons

sugar

2½

ounces

gin

Ice

club soda
Garnish
1

tablespoon

mulberries

lemon slices
Instructions
In a heavy glass or cocktail shaker, muddle together 2 tablespoons of mulberries, lemon juice and sugar until berries are mashed fine and sugar is dissolved.

Add gin and muddle again.

In the bottom of a 12 ounce glass, place remaining mulberries and lemon slices and top with ice.

Strain mulberry-gin mixture through a fine mesh sieve and pour over ice.

Top off with club soda.
Nutrition
Calories:
276
kcal
|
Carbohydrates:
28
g
|
Protein:
1
g
|
Fat:
1
g
|
Saturated Fat:
1
g
|
Sodium:
5
mg
|
Potassium:
57
mg
|
Fiber:
1
g
|
Sugar:
28
g
|
Vitamin C:
16
mg
|
Calcium:
12
mg
|
Iron:
1
mg
Tried this recipe?
Let us know how it turned out for you! Scroll down to leave a comment below.
You might also like:
Prosecco Pineapple Sorbet Floats
Prosecco Pineapple Sorbet Floats are the ultimate light and refreshing brunch cocktail or dessert.
Spicy Thai Basil Cucumber Cocktail
With hot peppers and savory Thai basil, this drink is cool and refreshing, with a nice, slow jalapeno burn at the finish.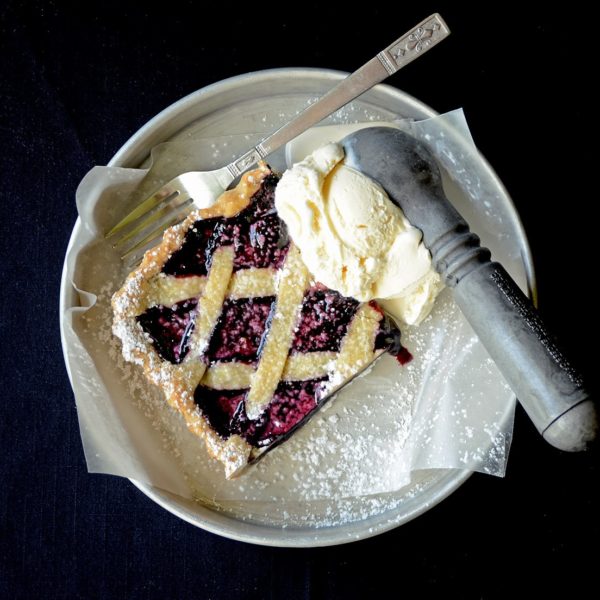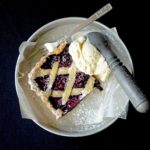 Mulberry Tart with Cardamom and Black Pepper
Inspired by classic linzer torte, this Mulberry Tart evokes the simplicity of days gone by. It's fruity, sweet, buttery and heaven with vanilla ice cream.