Inspired by classic linzer torte, this Mulberry Tart evokes the simplicity of days gone by. It's fruity, sweet, buttery and heaven with vanilla ice cream.
---
This gorgeous Mulberry Tart tastes like summer! It is fruity, sweet, buttery and heaven with a scoop of vanilla ice cream. Inspired by the classic linzer torte, this jammy pie evokes the simplicity of days gone by. Hand-picked, hand-made, rustic yet elegant… a gift for a neighbor, a tasty end to a celebration, spending time with friends. This is that special something you can't put a price tag on.

In my opinion, there is nothing better than fresh picked fruit made into a delicious dessert. Unlike vegetables, fruits tend to intensify in flavor when cooked to a mush. And for some reason it tastes even better if you have hands stained from picking.
Now, I have to say that I sold my mulberry tree short in the Mulberry Lemon Gin Fizz post. I did have plenty of mulberries to harvest for a pie… We just had to pick it often to get ahead of the birds and the falling ripe fruit. And of course we had to use the ladder. Much easier with two people.
So the mounds of mulberries beckoned, giving me more ideas than I had berries (scarcity seems to be a cunundrum of rare fruit), so I settled on a tart.
And this Mulberry Tart is a 10 all around. It's a 10 for messiness. It's a 10 for difficulty. And, here's the good one, it's a 10 for TASTE!
Now, I'm a Messy Bessie in the kitchen. I don't have to pretend baking is hard like the Rice Krispies Treats lady. I start with a clean kitchen and end up with a cyclone of flour, stacks and stacks of dirty dishes, and food all over me. So yes, I made quite a disaster making this tart…the picking of the mulberries, the straining of the filling, the rolling of pie dough. Flour and purple berry goo EVERYWHERE!!!
As far as difficulty, it's really not that hard. It just takes patience. You have to chill the dough several times, cut all those lattice pieces and assemble it with great care. This takes time and this impatient girl wants to eat that pie fast!!! So, if you are new to baking, don't let me scare you. There is never a better time to get your feet wet with scratch baking than now. Follow the directions, word for word, and you'll do great. I believe in you!
You really owe it to yourself to give this a try, because all that time, mess and effort paid off. The pate sucree (that's a very fancy French word for tart dough) is amazingly crumbly, yet tender. The mulberries combine beautifully with the vanilla, lime, cardamom and black pepper to create a subtle complexity that is something between blueberry and blackberry in flavor. And this is a dessert that is great cold. I am sure it could be heated if you wanted to serve it warm, but I'll take a break from the hot weather thank-you-very-much!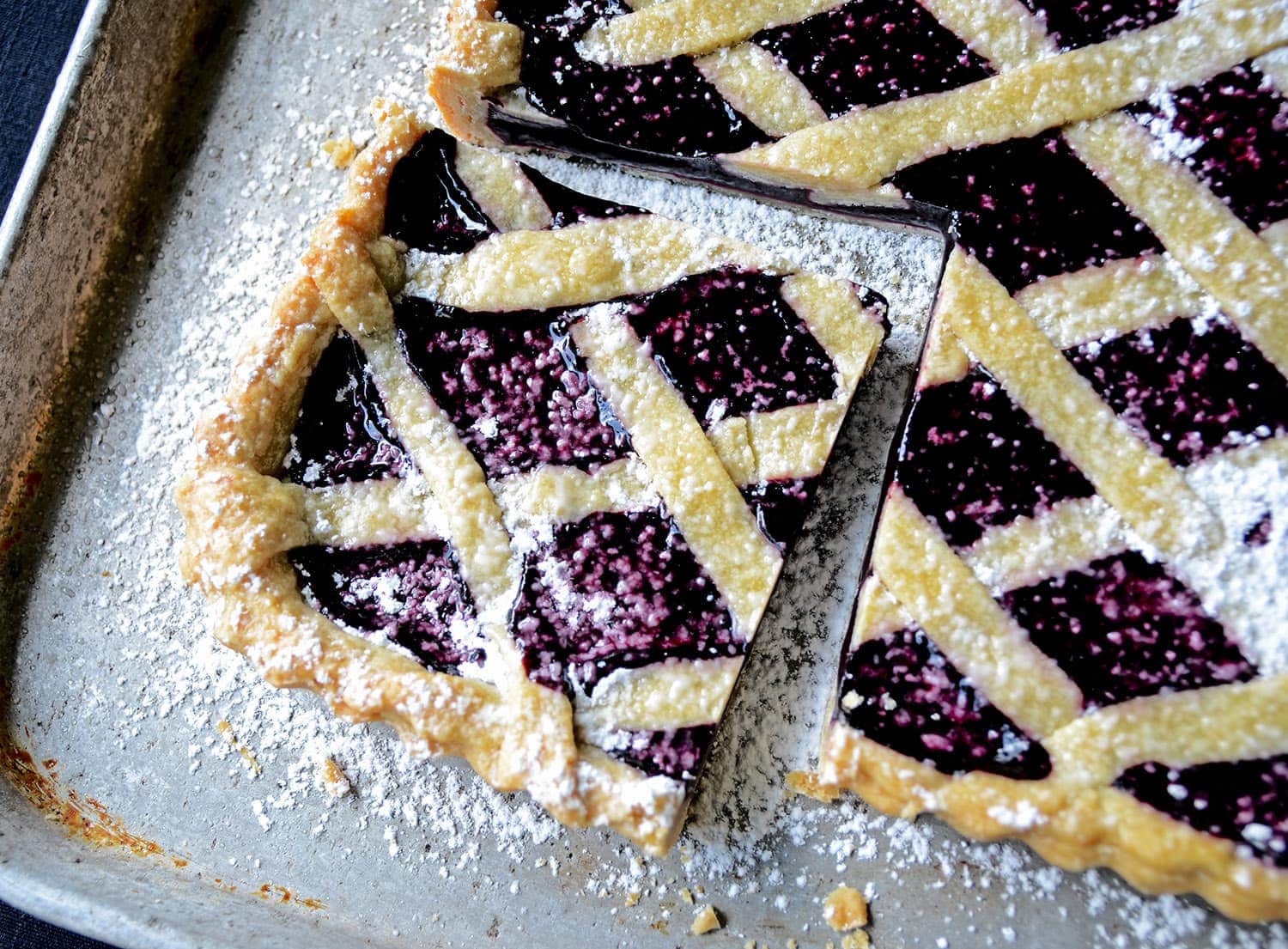 Oh, and this Mulberry Tart is just exquisite to look at too. I used an 8.5 by 12 inch tart pan I got at Ollie's. The unusual shape caught my eye and at $5.99 it had to come home with me. If you've never been to an Ollie's, you should definitely go. It's a mish-mash of all kinds of things from books, to housewares, to food, to gardening supplies, to furniture! But I go mostly for the cooking equipment which can vary from inexpensive to just WTF. Like the Twinkie pan I picked up on my last visit. I guess now I have to come up with a Twinkie recipe.
Anyway, I hope you like this recipe! Tell us what you think below in the comments section, or connect with us on social media. We love to be tagged, pinned, shared, tweeted, yummed, and liked! Thanks for reading!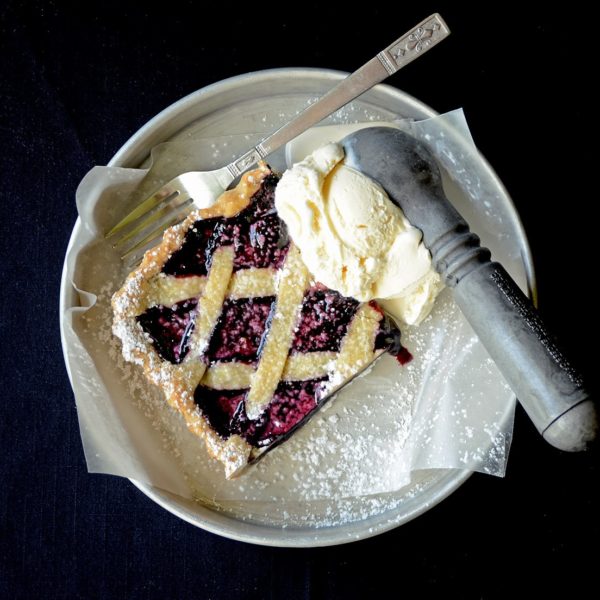 Mulberry Tart with Cardamom and Black Pepper
This sweet mulberry tart is a play on the traditional linzer torte. If you don't have mulberries, give it a try with blackberries or blueberries and adjust the spices and sugar accordingly. This recipe is made to fit an 8.5 by 12 inch tart pan. If you don't have one, substitute a 9 inch round pan. You will most likely only need two-thirds of the recipe.
Print
Rate
Ingredients
Pate Sucre:
2-1/2

cups

AP flour plus extra for rolling

3

TB

organic sugar

1

cup

salted butter

very cold

2

large egg yolks

1

TB

vanilla extract
Filling:
9

cups

mulberries

1

cup

organic sugar

6

TB

salted butter

6

TB

vanilla extract

1/4

cup

AP flour

1

tsp

ground cardamom

1/2

tsp

black pepper

3

TB

lime juice
Serving:
Confectioners' sugar for dusting
Instructions
Dough:
In a large bowl, mix together flour and sugar.

Cut butter into small pieces and add to flour mixture.

Cut butter into flour with a pastry cutter or forks until butter chunks are pea-sized.

Add in egg yolks and vanilla extract and knead with your fingers until combined. If dough is dry and crumbly, add ice water a teaspoon at a time until dough holds together when gently squeezed.

Form dough into a disk and wrap in plastic wrap, wax paper or freezer paper.

Refrigerate for at least 1 hour.
Filling:
Wash mulberries (no need to cut off the little green stems) and place in a large pot.

Add in sugar, butter, vanilla extract and bring to a simmer.

Cook berries until most of them have dissolved and the liquid starts to thicken. About 20-25 minutes

Sift flour into mixture, stirring constantly until flur is combined and the filling thickened.

Remove from heat and add cardamom, black pepper, and lime juice.

Strain mixture through a very fine mesh sieve, pressing out liquid and pulp. (This should result in about two cups of tart filling).
Assembly:
Roll out two-thirds of the dough (with plenty of flour) and line a large tart pan with it.

Chill for 15-30 minutes.

Roll out remaining dough on a piece of wax or parchment paper and cut into half inch strips. Chill for 15 minutes.

Fill crust with filling but leave space for the top crust.

Criss-cross dough strips onto filling carefully.

Press dough strips into the tart crust edge.

If the dough is looking soft, chill again. (if you dough gets soft before baking it will not hold its shape in the tart pan).

Bake at 350° for 30-35 minutes, or until crust is a golden brown.

Cool tart for 15-20 minutes and then place it over an upside-down bowl to remove from tart pan.

Gently slide tart off tart pan base with a thin metal spatula or a thin metal bench scraper onto a plate.

Refrigerate until ready to serve.

Before serving, dust with confectioners sugar, if desired.
Notes
Only use a pure vanilla extract that does not contain corn syrup, sugar or additives. Best case scenario, find one with with only vanilla beans and alcohol.
Don't be afraid to use the freezer to speed the chilling process, but make sure to chill, not freeze the dough.
If bubbles form during baking, pierce the tart all the way through the bubble and continue baking.
Nutrition
Calories:
350
kcal
|
Carbohydrates:
34
g
|
Protein:
3
g
|
Fat:
22
g
|
Saturated Fat:
14
g
|
Cholesterol:
88
mg
|
Sodium:
199
mg
|
Potassium:
226
mg
|
Fiber:
2
g
|
Sugar:
29
g
|
Vitamin A:
720
IU
|
Vitamin C:
39
mg
|
Calcium:
51
mg
|
Iron:
2
mg
Tried this recipe?
Let us know how it turned out for you! Scroll down to leave a comment below.
You might also like:
Magnificent Mixed Berry Pie
Not only is this mixed berry pie tender, flaky, and fruity, it is also beautiful. Learn how to make this pie from scratch using simple ingredients and cookie cutters.
Blueberry Grapefruit Bars
Blueberry Grapefruit Bars are a perfect warm weather dessert that is sweet, refreshing, tart, buttery and best served cold. Scratch baking at it's best!
Lemon Balm Pesto
When life gives you lemon balm, make Lemon Balm Pesto! This mint family herb is an outstanding start to a fresh pesto sauce that's easy to prepare.