You'll invent reasons to whip up a jar of this homemade ranch dressing recipe! It's so simple but tastes like you worked hard at it!
Walk right by that salad dressing aisle! Dried herbs and spices make this ranch dressing recipe a breeze to make! Plus it's great on EVERYTHING!

Does time ever get away from you? Well, that's what happened with this homemade ranch dressing recipe!!! Almost two years ago we made this recipe for a Mothers Day brunch. At the time I wasn't thinking about blogging about it. There were people to feed and I had a lot of food to make. But I try not to let an opportunity pass by, so I did jot down the ingredients.
But the ranch dressing recipe turned out to be a hit! So, I agreed to put it on the blog. And then two years shuffled by!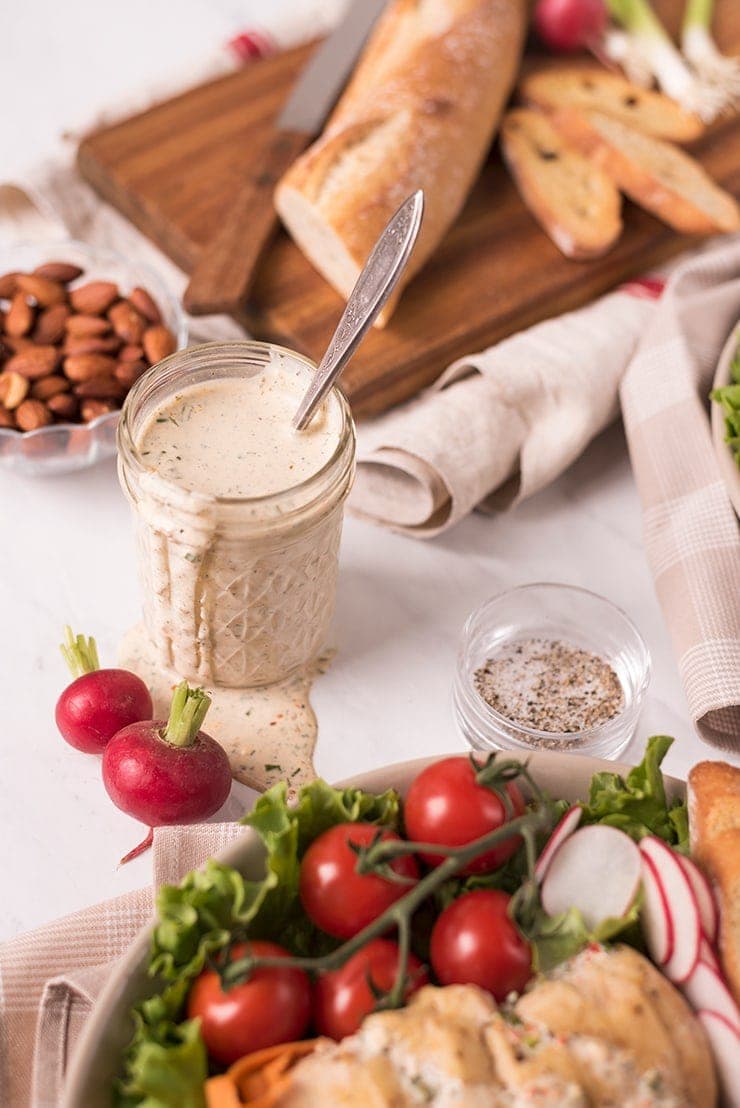 I have to admit that I'm one of those people who over plans. My father-in-law, Tom, always says, "If you got everything done on your to-do list, it wasn't long enough." Well, that's great in theory, but sometimes you want the feeling of satisfaction of accomplishing all the things you set out to do…
But like Tom, I'm a bit of a workaholic nerd. So, I try to DO IT ALL!!!
At the end of the day… or longer… when that same item is still on your list, you have to admit that hard work is not always enough. I'm not superwoman and my ambitious mind can get me in a lot of trouble!!!! The best of intentions…yada, yada, yada! So, yeah, two years later I'm posting this homemade ranch dressing.
I'm glad I finally got around to posting the recipe because it's so tasty and easy!!!! The flavor comes from dried ingredients, so this is the kind of thing you can whip up on a weeknight at a moment's notice. Better yet, if you're a meal prepper, you can portion out the dry ingredients in jars for a ready to make mix.
Either way this dressing is creamy and tangy and it's got a secret ingredient! Should I tell you?
Oh, okay…I'll let the cat out of the bag (;-) It's dried romano cheese! So, to all of the fans of parmesan peppercorn dressing out there, you're going to LOVE this recipe!!!! The romano cheese adds a smoothness to the flavor while also thickening the consistency.
But there's more to this dressing than cheesy flavor. It's also loaded with savory herbs and spices that make it as colorful as it is tasty! Parsley, chives, sweet bell pepper, basil, and lots of freshly cracked black pepper!!! Just thinking about it, my mouth is all drippy with excitement. I'm ashamed to admit I pour it on everything…veggies, salads, meats and I dying to try it on my friend Erika's recipe for Quinoa, Bacon and Cabbage Salad! Seriously, I'm wondering if it's too late for a nighttime snack!!!

Anyway, so the point to this whole story is, if you're like me and there are way too many things on your to do list…this is one DIY recipe that you won't need to fuss over! Check out the links below to easily order the spices.

Homemade Ranch Recipe
I love to use this dressing on classic salads. Chef salad, cobb salad, chicken, steak.... or just your average side salad...this homemade ranch dressing will make your greens taste great!
Print
Rate
Servings:
16
one tablespoon servings
Ingredients
1/4

teaspoon

garlic powder

1/2

teaspoon

onion flakes

1/4

teaspoon

salt

1

teaspoon

dried parsley

2

teaspoons

dried red bell pepper

2

teaspoons

dried chives

1

teaspoon

dried basil

1 1/2

teaspoons

black pepper

1/4

cup

dried romano cheese

1

teaspoon

sugar

(optional)

2

tablespoons

hot water

1/2

cup

buttermilk

1/2

cup

mayo
Instructions
In a jar, combine all the spices, romano cheese and sugar.

Add the hot water, stir and let sit a couple minutes to rehydrate the dried spices.

Add the buttermilk and mayo and whisk together.

Keep refrigerated until ready to serve.
Notes
The best source I've found for dried romano cheese is the Spice and Tea Exchange. Their romano doesn't contain any weird ingredients and it's always fresh. You'll need roughly 1.2 ounces to make a single recipe.
Prep your spices in jars for quick weeknight dressings. The recipe makes a little over one cup, so choose a jar with room for whisking.
Nutrition
Calories:
63
kcal
|
Carbohydrates:
1
g
|
Protein:
1
g
|
Fat:
5
g
|
Saturated Fat:
1
g
|
Cholesterol:
5
mg
|
Sodium:
112
mg
|
Potassium:
35
mg
|
Vitamin A:
520
IU
|
Vitamin C:
4.2
mg
|
Calcium:
32
mg
|
Iron:
0.3
mg
Tried this recipe?
Let us know how it turned out for you! Scroll down to leave a comment below.
Love making recipes from scratch? Check out all our condiment and sauce recipes!
You might also like: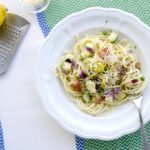 Easy Summer Garden Pasta
This easy Summer Garden Pasta is the perfect late summer, weeknight dinner. It's fresh, bright, savory and filling without being heavy.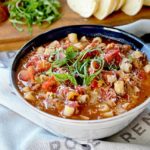 Pizza Soup with Peppers, Italian Sausage and Spices
Pizza Soup is a hearty, robust tomato soup filled with Italian flavors and ingredients. It's supremely delicious as an appetizer or entree.
Magnificent Mixed Berry Pie
Not only is this mixed berry pie tender, flaky, and fruity, it is also beautiful. Learn how to make this pie from scratch using simple ingredients and cookie cutters.