This fresh off the cob Corn Salad with Basil and Queso Fresco is a quick and easy dish side dish for summer. Delicious does not need to be complicated!
---
In just 20 minutes you can put together this healthy corn salad. It features seasonal ingredients and a simple lemon dressing. Follow the tips below for cooking the most tender corn.
There are some foods that are only good in season. Sometimes it's just a matter of personal taste but in the case of corn, its FACT! Now, I'm not saying you can't throw some frozen corn into a soup, or use dried corn like is in this Vegetable Stew. But I wouldn't think of eating a corn salad in the dead of winter.
Truthfully, I wasn't such a corn snob until I married into a family with roots in Iowa. Kevin's grandmother always said that you had to eat the corn the day it was picked. And she had good reason to be such a stickler. After the corn is picked the sugars begin to convert to starch and the kernels can get tough.
So Nanny was right. Save your mouth the disappointment and eat corn in season and make sure its been picked recently.
My corn comes from a local farm stand where I know its fresh. Once upon a time I tried to grow corn, and although I had great success with popcorn, sweet corn did not thrive in my virginia clay soil…so I leave sweet corn to the professionals.
That's okay, I've got lots of veggies ripening in my backyard garden. There's okra, tomatoes, cucumbers, acorn squash, peppers and herbs right now, but most days I only get a little of each. So I try to mix them together with other local ingredients in a stir fry, pasta or salad.
With the sweet peppers coming in and a gorgeous, leafy basil plant in the herb garden, I knew I had the perfect accompaniments for a corn salad.
I want to taste that sweet corn flavor so this salad has a very simple lemon and olive oil dressing. That little bit of acidity adds nice balance to the sweet corn and marries nicely with the fresh basil. The queso fresco adds salt and a bit of creaminess. Other than salt and pepper, that's all you need to make this delightful dish. Easy peasey lemon squeezy 😉
Now I don't want to lead you astray…you can still screw up a simple corn salad if you overcook the corn. But I'm going to pass along advice my mother-in-law Susan gave to me. Seriously, this is the best corn cooking advice EVER! Are you taking notes? 😉
Here's the advice: when you're boiling corn, you cook it until you can smell it. That equates to about 3-4 minutes. So when you're standing over the pot, take your hand and waft the air towards your nose. If it smells sweet, it's done. If you don't smell anything, check in another minute or two. Now notice I said waft the air towards your nose. Don't go and do anything foolish like stick your head in a boiling pot of water!!!!
A few thoughts before I leave you with the recipe. First, always use a sharp knife. Dull knives are dangerous. I could tell you horror stories, but I really want to leave you with an appetite. Just know that dull knives require more cutting pressure. Which means if you slip and cut yourself it's a jagged cut made with a lot of force. So when you're cutting those slippery corn cobs you want your knife to slide through like butter.
Second, don't cut too close to the cob, you don't want the tough, chewy part of the kernel.
The third thought is a matter of preference. Usually, when I remove corn from the cob I scrape the cob with a knife to get all that sweet milky liquid. In this case I did not because I didn't want the salad to look messy. Is that silly? Maybe, but if you choose not to scrape, freeze those cobs for the next time you make vegetable stock.

Corn Salad with Basil and Queso Fresco
Make sure to use the freshest of corn for the best results. Look for husks that are green and not browned.
Print
Rate
Ingredients
4

cups

cooked corn

about 5-6 ears of corn

3/4

tsp

lemon zest

2

TB

lemon juice

1

TB

extra virgin olive oil

1

cup

crumbled queso fresco

1/2

cup

red bell pepper

diced

1/4

cup

basil

salt and pepper to taste
Instructions
Cooking the corn:
Bring a pot of water to a boil

Place ears of corn in the boiling water and cook for 3-4 minutes.

Remove corn and let cool.

Using a sharp knife, cut corn kernels from cob.
Salad:
Combine 4 cups corn, lemon zest, lemon juice, olive oil, queso fresco, and bell pepper and toss gently to combine.

Add salt and pepper to taste.

Immediately before serving, cut basil in a

chiffonade

and toss into salad.
Nutrition
Calories:
138
kcal
|
Carbohydrates:
17
g
|
Protein:
5
g
|
Fat:
6
g
|
Saturated Fat:
2
g
|
Cholesterol:
10
mg
|
Sodium:
115
mg
|
Potassium:
207
mg
|
Fiber:
2
g
|
Sugar:
4
g
|
Vitamin A:
655
IU
|
Vitamin C:
18
mg
|
Calcium:
90
mg
|
Iron:
0.5
mg
Tried this recipe?
Let us know how it turned out for you! Scroll down to leave a comment below.
You might also like:
Colorful Potato Salad
Take your picnic from boring to wow with this Colorful Potato Salad recipe. Fresh veggies, herbs and spices make this salad pop.
Summer Rolls with Tropical Sweet Chili Garlic Sauce
This is the perfect finger food for your next cookout. Serve them as an appetizer or replace the traditional bowl of salad for a cool, crunchy side dish.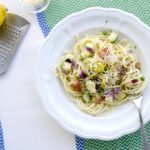 Easy Summer Garden Pasta
This easy Summer Garden Pasta is the perfect late summer, weeknight dinner. It's fresh, bright, savory and filling without being heavy.