This fresh off the cob summer corn salad with basil and queso fresco is a quick and easy side dish for summer. Delicious does not need to be complicated!
This post was originally published August 26, 2016. It was updated with new pictures on August 31, 2020 but it's still the same great recipe!
Once upon a time I tried to grow corn, and although I had great success with popcorn, sweet corn did not thrive in my Virginia clay soil…so I leave sweet corn to the professionals.
However, my garden is abundant with sweet peppers and a gorgeous, leafy basil plant, so I knew I had the perfect accompaniments for a summer corn salad. The inspiration proved to be a winner, as this recipe is delicious, easy to make and oh so sweet and tangy!
In just 20 minutes you can put together this fresh corn salad. It features seasonal ingredients and a simple lemon dressing. Follow the tips below for cooking the most tender corn.
Vegetables in season
There are some foods that are only good in season. Sometimes, it's just a matter of personal taste but in the case of corn, it is FACT!
Now, I'm not saying you can't throw some frozen corn into a soup, or use dried corn like is in this Vegetable Stew. But I wouldn't think of eating a corn salad in the dead of winter.
Truthfully, I wasn't such a corn snob until I married into a family with roots in Iowa. Kevin's grandmother always said that you had to eat the corn the day it was picked. And she had good reason to be such a stickler. After the corn is picked the sugars begin to convert to starch and the kernels can get tough.
So Nanny was right. Save your mouth the disappointment and eat corn in season but also make sure it has been recently picked. You want to use the freshest corn you can find for the best results with this recipe.
Normally, this will be at a local farm stand or farmer's market and not at your grocery store! Look for husks that are green and not browned and don't be afraid to ask when it was harvested. My corn comes from a local farm stand where I know it is fresh plus they store it with wet towels over the cobs so the husks don't dry out.
I've got lots of veggies ripening in my backyard garden! There's okra, tomatoes, cucumbers, acorn squash, peppers and herbs right now, but most days I only get a little of each. So, I mix them together with other local ingredients in a recipe like Easy Summer Garden Pasta.
Lemon dressing
I want to taste that sweet corn flavor so this summer corn salad has a very simple olive oil and lemon dressing. That little bit of acidity adds nice balance to the sweet corn and marries nicely with the fresh basil.
Once the corn is cooked and removed from the cob, you simply toss all of the ingredients gently to combine! Other than salt and pepper, that's all you need to make this delightful dish. Easy peasey lemon squeezy ;-)
What is queso blanco?
Queso blanco translates to "white cheese" and queso fresco to "fresh cheese" in Spanish. The queso fresco adds salt and a bit of creaminess to your veggie side dishes. It can take the place of feta or goat cheese in most recipes.
How to cook corn on the cob
You want to start with a huge pot of water. I love Cusinart's 12 Quart Pasta Steamer Set. It's my go-to for making stock, soup or large amounts of pasta. But it's also great for this recipe because a whole ear of corn easily fits in the pan.
Fill the pot about three-quarters full with water, then place it on the stove and set the burner to high. Once you have a rolling boil, add the corn and set a three minute timer.
Now I don't want to lead you astray…you can still screw up a simple corn salad if you overcook the corn. But I'm going to pass along advice my mother-in-law Susan gave to me. Seriously, this is the best corn cooking advice EVER! Are you taking notes? ;-)
Here's the advice: when you're boiling corn, you cook it until you can smell it. That equates to about 3-5 minutes. So when you're standing over the pot, take your hand and waft the air towards your nose. If it smells sweet, it's done. If you don't smell anything, check in another minute or two.
Now, notice I said waft the air towards your nose. Don't go and do anything foolish like stick your head in a boiling pot of water!!!!
Once it's done, use tongs to remove the corn and place it in a large colander to drain.
How to cut corn off the cob
First, always use a sharp knife. Dull knives are dangerous. I could tell you horror stories, but I really want to leave you with an appetite. Just know that dull knives require more cutting pressure. Which means if you slip and cut yourself it's a jagged cut made with a lot of force. So when you're cutting those slippery corn cobs you want your knife to slide through like butter.
Let your corn cool before you cut it off the cob. Can't wait? Use a clean kitchen towel to hold the cob. Cut the corn over a bowl or bundt pan, this way you don't end up with corn all over your counter top and floor!
Most importantly, don't cut too close to the cob! You want to leave behind the tough, chewy part of the kernel. You aren't going to waste any of that precious sweet corn! Read on!
My last advice is a matter of preference. Usually, when I remove corn from the cob, I scrape the cob with my knife to get all that sweet milky liquid. In the case of this summer corn salad recipe, I did not scrape it because I don't want the salad to look messy.
Is that silly? Maybe… it's your choice to scrape or not. If you choose not to scrape, freeze those cobs for the next time you make vegetable stock or summer corn chowder!
Ingredients and substitutions
Corn on the cob → I used farm fresh corn. In a pinch, you could use canned or frozen corn for this recipe, but I don't recommend it. The corn is the star of this dish and as such it should be the sweetest, most tender corn you can find.
Queso fresco → Queso fresco adds contrast to this veggie salad. It's very similar to queso blanco, so that's a natural substitution. If you can't find these, use feta or goat cheese instead but opt for a mild one.
Bell pepper → I use red bell peppers because that's what is growing in my garden. Plus, the red is a nice contrast to the yellow corn and green basil. But any color bell pepper will do. You could also substitute part of the sweet pepper with hot peppers for a kick.
Lemon → This recipe uses both the zest and juice. If you don't have lemon, limes work well too.
Basil → There's nothing as summery as fresh basil. It's a luxury if you can find it in a grocery store, so if you need to swap it out, choose cilantro, chives, or scallions to give the salad a pop of green.
Oil → I used extra virgin olive oil but any neutral oil like canola or vegetable will work.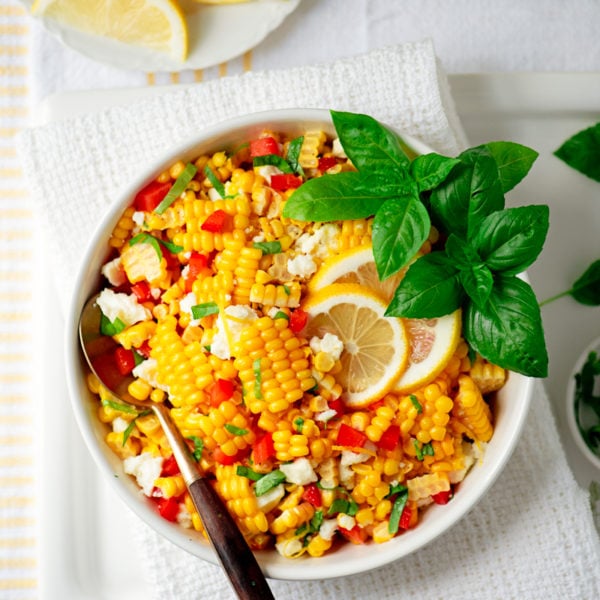 Summer Corn Salad Recipe
Make sure to use the freshest of corn for the best results. Look for husks that are green and not browned.
Print
Pin
Rate
Ingredients
4

cups

cooked corn

about 5-6 ears of corn

¾

teaspoon

lemon zest

2

tablespoons

lemon juice

1

tablespoon

extra virgin olive oil

1

cup

crumbled queso fresco

½

cup

red bell pepper

diced

¼

cup

basil

salt and pepper to taste
Instructions
Cooking the corn:
Bring a pot of water to a boil

Place ears of corn in the boiling water and cook for 3-4 minutes.

Remove corn and let cool.

Using a sharp knife, cut corn kernels from cob.
Salad:
Combine 4 cups corn, lemon zest, lemon juice, olive oil, queso fresco, and bell pepper and toss gently to combine.

Add salt and pepper to taste.

Immediately before serving, cut basil in a chiffonade and toss into salad.
Notes
This salad holds up really well in the fridge, so you can make this salad ahead of time. Just wait to add the chopped basil until ready to serve.
Queso fresco adds contrast to this veggie salad. It's very similar to queso blanco, so that's a natural substitution. If you can't find these, use feta or goat cheese instead but opt for a mild one.
Nutrition
Calories:
138
kcal
|
Carbohydrates:
17
g
|
Protein:
5
g
|
Fat:
6
g
|
Saturated Fat:
2
g
|
Cholesterol:
10
mg
|
Sodium:
115
mg
|
Potassium:
207
mg
|
Fiber:
2
g
|
Sugar:
4
g
|
Vitamin A:
655
IU
|
Vitamin C:
18
mg
|
Calcium:
90
mg
|
Iron:
0.5
mg
Tried this recipe?
Let us know how it turned out for you! Scroll down to leave a comment below.
Need more fresh salads? Make sure there are enough side dishes to go around!
Sourdough bread loaded with summer veggies, shaved parmesan, white balsamic vinegar and fresh oregano.
Lentils covered in barbecue sauce topped with a cheddar cornmeal biscuit. A hearty meal that easily feeds a crowd.
Sweet bell peppers stuffed with vegetables, quinoa, beans, enchilada sauce and topped with cheese.