Move over tomatoes! This yummy vegetable bruschetta is loaded with summer veggies, shaved parmesan, white balsamic vinegar and fresh oregano, giving the classic appetizer a fresh spin. Perfect for summer!
A few months back, I was in my sourdough baking phase like the rest of America. It was a pleasant distraction and so I got into a groove, testing new flavors and techniques. Suddenly, I had baked more loaves than we could possibly eat and I was looking for ways to use my bread. Then bruschetta came to mind.
I'm a huge fan of tomatoes, but my husband Kevin is not. He'll eat them cooked in spaghetti sauce or chili, but fresh? No way. So, I came up with this recipe to please us both. Just like a tomato basil bruschetta, it's an antipasto that uses fresh summer produce and it oh so delizioso!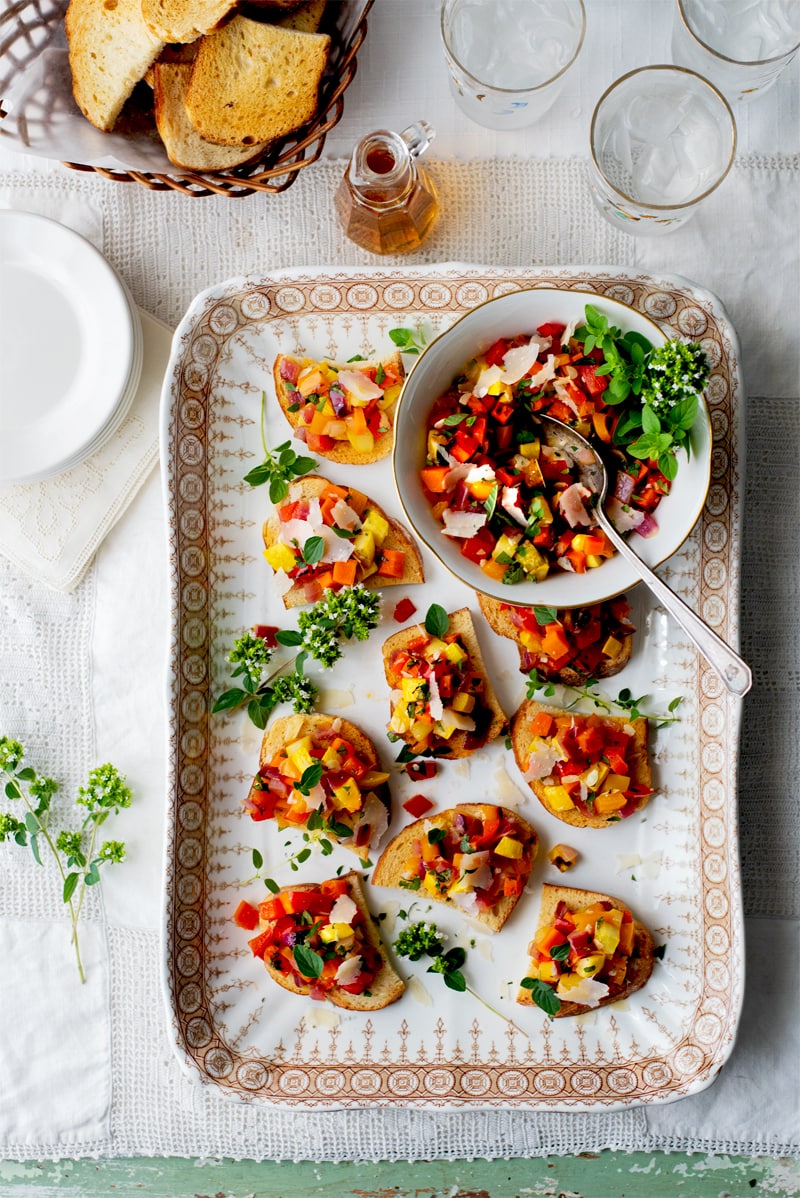 What is bruschetta?
In the US, bruchetta is commonly thought of as toasted bread with a tomato basil topping. However, in Italy, where the dish originated, a better translation would grilled bread with olive oil. In fact, there are yearly festivals in Italy celebrating the centuries old tradition of tasting freshly pressed olive oil on a grilled slice of country bread. In modern Italy, bruschetta can feature a variety of toppings including beans, salami and cheese.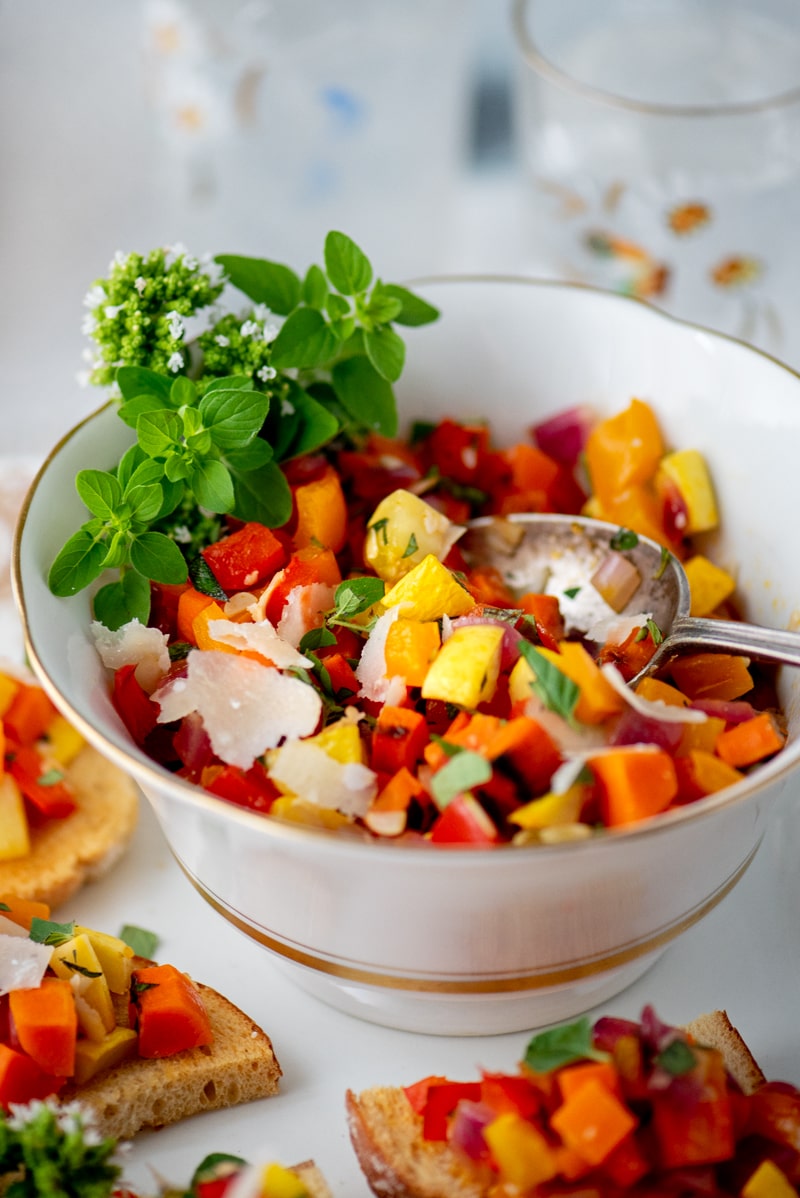 How to make vegetables taste good
For this bruschetta recipe I used a mixture of yellow summer squash, sweet bell peppers, carrots and red onions. It's the perfect mixture of sweet, savory veggies to make a bruschetta topping. However, on their own, this recipe would be boring.
To make my vegetables extra flavorful, I broiled the diced veggies with olive oil in the oven to give this appetizer an authentic grilled flavor. After cooking, I added a combination of fresh oregano, white balsamic vinegar and Parmesan cheese.
Finally, I seasoned the vegetables to taste with sea salt and black pepper. Tasting your veg is always the most important step. It assures that your seasonings are balanced before you serve it to your family or guests.
Bread for bruschetta
As previously mentioned, I started testing this recipe with homemade sourdough bread. I got the recipe from The Clever Carrot and as a newbie sourdough baker, can attest that it's an easy recipe for beginners. It's a little more soft and a little less sour than so-called artisan loaves but it is everything you want in a country bread. It's crusty, tasty and versatile.
I've used this recipe to make sandwiches, croutons and eat plain dipped into soup and it's simply delicious. Sadly, my oven died about a month ago and we are patiently waiting for a replacement but it gave me the opportunity to try this bruschetta recipe with other breads.

I've used Italian bread, French baguettes and one of my faves, Costco's Country French bread. All work great, so the bottom line is, you just need a crusty bread without preservatives.
The bread can even be stale. Before the bread gets toasted in the oven, I baste it with olive oil, which can revive a day old loaf. If the loaf is large, cut large slices in half so that the bruschetta is a finger friendly appetizer!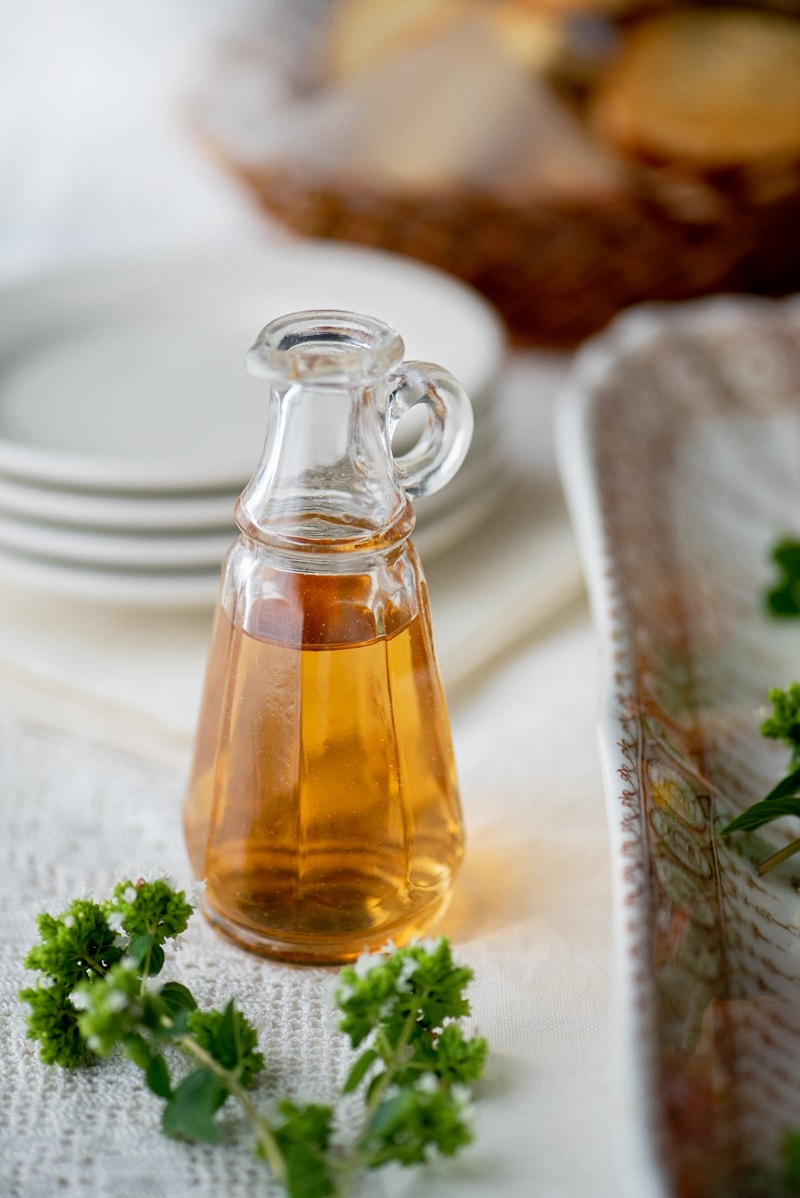 White balsamic vinegar
In addition to olive oil, bruschetta usually features balsamic vinegar. Here, white balsamic vinegar takes the place of the dark vinegar, so that the bright colors of the vegetables aren't muted.
Although white balsamic is a bit milder, it still starts with grape "must" just like regular balsamic. But unlike the Italian classic, it is not caramelized, which preserves it's golden hue.
That's how our veggie bruschetta can be so bright and so flavorful at the same time!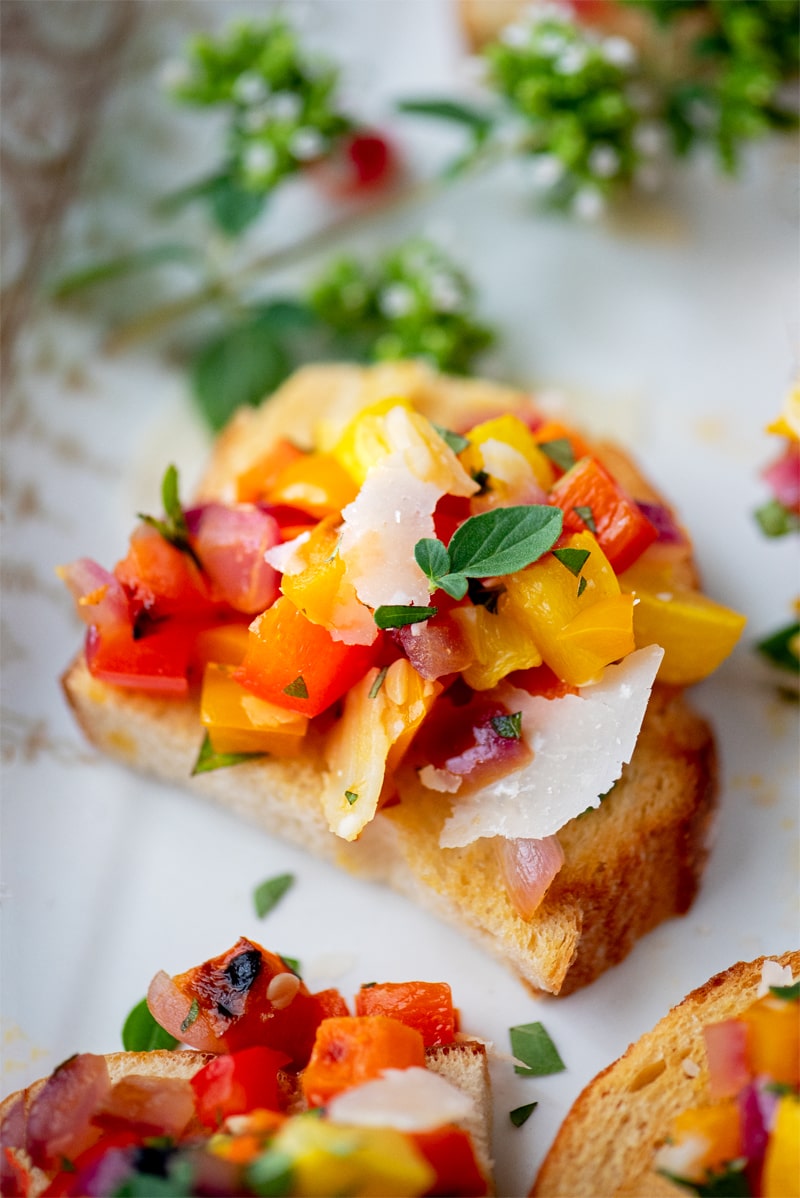 Fresh oregano
While bruschetta is normally accompanied by basil, I decided to use another popular Italian herb. Oregano is a lovely addition to recipes, whether dried or fresh. It's also an easy to grow perennial that will add seasons of flavor to your menu at little cost.
Oregano grows voraciously in my garden and attracts bees, butterflies and other insects to my plants. These pollinating insects are essential for making the summer vegetable garden productive, so I let my herbs flower even though it may slow down their growth.
However, when picking herbs in late summer, I look for stems that have been previously trimmed. Cutting back the plant encourages new growth with softer stems and leaves. But the flowers are also edible, so they make a lovely garnish for this dish.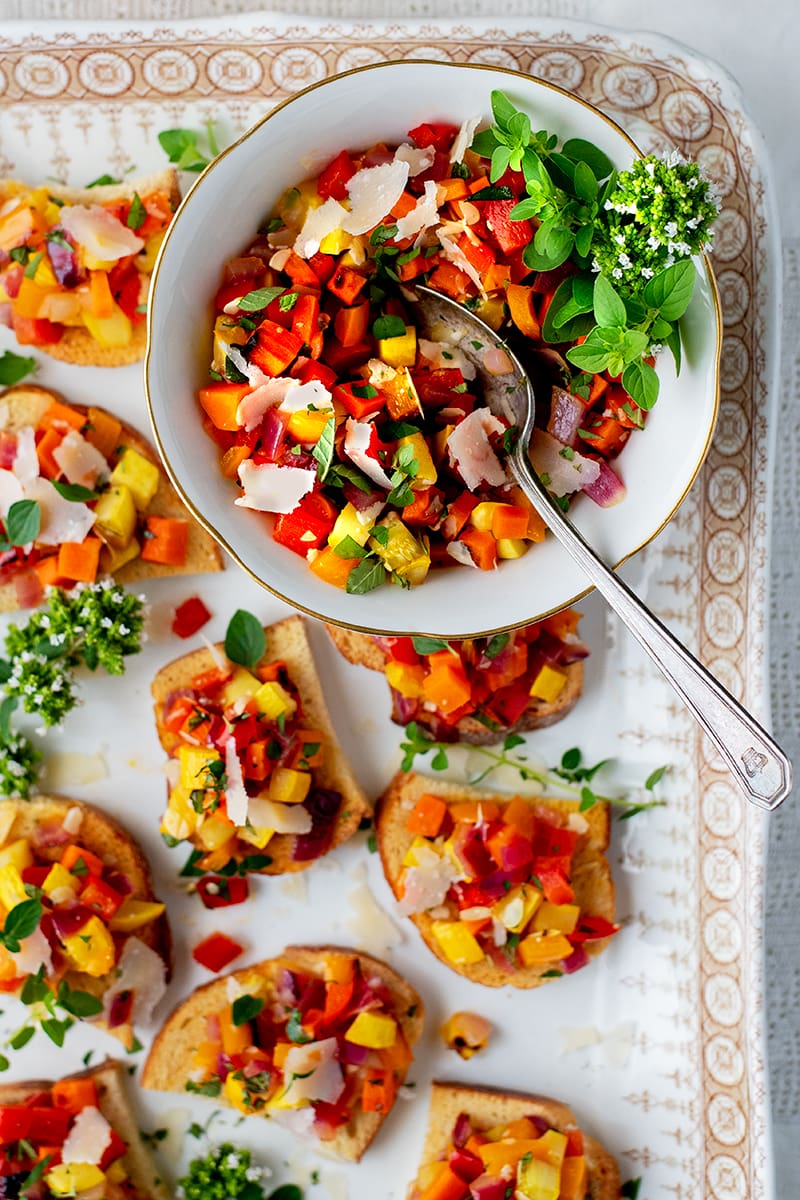 Together, the balsamic, oregano and charred vegetables make this easy appetizer a stunning recipe. It's bursting with garden flavor and makes great use of the late summer garden harvest.
We enjoy it as a light dinner or leftover for lunch with grilled chicken. However you decide to enjoy it, you'll find this vegetable bruschetta recipe a perfect addition to your warm weather menu!
Vegetable Bruschetta Recipe
This elegant take on bruschetta is deceptively easy to make. We've made it using sourdough, Italian bread and a french baguette and all are a delicious with the veggie topping.
Print
Pin
Rate
Ingredients
2

large

sweet bell peppers

(we used red and orange)

1

yellow summer squash

3

medium

carrots

1

medium

red onion

1

tablespoon

olive oil

(plus more for brushing the bread)

2

tablespoons

white balsamic vinegar

¼

cup

chopped fresh oregano

1

cup

shaved parmesan cheese

1

loaf

crusty bread

such as Italian, French or sourdough

Sea salt and freshly ground pepper to taste
Instructions
Make the toast
Preheat oven to 350F, then slice bread into half inch slices. If the bread is large cut the slices in half so they make good finger food.

Fill a small bowl with olive oil, then baste the top and bottom of each slice with the oil. Place on cookie sheets and sprinkle with sea salt and black pepper.

Bake until the bread is toasted, about 15-20 minutes.
Prep the veggies
While the bread toasts, chop the peppers, squash, and carrots into small cubes, roughly 3/8th inch wide, then place in a the bottom of a large broiling pan.

Dice the red onion and add it to the broiling pan with one tablespoon of olive oil and mix.

Preheat broiler once the bread is toasted,

Cook the veggies on the top rack about 6 minutes, or until they are lightly charred. Take out the pan, stir the veggies, and put them back under the broiler about 4 more minutes, or until the veggies are tender but still firm.
Make the bruschetta
In a bowl, combine the veggies, white balsamic vinegar, and shaved parmesan. Season with sea salt and black pepper to taste.

Spoon the vegetable topping onto the toast, then garnish with more oregano and parmesan if desired.
Notes
The vegetables can be cooked a day in advance if you're prepping for a party.
The topping is good both warm and cold!
This is a great appetizer to serve deconstructed as well. Place the topping in a bowl and let guests use it as a dip with toast points.
Nutrition
Calories:
253
kcal
|
Carbohydrates:
37
g
|
Protein:
12
g
|
Fat:
7
g
|
Saturated Fat:
3
g
|
Cholesterol:
11
mg
|
Sodium:
467
mg
|
Potassium:
347
mg
|
Fiber:
4
g
|
Sugar:
6
g
|
Vitamin A:
5288
IU
|
Vitamin C:
59
mg
|
Calcium:
202
mg
|
Iron:
3
mg
Tried this recipe?
Let us know how it turned out for you! Scroll down to leave a comment below.
This Autumn Roasted Vegetable Soup is abundant with fresh vegetables that are caramelized in the oven for a robust flavor. Perfect for soup season!
This delicious ratatouille flatbread pizza is loaded with grilled summer vegetables, whipped goat cheese and topped with a drizzle of basil oil.
This baked rigatoni layered with herbed ricotta and meaty marinara sauce is a dinner casserole worthy of sharing!