We've been making liqueurs for quite a while now, so it's surprising that this homemade carrot cake liqueur is the first to hit the blog! To date, we've made limoncello, gin, cherry brandy, homemade Kahlua and even a wild raspberry liqueur. In a clean alcohol base like vodka or rum, the flavors pop so it's a great way to preserve seasonal produce, herbs or freshly roasted coffee.
In this case, the winter season is perfect for making carrot liqueur! We all know that carrots are cold tolerant but did you know they survive the icy temps by converting some of their starch to sugar? It's a win for us because winter carrots are sweeter than their summer counterparts. Perfect for an after dinner drink, wouldn't you say?
This carrot cake liqueur is also one of the quickest I've made. It only takes 10 minutes to load the concoction into a jar and there's a relatively short infusion time. I tested the recipe at one, two and three week infusions and I'd say there isn't much difference in flavor (good news if you're in a rush) although the batch that steeped for three weeks was the most colorful.
I'll say that making the liqueur and eagerly shaking the jar day by day is the fun part. What follows is a tedious process of filtering out all those yummy bits of carrot and spice. I'll admit that this takes patience. There's a point about halfway through where you consider eating your liqueur like soup, chunks and all! But the finer you filter the liquor the less chance you'll have carrot sediment in the bottom of your bottles.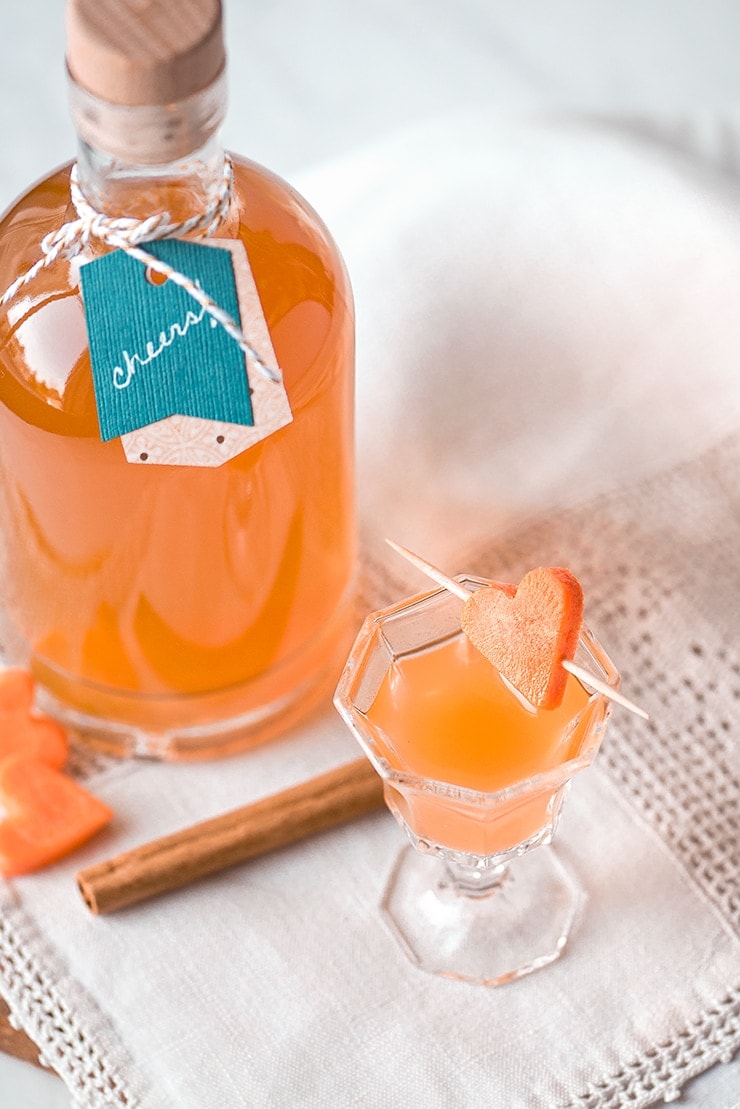 If you have no interest in individually bottling the carrot cake liqueur (and who could blame you, this stuff begs to be poured), you don't have to filter as much, just give the liqueur a good shake before serving. The tiny particles of carrot are so small they can really only be seen after they settle to the bottom, kind of like a giant orange snow globe of deliciousness.
If your plan is to serve this as a dinner party aperitif, use a fine reusable coffee filter you don't need to bother with paper coffee filters.
Our recipe makes a small batch, about 18-20 ounces of liqueur, enough for a good dinner party, but it's very easy to make in larger batches too. Just make sure that whatever jar you use for infusing has room at the top so you can shake or at least swirl the ingredients every now and then.
For Christmas, we made eight batches which filled a dozen 375ml bottles. It's a lovely gift size and quite elegant when you attach a custom tag with gold threaded baker's twine! The Fiskars tag maker made this last task super easy and continued the the made-with-love motif.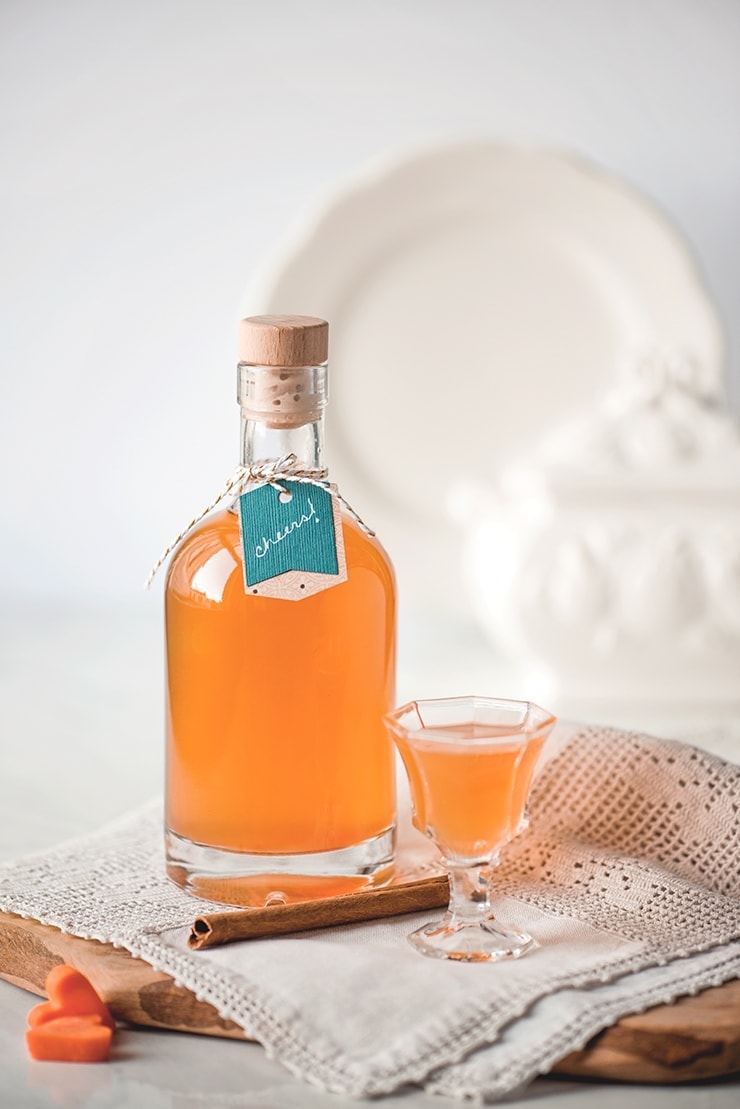 Love after dinner drinks? Make sure to see all our cocktail recipes!