You're going to love this Blueberry Whiskey Buck recipe! It's made with just a handful of simple ingredients, so say hello to your new favorite cocktail for impromptu parties!
---
Tennessee whiskey, blueberries, lemon and ginger beer make up this refreshing Blueberry Whiskey Buck. It's icy, sweet and spicy and ready in minutes.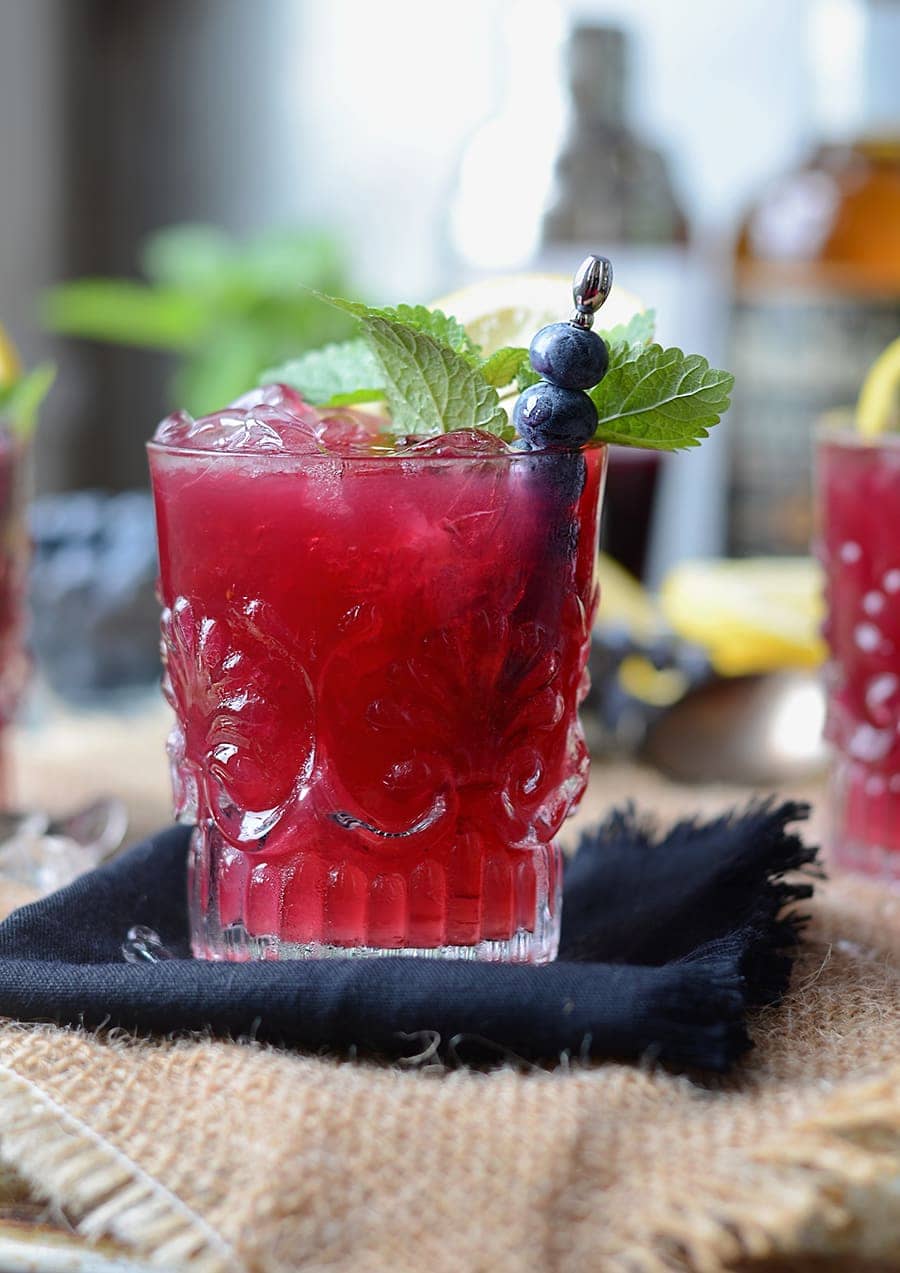 Today I want to introduce you to Drizly, an alcohol delivery service. We've partnered today to bring you this awesome Blueberry Whiskey Buck recipe.
Now I wish I could say that I've tried Drizly's service, but they are not delivering tasty libations out here in the hills of West Virginia, YET! But the service looks super cool and convenient. Many of you, in cities from Washington D.C. to Los Angeles, can go to drizly.com or to their app to order wine, beer, liquor and mixers which will be delivered to your door.
They make this possible through partnerships with local retailers so you're still supporting local businesses. And there's no markup on the retail price!
We have a lot of impromptu get-togethers here. As much as we like to plan in advance, life is busy. So I can't wait for Drizly to come to my area. I'm always running out of some essential cocktail ingredient and the worst possible moment…like when the guests are arriving!
With spontaneous parties in mind, I created this recipe using inspiration from Drizly's sample store. It's the kind of cocktail you can make with no advance prep. More time for conversation, less bartending…
Moscow Mules are enjoying a resurgence, but I decided to go even more vintage with this Blueberry Whiskey Buck cocktail. Essentially, a buck is a mixed drink of citrus juice, gingerale or ginger beer and liquor. There are so many variations, like the Ginger Rodgers (with gin) to the El Diablo (with tequila). So the Moscow Mule is just a vodka buck with a fancy name. Kind of like a square is a rectangle…you get my drift, right?
The whiskey buck is an old timer so I thought I'd explore the whiskey selection at Drizly for a liquor with history. I was pleased to find this gem. Turns out that George Dickel began distilling Tennessee Whisky back in 1870 using the Lincoln County Process. This method uses charcoal chips to filter the whiskey before it ages, giving it a smooth taste.
For this recipe, I used the Classic No. 8 Whisky which has notes of caramel and tobacco and a hint of apple on the nose. I did a taste test and discovered that I prefer the Dickel to Jack Daniels because it's so smooth. AND it costs less too!
But you can make this recipe with whatever whiskey or bourbon floats your boat.

I also used Maine Root Ginger Brew. There are many ginger beers on the market, but I love how sweet and spicy Maine Root is. And it's fair trade! I'm feeling really good about this American cocktail. How about you?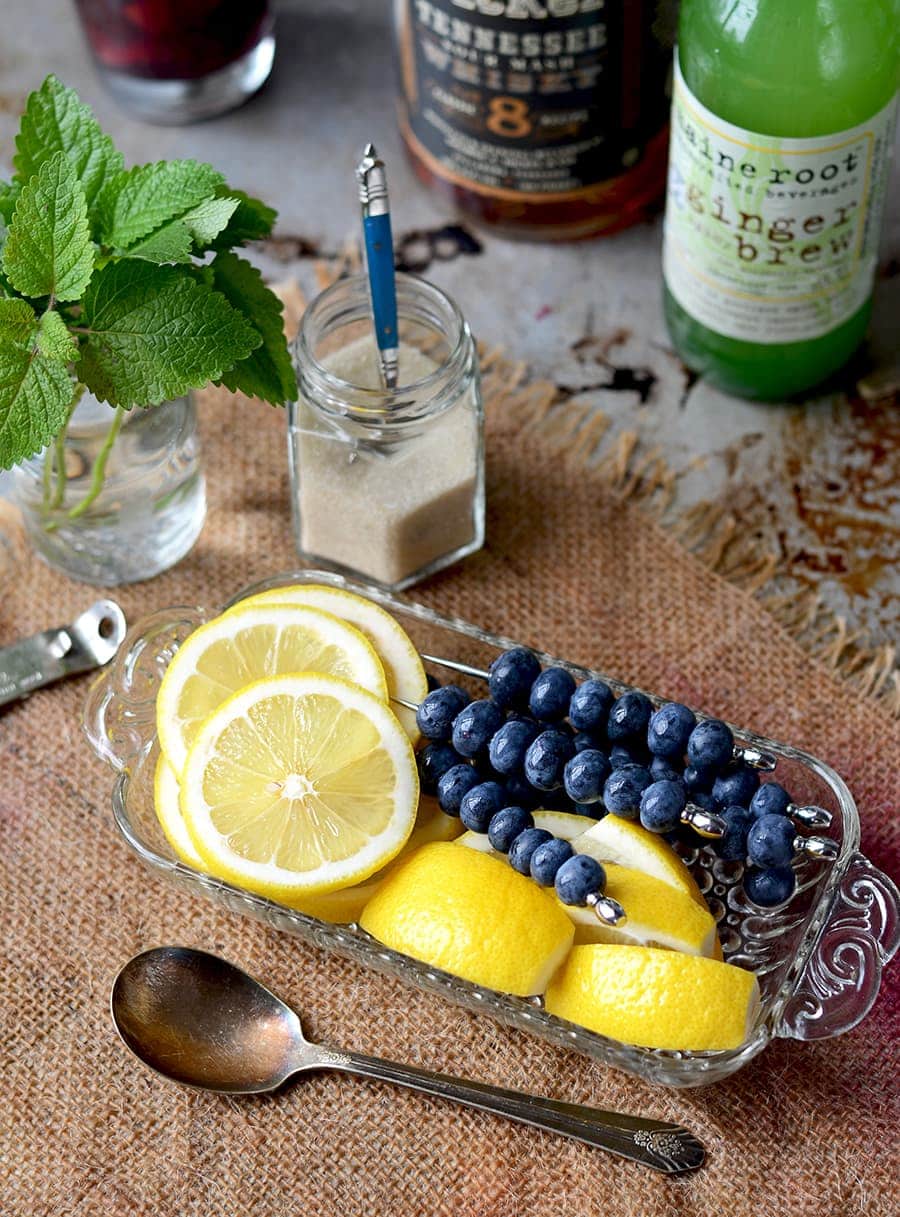 Erin over at Drizly requested a summery drink and I instantly thought of blueberries. The juice is such a gorgeous color and it's blueberry season. Plus, I love whiskey and blueberries together, a sweet and smokey combo!
You're also going to need sugar, lemons and lots of ice. What's available on Drizly is based on your zip code, but in many locations you can get these items delivered too! See this unscripted, spur of the moment night with friends is really going to rock!
Because this cocktail is so easy, you'll have a few minutes to set up a simple bar of ingredients and equipment. Nothing complicated but you will need a muddler and a cocktail shaker.
I like to also prep my ingredients upfront, so I loaded up cocktail picks with blueberries, but you could also use a toothpick or skewer.
My mint was sunburnt, so this lemon balm came to the rescue. It's in the mint family so it also grows like a weed. Luckily, it was planted in a shady spot so it survived the August sun.
You can use fresh mint if you want (yep, Drizly's got you covered) but it's just to make the cocktail extra purdy ;-)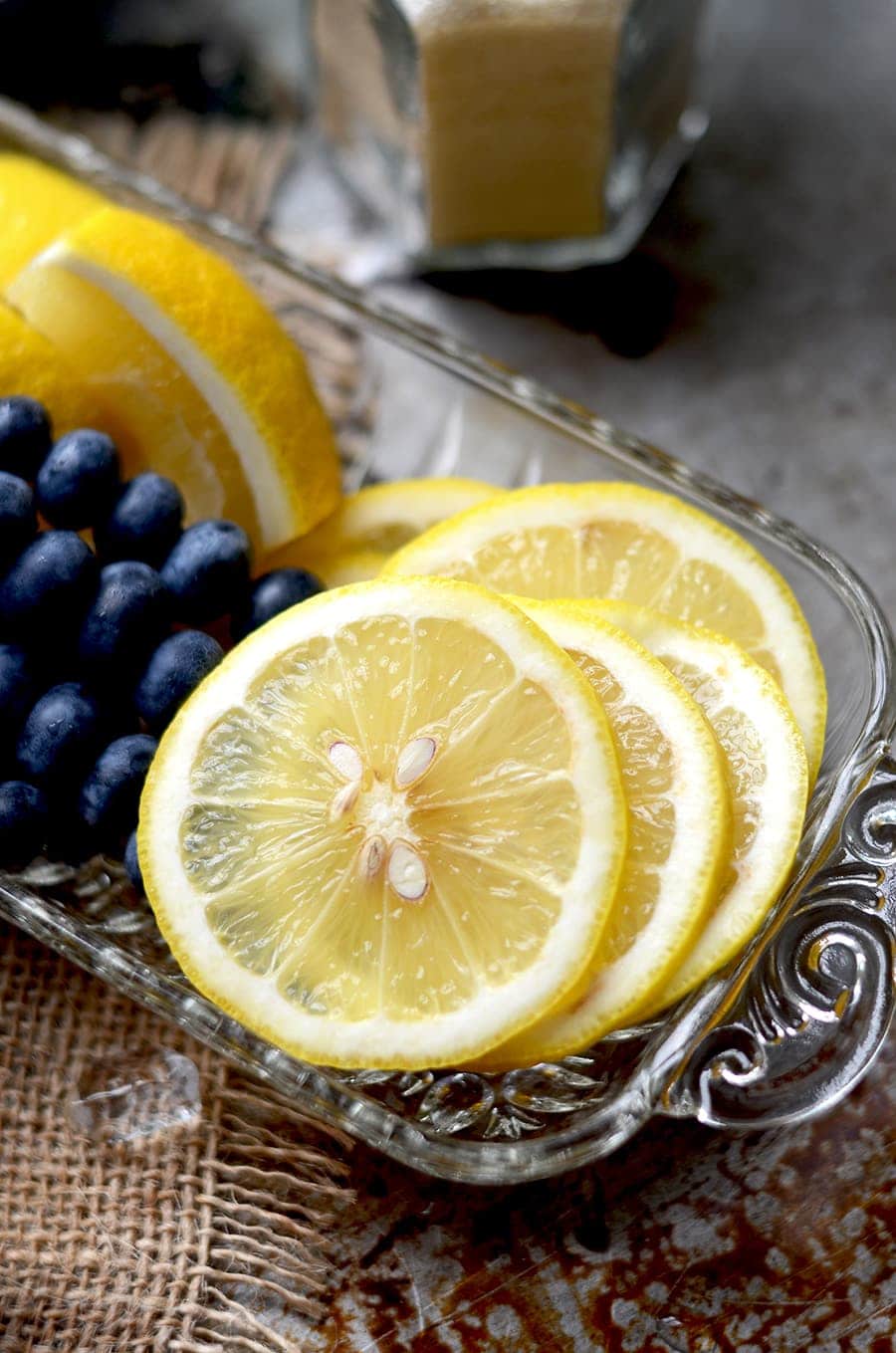 I like to have everything out and ready to go so my guests can help themselves. This is impromptu after all.
Isn't this dish so perfect? Got it at a yard sale recently. It's just the right size for cocktail garnishes. I seriously have a whole collection of glass dishes in every size and shape imaginable. They are so handy for entertaining!
Now, don't skimp on the ice. I like crushed ice, but use whatever you like. And make sure to use cocktail napkins because those blueberries are very extra colorful.
I'm going to fast forward through the whole muddling part. I think everyone knows how to squish fruit but in case you've never muddled before this video is an excellent how to and more importantly how not to.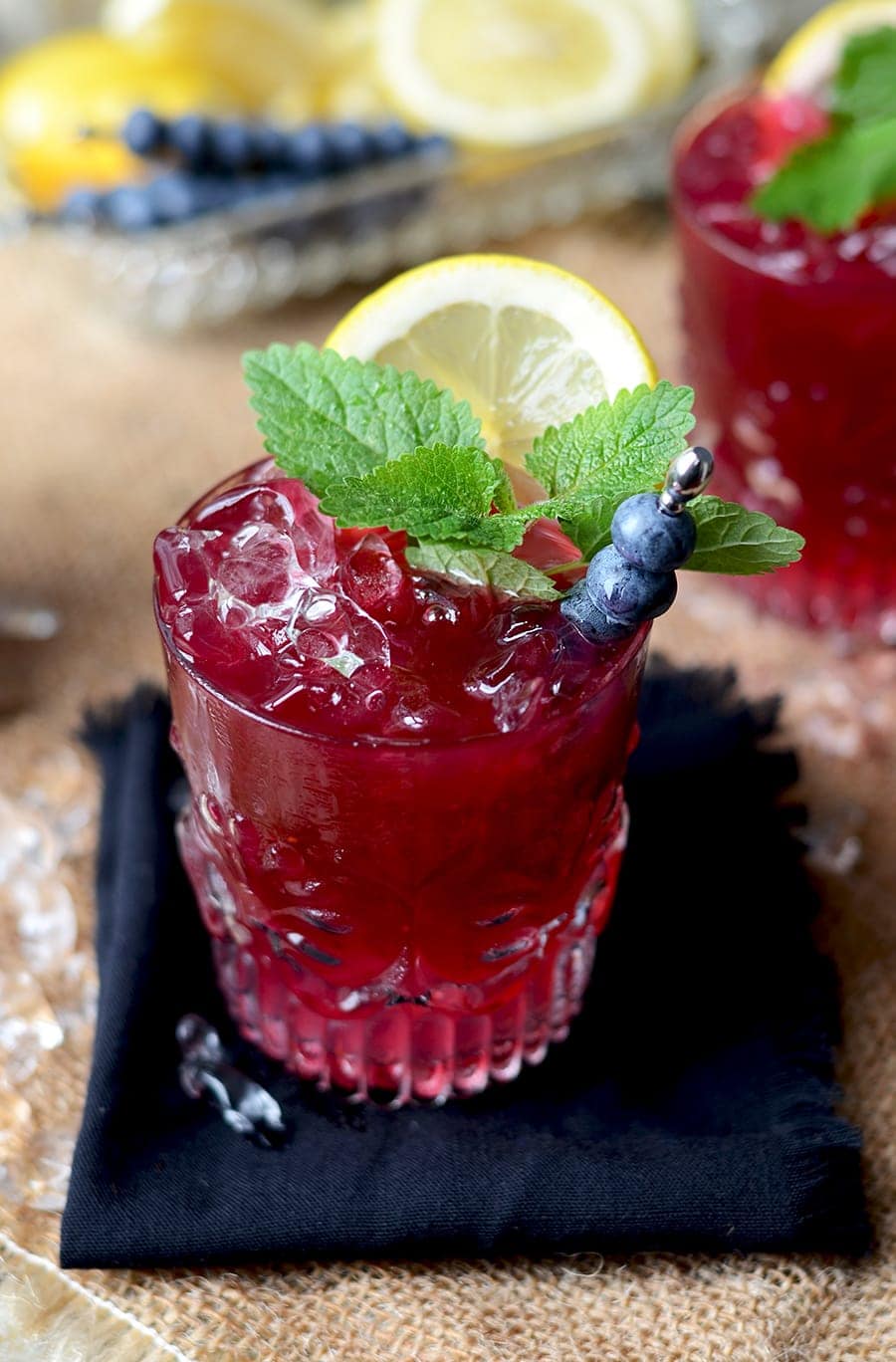 Ta da!!!! Doesn't that look so refreshing? When it's hot out I like a full 2 ounces of ginger beer, but if you like your drinks more boozy stick to one ounce.
And goodness these flea market find glasses! They are old reproductions from the Metropolitan Museum of Art collection. Based off a 19th century pattern, they're hand blown and molded with acanthus leaves and the size of a modern rocks glass. Can you believe they came with a certificate of authenticity? Otherwise I wouldn't have known how cool they were! I think I paid $6 for a set of 4…. It pays to be a smart shopper.
Seriously, I think everything in these pictures is from a thrift store, flea market or yard sale…the cocktail shaker, the bud vase and I especially love this churchkey. These pieces have a story which I think adds to the experience of drinking a good cocktail.
On the other hand, I'd drink this Blueberry Whiskey Buck out of a shoe. It's that tasty with its fruity blueberries, spicy ginger and smooth drinking whiskey. #sogood for #thirstythursday
So head on over to Drizly. You could be making this cocktail in as little as an hour!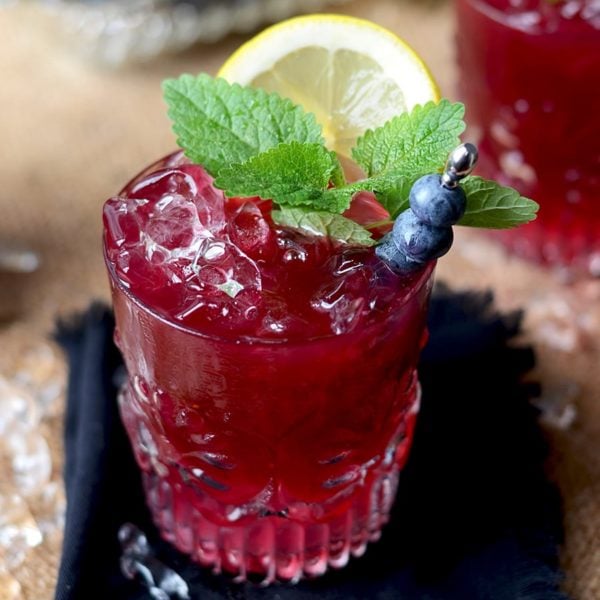 Blueberry Whiskey Buck Recipe
This recipe calls for fresh blueberries but in a pinch you can substitute frozen blueberries. Muddle the frozen berries in a separate glass and add them to the cocktail shaker after the sugar has dissolved in the lemon and whiskey.
Print
Rate
Ingredients
Cocktail
1

lemon wedge

2

teaspoons

organic sugar

15

fresh blueberries

2

ounces

whiskey

1-2

ounces

ginger beer
Garnish
Blueberries

slices

Lemon

Lemon balm or mint
Instructions
In a cocktail shaker, muddle lemon and sugar.

Add blueberries and muddle until all the blueberries are crushed.

Pour in the whiskey, cover and shake vigorously.

Fill a rocks glass with ice.

Strain cocktail over ice.

Top with ginger beer and garnish if desired.
Nutrition
Calories:
199
kcal
|
Carbohydrates:
15
g
|
Protein:
1
g
|
Fat:
1
g
|
Saturated Fat:
1
g
|
Sodium:
3
mg
|
Fiber:
1
g
|
Sugar:
13
g
|
Vitamin C:
11
mg
Tried this recipe?
Let us know how it turned out for you! Scroll down to leave a comment below.
DISCLAIMER: T
his post is sponsored by Drizly. I'm totally loving the Tastemakers section on their website. It's an excellent resource of recipes which is just one of the reasons I'm excited to be working with them. All opinions are my own. Thanks for supporting the brands that make Vintage Kitty possible!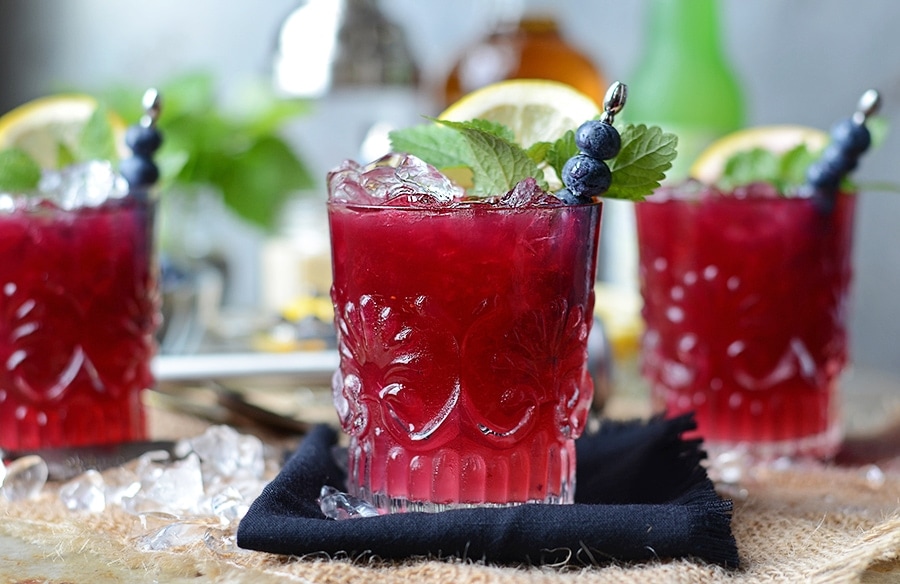 You might also like:
Fall Cider Sangria
You will love this festive, sweet and fruity Fall Cider Sangria! It is elegant while still being fun.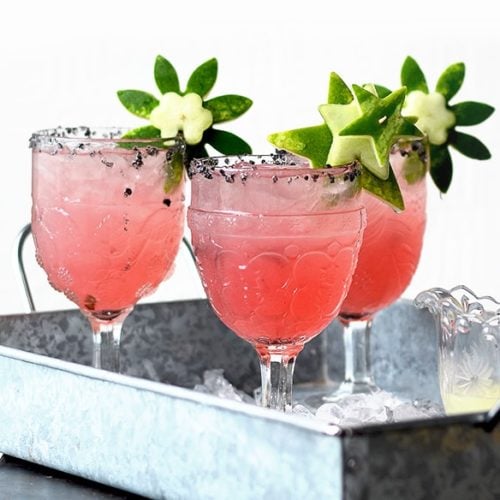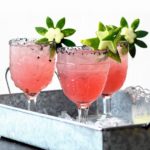 Watermelon Margaritas
When it's crazy hot outside, fresh watermelon makes the sweetest, most cooling margaritas.

Spicy Thai Basil Cucumber Cocktail
With hot peppers and savory Thai basil, this drink is cool and refreshing, with a nice, slow jalapeno burn at the finish.
---
Shared on these awesome link parties:

---