Spice up happy hour with this candied jalapeno margarita salt! With just three ingredients, you can make this homemade cocktail garnish recipe for candied jalapeno margarita salt. Great for DIY favors and gifts!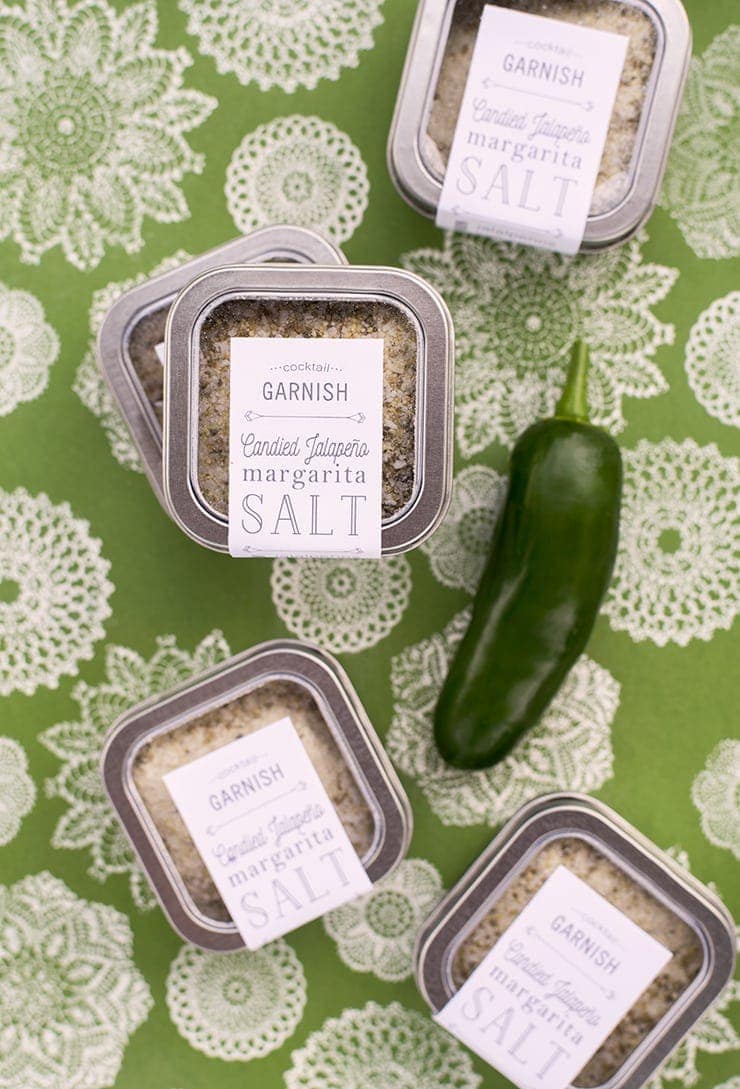 About a month ago, Kevin and I were shopping for herbs and right next to them were these huge plants already producing hot peppers. On a whim we came home with a jalapeno and a cayenne … So way ahead of schedule we have fresh hot peppers to enjoy. We kept the peppers in their original pots and placed them on the driveway so they get lots of heat and they are LOVING IT!
What to do with a hot pepper harvest? Some cayennes are in my toaster oven dehydrating now and I've made two batches of this CANDIED JALAPENO MARGARITA SALT!
When you think of preserving a summer harvest, candying vegetables doesn't often come to mind… but it's very similar to making jam. Sugar is an awesome preservative. So this recipe harnesses the sweet power of sugar to make shelf-stable jalapenos without the need for any fancy equipment.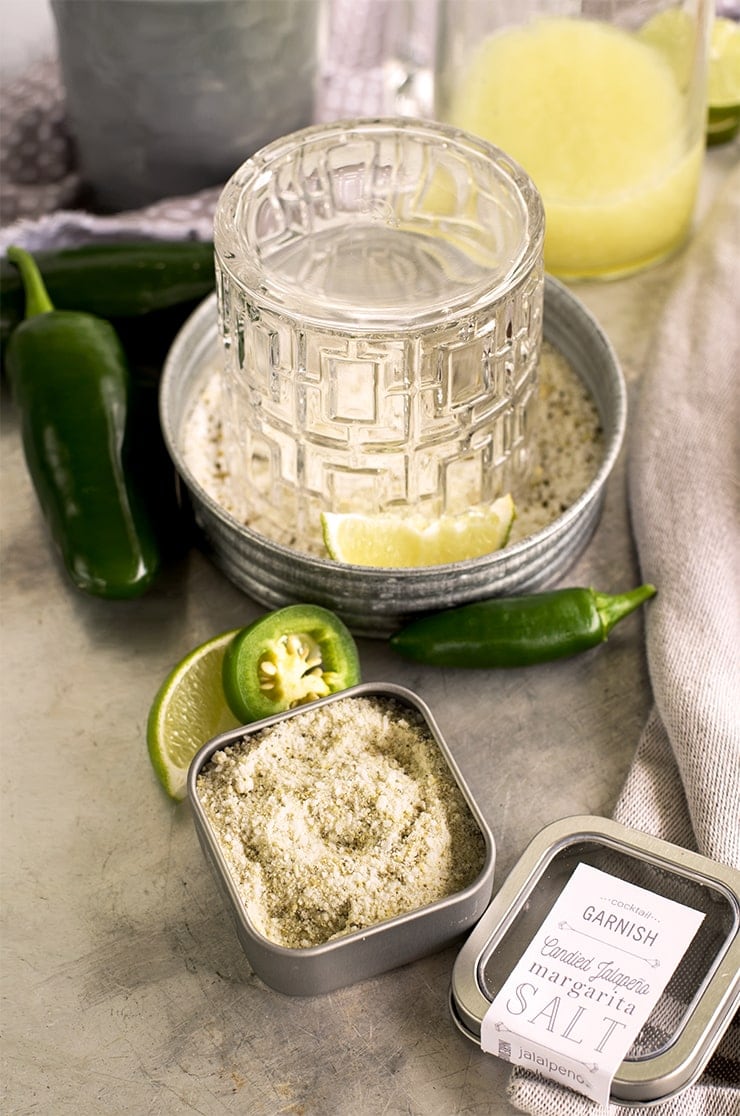 The actual cooking time is pretty short but the drying time takes some patience…so don't make this recipe 30 minutes before happy hour! After the jalapenos are candied they need to dry in the oven (or dehydrator if you have one) until they are crunchy. This is easily done by placing the jalapenos in a warm oven that is left slightly ajar. But it takes a while- anywhere from 2 to 8+ hours depending on humidity and the thickness of the peppers.
I stick them in the oven and try my darndest to forget about them… because I want to get right to margarita time!!!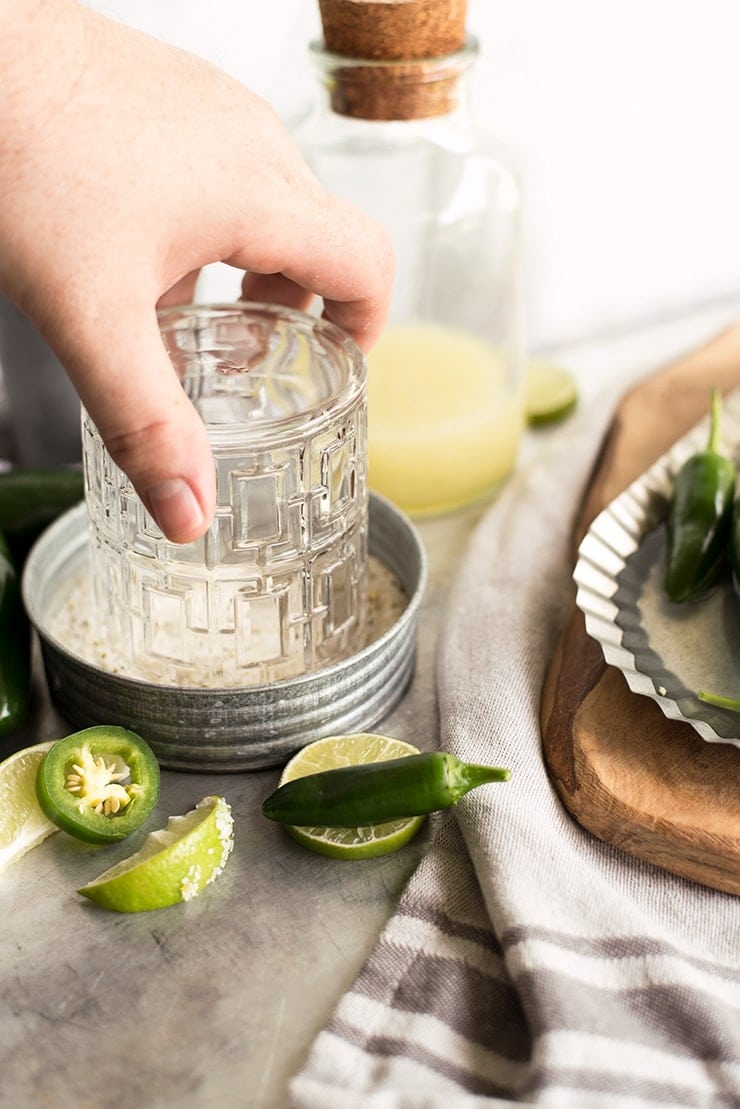 You can eat the candied jalapenos as candy…they're crystallized and the spicy heat is condensed into a powerful wallop! But I much prefer them in this candied jalapeno margarita salt. It's a spicy-salty-sweet combo that adds a bit of zip to your standard margarita….
Or if you're feeling really adventurous you can use some of the leftover jalapeno syrup to make a jalapeno margarita. In taste, it mimics the smoky depth of a mezcal, but all you need is regular tequila!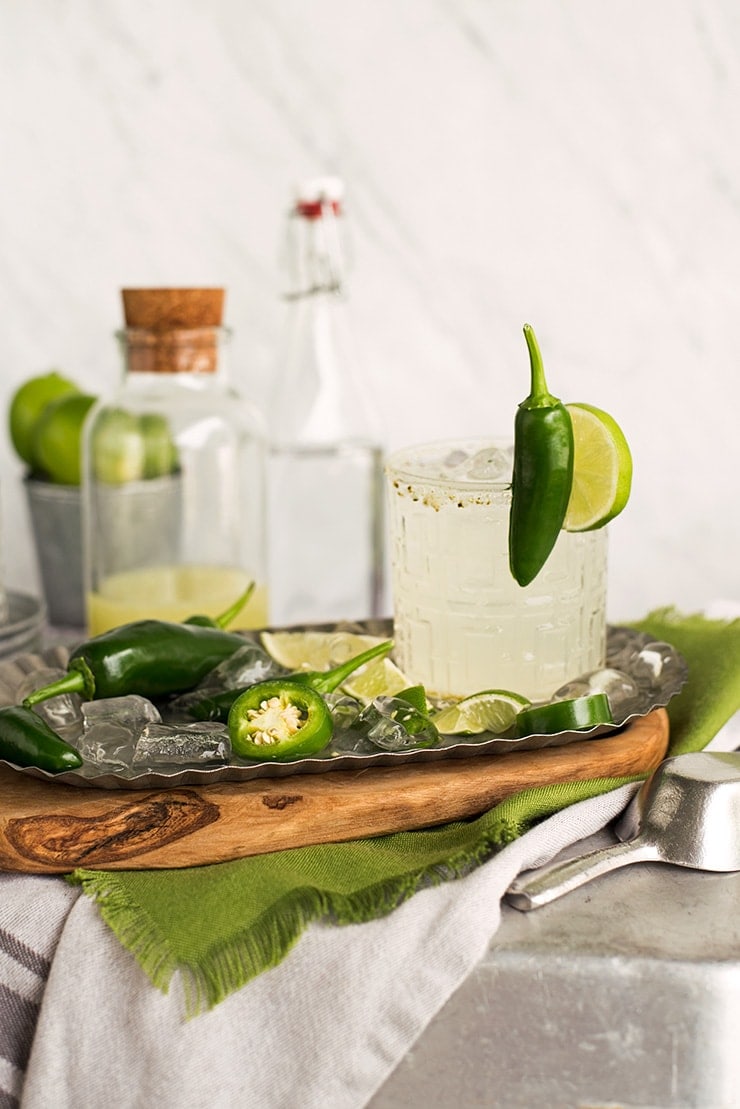 But wait, there's more! This margarita salt also makes a great DIY gift! You can give them out as party favors or thank you gifts. I used these tins I found at Michaels to package my salt. Each box holds about a quarter of a cup of margarita salt….the perfect amount to start a fiesta!!! If you'd like to make your own, download these free labels (or just the image) to make your homemade food gifts extra pretty!
These spice tins are the perfect gift for craft cocktails aficionados , but this candied jalapeno salt also makes an excellent finishing salt for meats and veggies! Anyone who loves a bit of sweet heat, will love this recipe!
Candied Jalapeno Margarita Salt
When summer rolls around, we normally have more hot peppers than we know what to do with! A great way to preserve thick walled peppers like jalapenos is to candy them. It's an excellent start to a fun margarita salt that can be used for cocktails or as a finishing salt.
Print
Rate
Servings:
24
1 tablespoon servings
Ingredients
Candied jalapenos
1

cup

water

1

cup

sugar

1/2

lb

jalapenos
Candied jalapeno margarita salt
3/4

cup

kosher or sea salt

candied jalapenos
Instructions
Candied jalapenos
Wash peppers and cut them into thick rounds, discarding pointy ends and tops.

Combine peppers, sugar and water in a medium sauce pan and bring to a gentle boil,

Cook peppers until semi-translucent, about 20-30 minutes.

Strain peppers, reserving syrup for another use.

Place peppers on a parchment lined cookie sheet and place in a warm oven to dry. Alternatively, the peppers can be dried in a dehydrator.

The peppers are done when they are dry and no longer sticky. (

Stirring the peppers occasionally can help expose wet areas, speeding the drying process.

Time to dry varies based on humidity levels and the temperature of the oven or dehydrator. It can take anywhere from 2 hours to overnight).
Candied jalapeno margarita salt
Place candied jalapenos in a food processor with half of the salt and pulse until the jalapenos are granulated.

Add the remaining salt and pulse to mix.

Place salt in an airtight container.
Notes
This recipe makes about 1.25-1.5 cups of salt, depending on how finely you grind it.
Make sure the candied jalapenos are not warm when you grind them!
Nutrition
Calories:
35
kcal
|
Carbohydrates:
9
g
|
Protein:
1
g
|
Fat:
1
g
|
Saturated Fat:
1
g
|
Sodium:
3538
mg
|
Potassium:
23
mg
|
Fiber:
1
g
|
Sugar:
9
g
|
Vitamin A:
102
IU
|
Vitamin C:
11
mg
|
Calcium:
3
mg
|
Iron:
1
mg
Tried this recipe?
Let us know how it turned out for you! Scroll down to leave a comment below.
Is cocktail hour your jam? Check out all our cocktail recipes!
You might also like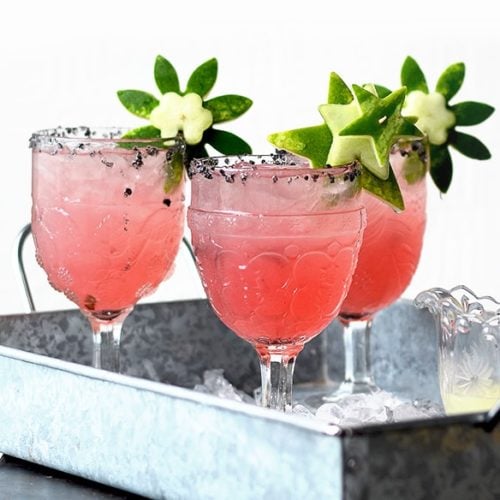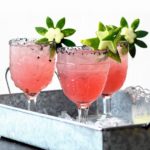 Watermelon Margaritas
When it's crazy hot outside, fresh watermelon makes the sweetest, most cooling margaritas.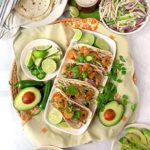 Tequila Shrimp Tacos
Brighten up your dinner routine with these easy, 30-minute Tequila Shrimp Tacos!
Easy Roasted Red Pepper Enchilada Sauce
Get the joy of delicious, roasted red pepper enchilada sauce in less time. Our recipe is a snap to make but you'd never know it from the gourmet taste!