Making fresh cherry jam is a summer treat! Our SWEET CHERRY JAM WITH MERLOT WINE is a fun recipe for farm fresh summer cherries! It's great on toast, on soft creamy cheeses and vanilla ice cream!!!!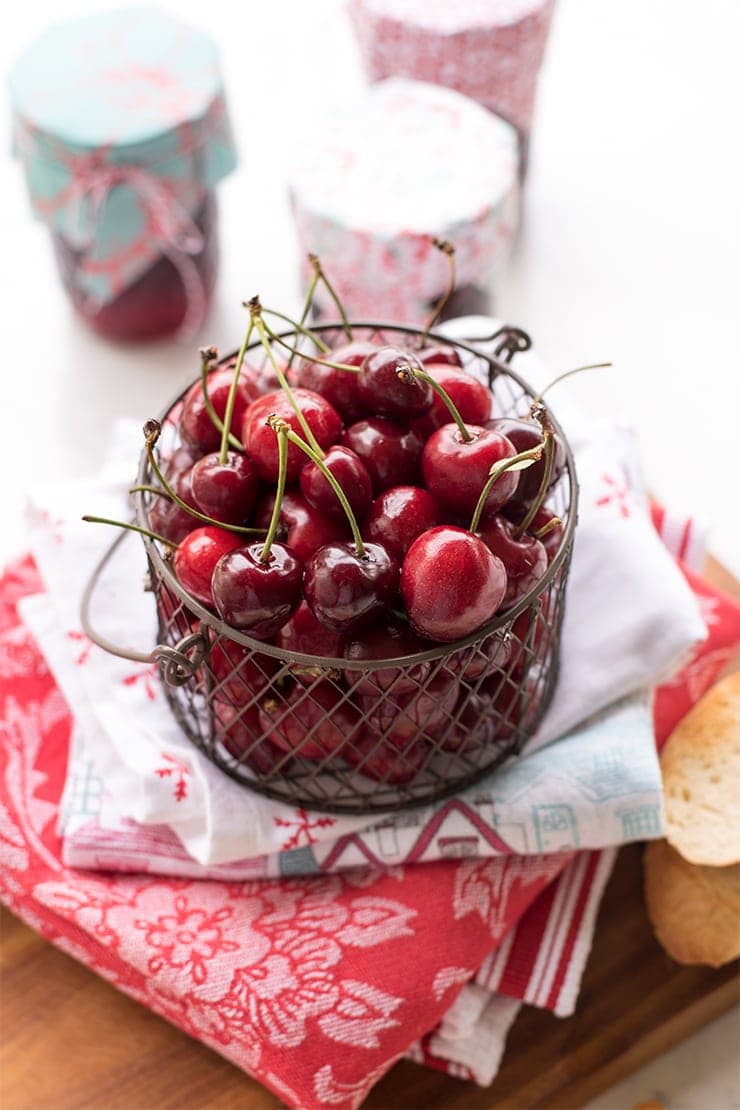 Anyone else in love with cherries? It's one of those summer defining foods. For me it's up there with sweet corn, fresh tomatoes and peaches. Of course you could eat those foods in the winter, but they pale in comparison to the perfection of farm market produce.
Sweet, tart, doesn't matter, all cherries have their place on the summer table. But today we're going to talk about how to preserve a little bit of summer with this sweet cherry jam recipe. It's got a little secret…red wine! I like to add a little merlot to give more depth to the jam since sweet cherries aren't quite as strong in flavor as tart (also called sour) cherries. I chose a merlot with cherry notes and the jam was sublime!
My favorite way to serve this sweet cherry jam is with a soft cheese on baguette crisps. You can dress up a block of cream cheese, or if you're having a party, triple cream cheese is a fantastic pairing! And of course it's perfect with a fruity red wine, so your summer wine and cheese parties will be cherry!
HOW TO MAKE SWEET CHERRY JAM
Cherry Varieties
We're starting with farm market sweet cherries. You want the dark red kind, not tart or Rainier cherries. However, black cherries will also work with this recipe. If you must buy them at the grocery store, make sure they are firm with no bruises. Either way you'll need a quart of cherries which is roughly three cups.
How to pit a cherry
You could do things the hard way by cutting the cherries in half and and pulling out the pit but your fingernails will be stained brown for a week. Been there, done that when I was young and broke, but now I use a cherry pitter! My favorite cherry pitter is made by OXO. It's easy to use and has a little splash guard. We also have a cherry pitter similar to this one. This style is nice because it's all one piece so nothing can dislodge, but the hook at the bottom can sometimes lock while you're pitting cherries.
Cherry juice stains and splashes! So you want to wear old clothes when you're pitting cherries. I place a bowl in the bottom of my sink and pit the cherries into the bowl to reduce splashing. Make sure to wipe up any splatters on your cabinets and walls immediately.
Equipment to make jam
This recipe can be made as a refrigerator jam or you can use the hot water bath canning method. At a minimum you'll need a candy thermometer, canning jars and a large heavy bottomed pan like a le Creuset dutch oven. Always make sure the pot is larger than you think you need because the sugar mixture will boil up!
If you want to can your jam jars, you'll need a few more things like a canning funnel, wire basket (to prevent the jars from touching the hot pan and cracking) and a jar lifter. If you don't already own these canning supplies, a kit like this one is your most affordable option.
Clean and sterilize
If you are indeed canning the jam, always start with new lids but feel free to use whatever mason jars you have on hand, whether they're ball or kerr or some other brand. I prefer to wash mine in the dishwasher to sterilize them, but I still heat them in boiling water in the canner immediately before making my jam. According to Ball's website, it is no longer necessary to heat the lids. Once the jars are hot I place them on a towel next to the stove.
How to make cherry jam
Always follow the recipe! It's important to remember that acids (vinegar, citrus juice) and sugar are preservatives. If you want to reduce the sugar in a recipe, I recommend against canning it. You can however make lower sugar jams if you plan to use them fresh. When in doubt, your state extension office is a great resource. Remember you cannot see, taste or smell botulism!
Sweet Cherry Jam with Merlot Wine
We've been making this recipe from local farm market cherries for a couple of years. Sometimes we even have time to pick them ourselves, which makes the whole experience more fun!
Print
Rate
Ingredients
Canning supplies
4

-8 oz (half pint)

jam jars

Canning set (large pot, jar rack, jar lifter, canning funnel)

Ladle
Sweet Cherry Jam
3

cups

sweet cherries

(about 1 quart)

3

cups

sugar

1/4

cup

lemon juice

1/4

cup

merlot wine

2

-1.75 oz packages

powdered fruit pectin
Instructions
Canning Equipment
Fill your pot with water and bring to a boil

Place your jars in the boiling water for 10 minutes

Pull out the jars and place on a clean towel

Using tongs, dip the jar funnel and ladle in the boiling water to sterilize
Cherry Merlot Wine Jam
Wash and pit cherries and then chop about half of the cherries.

Place cherries, sugar, wine and lemon juice in a large heavy bottomed pot with a candy thermometer attached.

Bring to a boil, stirring often, skimming any foam that forms.

Once the temperature reaches 220F add in the pectin and stir until it's dissolved

Bring to a boil for one minute and then take off the heat

Using the jar funnel, ladle the jam evenly into the jars, making sure to leave a half inch of head room.

Place lids and rings on the jars and place in jar rack and lower into boiling water. Make sure water covers jars by at least 1-2 inches.

Boil for 15 minutes and remove jars with a jar lifter.

Place jars on a towel and leave 12-24 hours. Once the jars are cooled, test the lids to make sure they have no give when pressed in the center. If they do have give, either refrigerate or attempt canning again.

Store in a cool dry place until ready to use jam.
Notes
Always follow the recipe! It's important to remember that acids (vinegar, citrus juice) and sugar are preservatives.
Cherry juice stains and splashes! So you want to wear old clothes when you're pitting cherries.
If you are canning the jam, always start with new lids but feel free to use whatever mason jars you have on hand, whether they're 4oz, 8oz or 16 oz jars. but you'll need a total of 32 ounces in jar space.
Nutrition
Serving:
1
jar
|
Calories:
662
kcal
|
Carbohydrates:
168
g
|
Protein:
1
g
|
Sodium:
3
mg
|
Potassium:
264
mg
|
Fiber:
2
g
|
Sugar:
163
g
|
Vitamin A:
65
IU
|
Vitamin C:
13.1
mg
|
Calcium:
13
mg
|
Iron:
0.5
mg
Tried this recipe?
Let us know how it turned out for you! Scroll down to leave a comment below.
Love this jam? Check out all our condiment recipes!
You might also like: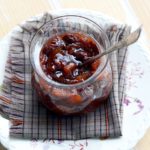 Dried Fruit Compote
Dried Fruit Compote is a versatile topping for a variety of sweet and savory snacks. Excellent for a cheese platter!
Cranberry Chutney
Warm spices are paired with golden raisins, apple and onion to make this delicious Cranberry Chutney.
Lemon Icebox Pie

Lemon Icebox Pie is sweet, tart, creamy, nutty and best served cold! This mouthwatering icebox pie hits the spot when the thermometer soars!