Jarred roasted red bell peppers and rocoto chilis fast track this homemade enchilada sauce.
---
Get the joy of delicious, roasted red pepper enchilada sauce in less time. Our recipe is a snap to make but you'd never know it from the gourmet taste!

As I'm sitting down to write this post, I'm finding it odd how few Mexican inspired recipes I've posted. Sure, there are a bunch of margaritas (I might be a little margarita obsessed!) and these Candied Chile and Lime Mexican Bunuelos but for how often we eat enchiladas, tacos and burrito bowls for dinner, I'm shockingly behind on posting recipes for them. So, it's time to fix this omission!
This easy Roasted Red Pepper Enchilada Sauce has become a staple in our house. That's because it's delicious, but also because it's fast and easy to make. I know, you have in your mind all the work it takes to make roasted peppers. It's a great thing to do when you've got an abundance of peppers from the garden, but it's too time consuming to do often. So this recipe takes a shortcut by using jarred peppers.
Now, I will warn you this recipe uses a lot of peppers, so I buy the red bell peppers in bulk from Costco ($4.99 for a 42 ounce jar) and I get the rocoto peppers in 20 ounce jars ($2.99) from my local Food Maxx. But even with buying the ingredients in bulk, it's cheaper and easier to just buy commercial enchilada sauce. So why do I make my own?
Because most brands I've tasted don't taste like peppers or tomatoes but like salt. Lots and lots of salt, usually with a side of sugar.
The Joy of Homemade Enchilada Sauce
Our recipe for Roasted Red Pepper Enchilada Sauce tastes like peppers! That's because it's full of, you guessed it, PEPPERS! I'm sure you've had roasted sweet red bell peppers, but you might be unfamiliar with aji rocoto.
Capsicum pubescens are apple-shaped chilis grown in Central and South America and go by many names, such as manzano and locoto. In terms of heat, these peppers rank similarly to cayenne so they're quite spicy. Inside you'll find black seeds, but the outside color can vary from a vibrant yellow to orange to deep red. But I find that the most surprising thing about this spicy pepper is that it doesn't tolerate extremely hot climates. But it also doesn't tolerate frost, so you'll find it in temperate climates , often grown as a perennial. Which might explain their rarity in US supermarkets. Luckily,no matter your climate, you can pick up a jar at your local international grocery…so you can make this amazing, tasty, lip smacking sauce!
Do you love spicy food? If you do, you're going to love the kick this recipe has, but there's more to this Roasted Red Pepper Enchilada Sauce than heat. There's cumin, epazote and dried ancho chili pepper for seasoning, sauteed onion and garlic for a bit of savory and a little heavy cream to cool things down a bit while also adding fat..because where there's fat there's flavor!
Blend up these fine ingredients and you've got a thick yummy sauce that you'll want to put on EVERYTHING! It's an obvious choice for Mexican casseroles, but its also a winner on tacos and burrito bowls (we did this last week with quinoa and it was so #omnomnom!). Slather your grilled veggies with it, drench your morning eggs in its red orange glow… you cannot go wrong!
So, if you've got a large blender, I'd suggest a double batch. It freezes really well, so make sure to divide it up in different sized jars…little jars for taco sauce and big ones for those cheesy enchiladas I know you're dying to make!
Easy Roasted Red Pepper Enchilada Sauce
This tasty enchilada sauce uses jarred peppers, so it's super fast to make. Plus it goes great on EVERYTHING from tacos to grilled veggies!
Print
Rate
Servings:
7
1/2 cup servings
Ingredients
1/2

large

onion,

diced

4

cloves

garlic,

minced

1

tablespoon

olive oil

2

cups

roasted red peppers

3/4

cup

aji rocoto roasted peppers

1

teaspoon

dried oregano

1/2

teaspoon

dried ancho pepper

1/8

teaspoon

epazote

1/3

cup

heavy cream

(for a vegan or dairy-free sauce substitute coconut cream)

salt and pepper to taste
Instructions
Heat olive oil in a small skillet over medium heat

When the oil is hot, add the onions and garlic.

Saute the onions and garlic until golden brown.

Transfer the onions and garlic to a blender and add the remaining ingredients.

Puree the sauce until very smooth.

Place the sauce in jars leaving ample head space for expansion.

Freeze until ready to use.
Notes
When ready to use defrost in the refrigerator.
If using as a sauce for tacos, grilled veggies or meats, heat before serving.
If using for enchiladas there's no need to heat the sauce before baking, but the sauce might need a good stir if the ingredients have separated.
I like to double the recipe so I have plenty of this addicting sauce on hand, but you'll need a very large blender (like a vitamix) to puree it all at once.
I find that a double batch uses most of a 40oz jar of bell peppers and a good bit of one of the 20oz aji rocoto jar.
Nutrition
Calories:
88
kcal
|
Carbohydrates:
6
g
|
Protein:
2
g
|
Fat:
7
g
|
Saturated Fat:
3
g
|
Cholesterol:
17
mg
|
Sodium:
807
mg
|
Potassium:
154
mg
|
Fiber:
1
g
|
Sugar:
1
g
|
Vitamin A:
546
IU
|
Vitamin C:
27
mg
|
Calcium:
40
mg
|
Iron:
1
mg
Tried this recipe?
Let us know how it turned out for you! Scroll down to leave a comment below.
Looking for more Mexican recipes? Check out these great posts from my food blogger friends:
Baja Shrimp Tacos with Sweet Corn Salsa from Wanderspice
Mango Salsa from Foodal
Black and Green Soup with Mini Quesadilla Croutons from Kitchen Window Clovers
Crockpot Chicken Tacos from Hunger Thirst Play
Elderflower and Citrus Paloma with Homemade Lime Syrup from Feast in Thyme
More recipes from VINTAGE KITTY you might like:
Chorizo Pinto Beans
Chorizo Pinto Beans are excellent as a meal, side dish or topping for nachos. Made with real chorizo, these slow cooked beans are packed with flavor.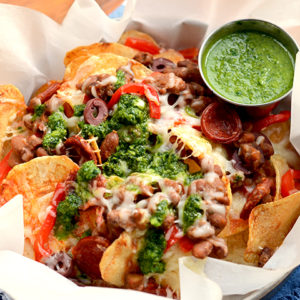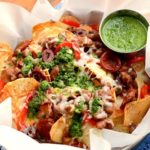 Spanish Potato Nachos
Far from ordinary, these nachos are topped with Manchego cheese, Chorizo sausage and served with a fresh, zesty Chimichurri.
Orange Turmeric Margaritas
Orange Turmeric Margaritas are a sweet and smoky take on the classic cocktail. Homemade simple syrup. fresh juice and a salty, spiced rim make these drinks extra special but are still easy to make.