Don't wait for that party invite, the classic shrimp boil has undergone a weeknight remake! This easy weeknight dinner is an ideal one-pot meal! Scaled for four people, this family dinner recipe will bring summer fun to your busy weekday schedule.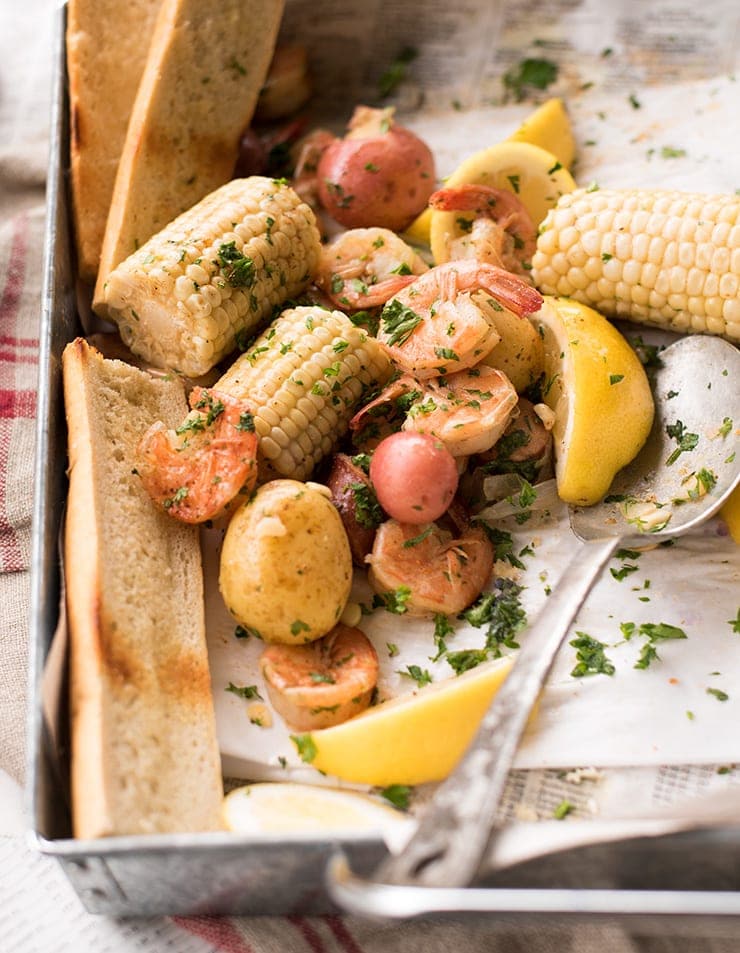 On the East Coast of the United States, seafood boils are a big deal. From the northern coast of Maine where lobster tops the menu, to the Chesapeake Bay where the blue crab is king, all the way down south where crawfish are a Louisiana favorite, someone is hosting a boil!
It's a summer ritual that has passed down generations, and of course you can boil just about any seafood from clams to mussels to shrimp. The tables are lined in newsprint and beer is the libation of choice. It's a casual affair that always involves corn on the cob, new summer potatoes and a gathering of happy, vitamin D soaked noshers.
But you don't have to wait for the big invite to enjoy this easy weeknight shrimp boil!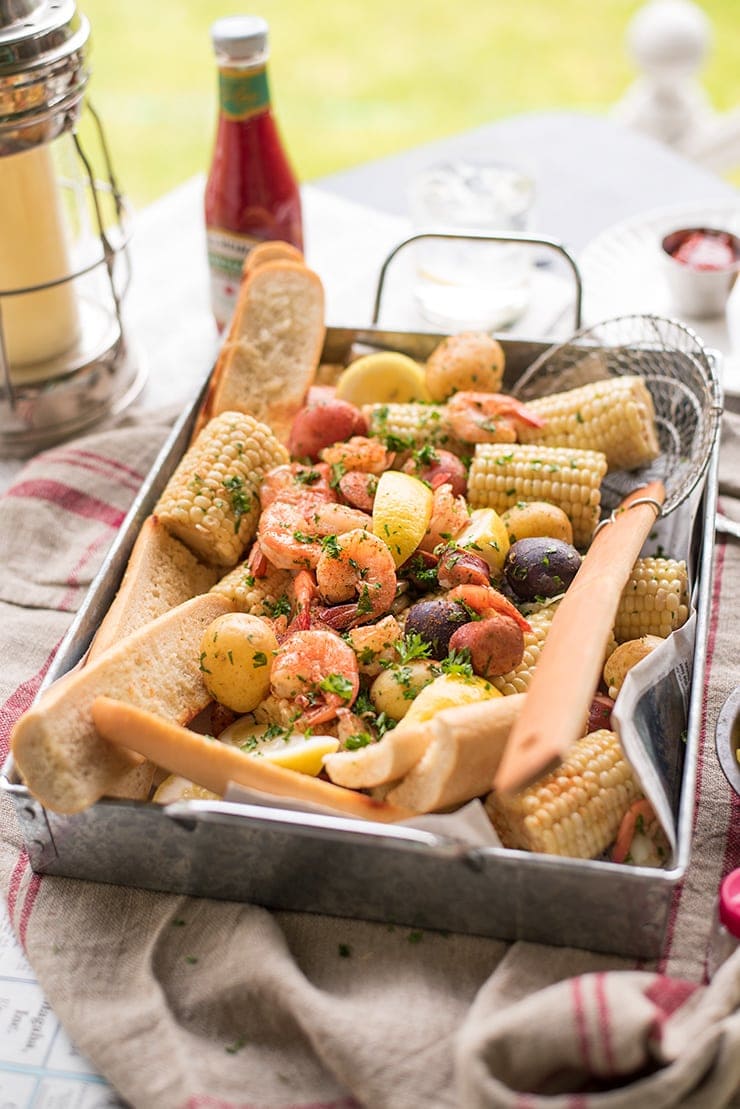 The reason that seafood boils are popular is because the cooking is easy. Can you boil water? Then you can make this shrimp boil recipe! Really the only difference between this weeknight recipe and the weekend party version is the scale. This easy recipe is designed for four people but a simple dinner at home can still feel like a party.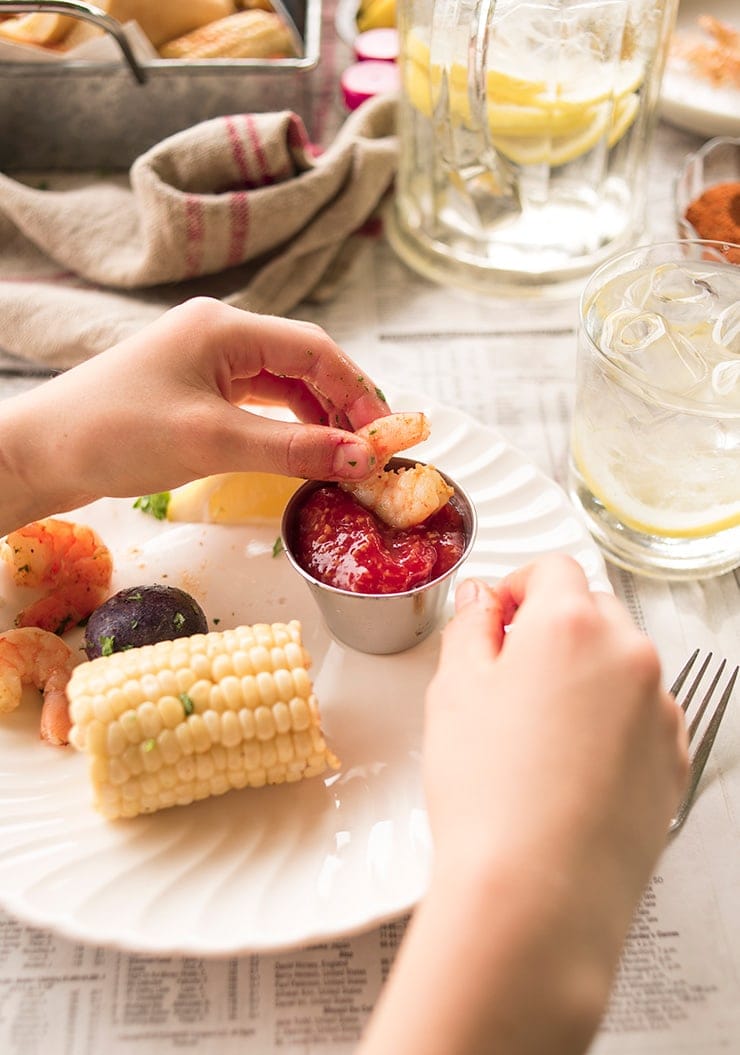 Planning for a family shrimp boil is simple. Have the kids (or spouse) gather newspaper for the table, ramekins for cocktail sauce and a bucket for shells and cobs. Of course you'll also want a roll of paper towels for messy fingers… but the truth is you don't even need plates.
If you know we're just a twosome, you are probably thinking "Kitty, you don't have kids, this is a crazy idea". And I'll admit buttery fingers encrusted in Old Bay is a wacky suggestion but trust me, this is a very family-friendly meal.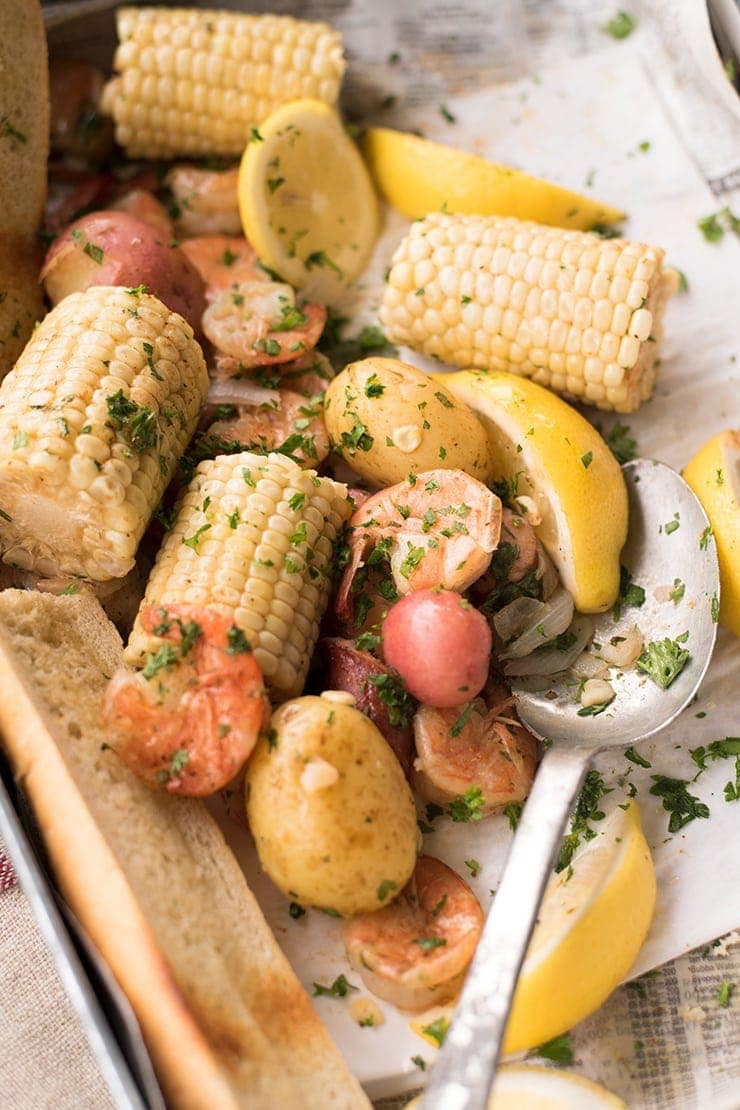 To test out my theory, and make sure none of this shrimp boil would go to waste, I invited my neighbor Kelly and her kids over for my lunchtime photo shoot. You may have read my post on Adoption Day featuring this fairytale family. Almost three years later, the girls are 3 and 10 and they have a new baby sister too!
We ate on the back porch with the hot summer heat bearing down on us, and although it was sticky out, the girls really enjoyed this fun, picnic-style lunch. Kelly, mama of the year, was tending to two babies (foster brother and soon to be adopted baby sis) and in spite of it all was able to to give the three year old her first lesson in shelling shrimp. I was so excited to catch this teachable moment with mama and kiddo hands working together!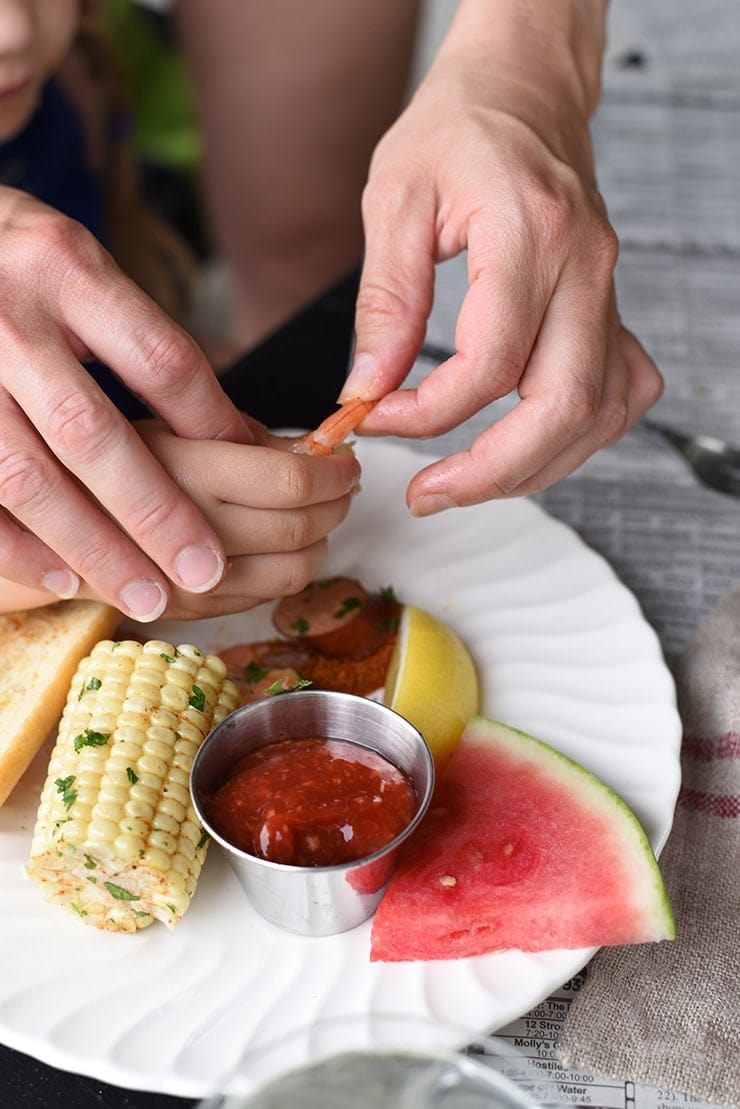 She really loved learning how to shell the shrimp when she wasn't shooing away the flies on the porch, lol! Kelly says shooing is a major milestone as she used to scream at them. Hahaha! Kids are so funny!
Watching sweet big sister revel in eating with her hands was a joy too! Kids just love getting their hands dirty! Early sweet corn and a side of watermelon were a big hit with the girls….but they polished off a ton of potatoes and shrimp too!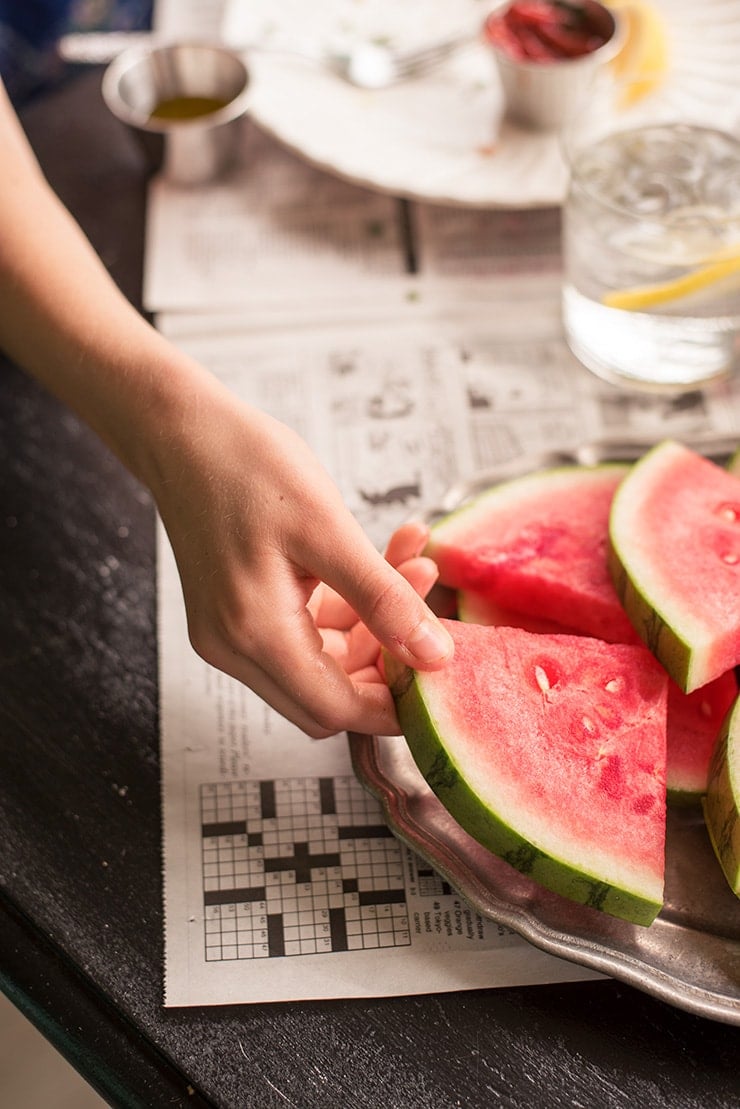 When it was done we cleared the table and rolled up the newspaper. Totally easy but more importantly delicious! The corn was tender and sweet, the potatoes soft and buttery and the shrimp were flavorful and perfectly cooked! So delish and summery!
Shrimp Boil Tips
Don't use cooked shrimp, they will be rubbery and never absorb the flavor of the shrimp boil stock.
Thawing shrimp- one of the reasons shrimp work so well for a weeknight is they can be thawed in cold water in about 10-15 minutes. Change out the water every 5 minutes or so to speed up the thawing.
You want a gentle boil, or almost no boil at all when you add the shrimp. A hard boil will make the shrimp tough.
Don't overcook the shrimp. This can happen quickly so don't walk away from the pot, they need to be watched because they will be done is a jiffy! Once they're pink, pull one out and cut through it to make sure it's opaque inside. If so, pull them as quickly as possible.
When it's just us at home, I pull out everything from the water, including the onions and cooked lemons and serve it all together. If serving to guests, I suggest removing the onions and spent lemons as they don't look pretty. You can also separate the stock from the shrimp boil by using a colander. We have this pasta pot and love it, but be advised that the colander takes up space, so you may want to increase the liquids if you go this route. I just used a spider to fish out the ingredients because the colander is a pain to wash.
Make sure to use smoked sausage not raw sausage. I prefer a spicy sausage but kielbasa works too.
I'm a corn on the cob snob, so I like to use the freshest corn, preferably picked the same day. In a pinch frozen will work, but it's never as tender as fresh.
Don't have newspaper? Brown craft paper works too!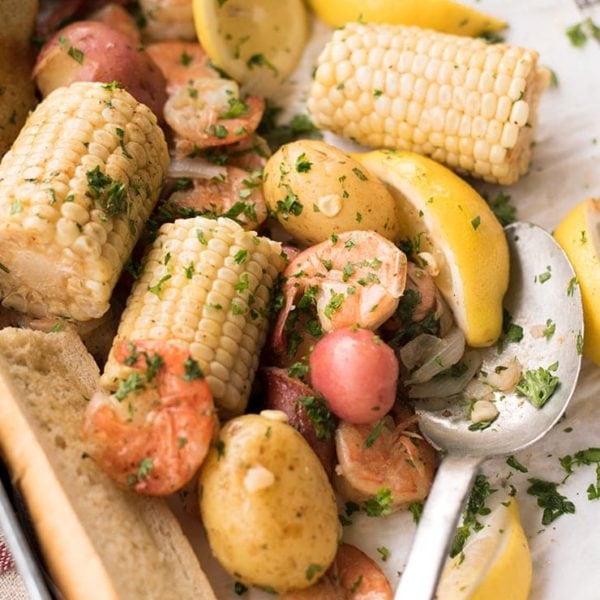 Easy Weeknight Shrimp Boil
This shrimp boil recipe has become a summer staple for us. There's very little prep involved and only one pot! Super casual but makes busy weeknights more fun.
Print
Rate
Ingredients
Shrimp Boil
1

gallon

water

1

12oz

beer

1

large

onion

, quartered

1

lemon

, cut into wedges

1/4

cup

old bay seasoning

1

lb

new potatoes

1

lb

shrimp

(we used 31-40 count easy peel, deveined shrimp)

4

ears

corn on the cob

, cut into 2-3 pieces

2-3

links

smoked sausage

, cut into one inch pieces (we used a cajun sausage but kielbasa is great too)
Garnish
4

tablespoons

salted butter

1

bunch

parsley

, finely chopped

cocktail sauce

lemon wedges

old bay
Instructions
Shrimp Boil
In a large soup pot, combine water, beer, old bay, onion and lemon and bring to a boil.

Once boiling, add the potatoes and cook until beginning to get tender, about 11 minutes.

Add in corn and cook for a few minutes then add in the sausage.

When the corn is tender (about 6-8 minutes), pull it out and place it in a very large bowl.

Now make sure you have a gentle simmer going and then drop in the shrimp.

Cook 2-3 minutes, or until shrimp are cooked through.

Turn off the heat and quickly transfer the ingredients to the bowl with the corn. I use a spider for this but you could also strain the shrimp boil through a colander.

Add butter and parsley to the shrimp boil and stir.

Serve with cocktail sauce, lemon wedges and old bay.
Notes
This recipe serves 3-4 people. Kevin and I can normally only make it through half of this recipe on a weeknight, so it should easily feed a family with two adults and 2-3 little ones.
If you have 4 hungry adults or teenagers, the liquid in this recipe can accommodate a few more ingredients, so you can add in an extra half pound of shrimp, a couple more sausage links or ears of corn.
To save time, get your water and beer on the stove immediately. While it's coming to a boil you can chop your ingredients and add them as you get them ready.
Nutrition
Calories:
457
kcal
|
Carbohydrates:
49
g
|
Protein:
30
g
|
Fat:
14
g
|
Saturated Fat:
7
g
|
Cholesterol:
316
mg
|
Sodium:
1067
mg
|
Potassium:
1034
mg
|
Fiber:
6
g
|
Sugar:
9
g
|
Vitamin A:
1835
IU
|
Vitamin C:
69.6
mg
|
Calcium:
292
mg
|
Iron:
6.4
mg
Tried this recipe?
Let us know how it turned out for you! Scroll down to leave a comment below.
Need to get dinner on the table quickly? Discover all our weeknight meals!
You might also like:
Lemon Icebox Pie

Lemon Icebox Pie is sweet, tart, creamy, nutty and best served cold! This mouthwatering icebox pie hits the spot when the thermometer soars!
Yogurt Parfait Popsicles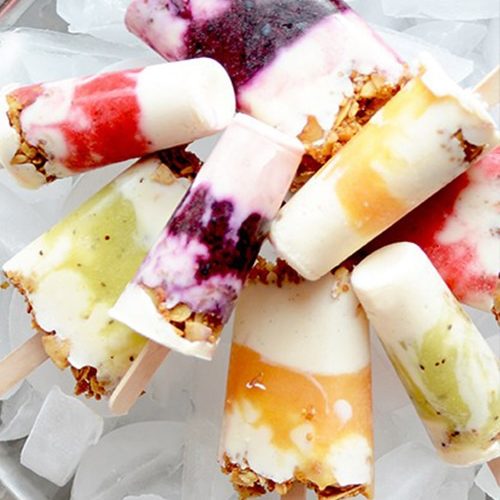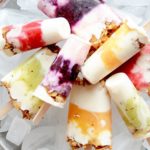 Made with fresh fruit, creamy vanilla yogurt and homemade granola, these Fruity Yogurt Parfait Popsicles will cool you down any time of day…breakfast, lunch or just a snack. No guilt!
Compound Butter
Compound Butter is a flavorful do-ahead trick for fast, delicious meals. This recipe uses shallots, lemon zest and herbs, but you can make your own variations with your favorite ingredients.