Anytime of year, this recipe for broccoli salad with bacon and cheddar is a potluck winner! Homemade bacon and mayo dressing with a hint of cayenne kick renders this broccoli salad unforgettable! It makes ordinary steamed broccoli everyone's favorite vegetable!
Back in May, we took my mom out for a Mothers Day lunch. She's a huge seafood fan and simply cannot get enough crab cakes or fresh lobster. So being the most awesome daughter (sorry Rosie;-) I took mom to Thames Street Oyster House. Not only was it on all the best seafood lists in Baltimore, it is also in a quaint location in Fells Point. The service was on point, the decor classy yet comfortable, and the seafood was terrific!
But being the weirdo that I am, the broccoli salad was the standout for me. I can't get enough broccoli fritters and think that broccoli cheese casserole should be included on every holiday menu, so of course the broccoli salad was my fave!
The broccoli was partially cooked but still crunchy, there were bits of bacon and cheddar and an ever so slightly spicy dressing. So freaking good that I was determined to recreate the recipe at home.
You would think this an easy task, but no! There was something EXTRA about that broccoli salad! Like extra in flavor, not in the number of ingredients. No cranberries, or nuts, or seeds… the star was the dressing! I was sure that there was mayo in it, but what was the subtle spice?
The red spots in the dressing made me think of Old Bay seasoning… but that didn't seem quite right. So I went with paprika only to find no kick. Then I switched to cayenne which provided the heat I was looking for. But something was still missing. I had the mayo, vinegar and sugar…
Turns out that bacon fat was the missing element. Those tricky chefs! Waste not, want not. If you fry the bacon, better not waste the tasty bacon fat! Brilliant, right? But there's one other trick I think Thames Street employed. The onions in the salad were so sweet and subtle.
Have you ever eaten a salad and all you could taste were the pungent onions? Well, chefs will often soak the onion in cold water to pull the sulfur out, thus neutralizing the sharp flavor and allowing the sweetness in the onion to dominate. We tried this method and it definitely makes a huge difference. Most notably, the soaked onions made the salad appetizing as leftovers. When we tried the salad without soaking the onions the leftovers tasted more like onion than anything else!
I think I nailed this copycat broccoli salad recipe! It's cheesy, bacony and flavorful but the steamed broccoli still shines. And don't just take my word for it… I took the salad to a family reunion and it was a hit! Family approved, restaurant quality means it's time for you to make this recipe!
It's great served with traditional picnic food like chili cheese dogs and grilled lamb kabobs.
Broccoli Salad Recipe
This recipe was inspired by the broccoli salad at Thames Street Oyster House in Baltimore. It has just a bit of a kick and tons of flavor to compliment the crunchy broccoli.
Print
Rate
Ingredients
Broccoli Salad
2

lbs

broccoli

1/2

lb

bacon

8

oz

cheddar cheese

, grated

1

cup

red onion

, diced finely
Dressing
1

tablespoon

sugar

1 1/2

tablespoon

white vinegar

1/4

teaspoon

sea salt

(plus more to taste)

1

teaspoon

ground cayenne

1/2

teaspoon

black pepper

3

tablespoons

bacon fat

(cooled)

1/2

cup

mayo
Instructions
Broccoli salad
Fill a large pot 1/4-1/3 full of water and bring to boil.

Wash and trim broccoli into florets. If using the stem, peel and dice.

Place broccoli in a steamer basket and cook for 2-4 minutes, or until bright green.

Rinse broccoli in cold water or submerge in an ice bath to stop the cooking process, then dry on a clean towel.

Fry bacon until crispy and drain on paper towels, reserving fat for dressing.

Chop the bacon once it's cooled.
Broccoli salad dressing
In a bowl, whisk together the sugar, vinegar, cayenne, salt and pepper.

Once the bacon fat has cooled, add it and the mayo to the drressing ingredients and whisk until the dressing is smooth.

When ready to serve the salad, toss all the ingredients together and serve immediately.
Notes
If you like a sweeter onion, vidalia onion is a good substitute for the red onion.
To take some of the pungency out of the raw onions, dice the onions and soak them in a large bowl of cold water. This will pull the sulfury flavor out. Make sure to drain well before adding them to the salad.
Maybe it's just me, but I'm not fond of this salad as leftovers. The onion gets stronger in the refrigerator and the broccoli gets soft. If you'd like to prep this salad in advance, I recommend prepping all the ingredients and tossing them immediately before serving.
Want to step up this recipe an extra notch? Follow this recipe from Foodal to make your mayo from scratch!
Nutrition
Calories:
336
kcal
|
Carbohydrates:
8
g
|
Protein:
11
g
|
Fat:
29
g
|
Saturated Fat:
10
g
|
Cholesterol:
47
mg
|
Sodium:
456
mg
|
Potassium:
357
mg
|
Fiber:
2
g
|
Sugar:
3
g
|
Vitamin A:
890
IU
|
Vitamin C:
81.1
mg
|
Calcium:
207
mg
|
Iron:
0.9
mg
Tried this recipe?
Let us know how it turned out for you! Scroll down to leave a comment below.
Love a great salad? Check out all our salad recipes!
You might also like: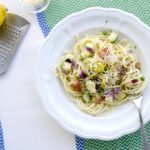 Garden Pasta
This is the perfect late summer, weeknight dinner. It's fresh, bright, savory and filling without being heavy.
Chai Iced Tea
Orange Chai Iced Tea will make your summer cool and sweet. There isn't a more classic way to relax with friends on a hot day.
Grilled Chicken Drumsticks
A Thai inspired marinade makes simple chicken drumsticks a barbecue showstopper! It's citrusy, sweet, and spicy and makes advance prep work easy!