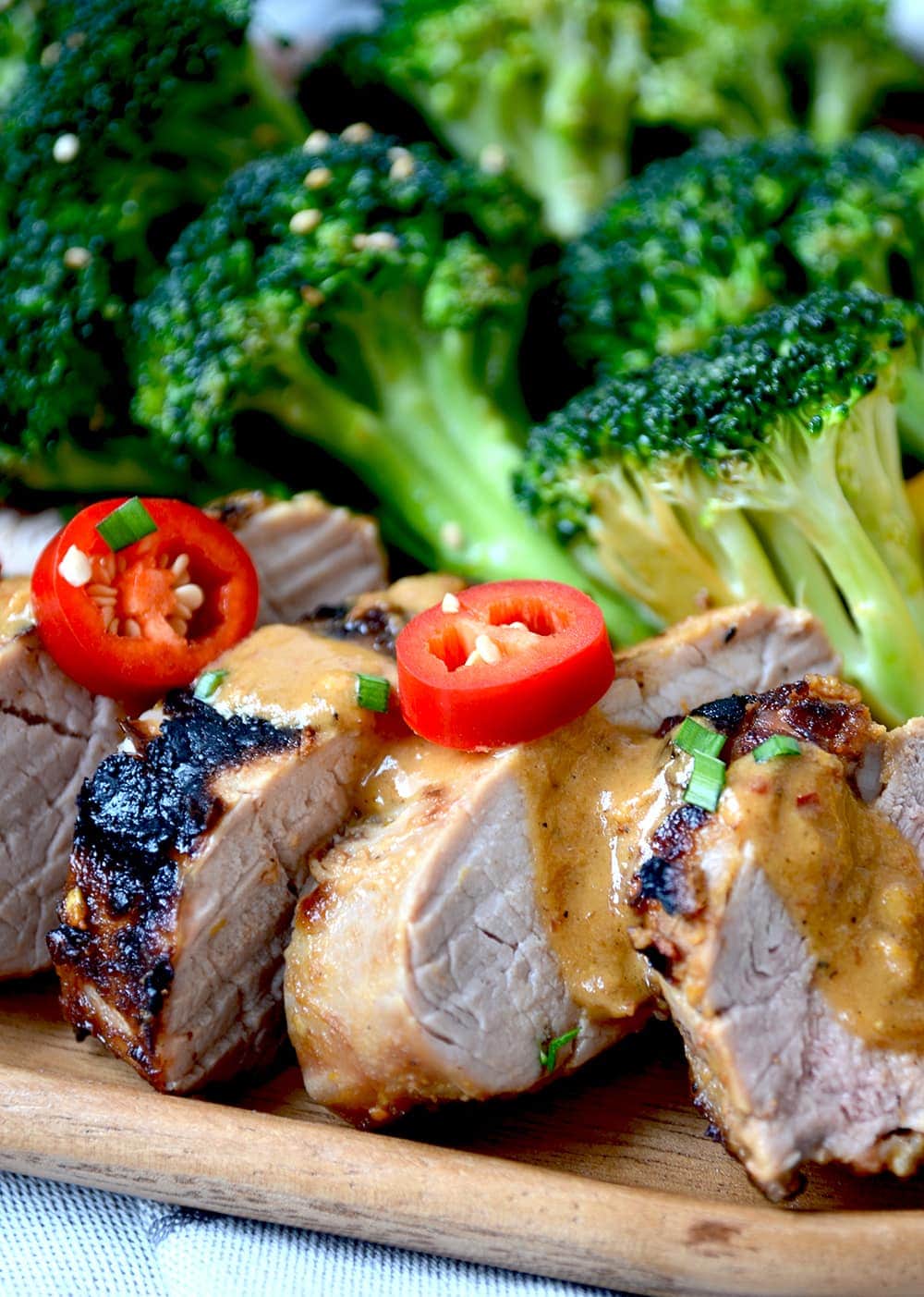 This juicy Asian Pork Tenderloin with Peanut Sauce is fast enough for weekday meals but its so spicy, savory and succulent, you'll crave this every night!
---
Adding spice and sweet citrus to peanut butter creates an easy Asian marinade that makes easy work of dinner. You'll find this peanut marinade is the perfect complement to a lean pork tenderloin broil.

Hey there Kitty fans, this is Kevin, I'm doing a guest post for Kitty since she's out on assignment in Gettysburg, PA checking out their offerings for Eastern Home and Travel magazine. This is my first post here, so go easy on me. So I thought I'd show you all an easy Asian marinade/sauce that I came up with that I've come to love.
I don't know about you, but I do love me a good pork tenderloin, but I hate how it goes from tender and juicy to a dried hockey puck so quickly. As is the case with filet and other lean cuts of meat, things can go south really quickly. That is why I love this Asian pork tenderloin recipe. It's easy and tasty and has yet to fail me. It is easy enough for a weeknight and tasty enough for a dinner party.
I have a weakness for peanut butter. Always have! That's why I love Kitty's recipes for Chocolate Peanut Butter Truffles and Peanut Brittle Popcorn Topping but I also like to find ways to use it in savory dishes.
Like this asian pork tenderloin. I've found that adding some spice and sweet citrus brings out the awesomeness in my beloved peanut butter. To accomplish this, I use some of my go-to ingredients including:
chili-garlic sauce, it adds a kick without having to do a lot of prep work
soy sauce (because what's an Asian dish without soy sauce?)
orange juice and zest to add some brightness.
This is a simple marinade that doubles as a peanut sauce that adds a punch and complements the pork really well. That said, if you're not a fan of spicy (and this isn't really all that spicy, but it has a small kick) you can reduce or eliminate the additional red pepper flakes.
What I really like about this recipe is that it is easy to prepare ahead and you can freeze half of it for later. Even if you're just eating half of the recipe (if you're cooking for two, like I usually am), there is plenty left-over for making sandwiches the next day (just slice it thinner than you would for serving by itself).
What I have found that makes this recipe work so well are two things:
High heat
Resting the meat
I cook it under high heat using the broiler (about 500 degrees), though using high heat on a grill would work too. The searing high heat makes sure that the asian pork tenderloin cooks quickly. The searing heat keeps the juices in the meat and not in your broiler pan. Lower heat has two disadvantages, it takes take longer to cook the loin through and will dry your tenderloin out.
When I'm cooking a new and potentially finicky cut of meat I usually wonder how long I need to cook it for. Particularly for a lean cut of meat that can dry out quickly like a pork tenderloin. My advice to you is to broil your Asian pork tenderloin for between 10 and 15 minutes, turning the meat half way through. For a one pound tenderloin about 10 minutes under the broiler is all you need. This should get your tenderloin to 145 degrees. But to be sure, investing in an instant read thermometer is a great way to make sure this Asian pork tenderloin comes out juicy and delicious. It's easier to not guess, and accidently overcook your tenderloin.
With regard to resting, I know everyone says to do it, and really I try to, but sometimes the moment overtakes me and I can't resist. But trust me on this. You NEED to do it with this recipe. You are cooking it intentionally short of done and letting the loin finish cooking under the foil tent as it rests for 10 minutes (your self control will be rewarded). This is the only way I've found that will keep this lean, wonderful cut of pork from turning into a piece of asian pork tenderloin jerky.
Garnishing your pork tenderloin is super easy too with a drizzle of peanut sauce. This dish will pair with just about any Asian flavors you like. I like to use broccoli cooked with sesame oil and a dash of soy sauce and a side of rice. But this recipe for pork tenderloin is quite versatile, you'll look like a champ pairing it with whatever veggies you have in the fridge.
We have a saying here, "sometimes dinner is just dinner", but with this recipe, I've found that sometimes dinner is just brilliant.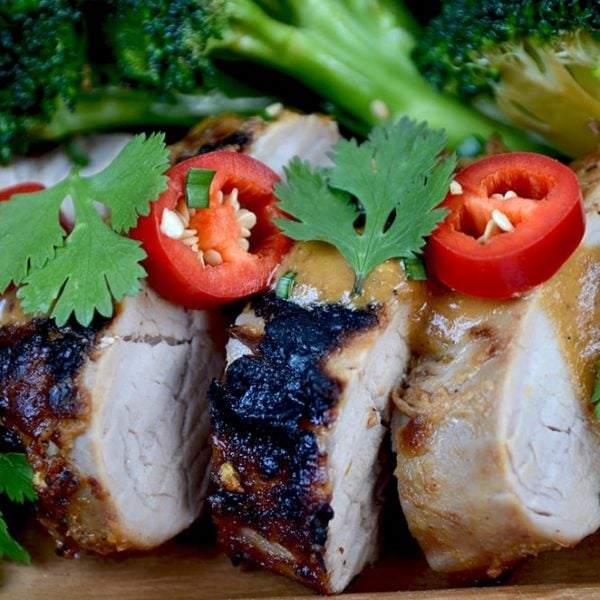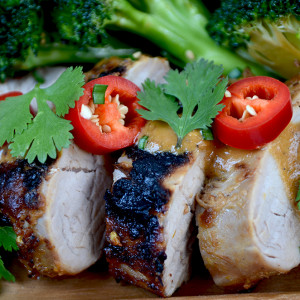 Asian Peanut Pork Tenderloin
This recipe and sauce can easily be scaled up or down based on how much meat you have or how much extra sauce you like to have. You can also easily freeze a tenderloin with the marinade in a freezer bag and save it for later.
Print
Rate
Ingredients
Asian Marinade/Sauce
2/3

cup

peanut butter

1/4

cup

soy sauce

2

TBSP

chili garlic sauce

2

tsp

red chili flakes

2

tsp

black pepper

1

tsp

sea salt

2

oranges

(zested and juiced)
Pork Tenderloin
1

pound

pork tenderloin

Salt and pepper to taste
Instructions
Marinate
Mix the first 8 ingredients together in a mixing bowl until it incorporates into a sauce (about 2 1/2 cups)

Pierce the pork loins a few times with the point of a knife

Season the pork with salt and pepper

Pour one cup of the sauce over the pork loin, coating all sides (reserve the remaining sauce to serve over the finished dish)

Let the pork marinate for an hour, covered in the refrigerator
Broil
Preheat your oven broiler (approx 500 degrees)

Place tenderloins on a broiler pan and place on the bottom rack

Broil until the internal temperature of the loin is 145 degrees Checking and turning the loin every 5 minutes (a small loin took about 10 minutes to cook a medium/large took about 15 minutes)

Move to a middle or top rack for to crisp the outside if desired

At 145 degrees, remove from the oven and cover with foil and let rest 10 minutes

Slice the loin and serve with reserved peanut sauce
Notes
If you don't like spicy, you can remove the red chili flakes.
Nutrition
Tried this recipe?
Let us know how it turned out for you! Scroll down to leave a comment below.
You might also like:
Sweet & Spicy Grilled Chicken Drumsticks
A Thai inspired marinade makes simple chicken drumsticks a barbecue showstopper! It's citrusy, sweet, and spicy and makes advance prep work easy!
Summer Rolls with Tropical Sweet Chili Garlic Sauce
Serve them as an appetizer or replace the traditional bowl of salad for a cool, crunchy side dish.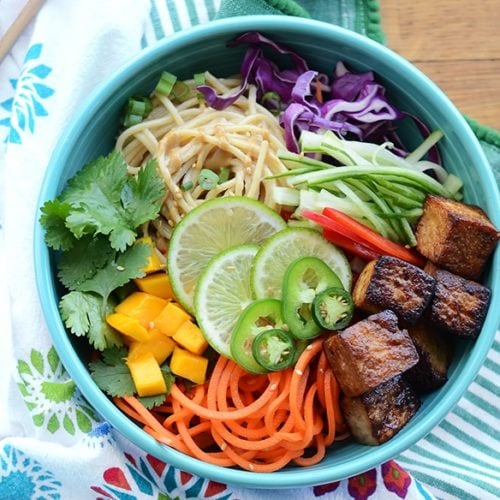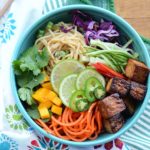 Sesame Cashew Noodle Salad Bowls
Sesame Cashew Noodle Salad Bowls are just the thing for hot summer mealtimes. They are loaded with a rainbow of colorful fruits and vegetables.