These easy to make Fringed Napkins will save you money while dressing up your dinner table! No sewing required and just in time for the holiday season! Best of all, you can choose any color palette to fit your tablescape or party decor. Sometimes it's good to be matchy-matchy, right?
---
If you can use scissors, you can make cute napkins to dress up your table! All you need is fabric that will easily unravel and some simple tools. It's that simple! Just think of all the trees you'll save!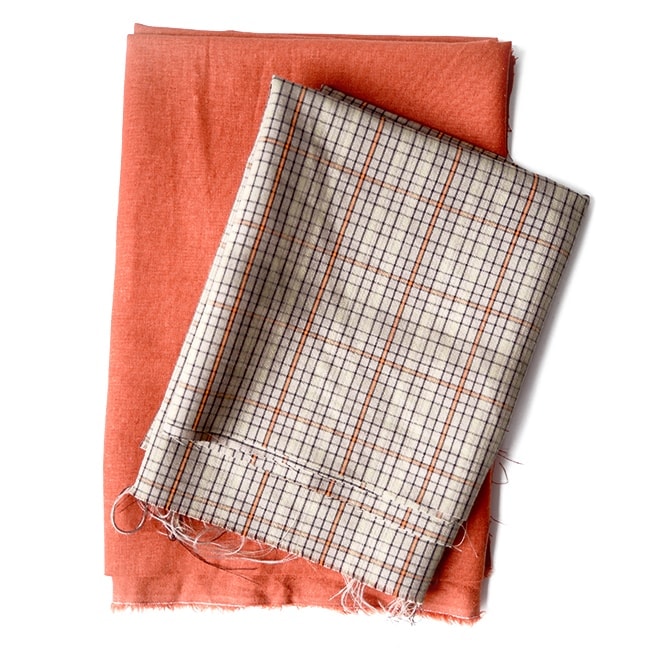 Call me old fashioned, but when I have people over, I like to use real cloth napkins, if possible. It's rare for me to use disposable products. They are bad for the environment, they look cheap and what do they say to guests? I want my guests to know I care about them enough to let them use real flatware, dishware, glasses and napkins!
But it's getting harder to find cloth napkins, let alone cocktail napkins. Especially at a price that won't drain your bank account! And if you are having a houseful of people over? It can be cost prohibitive to go with cloth.
However, you can make napkins for a fraction of the cost of buying a set! I spent $8.49 for 1-1/2 yards of fabric, which makes 6 cocktail napkins and 6 regular napkins.
Usually, when I make napkins I serge the edges but these fun napkins don't require any sewing, or fancy machines. You will need scissors, a ruler and a needle, and it is helpful to have a rotary cutter and mat, but fabric choice will determine what tools are essential.
For this fringed napkins project I chose two fabrics: a plaid and a solid.
I used leftover paper napkins as templates, but you can just use a ruler. The cocktail napkins were 10 inches square and the regular napkins were 13 inches. But you can make any size you like. You can also make place mats and table runners using this method.
First, I'll say that the plaid was definitely easier. Usually the grain of the fabric aligns perfectly with the pattern, making it easy to cut along with the grain of the fabric. When you have a solid color, its nearly impossible to cut perfectly with the grain. So for the plaid, I cut out my napkin with scissors and unraveled half an inch of fabric on all four sides, no extra cutting needed.
For the orange, I cut my fabric slightly larger, unraveled until I got to the right size and then cut off the excess fringe with a rotary cutter on a mat. To cut straight lines I used a large drywall square because its what I had on hand and its thick and metal, protecting my clumsy little fingers! Otherwise, the fringe would not have been straight and the napkin would look messy.
So, if you are looking for easy, choose a plaid! Not that either was hard, but maybe a little time consuming and monotonous. Pulling out a thread at a time is boring, but it's a good TV watching activity!
Once you have gotten all your fringe to half an inch, you must do something to stop the fabric from unraveling more. If you have a sewing machine, you could do a stay stitch in matching thread. Glue like Fray Check is another option but it makes the fabric stiff and sometimes the glue shows. The method I chose was to simply secure the corners.
To do this method, you take one of the threads you've pulled out, thread it through a needle and then pull the thread through a corner about 1/16th to 1/8th in.

You then pull off the needle (I know you were worried there would be sewing!) and knot the threads together. Trim the threads to half an inch and repeat for the rest of the corners.
Now look how cute the finished product is! Festive, classy and happy un-murdered trees…
Tips for success
Make sure you pick a fabric that will unravel, like linen. If you look at the fabric, you should see thick woven threads. Then look at the ends. If they already are unraveling, you are good to go. But something like a cotton quilting fabric will not unravel easily.
Wash these napkins by hand, even if you stay stitch the edges because the fringe will get ruined in the washer and dryer. To wash by hand, place napkins in a bucket of warm water with laundry detergent and let sit overnight. Rinse and roll in a towel to squeeze out water. Let air-dry and iron if necessary. Stains should come out without scrubbing if soaked.
If you are trimming excess fringe with a rotary cutter, make sure to comb out your fringe so its a straight before you trim!
If your fabric is super unravely, you can secure it along the edges just like you did with the corners.
If you give this Fringed Napkins project a try, upload a pic to Instagram and tag us @vintagekittyblog. We love to see your handiwork!