Special occasions are the perfect time to get creative with fabrics. These dresses and accessories were custom designed to create a whimsical and cohesive look for a family's Adoption Day celebration!
---
With a little creativity and a lot of mixing and matching, you can create a signature look fitting to girls' dresses. These looks incorporate vintage notions, bold prints and classic style to make these girls the stars of this life changing Adoption Day.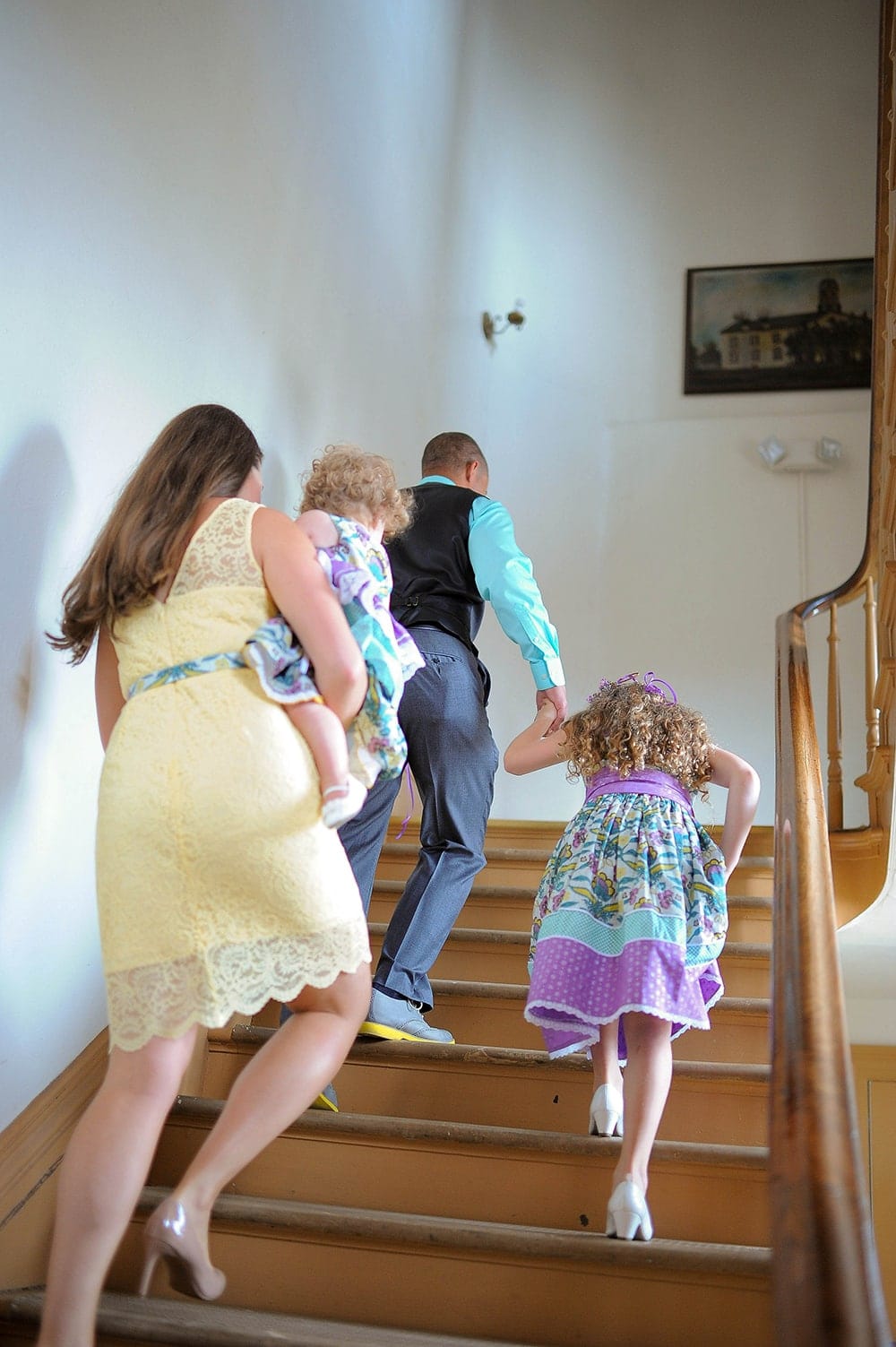 I can't possibly convey how profoundly excited I am to share this story with you. This post goes so far beyond crafty design inspiration and dress making and into the heartwarming realm of love. And not just love, but unconditional, selfless love from which a family of two grows into a family of four.
This is the story of my dear friends and their journey through the foster care system and how it led to adopting two beautiful girls. I would love to show you lots of pictures of these happy smiling beauties, but for their safety and privacy, I can't share their names or faces. But let me tell you that I have never seen so many smiles or tears of joy in one day. More than all the birthdays, graduations, weddings and births I've witnessed… lots and lots of toothy, elated grins!
It all starts with a couple that wanted a family, and being the incredibly loving people they are, decided the way to go about it would be by fostering. The eventual goal would be adoption, but they knew that it would be a long journey to reach that objective.
I am happy to say that this was a whirlwind of an adventure and in less than two years, my friends went from becoming new foster parents to creating a permanent family. Of course this adventure had its ups and downs, tantrums, diapers, tears and just plain exhaustion. But it's also been a ride filled with love, hope, courage and perseverance.
I'm not surprised because my friends are amazing people and I cannot possibly say enough good things about them. They are caring, fun, organized, disciplined, creative, hard-working and smart. All great qualities for building a family, and just like everything else they do, they handled it all with grace and style.
When I learned that they got the green-light for adoption, I offered to put my costume design and construction skills to use to make the girls special dresses for this momentous occasion.
Being trained as a costume designer, I have a knack for making childrens clothes. Little ones can pull off playful outfits in a way that adults cannot and in my opinion, bigger is normally better. Large patterns, colorful palettes and lots of ornamentation. This is especially true when the occasion is a formal event, like a wedding or adoption day.
These dresses are as original as they come, because I flat-patterned them especially for the girls. I used a variety of vintage notions, piping, over-sized covered buttons, bows and ruffles to make these lovely girls feel special. But I couldn't leave our their parents, so for dad I made a bow-tie and for mom a belt with a vintage mother-of-pearl buckle.
Now I hope it won't embarrass her in the future, but I have to tell you what this young lady said in her thank you note. First she says, "You are the best person who could make a dress by hand because I didn't know people could do that." So cute, right?
But this is why I like to make dresses for the little girls in my life: "When I wore it, it felt nice and I liked to wear it because when I twerld (twirled), it spun, and looked like a cupcake!"
I should say that this little princess got a new name for her new life, and she had hoped to be named Cupcake. Needless to say, she did not get her wish but I see a nickname in her future ;-) She is as sweet as a cupcake, so it totally fits!
I just love how my friend styled the whole day. "Let Love Grow" was the theme, so she got the girls matching necklaces and flower headpieces. They looked like little angels.
I wish I could show you more. So many friends and family came to share in this joyous affair, from the courthouse ceremony to the party that went late into the night. And the day was photographed so beautifully by Amanda McMahon who provided these gorgeous photos. I'm so grateful to Amanda because I think I spent more time crying than being my normal shutterbug self! Happy tears of course!
Congrats to this wonderful family! May your joys always outweigh your sorrows.
If you have comments and questions on the design process, start a conversation below. I'd love to help you design a whimsical dress for the little girl in your life!