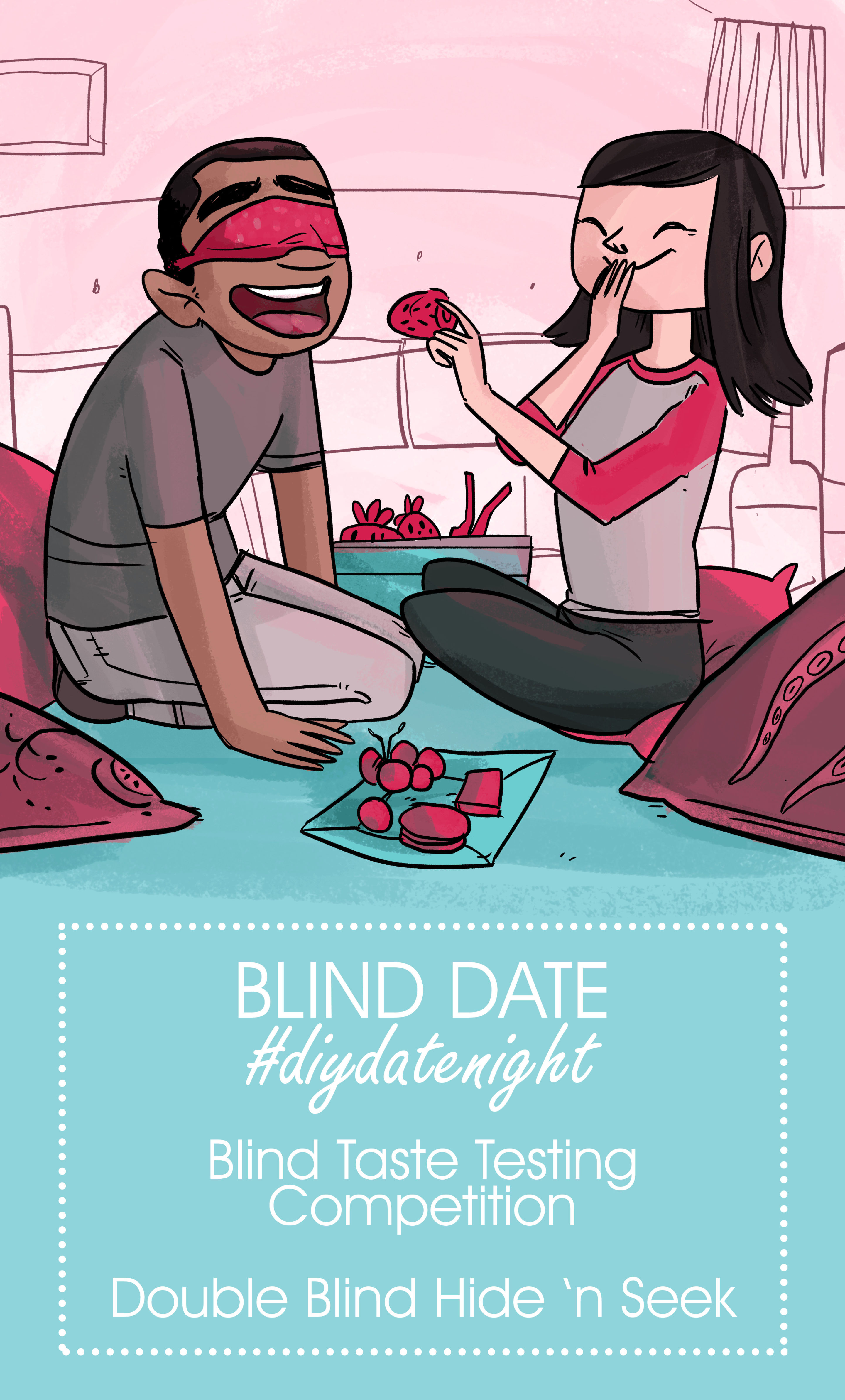 What is sexier than a "blind" date #diydatenight? Have a little blindfolded fun with a taste test challenge and double blind hide 'n seek!
---
Doesn't every couple enjoy a bit of competitive gameplay? Discover who has the best senses while blindfolded!
By now you've probably realized that this is not an actual blind date, although doing these activities with a stranger would be memorable! Megan and I have put together this sensual Blind Date #diydatenight to keep your relationship spicy! It's an evening filled with blindfolded games intended to heighten your senses while also having some romantic fun! Will your senses of taste, touch, smell or hearing help you win?
Blind Date Activity #1: Taste Test Competition
The evening starts with a friendly food competition. It's easy to know what you're eating when you're looking at it, but can you tell a strawberry from a raspberry while blindfolded? See how you stack up next to your partner in this blind taste test. Here's how it works:
Divide up the four courses (Beverage, Cheese, Fruit, Dessert) between you.
Decide on the number of foods to taste. We suggest between 3-5 for each course.
Shop separately and keep your selections secret (if you're sharing a fridge, place your items in a paper grocery bag).
Take turns blindfolding and testing each others' tasting skills!
Tally the results to see who is the supreme foodie!
Eat and drink the leftovers!
We've got a list of suggestions for you above but feel free to choose anything that fits the category. However there are a few dos and don'ts:
Avoid extremely spicy foods.
Check for food allergies and dietary restrictions before you shop.
Stick with individual foods rather than flavor combos.
It can be hard to buy in small quantities so have a plan to freeze your extra fruits and properly store the leftover cheese (of course I'm assuming the desserts won't be a problem!)
We've created these score cards so you can keep of a record for posterity… you never know when you're going to need evidence to back up your bragging rights!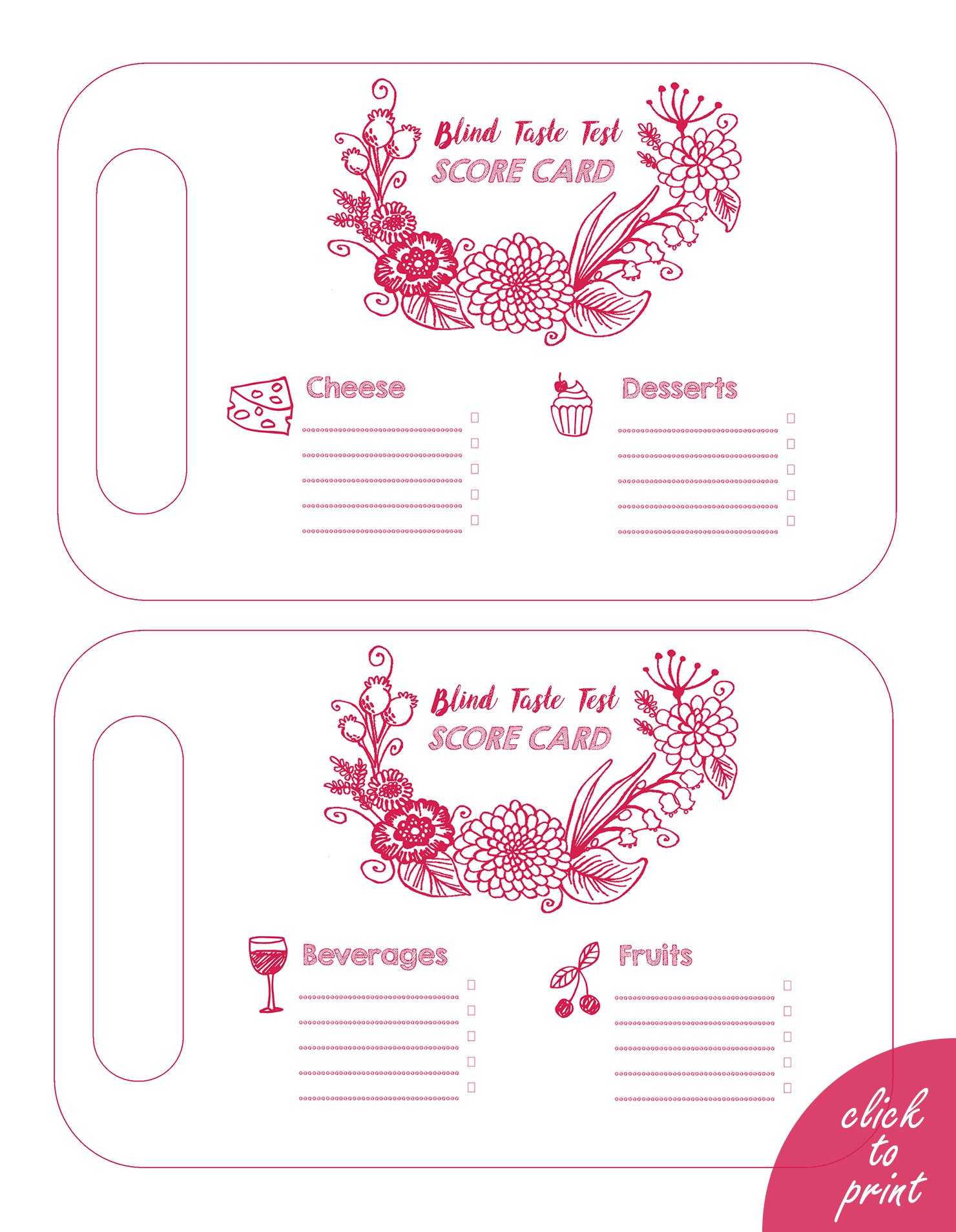 Blind Date Activity #2: Double Blind Hide 'n Seek
Now that your tummy is full, let's test some other senses! Everyone likes a game of hide 'n seek, but how will things go with both players blindfolded? This is the ultimate challenge that won't just test your sense of hearing but also if you can keep from laughing!
That's all we've got planned for you this evening, but we're hoping you'll come up with some games on your own! If you still need more inspiration check out our other #diydatenight plans.
#diydatenight is brought to you by:
Megan is a Seattle area freelance illustrator. She loves drawing people's mugs, laying on the ground with her dogs, eating beans and traveling. She can most often be found sitting in the rain, contemplating life's great question: Spike or Angel? For commission information: megcondron@gmail.com
www.megan-crow.com |Instagram: @megzcon
Charity
AKA "Kitty" is a passionate foodie and enthusiastic adventurer that loves discovering the beauty in everyday life and culture. Charity shares her culinary, homemaking and travel pursuits here on Vintage Kitty and as a freelance writer. Want to collaborate? Send her a
message
.
---
You might also like:
Easy Towel Pillowcase Sewing Project
Make this Towel Pillowcase sewing project and in about an hour you can be dreaming on plush terry cloth. Start your engines and get sewing!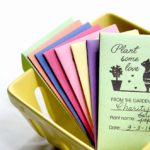 Seed Saving 101
If you've ever wanted to save your own seeds, these Seed Saving 101 tips and cute envelopes will get you started on next year's garden!