Move aside pecan pie- this vintage American classic is a perfect holiday dessert! It's easy as pie when you combine new world and old world flavors to make this fantastic sweet treat!
You'll love this alternative to pecan pie, Maple Walnut Pie! There's no corn syrup, but instead real maple syrup and a hint of whiskey to spice things up!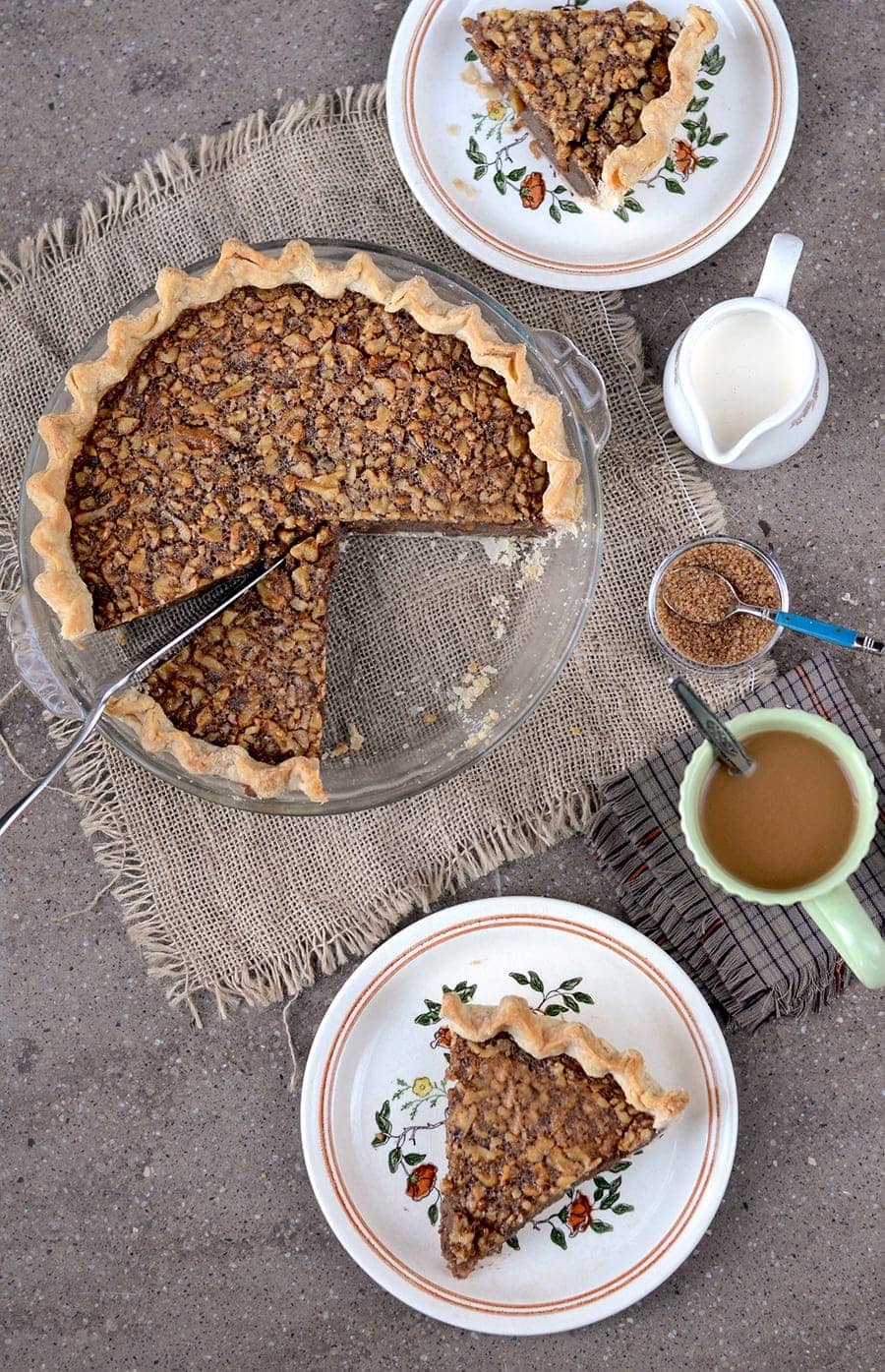 So today I'm going to share a little culinary history with you….
First let's talk about that sweet sticky stuff! Maple syrup is an North American tradition said to have originated with Native Americans. But as things go, no specific documentation exists, just tales. At some point in the New England area of the United States, someone (Native Americans or European Settlers) decided to boil down the sap of the maple tree to make a sugar syrup. Aren't you glad they did? What would maple bacon cupcakes or maple turkey be without that sweet sap?
Now. let's get a little nutty! English Walnuts, despite the name, derive from Persia. You can thank your ancestors for bringing Juglans regia to the Americas because the English Walnut, in my humble opinion, is much preferable to the indigenous Black Walnut.
I would know because my backyard is filled with black walnut trees!!! Not only do those pesky walnuts trip me in the yard (I've fallen three times this year!) they taste like paint. No matter how hard I try to like them… I just can't get used to the weird flavor. But I digress.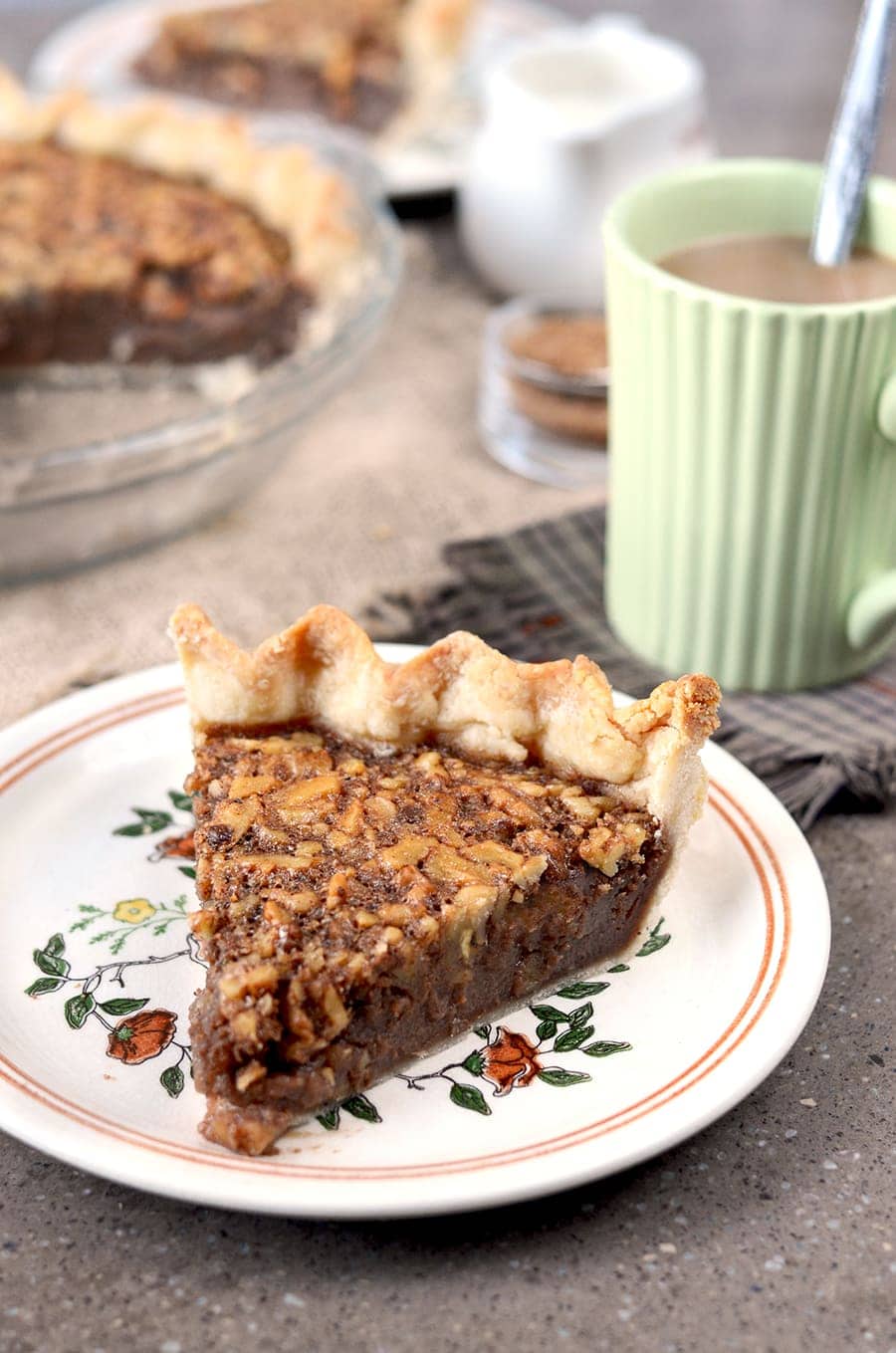 As for the provenance of Maple Walnut Pie, that's less clear. The Better Homes and Gardens Heritage Cookbook attributes Maple Syrup Pie to French Canadians who migrated to the states, settling mainly in New England but also in "clusters in the Mississippi Valley". The book states that the pie is a traditional dish for New Years. I can only imagine that the Maple Walnut Pie derived from this unique heritage. I'll have to keep researching but so far, nothing else has turned up in the vintage cookbooks I've read.
In the meantime, my version of Maple Walnut Pie is much like a pecan pie but uses maple syrup instead of corn syrup and includes some spice and whiskey for a punch of flavor. It's sweet maple flavor is balanced by the distinctive bitterness of walnut which makes a nice change from pecan pie.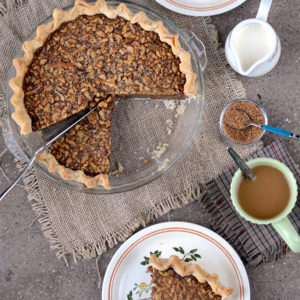 Maple Walnut Pie
This Maple Walnut Pie combines the old world walnut with new world maple syrup for a distinctly North American dessert.
Print
Rate
Ingredients
1 3/4

cups

walnuts

coarsely chopped

1/2

cup

dark brown sugar

1/4

cup

all purpose flour

2

tsp

pumpkin pie spice

pinch

sea salt

1

cup

maple syrup

3

TB

melted butter

2

oz

whiskey

1

tsp

vanilla extract

4

eggs
Instructions
Roll out your pie crust and line it in a 9 inch pie plate.

Line pie crust with foil and fill with dried beans or rice.

Blind bake crust for 10-15 min, or until just beginning to set.

Remove pie crust from oven and let cool slightly.

Reduce oven temperature to 350F

Place walnuts on a cookie sheet and toast for 5-10 minutes, watching them carefully to make sure they don't burn. Toss them periodically if necessary.

In a large bowl, combine brown sugar, flour, salt and spice and whisk until there are no lumps.

Add in maple syrup, butter, whiskey and vanilla and whisk until smooth.

Crack eggs into mixture and mix until they are well incorporated.

Finally, add walnuts into filling and stir to coat.

Pour filling into pie crust and bake for 40-45 minutes, or until center in set and doesn't jiggle when gently shaken.

Serve with whipped cream or vanilla ice cream.
Notes
You can use a frozen pie crust with the recipe or our no fail pie crust.
This maple walnut pie can be stored at room temperature for a day. Any longer, refrigeration is recommend.
Nutrition
Calories:
288
kcal
|
Carbohydrates:
32
g
|
Protein:
5
g
|
Fat:
15
g
|
Saturated Fat:
3
g
|
Cholesterol:
62
mg
|
Sodium:
51
mg
|
Potassium:
168
mg
|
Fiber:
1
g
|
Sugar:
26
g
|
Vitamin A:
167
IU
|
Vitamin C:
1
mg
|
Calcium:
65
mg
|
Iron:
1
mg
Tried this recipe?
Let us know how it turned out for you! Scroll down to leave a comment below.
You might also like: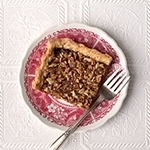 Apple Butter Crumble Slab Pie
This slab pie has everything your sweet tooth desires! Doesn't a flaky cinnamon crust filled with luscious apple butter and an almond oat crumb sound irresistible?
Zucchini Bread
This easy recipe for Zucchini Bread has a tender crumb and loads of home baked flavor. It tastes just like mom pulled it out of the oven!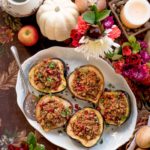 Stuffed Acorn Squash
Acorn squash loaded with colorful quinoa stuffing is a sweet and savory dish. Its vegan and gluten-free, but more importantly, delicious!