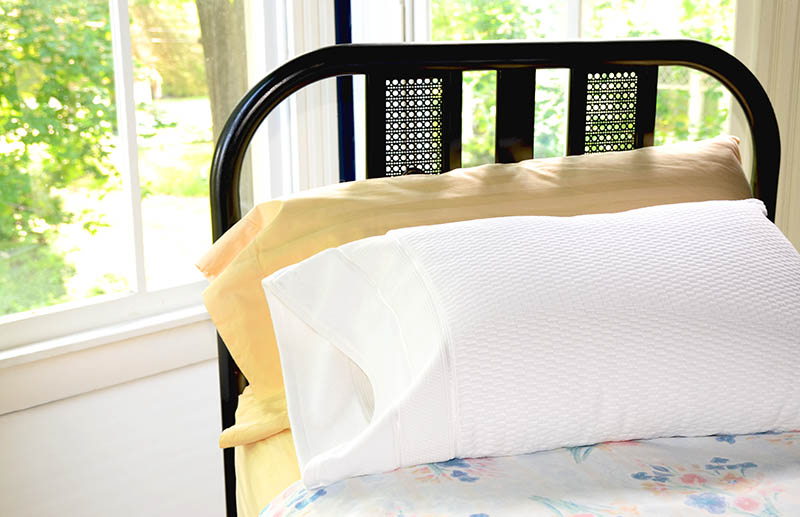 Make this Towel Pillowcase sewing project and in about an hour you can be dreaming on plush terry cloth. Start your engines and get sewing!
---
I've been working on this towel pillowcase sewing project. Now that it is done, this comfy and useful pillowcase has topped my summer essentials list. I know its still spring, but the weather has already gotten hot here. Its a big deal when you don't have central air (crazy idea to some, I know). Whether inside or outside, you are going to get sticky, sweaty and gross because humidity and heat are a fact of life in the Mid-Atlantic summer. For me this necessitates showering before bed. But its more than the heat. Summer evenings are filled with grilling, gardening, dance classes, dog walking and so many other activities. I'm really not interested in taking all that dirt, pollen, smoke and sweat to bed with me.
I know many of you are still thinking about what life is like without central air conditioning. It can be tough, but luckily for us, our house was designed before A/C existed, so we cope pretty well. The main floor stays cool until it gets to about 90 degrees. The upstairs bedrooms do not fair as well, so we use window air conditioning units. Even still, the rooms are not a cool 68 degrees. In some ways this is good. It is very hard to acclimate to 68 when the rest of your house is 80+. But it can be hard to sleep sometimes.
So taking a shower before bed is relaxing, and it helps cool the body down. But it leaves me with wet hair, and when it is this hot, I avoid the hairdryer if at all possible. It can take all night for my hair to dry, so I sleep on a towel to keep my pillow from getting soaked. Recently I thought, why not make a towel pillowcase? It makes so much sense. We ladies go to bed with creams on our face all the time, so why ruin a perfectly good pillowcase? Who hasn't ruined a perfectly good set of sheets in the name of beauty?
Problem solved. I made this pillowcase from two plush white towels. White is ideal because it won't be ruined by peroxide products and it can be bleached if it gets soiled. However, you can make this project with any color towel.
Here is how to make one of these nifty pillowcases:

This project will take about an hour with a serger. Using a sewing machine will require about 15 more minutes.
Test your machine's settings on the towel scraps before you sew the pillowcase.
The pillowcase could be lined with a waterproof fabric if desired.
Show off your sewing skills! If you give this project a try, snap a photo and tag it #vintagekittyblog.