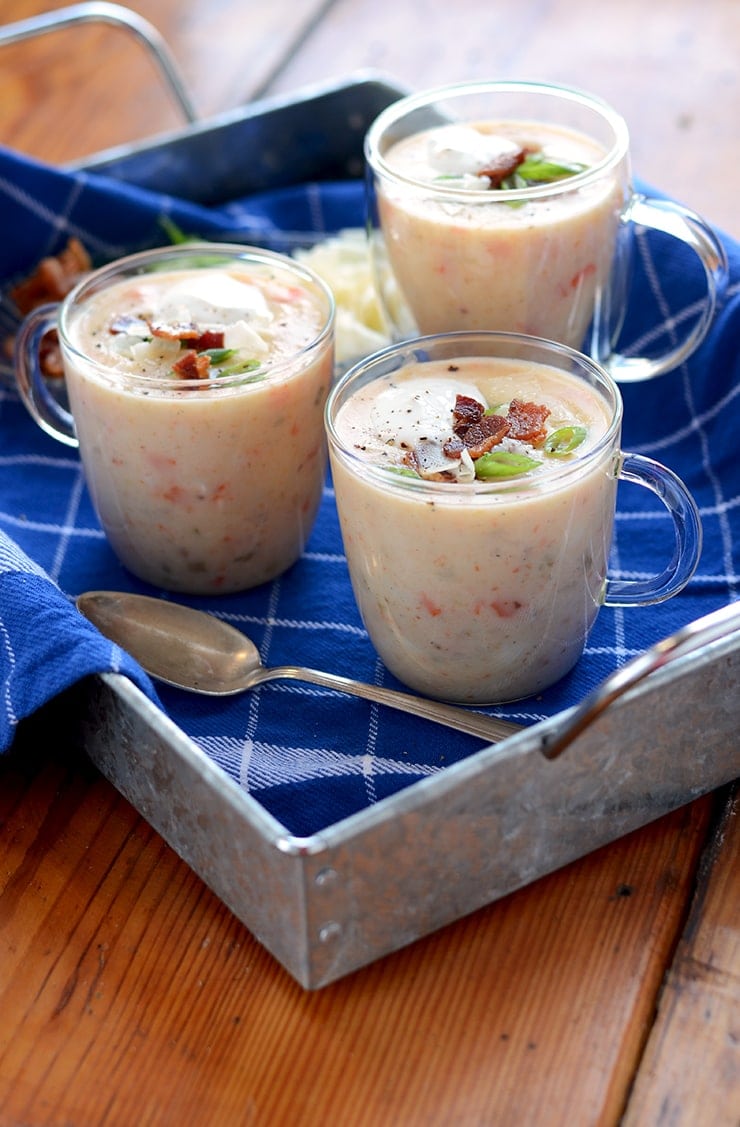 This Classic Potato Soup with Bacon and Cheddar is a simple winter pleasure. Grab a cup of delicious!
---
Anytime of year is a great time to make Classic Potato Soup with Bacon and Cheddar, but this comforting recipe is a winter staple. Whether you're just coming in from sledding or snuggled up with a good book, this traditional soup will warm your spirit.

I don't think I could love any ingredient more than the humble potato. It's so versatile and to me its comfort food. As I've said before I'm the Bubba Gump of potatoes. I love them however they are prepared, but have to admit that my favorite way to eat this tuber is mashed (with lots of butter and cream). But my second favorite is potato soup.
Our local diner makes a fabulous potato soup. It's incredibly creamy and the potato chunks are so soft they melt in your mouth. Unfortunately, they only have it on the menu once a week. It's a weeknight too, so I usually miss potato soup night and have to make my own. Good news is that classic soup is really easy to make.
Now I say classic, but I've got some tricks up my sleeve that make this soup extra delicious. The first is bacon, so no, this is not a vegetarian soup. I figure that if you need fat to cook the mirepoix, it might as well be bacon fat. And those little crisp pieces of bacon add texture. (Many apologies to all my vegetarian and vegan friends. I love you all, but there is no substitute for the gloriousness of bacon. I promise I'll make you plenty of yummy potato recipes in the future, but this one ain't it).
The second trick is white wine. Not only does it deglaze the pan, to adds depth to the creamy soup base. The last trick is cheddar cheese. It's not so much to make the soup cheesy, but its enough to give the broth extra body and flavor.
But the MOST important part of making a this classic soup recipe is all in the potato. The potatoes must cook until they are falling apart. You know you're just about done when the potatoes start to look more like pearls than cubes. That creamy, velvety magic is where its at!

Well, that and the goodies (BACON!) you pile on top. If you're having this soup for lunch, I'll forgive you if you skip the garnish. BUT- if you're eating this at home on a cozy winter evening, take the time to add some scallions and of course the bacon. If you're feeling indulgent, add a little more cheese, a dollop of sour cream and freshly cracked pepper and its like a baked potato in a cup.
And speaking of cups, I have a thing for serving soup in a mug. It keeps portion sizes under control (so you don't feel guilty when you go back for seconds). More importantly, it's easier to hold while you have a novel in one hand and dinner in another. Seriously, there's nothing calming as a good book and a cup of soup.
Hello potato soup mustache here I come! Now I just need a snow storm to make winter feel complete!
Classic Potato Soup with Cheddar and Bacon
I love that this classic potato recipe makes a HUGE pot of soup. It's enough for a crowd, but we often make it just for the two of us and freeze the extras for quick lunches.
Print
Rate
Ingredients
Potato Soup
7

slices

thick cut bacon,

cut into 1 inch pieces

2½

cups

celery,

diced

2½

cups

carrots,

diced

2½

cups

onion,

diced

½

cup

white wine

6

large

Russet potatoes

, peeled and cut into 1/2 inch cubes

4

cups

chicken stock

1

tablespoon

sea salt

1

tablespoon

dried chives

3

cups

whole milk

½

cup

heavy cream

3½

ounces

cheddar cheese,

grated
Optional garnish
scallions

sour cream

cheddar cheese
Instructions
In a large stock pot, cook bacon over medium-low heat, stirring often until crispy.

With a slotted spoon, remove bacon and drain on paper towels.

Over medium heat, saute the celery, carrots and onions in the bacon fat until onions start to become translucent.

Deglaze the pan with the white wine, scraping any brown bits off the bottom of the pan.

Add the potatoes, chicken stock, sea salt and chives to the pot and bring to a boil.

Reduce to a simmer and cook until potatoes are soft and start to fall apart.

Add the milk and heavy cream and heat gently.

Once the soup is warm, slowly add in the cheese, stirring constantly.

Season with salt and pepper to taste.

Dish into cups and garnish with cooked bacon, scallions, cheddar cheese and sour cream.
Nutrition
Calories:
403
kcal
|
Carbohydrates:
46
g
|
Protein:
14
g
|
Fat:
18
g
|
Saturated Fat:
8
g
|
Cholesterol:
45
mg
|
Sodium:
962
mg
|
Potassium:
1187
mg
|
Fiber:
4
g
|
Sugar:
9
g
|
Vitamin A:
4896
IU
|
Vitamin C:
15
mg
|
Calcium:
188
mg
|
Iron:
2
mg
Tried this recipe?
Let us know how it turned out for you! Scroll down to leave a comment below.
You might also like:
Lemon Thyme Potatoes au Gratin
This Lemon Thyme Potatoes au Gratin recipe is a perfect side dish for special meals, holiday gatherings and anytime you want to treat yourself to a special root veggie dish!

Rosemary Sweet Potato Rolls
One dough, two uses! These Rosemary Sweet Potato Rolls are the perfect side to your meal but the dough can also be used for pizza and can be prepped in advance and frozen.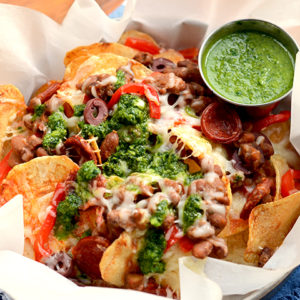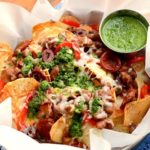 Spanish Potato Nachos
Homemade potato chips get loaded with savory Spanish ingredients in this fusion recipe. Far from ordinary, these nachos are topped with Manchego cheese, Chorizo sausage and served with a fresh, zesty Chimichurri.