This baked rigatoni layered with herbed ricotta and meaty marinara sauce is a dinner casserole worthy of sharing!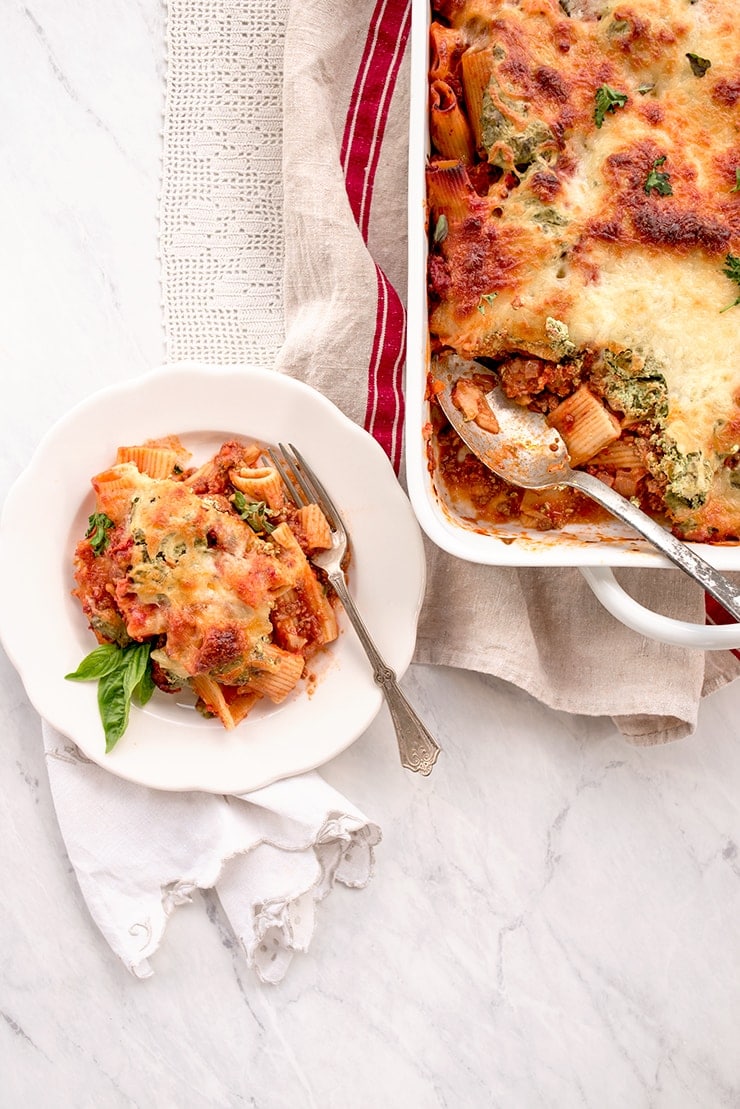 Baked rigatoni is one of those dishes I've been making forever. Back when Kevin and I were young and newly together, I had a number of pasta dishes in my repertoire I would make for friends.
I should say, mostly his friends because I was somewhat transient at the time. College was a hurdle for me because I was trying to put myself through a musical theatre school by waiting tables nights and weekends. In the end, it didn't work out and I ended up losing my pell grant by working too much.
Let's just say this was the blow of a lifetime. I had the talent to get into a conservatory but not the resources to stay. So, with my tail between my legs, I moved in with Kevin while he finished his theatre degree.
But at least I got to live vicariously through him while I figured out my next steps. And luckily, his friends (and the Mary Washington theatre department) didn't mind me tagging along.
Because all of our friends were broke theatre students too (in other words hungry), pasta was an affordable choice . Kevin lived off campus so there was always room at the table and we welcomed the company. And frankly, I loved entertaining and cooking for a crowd.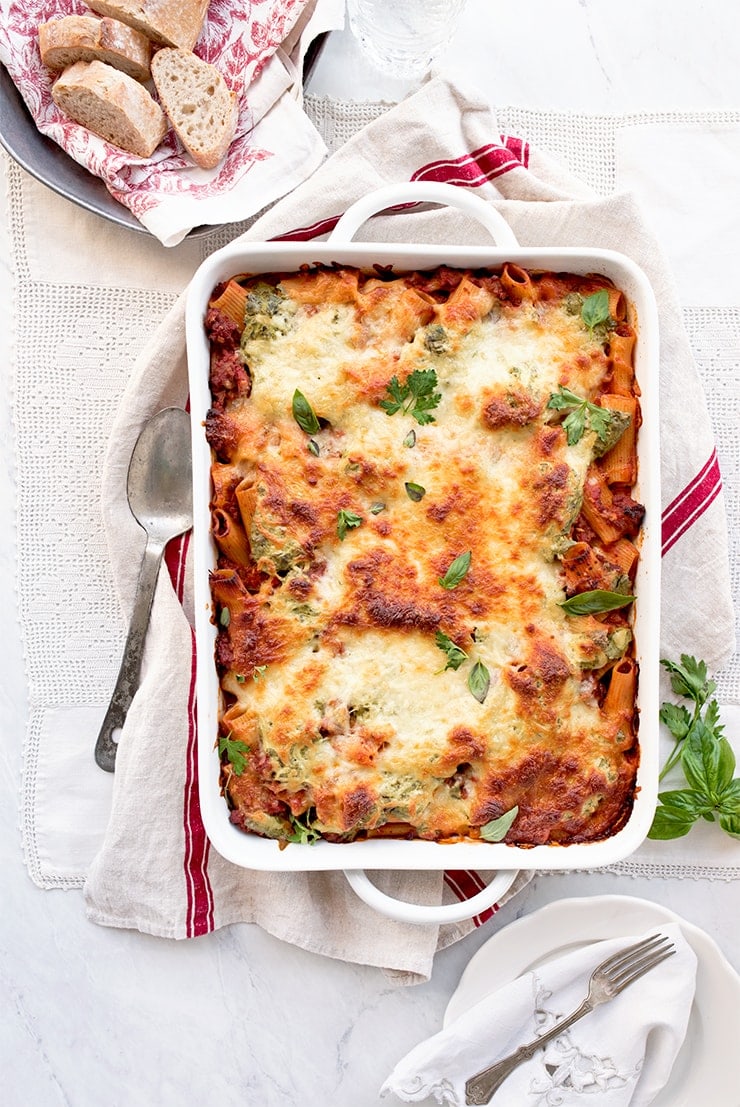 There is something magical that happens when a group of friends sit down to eat together. And it goes further than the laughter and full bellies. Sharing a meal can be very intimate. The closeness of the experience provides an opportunity for sharing personal stories and getting to know each other in a deeper, more meaningful way.
Once I learned this truth, cooking became a tool to make friends. Sharing my love of food became a way to break the ice as we moved from place to place and job to job, easing the loneliness and making each new place feel like home.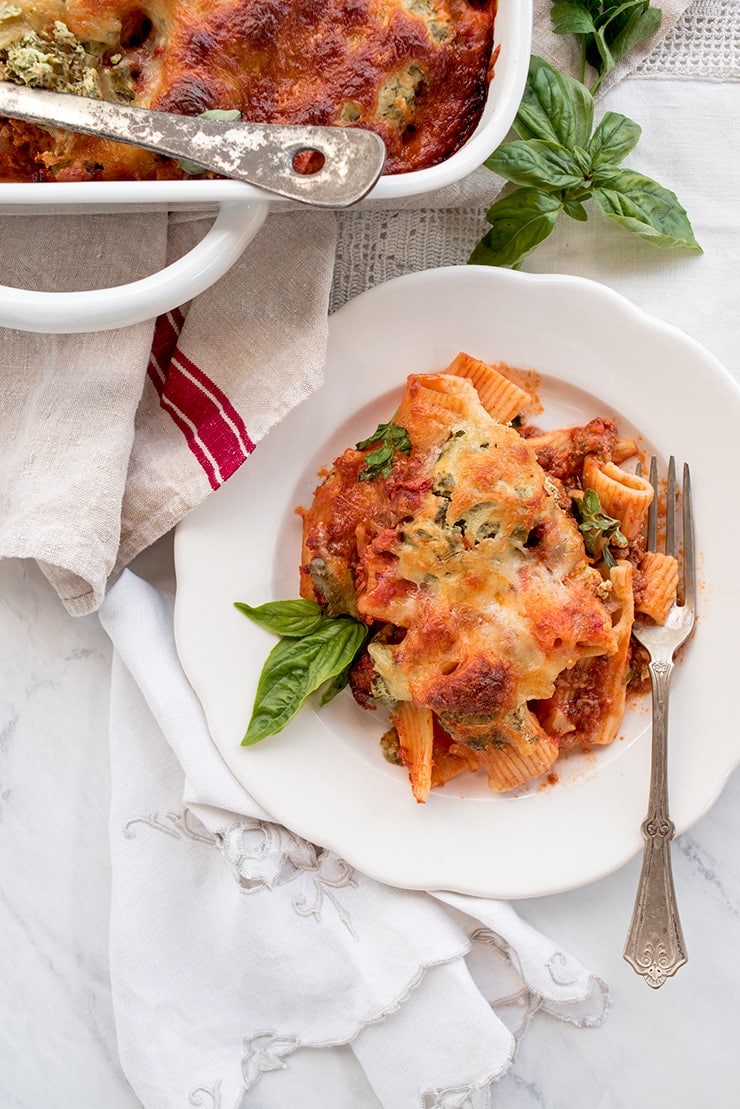 Now that we are settled down, I'm learning that simply sharing recipes can be a way to make new friends across the globe, whether it's here on Vintage Kitty or in a facebook group. Food is a way to break down barriers and satisfy our need for community, but it's also how we preserve memories and cement cultural traditions.
What can I say? I'm a budding food anthropologist! And it's my mission to make Vintage Kitty a place not just share recipes, but tell the stories behind them too!
To this end, I'm starting a new series called #myvintagerecipe that will cover my favorite family recipes as well as explore food stories from my friends, family and readers. My hope is that these stories will help us better understand how the food we eat plays a vital role in our personal lives and tells a larger story about the cultural impacts of food within our communities.
I'm hoping this new series will inspire readers to discover their food history and maybe even create some new traditions too!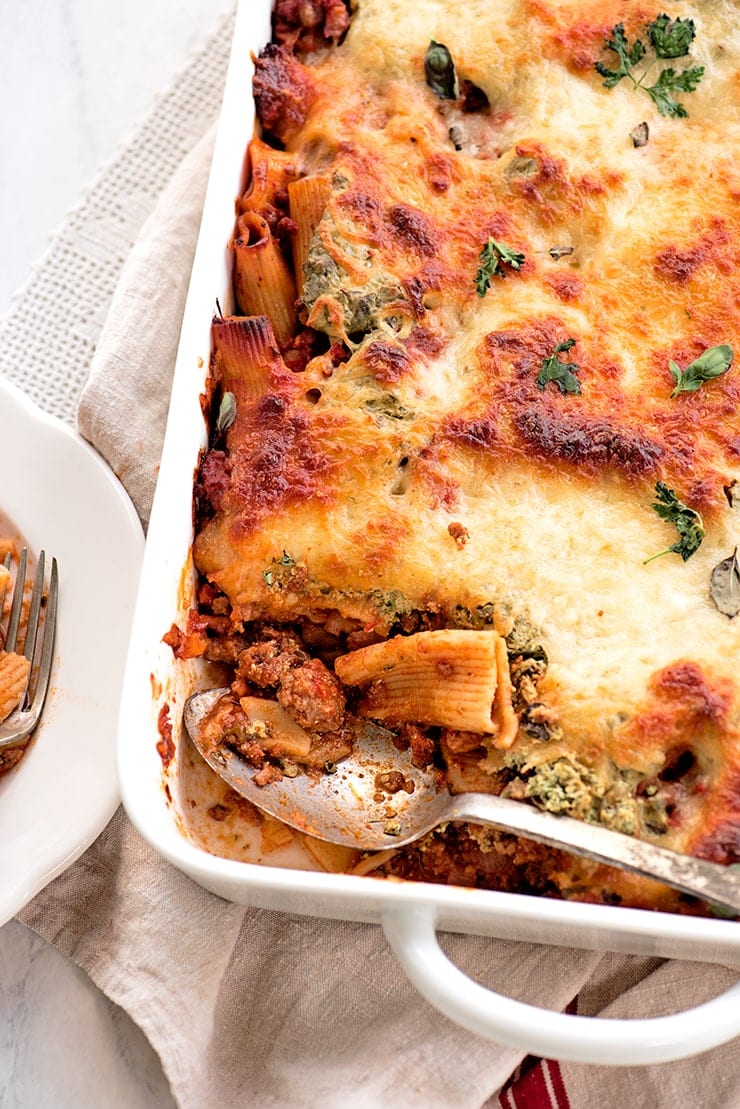 In the spirit of friendship I'm bringing you this baked rigatoni recipe as the very first #myvintagerecipe feature. In ways, it's a combination of the two dishes I'd make the most often back in the day… an herbed vegetarian lasagna and a sausage filled rigatoni bake.
This cheesy rigatoni casserole is like a classic lasagne with less fuss. It has a hearty meat sauce made with ground beef, Italian sausage and a jarred marinara for ease. On top there's herbed ricotta covered with mozzarella. It's cheesy, meaty, saucy and so comforting! It's really nothing fancy, but for me this dish reminds me of friends and those early days when Kevin and I were starting our life together.
Our baked rigatoni serves a crowd so you can carry on the tradition of breaking bread with friends. The more the merrier, especially if you serve it with our Italian Power Salad and Fried Mozzarella Balls!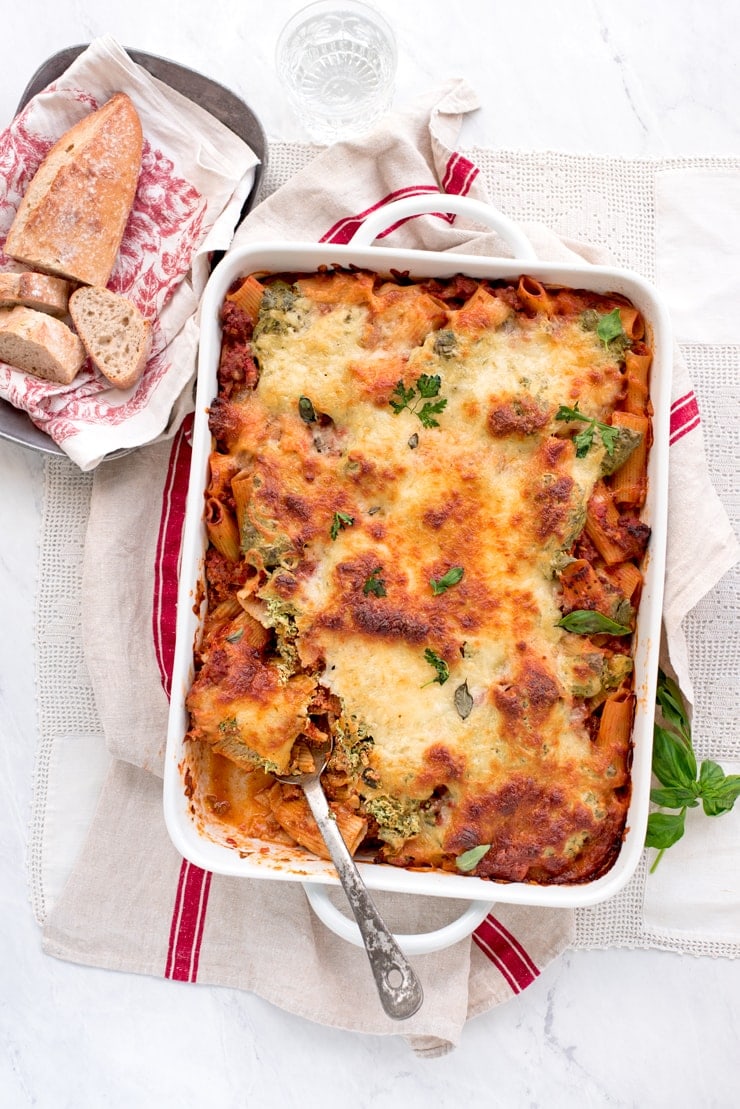 Do you have a food story you'd like to share? Contact us! We'd love to hear from you!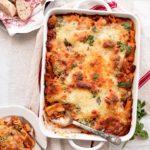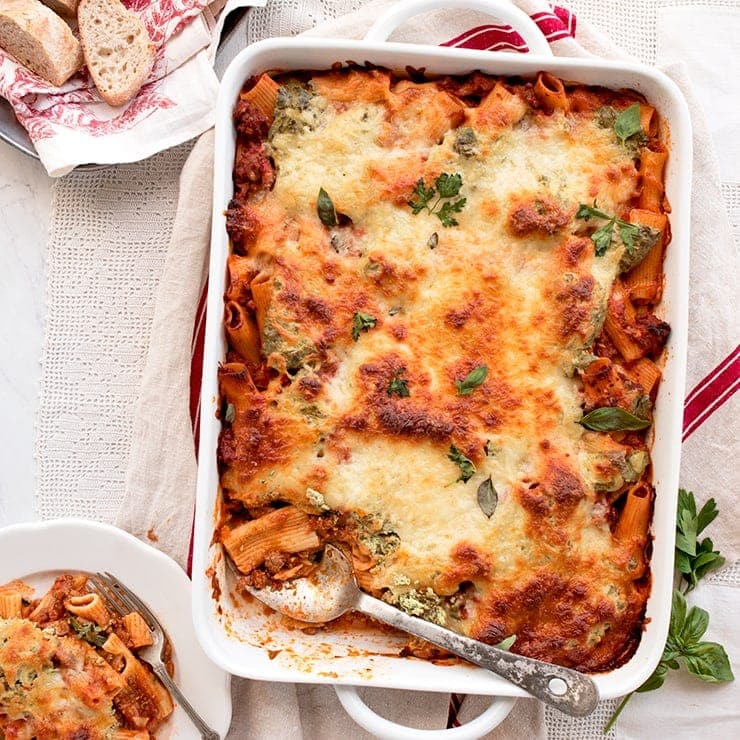 Rigatoni Bake with Ricotta and Meat Sauce
This dish brings back all the memories! It's one of our favorites to make for get togethers with friends because it's comforting flavors make everyone feel at home
Course:
Dinner, Main Course, Pasta
Keyword:
casserole, pasta, rigatoni
Ingredients
1

box (1 lb)

rigatoni

1

tb

olive oil

4

cloves

garlic

, minced

1

large

onion

, diced

1

lb

lean ground beef

1

lb

loose italian sausage

2

-24oz jars

marinara sauce

16oz

whole milk ricotta

1

egg

1

bunch

parsley

1

bunch

basil

2

tb

fresh oregano

1

16oz package

whole milk mozzarella

, grated
Instructions
Fill a large pot with water, salt it generously and then bring it to a boil.

Once boiling, add the rigatoni and cook to al dente (about 10-12 minutes) then drain thouroughly.

Meanwhile, in a large Dutch oven, brown garlic and onion over medium high heat.

Once the onions are golden, add the sausage and ground beef and break up large pieces with a wooden spoon.

Cook meat until browned, then add marinara sauce and season with salt and pepper to taste.

Place ricotta and egg in a food processor and pulse to combine.

Add herbs to ricotta mixture and pulse until herbs are chopped then season with salt and pepper to taste.

Lightly oil a lasagna pan, and layer the bottom of the pan with half of the sauce.

Evenly distribute the rigatoni over the sauce.

Spoon remaining sauce over rigatoni and then dollop the ricotta mixture on the pasta.

Finally sprinkle the top of the casserole with mozzarella cheese.

Bake uncovered 45-60 minutes, until cheese is golden and the sauce is bubbling.
You might also like: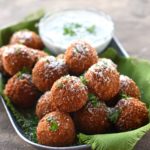 Fried Mozzarella Balls with Pumpkin, Sage and Caramelized Onions
Take your party to the next level with these Fried Mozzarella Balls. They are crunchy on the outside, gooey on the inside and served with Yogurt Herb Dip.
Pizza Soup with Peppers, Italian Sausage and Spices
Pizza Soup is a hearty, robust tomato soup filled with Italian flavors and ingredients. It's supremely delicious and can be served as an appetizer or as an entree with a side salad or grilled cheese sandwich.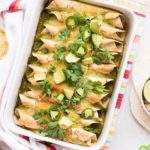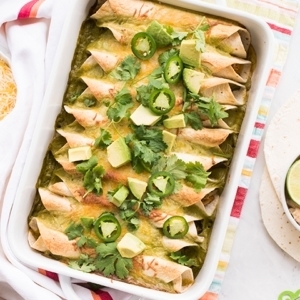 Sour Cream Chicken Enchiladas
This main course dish is naturally sweet, flavorful and ultra creamy! You're going to love the chicken and sweet potato filling that's rolled up and topped with homemade poblano sour cream sauce!!!!