Poblano Sour Cream Chicken Enchiladas is a dish the whole family will love, from the kiddos to adults! This main course dish is naturally sweet, flavorful and ultra creamy! You're going to love the chicken and sweet potato filling that's rolled up and topped with homemade poblano sour cream sauce!
Oh chicken enchiladas, how do I love thee… let me count the ways! I love your naturally sweet, flavorful filling loaded with veggies, spices and lime. I love that I made you with a rotisserie chicken. I LOVE your homemade poblano sour cream sauce that is thick and sumptuous! I love your crispy tortillas and your cheesy cheese topped with cilantro and avocado!!!
Sorry, you just stepped in on me and my love affair with Mexican food…. or should I say fusion food because they're not in any way authentic, but these chicken enchiladas sure are delicious!
I'm constantly stretching the concept of the margarita, so why not enchiladas too? The first time I made these, I used my easy roasted pepper enchilada sauce recipe and the dish was a solid C. It was good, but the spicy sauce overpowered the delicate filling resulting in a lopsided dish. I mean, we ate it, but if I'd give it a C, it's not going on the blog!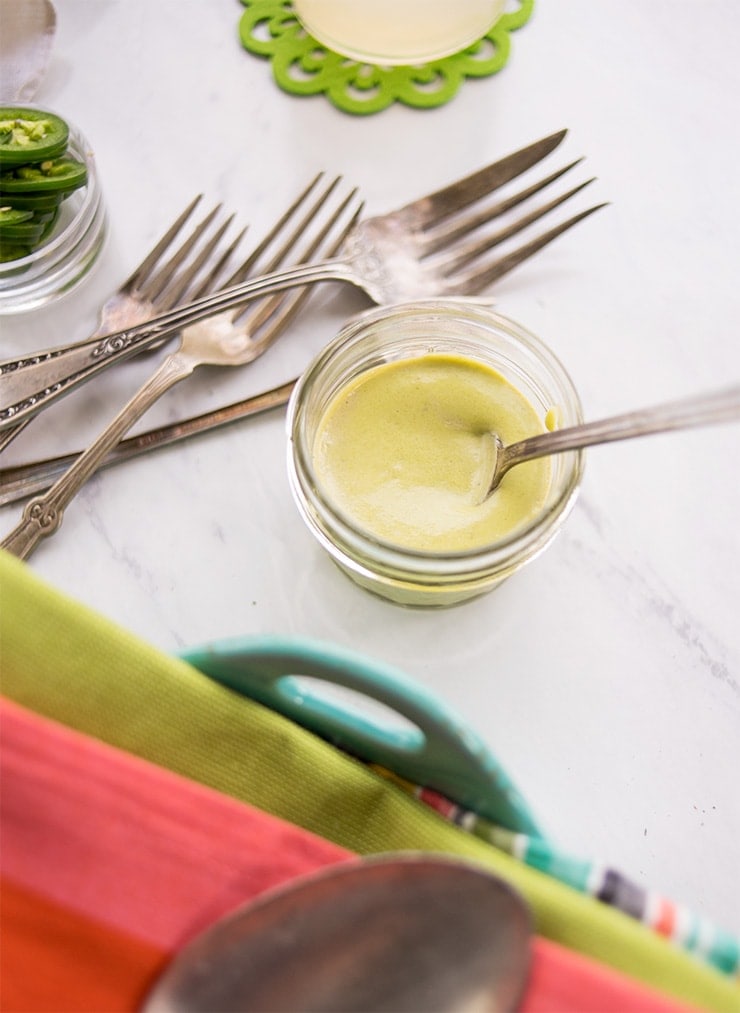 So, the second recipe test, I made a poblano sour cream sauce. I made two casseroles, one for my awesome neighbors (you know the ones who are the most generous, awesome foster parents ever) and one for us. Kevin and I loved the chicken enchiladas this time, but I knew it was a winner when Charleston texted me for the recipe. I kinda thought this would happen…
In fact, I sent them this version of chicken enchiladas because I knew that it was be good main course for the kiddos too. Poblanos are actually quite mild, only scoring 1000-1500 on the Scoville Scale. Much more mild than the ever popular jalapeno. But what the poplano lacks in heat, it makes up with flavor. Which is why it's the perfect addition to a creamy enchilada sauce.
And flavorful but mild is the perfect accompaniment to this chicken filling. It's got oregano, cumin and chipotle in there plus onions, jalapeno, poblano, and cilantro…but it's the sweet potato and lime that really come through.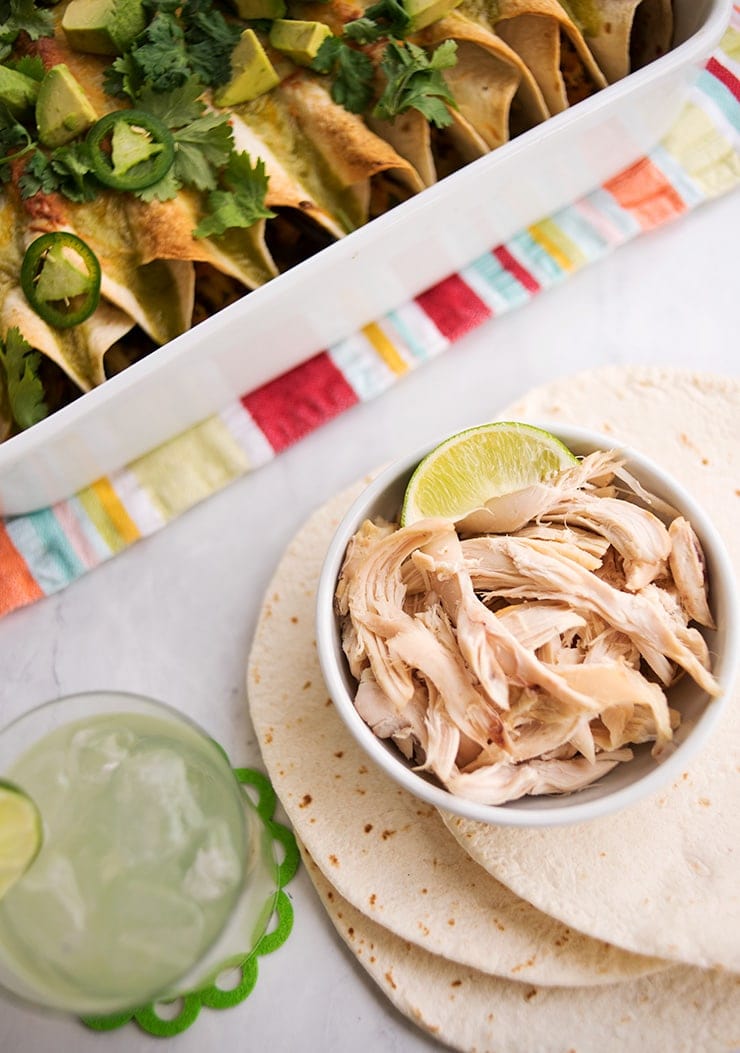 But my favorite part of the filling is that I didn't cook the chicken. Buying a rotisserie chicken is one of my favorite weeknight dinner hacks because it saves time. And since this recipe doesn't need much chicken, I have leftovers I can throw in salad, lemon chicken noodle soup or fried rice later in the week.
And it's good there's leftover chicken because there won't be leftovers of these enchiladas!!!! But don't take my word for it… you have to make them to truly know their greatness! Scroll down and get the recipe–>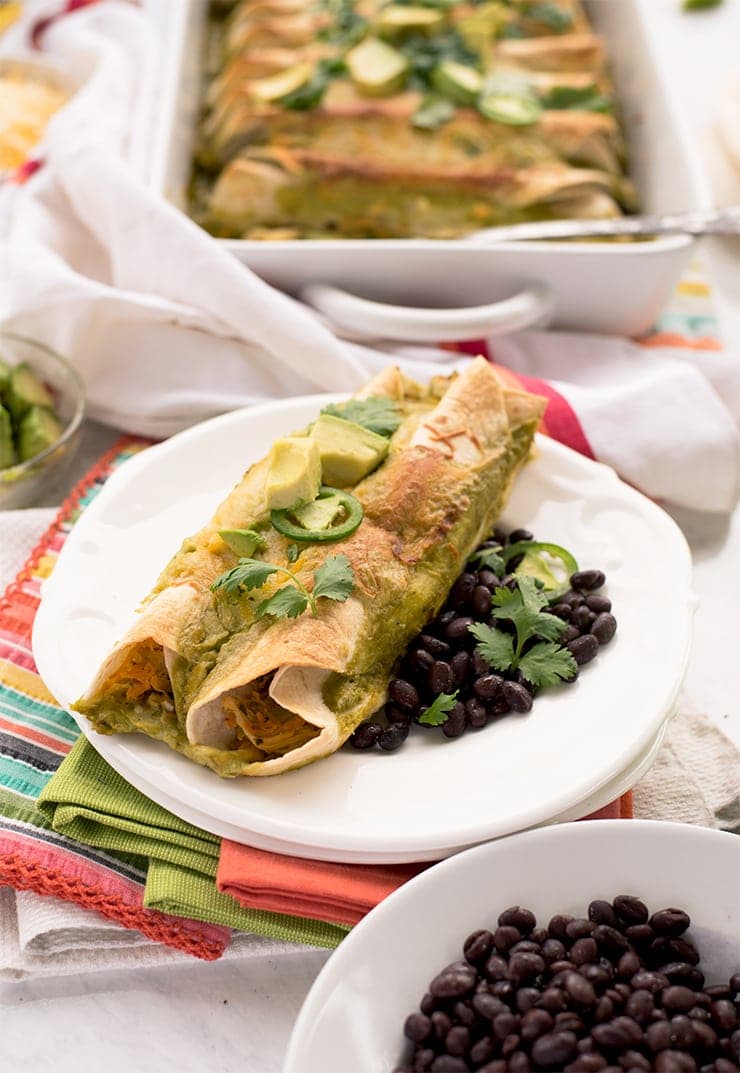 Poblano Sour Cream Chicken Enchiladas Recipe
I'm usually the spice queen, but for this chicken enchiladas recipe I went with a sweeter, creamier flavor profile. The chicken and sweet potato filling balances the mild heat of the poblano sour cream sauce. It's the kind of dish that even small kids will enjoy.
Print
Rate
Ingredients
Enchilada Filling
1

tablespoon

oil

1

large onion

sliced

1

poblano

sliced

2

cloves

garlic

, minced

1

medium sweet potato

peeled and grated

¼

cup

white wine

¼

teaspoon

dried oregano

¼

teaspoon

chipotle powder

¼

teaspoon

cumin

¼

cup

sour cream

1

bunch cilantro stems

, chopped

juice of one lime

1

cooked chicken breast

, shredded (about 1-1½ cups)
Sour Cream Enchilada Sauce
2

tablespoons

oil

2

poblanos

diced

¼

cup

flour

½

cup

whole milk

½

cup

chicken stock

1

cup

sour cream

Salt and pepper to taste
Chicken Enchiladas
10

8 inch

flour tortillas

1

cup

Mexican cheese blend
Instructions
Enchilada Filling
In a large skillet or dutch oven, heat one tablespoon of oil over medium high heat.

Add the onion and poblano to the pan and saute for a couple of minutes.

Toss in the garlic and saute another minute or two.

Now stir in the sweet potato and cook until the potato softens a bit.

Deglaze the pan with the wine and add the spices to the pot.

Once the wine has cooked down, turn off the heat and stir in 1/4 cup sour cream, cilantro stems, lime juice and chicken.
Sour Cream Enchilada Sauce
In another pan, heat two tablespoons of oil over medium high heat

Once the oil is hot, cook the diced poblanos until they are tender.

Add the flour to the poblanos and cook, stirring constantly for one minute.

Slowly drizzle in the milk and chicken stock, stirring constantly.

Finally add the sour cream and stir to combine.

Transfer sauce to a blender and puree until smooth.

Season with salt and pepper to taste.
Assembly
Pour half of the sauce in the bottom of a medium sized casserole dish.

On the counter lay out the tortillas and spread the filling equally among them.

Roll up the tortillas and place them seam side down the the dish.

Pour the remaining sauce on top and cover with cheese.

Bake 25-30 minutes or until the filling is hot and the top is a golden brown.
Notes
This is a great recipe to prep ahead. I make the filling and sauce and refrigerate them and then assemble the casserole before baking. This way it doesn't get soggy.
You can also freeze the enchiladas. I recommend filling the tortillas and freezing them without the sauce. Once the enchiladas are frozen, add the sauce, cover and freeze up to one month.
Nutrition
Calories:
360
kcal
|
Carbohydrates:
17
g
|
Protein:
17
g
|
Fat:
24
g
|
Saturated Fat:
10
g
|
Cholesterol:
69
mg
|
Sodium:
255
mg
|
Potassium:
415
mg
|
Fiber:
2
g
|
Sugar:
6
g
|
Vitamin A:
3795
IU
|
Vitamin C:
50.4
mg
|
Calcium:
223
mg
|
Iron:
1.2
mg
Tried this recipe?
Let us know how it turned out for you! Scroll down to leave a comment below.
Love this main course recipe? Then you'll also love our chicken burrito bowls!
You might also like: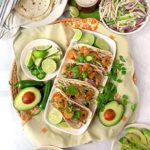 Tequila Shrimp Tacos
Brighten up your dinner routine with these easy, 30-minute Tequila Shrimp Tacos!
Chorizo Pinto Beans
Chorizo Pinto Beans are excellent as a meal, side dish or topping for nachos. Made with real chorizo, these slow cooked beans are packed with flavor.
Corn Salad with Basil and Queso Fresco
In just 20 minutes you can put together this healthy corn salad. It features seasonal ingredients and a simple lemon dressing. Follow the tips below for cooking the most tender corn.