Make this easy Apple Cider Brine mix for yourself or for the hostess in your life.
---
Say no to dry pork and poultry! This easy apple cider brine can be made ahead of time for a stress-free, worry free holiday dinner.

As a food blogger, I try to be ahead of the curve. Often this means making recipes a month or more before they're seasonal. It's not quite Thanksgiving and I've nearly had my fill of turkey. Nearly because our first turkey was a flop. But read on to see how I turned things around.
Back in early October we grilled a turkey to recipe test a spiced maple butter. Unfortunately, it ended up dry and disappointing despite basting it with tons of butter! Now maybe it was because that turkey had been in the freezer since the last time turkeys were on sale … (lesson learned, :-) or maybe it just needed a little more love.
My in-laws almost always brine their turkeys and they turn out super moist and flavorful. Since the turkeys I roast are rarely served to guests, most of the time I'm too lazy for this brining step. I'd rather just use a tasty glaze like I did with this Brown Sugar Date Roast Turkey recipe and hope for the best. And it almost always works out.
But that recent turkey debacle got my feathers ruffled. So, I set out to find a brine. Turns out that store bought brines are quite pricey. Especially considering that the two main ingredients are salt and sugar. Long story short , I decided to make my own instead.
After making Caramel Apple Marshmallows last month, I was inspired to make more apple cider recipes. Apple pairs perfectly with pork and turkey, so I decided an apple cider brine would be fab for the holidays. It needed to be full of sweet and savory elements but also be shelf-stable . The holidays are so busy. No need to make them harder! So the thought was to make a brine mix as convenient as the store bought varieties.
Then it dawned on me that this mix could also be a thoughtful hostess gift. If your family is like mine, either pork or turkey is on the holiday menu, be it Thanksgiving, Christmas or New Years. So, it's a gift that will be appreciated.
But it won't be just because of your thoughtfulness or the convenience factor. This brine mix has all the flavor! Seriously! Rosemary, orange, thyme, allspice, thyme, garlic… which in turn gives the roast all the juicy flavors too!
So, our second turkey of the season was on point! Moist, delicious, and totally worth the effort. I don't think there will be any unloved turkeys in my freezer when this holiday season is over!

Apple Cider Brine Recipe
This apple cider brine mix makes a thoughtful hostess gift.
Print
Rate
Ingredients
Dry mix
2

cups

coarse salt

1

cup

turbinado sugar

1/4

cup

candied orange zest,

chopped

1

tablespoon

dried rosemary

6

bay leaves,

roughly chopped

1

tablespoon

pink peppercorns

2

tablespoonsa

dried allspice berries

1

tablespoon

black peppercorns

1

teaspoon

dried thyme leaves

1

teaspoon

dried minced garlic

1/4

cup

dried apple or pear,

diced or chopped
Brine
20

cups

water

8

cups

apple cider
Instructions
Dry mix
Combine all of the dry ingredients in a bowl and stir to combine.

The dry mix will equal 4 cups which is enough for 2 small -medium turkeys or pork roasts or one very large turkey.
Making the brine
In a large soup pot, combine water, apple cider and brine mix.

Heat over medium heat, stirring occasionally until the salt and sugar melt.

Let brine cool to room temperature.

Place poultry or pork in a large bag and fill with brine.

Refrigerate for 6-24 hours, depending on the size of the roast.
Notes
We tested this brine on an 11 pound turkey and only needed half of the brine mix (2 cups dry mix + 10 cups water + 4 cups apple cider).
Nutrition
Calories:
983
kcal
|
Carbohydrates:
245
g
|
Protein:
2
g
|
Fat:
2
g
|
Saturated Fat:
1
g
|
Sodium:
113354
mg
|
Potassium:
1090
mg
|
Fiber:
5
g
|
Sugar:
220
g
|
Vitamin A:
59
IU
|
Vitamin C:
12
mg
|
Calcium:
282
mg
|
Iron:
4
mg
Tried this recipe?
Let us know how it turned out for you! Scroll down to leave a comment below.
You might also like: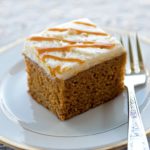 Pumpkin Spice Beer Cake
This cake takes the fuss out of making a cake from scratch. In about an hour you can put together this delicious dessert.
Fall Cider Sangria
You will love this festive, sweet and fruity Fall Cider Sangria! It is elegant while still being fun.
Cranberry Chutney
Warm spices are paired with golden raisins, apple and onion to make this delicious Cranberry Chutney.